Green Tea Biscotti with Matcha Powder
As an Amazon Associate and member of other affiliate programs, I earn from qualifying purchases.
[amazon_link asins='B00PFDH0IC,B004K6771U,B000Q3D95Y,B00YEYL8T0,B01K15Q9D0,B00J0G85RA' template='ProductCarousel' store='queensnotcom-20′ marketplace='US' link_id='ec38aa30-980e-11e7-be35-09dfa1c105d0′]
Biscotti is the Italian version of the Filipino biscocho, a recipe I featured in a past blog post. This Green Tea Biscotti with Matcha Powder is a twice-baked cake that turns to a bread-like treat. I always loved to pick a long, buttery biscotti from specialty bakeries and enjoy it with a good cup of tea. The coarse, shortbread-like piece tasted indulgent and luxurious to me. I never imagined, though, that it would be so easy to bake.
A few weeks ago, I attended the IACP (International Association of Culinary Professionals) conference in Washington DC. It was an intense, busy weekend of panel sessions and networking with friends in the culinary industry. At the Creative Showcase, I purchased the new "Ciao Biscotti" cookbook by Domenica Marchetti. I've known Domenica for a few years and I have marveled at how she's written several cookbooks, develops recipes focusing on her Italian roots and shares travel stories about her family's origins in the Abruzzo region.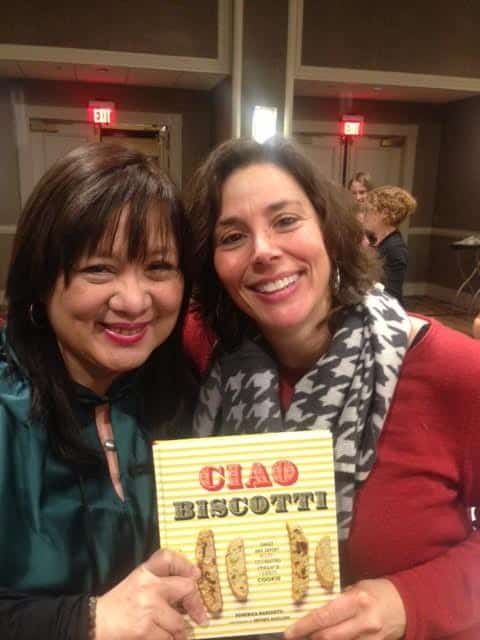 The first recipe I baked from Domenica's latest cookbook was green tea biscotti. My son was coming home for the weekend and I knew he'd liked this. My son loves green tea in anything.
Green tea or matcha powder can be found in Asian markets, large supermarkets or online sources. Long before the current buzz about green tea's amazing health benefits, we have enjoyed it as a staple at home. Green tea matcha powder is a pricey item, but the powder is potent and brewing tea or recipes for baking with it only requires a small amount.
All I did was drop the ingredients into a large mixing bowl. I turned on the stand mixer to blend everything. A quick whirl for a few minutes was all that was needed to make the dough smooth, pliant and light green from the matcha powder. I formed the dough into a round disc and wrapped it in plastic wrap for thirty minutes to chill in the refrigerator.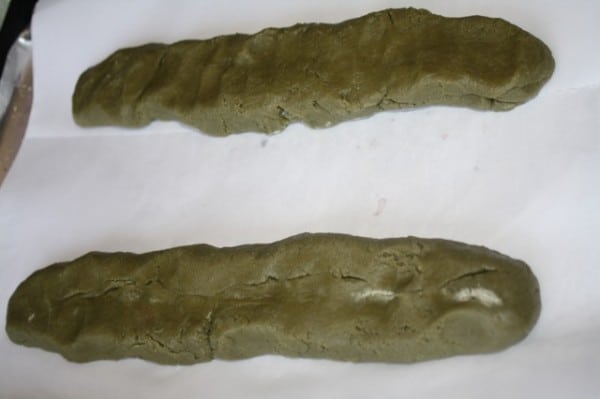 Soon after, two long green tea logs were baking in the oven. I could tell from the herb-like, refreshing aroma the green tea logs were doing okay. When these were baked, they had a heavy cake-like consistency which made it easy to slice. I baked the slices a second time at a very low oven temperature for the biscotti pieces to get firm and crisp.
By the time I was done baking, the doorbell rang and interrupted my reverie of staring at the crumbly, coarse green tea biscotti pieces cooling on the cake rack. I arranged the pieces in a tin can so they could stay crunchy. As I did that, my son, Constante walked in, in his heavy coat and set down his overnight bag. He hugged me and I felt the cold dampness of his coat from the rain outside.
"Hey, are those biscotti made with matcha?" he asked showing keen interest. "Can I have some before supper?" he asked.
I smiled. My sons knew the rule of no dessert before dinner. This time, my son wanted to break that rule. It was the simple sweet aroma of the biscotti that made him drool. It was too good to wait till after supper.
Green Tea Biscotti with Matcha Powder
In her cookbook, author Domenica Marchetti explains the origins and meaning of 'biscotti'. She said it means twice baked, one of the many interesting tidbits about Italian biscotti. I made these Green Tea Biscotti with Matcha Powder and it was easier than I imagined it would be. In the cookbook's original recipe these green tea biscotti have toasted almonds in the batter and are drizzled with a white chocolate glaze after baking. I chose to make these green tea biscotti in its simplicity so we could enjoy the wholesome matcha flavors fully. This recipe was adapted from 'Ciao Biscotti' by Domenica Marchetti. The recipe yielded 36 pieces.
Ingredients
2

cups

all-purpose flour

unbleached

3/4

cup

granulated white sugar

2

Tablespoons

from Asian markets or online sources for tea matcha green tea powder

1

teaspoon

baking powder

1/4

teaspoon

fine sea salt

4

Tablespoons

cut into half inch pieces, at cool room temperature butter (unsalted)

2

large

lightly beaten eggs

1/2

teaspoon

pure vanilla extract

a cup or a pot

for serving green tea or any variety preferred
Instructions
Preheat the oven to 350 F/ 180 C. Prepare the baking sheet by pre-greasing with cooking spray all over and placing parchment paper or a baking mat. Use an 11-by-17 inch rimmed baking sheet for this recipe.

In a large bowl, mix together the two cups of flour, sugar, matcha powder, baking powder and salt. Using a stand mixer with the paddle attachment, mix and combine these powdered ingredients for about 2 minutes at low speed.

To the same bowl, add the butter, cut up in small pieces. Mix at a medium speed for about 3 minutes. The mixture should look like 'damp sand' (said the author).

Continue mixing at medium speed. Add the eggs and vanilla. The batter will be soft and slightly sticky. The color would have turned a light green.

On a dry, floured surface over the counter, turn the green tea dough. Shape the entire dough into a disk. Flatten the top. Place plastic wrap all over the disk. Chill the dough in the refrigerator for thirty minutes to an hour.

Divide the dough in half and shape each piece into an oval. Using your hands, slowly stretch and lengthen each oval piece to form two long longs. Each log should measure about two inches wide and 14 inches long.

Place logs on the prepared baking sheet. Bake at 350 F/ 180 C for 20 to 25 minutes. When done, remove from oven and use a spatula to transfer the logs to a cooling rack. Let the logs cool for 20 minutes.

Lower the oven temperature to 300 F/ 150 C.

Meanwhile, after the logs have cooled, place them on a clean cutting board. Using a serrated knife, slice them into pieces that are about half an inch in depth.

Place the biscotti pieces cut-side up back on the baking sheet. Bake for 10 minutes more.

Turn the baking sheet around; flip the biscotti pieces using a pair of tongs. Continue baking for another 10 minutes. The biscotti pieces will become crisp at this point.

Cool the biscotti on a baking rack to remain crisp. After about 40 minutes and the pieces have cooled completely, store in a covered, airtight tin or plastic container. Serve with a cup of green tea or any preferred tea variety.

Cook's comments: the original recipe in the cookbook gives more instructions for adding the toasted almonds and making the white chocolate glaze, which makes these biscotti even more marvelous.

About the book: 'Ciao Biscotti' by Domenica Marchetti can be found where most cookbooks are sold. If purchasing online, I have a

Shop For It

tab on this blog which is my Amazon affiliates tab. You can look for the book title in the search box. The retail price stays the same for you, but a small percentage from the sales helps to sustain the ingredients and recipes of this blog. Thank you in advance for your support. Click here for my

Shop For It

section.

Hello, Friends! All the images and content on this blog are COPYRIGHT PROTECTED and owned by my media company Besa-Quirino LLC. This means BY LAW you are NOT allowed to scrape, lift, frame, plagiarize or use my photos and  recipe content I wrote, on your website  without my permission. If you want to republish this recipe or content on another website or news article, please ASK my permission, re-write it in your own words and simply link back to this blog to give proper attribution. It's the legal thing to do. Thank you. Email me at [email protected]