Chocolate Cupcakes with Vanilla Butter Cream Frosting and Roses
As an Amazon Associate and member of other affiliate programs, I earn from qualifying purchases.
When I baked these Chocolate Cupcakes with Vanilla Butter Cream Frosting and Roses, I thought of mama, my mother-in-law. Our hearts bear the strongest feelings we can muster. In the same token, our hearts cradle the most vulnerable pain we have had, as well. One of the hardest things we experienced was coping with news of our aging parents who lived overseas in our home country. It was more difficult when my mother-in-law had cancer and she was in the Philippines.
"Our cousin Ilou brought Mama a fresh rose every single day before she died," Alicia, my husband's sister told me. It made Mama so happy. Thank goodness for family we had back in our hometown. It gave us solace that they were there for Mama.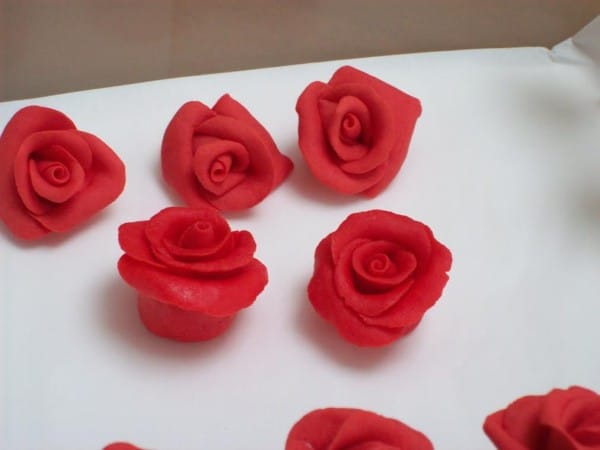 My mother-in-law, Remedios Pineda Quirino passed away soon after she was diagnosed with cancer. One of the moments we were always grateful for was the rose Mama received every day from cousin Ilou. While reminiscing, Alicia and I thought of honoring Mama's memory by baking chocolate cupcakes. Chocolate was Mama's favorite flavor. The floral motif was for the roses she enjoyed every day before she passed.
Alicia and I used the same recipe to bake together virtually. Alicia lives in Canada, I am here in the USA. I have the best in laws in the world. My parents-in-law, Constante and Remedios Quirino were like a second parents to me. Their love was seamless from the start. Alicia is the youngest of my husband's siblings. She and I always enjoyed cooking together. Even if we are apart, we share recipes constantly. She's the more patient and artistic cake decorator. This is why I used her gorgeous cupcake photos on this post.
We both baked from the same recipe of chocolate cupcakes. But it was Alicia's butter cream frosting and exquisite cake decorating that made a difference. The chocolate cupcakes were easy to bake. Once out of the oven, the sweet chocolate aroma was intoxicating. I had to resist the urge to eat even before they were iced. The sweet vanilla butter cream frosting was fast and easy to make while the cupcakes were cooling on the rack. Alicia suggested using gum paste (from Wilton's) to make the pretty roses.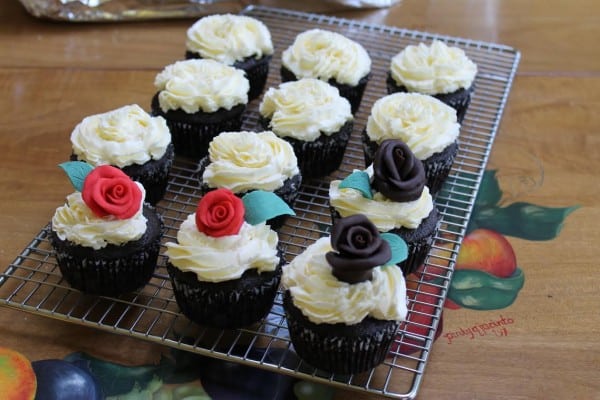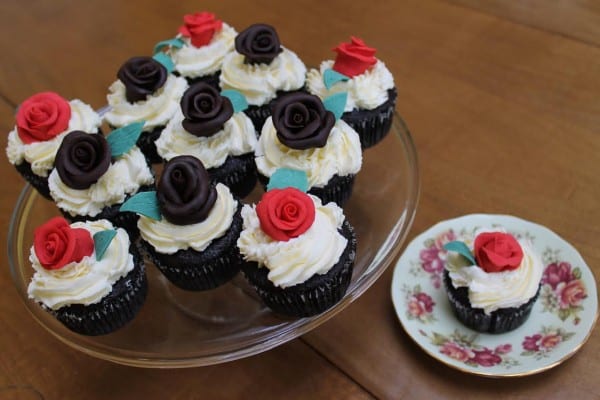 "The only thing we have is this moment. Make the most of it," said Laura Bush, former First Lady.
If that's all the the time you've got with someone you love, then it's all you have. Make something your loved one will like. It doesn't have to be elaborate. A sweet card with an affectionate note would be special. You don't have to wait for Mother's Day to show you care. You have this moment right now.
When I thought of Mama today, my heart was sad and ached. She was the best mother-in-law. I miss her loving, gentle ways. It was soothing to bake these chocolate cupcakes. I used to cook and bake for her often. Mama would have loved the rich, moist texture of these chocolate cupcakes. She would have marveled at the light vanilla-flavored frosting with delicate roses perched on each. As I held one pretty cupcake, I gazed at the crimson red petals made out of sugar. I held it gently and in my heart whispered a prayer to heal the tiny jab of pain I felt each time I thought of Mama.
Family photos from the Quirino albums. Cupcake photos by Alicia Quirino Jacinto.
Chocolate Cupcakes with Vanilla Butter Cream Frosting and Roses
I baked these Chocolate Cupcakes with a Vanilla Butter Cream Frosting and Roses in honor of my mother-in-law. I baked together with Alicia, my sister-in-law who lives in Canada. We baked these to honor her late Mama who loved chocolate. Make these in stages. I baked the cupcakes a day ahead and froze them. I made the vanilla frosting the next day. As a shortcut, Alicia used gum paste (from Wilton's) to make the roses. She is a more patient and better artistic cake decorator than I am, thus we used her photos here. The cupcake recipe was inspired by the Martha Stewart recipes and a past blog post of AsianInAmericamag.com. The butter cream frosting was adapted from a Taste of Home recipe. This recipe makes about 20 to 24 cupcakes.
Ingredients
3/4

cup

Cocoa powder

unsweetened

11/2

cups

all purpose flour

11/2

cups

granulated sugar

11/2

Tablespoons

baking soda

3/4

teaspoon

baking powder

3/4

teaspoon

salt

2

whole

eggs

3/4

cup

warm water

3/4

cup

sour cream

3

Tablespoons

corn oil

1/2

cup

butter

softened, at room temperature (for vanilla butter cream frosting)

3 1/2

cups

confectioners' sugar

for frosting

6

Tablespoons

milk

1

teaspoon

teaspoon

divided, use 1/2 teaspoon for cake batter, rest for frosting pure vanilla extract

1

can (16 oz)

Wilton's gum paste mix

follow package directions to make gum paste for roses

1-2

drops each

red and green food color

to color roses and leaves on frosting
Instructions
To make cupcakes: preheat the oven at 350 F. Line the cupcake pan with 24 paper liners. In a large bowl, sift together the cocoa, flour, sugar, baking soda and powder, and salt. Use a wire whisk to sift the ingredients. Swirl the dry ingredients around for a few rounds.

Transfer the dry ingredients to a large mixing bowl. Add eggs, warm water, sour cream and vanilla extract. Using a stand mixer, mix on high for 3 to 4 minutes till blended.

Pour the chocolate batter into the paper-lined cupcake pans. Bake in the preheated oven of 350 F degrees for 20 minutes. Test for doneness. Pierce the top with a small, sharp knife. If knife comes out dry, cupcakes are done. Cool cupcakes on a cake rack. Cakes must be completely cool before frosting is added.

To make the vanilla butter cream frosting : in a large mixing bowl, beat the butter with a stand mixer till it is creamy. Gradually add the confectioners' sugar, beating well as you are adding. Alternately add a tablespoon of the milk in between half a cup batches of the confectioners' sugar. Add the half teaspoon vanilla at the last five minutes of beating. Beat well for about 6 to 7 minutes till the frosting has a smooth, shiny consistency. Refrigerate frosting for at least 30 minutes before decorating cupcakes.

To make gumpaste roses: follow directions on the (Wilton's) gum paste package. Divide the gum paste in three parts. Add red, brown (combination of red and green colors) and green food color to each batch to make the red roses, chocolate roses and green leaves. Here's how we made the

roses.

To assemble: take each of the completely cooled cupcakes. Use a large ziploc bag (or a pastry bag) and place a cup or two of the white vanilla frosting. Using cake decorator Wilton tip #21, swirl the frosting in a circular motion around the top of each cupcake. Top each cupcake with a rose and a leaf (made from gum paste).

Hello, Friends! All the images and content on this blog are COPYRIGHT PROTECTED and owned by my media company Besa-Quirino LLC. This means BY LAW you are NOT allowed to scrape, lift, frame, plagiarize or use my photos and  recipe content I wrote, on your website  without my permission. If you want to republish this recipe or content on another website or news article, please ASK my permission, re-write it in your own words and simply link back to this blog to give proper attribution. It's the legal thing to do. Thank you. Email me at [email protected]
Nutrition
Calories:
422
kcal
|
Carbohydrates:
87
g
|
Protein:
4
g
|
Fat:
8
g
|
Saturated Fat:
4
g
|
Cholesterol:
15
mg
|
Sodium:
868
mg
|
Potassium:
99
mg
|
Fiber:
2
g
|
Sugar:
63
g
|
Vitamin A:
170
IU
|
Vitamin C:
0.1
mg
|
Calcium:
27
mg
|
Iron:
1.8
mg
Notes on Nutrition: The nutrition information provided in the recipe links is an estimate and will vary based on cooking methods and specific brands of ingredients used.
Copyright Notice: Hello, Friends! Please DO NOT LIFT OR PLAGIARIZE Asian in America recipes on this blog, my original recipes, stories, photos or videos. All the images and content on this blog are COPYRIGHT PROTECTED and owned by my media company Besa-Quirino LLC by Elizabeth Ann Quirino. This means BY LAW you are NOT allowed to copy, scrape, lift, frame, plagiarize or use my photos, essays, stories and recipe content on your websites, books, films, television shows, videos, without my permission. If you wish to republish this recipe or content on media outlets mentioned above, please ASK MY PERMISSION, or re-write it in your own words and link back to my blog AsianInAmericaMag.com to give proper attribution. It is the legal thing to do. Thank you. Email me at [email protected]