Mushroom-Vegetable Breakfast Casserole
As an Amazon Associate and member of other affiliate programs, I earn from qualifying purchases.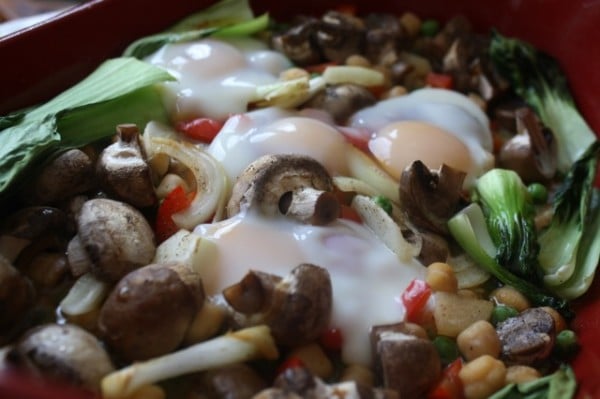 Some of my best emails come from readers who ask "What can I cook for my mom? I'd like to surprise her with a dish. Can you suggest a recipe?" My reply to reader-friends is always "Start simple. Cook an easy dish like a Mushroom-Vegetable Breakfast Casserole. Your mom will love anything you cook." I often give my followers practical advice: "Make Mom something simple and healthy."
I was on my device typing while I was at the doctor's waiting room, expecting my name to be called. Patients shuffled in and out. We were all cramped in a tiny room, chairs lined against the wall, two rows facing each other. Phones rang at the desk. Magazines were strewn on the side table.
What is it about doctor's waiting rooms that make us uncomfortable? Perhaps it is because nobody knows what to expect when you walk in. Will the doctor find something bad? Will we get good news?
Good health came to mind as I waited. Life is a constant stage of waiting. We wait for the next moment. For the kids and hubby to come home. We wait for the food to be cooked. We wait for the next morning.
While we wait, we live, we eat, we walk and we move. Each action has a consequence. What we do affects ourselves and other people. Most times, the choice is ours. What should we do? Take a slice of that gooey chocolate cake? Or make a big salad for dinner? Hit the gym or stay on the couch?
That said, I promised myself I didn't want to be back here anytime soon. If I could help it, I didn't want to be in another doctor's waiting room for a while.
"Eat less, move more," a celebrity was proclaiming on the TV inside the waiting room.
I vowed I was going to get moving more. I wanted to stay healthy and skip all waiting rooms for now.
The nurse called out my name. The wait for good health wasn't over yet for me. It just started. I went home and made a Mushroom Vegetable Breakfast Casserole. The hot steam, the savory soy sauce and sesame oil aromas flew around when I took off the foil cover. It was superb. Make this for mom. No need to wait for Mother's day. In fact, every single day good health should be celebrated as though it was Mother's day.
Mushroom-Vegetable Breakfast Casserole
It took no time to make this easy all-vegetable Mushroom-Vegetable Breakfast Casserole. All I did was put together mushrooms and vegetables. I cracked open some eggs on top of the dish and baked the whole thing in the oven. Even a toaster oven can work for you. Take the guesswork out of doing something special for Mother's day or any day you want to make breakfast or dinner. This is an AsianInAmericamag recipe. Serves 2 to 4.
Equipment
Oven-proof Casserole pan: 9 inches x 11 inches or larger if needed
Ingredients
2

cups

fresh button mushrooms

wiped clean

1

whole

medium-sized onion

sliced

1

whole

medium-sized carrot

peeled, sliced,

2

whole

potatoes

diced (about 1 1/2 cups); pre-boiled

1

cup

green beans

edges trimmed; sliced in 2-inch pieces

1

cup

frozen green peas

2

cups

shredded bok choy

Chinese cabbage

1

cup

canned chick peas (garbanzos

drain liquid

3

Tablespoons

soy sauce

2

Tablespoons

xiao xing rice wine

1/8

teaspoon

sesame oil

1/2

teaspoon

salt

1

teaspoon

ground black pepper

4

whole

eggs

1/2

cup

chopped red bell pepper

for garnish

for serving: toasted bread slices

white or brown
Instructions
Preheat oven at 375 F. Prepare an oven-proof casserole pan, about 9 x 11 inches by pre-greasing with cooking spray.

In the oven-proof casserole pan, arrange all the vegetables in a single layer.

Separately, in a small bowl mix together the tamari soy sauce, rice wine and sesame oil. Pour this mixture over the vegetables. Season with salt and black pepper. Mix well till the liquid coats everything in the casserole dish.

Crack open the fresh eggs over the vegetables. Cover the entire pan with aluminum foil.

Bake in a preheated oven at 375 F for 20 to 25 minutes. Garnish with chopped red bell pepper. Serve warm with toasted bread.

Cook's comments: If a less salty version is preferred, use tamari soy sauce which is a low sodium, gluten-free (no wheat) soy sauce I prefer to use. If not available, use regular soy sauce.

Ingredients tips: Tamari soy sauce, rice wine and sesame oil can be found in Asian markets or online sources that sell Asian ingredients.

Shop For It

: for my readers' convenience, find these bottled Asian ingredients online via my "

Shop For It"

tab on this blog which is my Amazon affiliate page. The price of items are the same for you. I earn a small commission from the sale which goes towards the recipe preparation and ingredients for the blog. Thanks in advance.

Click here

for my

Amazon affiliate page

.

Hello, Friends! All the images and content on this blog are COPYRIGHT PROTECTED and owned by my media company Besa-Quirino LLC. This means BY LAW you are NOT allowed to scrape, lift, frame, plagiarize or use my photos and  recipe content I wrote, on your website  without my permission. If you want to republish this recipe or content on another website or news article, please ASK my permission, re-write it in your own words and simply link back to this blog to give proper attribution. It's the legal thing to do. Thank you. Email me at [email protected]
Nutrition
Serving:
1
g
|
Calories:
41
kcal
|
Carbohydrates:
6
g
|
Protein:
4
g
|
Fat:
1
g
|
Saturated Fat:
1
g
|
Cholesterol:
7
mg
|
Sodium:
2096
mg
|
Potassium:
173
mg
|
Fiber:
2
g
|
Sugar:
2
g
|
Vitamin A:
380
IU
|
Vitamin C:
7
mg
|
Calcium:
26
mg
|
Iron:
1
mg
Notes on Nutrition: The nutrition information provided is an estimate and will vary based on cooking methods and specific brands of ingredients used.
Did you like this recipe?I have more Filipino Instant Pot recipes in my newest cookbook Instant Filipino Recipes: My Mother's Traditional Philippine Cooking in A Multicooker Pot by Elizabeth Ann Besa-Quirino. I also have more classic recipes inspired by my mother's cooking in my popular cookbook: My Mother's Philippine Recipes. If you're learning how to cook Filipino food or a fan of Philippine cuisine, buy my cookbooks and books on Amazon.com sold worldwide in paperback and Kindle format.
Copyright Notice: Hello, Friends! Please DO NOT LIFT OR PLAGIARIZE my original recipe, stories, photos or videos. All the images and content on this blog are COPYRIGHT PROTECTED and owned by my media company Besa-Quirino LLC. This means BY LAW you are NOT allowed to copy, scrape, lift, frame, plagiarize or use my photos, essays, stories and recipe content on your websites, books, films, television shows, videos, without my permission. If you wish to republish this recipe or content on media outlets mentioned above, please ASK MY PERMISSION, or re-write it in your own words and link back to my blog AsianInAmericaMag.com to give proper attribution. It is the legal thing to do. Thank you. Email me at [email protected]