Cantaloupe-Melon Granita Cocktail Drink
As an Amazon Associate and member of other affiliate programs, I earn from qualifying purchases.
]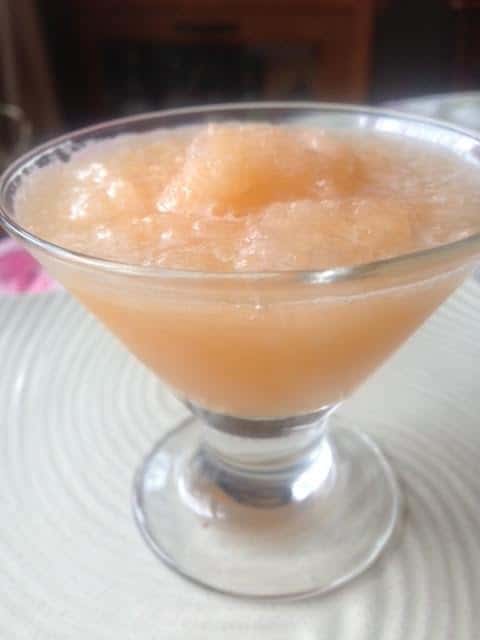 Spring is here and soon it will be scorching hot outside when summer comes around. It's time to put away the winter blankets and heavy coats. It's also time to fire up the outdoor grill and get the barbecues going. And start mixing up cold, frosty beverages like this Cantaloupe-Melon Granita Cocktail Drink that will go with those char-grilled dishes.
This why I was thrilled when friends at Quirk Books sent me a copy of this amazing book " Summer Cocktails" by Maria Del Mar Sacasa and Tara Striano. I quickly went through this beautiful book of cocktails in anticipation of the warmer season. There are 100 recipes for classic cocktails – some have modern twists to the traditional punches and familiar drinks. I admit I am a bartending novice so this book is perfect for me. It has all the great beverage ideas plus popular party snacks, gourmet appetizers, basic cocktail staples and a lot of tutorials on techniques and tips for sunny weather entertaining.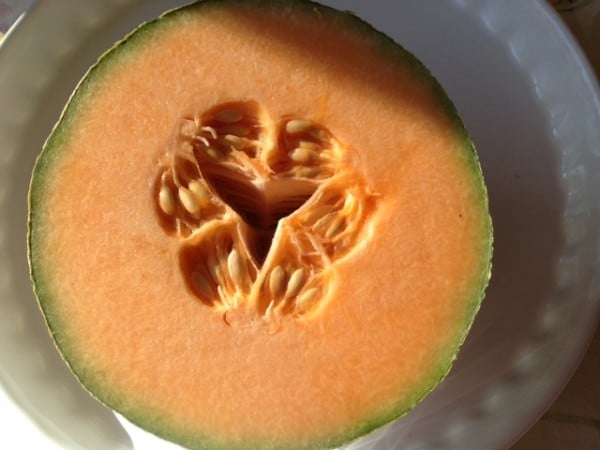 I was drawn to the Melon Granita recipe. The melon or cantaloupe is a favorite in our household and a mainstay in our fruit bowl. It's helpful to know that you should look for fully ripened cantaloupes that have a fine netting on the outer skin and are free of any soft spots if you touch them.
I made a granita which is a frozen drink that looks like a sorbet or Italian ice. Usually granitas are made with citrus, fruits or coffee and tea. This granita was superb. The fruit's own ripened sweetness was the base flavor in this frozen beverage.
I sliced the cantaloupe in half, then in quarters and grated the strips with my reliable grater, which I bought on a trip to the Philippines. If you don't have a grater like this, use a regular fork to make strips. Then I placed the cantaloupe strips together with the rest of the ingredients in the food processor. A quick pulse in the processor or a blender transformed everything into a lush crushed ice consistency. I placed the entire concoction in a plastic covered container and froze it overnight. If you want to freeze it a few days, that's terrific, too.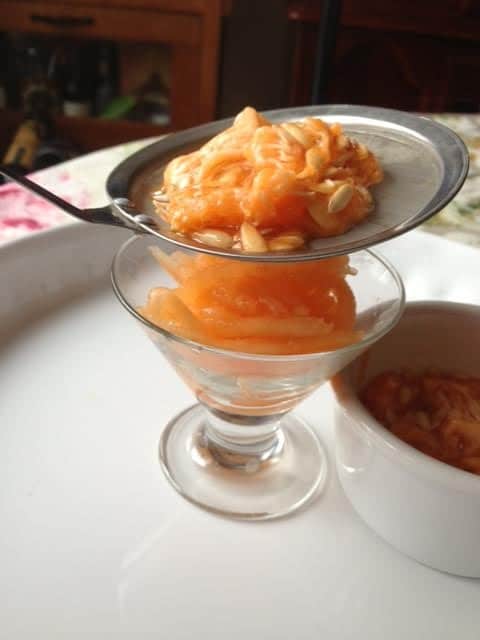 This cantaloupe granita was infused with Strega, an Italian liqueur that is slightly sweet, with bold herbal flavors from saffron, fennel and mint.
You can choose two ways to serve this: in its simple, wholesome form with the long cantaloupe tendrils. Or tweak the recipe further and crush it in a blender with some Strega to add a special kick. It transforms from your standard cantaloupe thirst quencher to a spirited drink. Enjoy this season's cantaloupes and fruits in their sheer, pure sweetness as refreshing beverages. Life is too short not to. So drink up. Cheers!
Cantaloupe-Melon Granita Cocktail Drink
A sweet, fully ripened melon or cantaloupe was used to make this Cantaloupe Melon Granita Cocktail Drink. A granita is a frozen , crushed iced concoction that is a cocktail drink. This sweet cantaloupe or melon granita can be served in its sheer, sweet form or else spiked up with Strega, an Italian liqueur that has saffron, fennel and mint flavors. This beverage was adapted from the "Summer Cocktails" cookbook by Maria Del Mar Sacasa with Photography by Tara Striano. (Quirk Books Publishing Inc.). This recipe makes 2 servings.
Ingredients
1

whole

fresh, ripe cantaloupe

sliced in half, seeded, grated

1/2

cup

cold water

1/2

cup

organic honey

2

Tablespoons

juice from fresh lemons

1/8

teaspoon

salt

1/8

teaspoon

ground black pepper powder

4

ounces

Strega

an Italian liqueur (or use white wine as substitute)
Instructions
Slice the cantaloupe in half, then in quarters. Remove the seeds with a spoon. Before discarding the seeds, pass them through a sieve while pouring half a cup of cold water over it. Save this melon water to add to the cocktail mixture.

Using a grater (or a fork) grate the cantaloupe into strips.

Place the cantaloupe strips in a food processor or blender. Add the water mixed with the cantaloupe flavors from the seeds, the honey, lemon juice, sea salt, freshly cracked black pepper and Strega. Process or blend for a minute or two till smooth and looks like sherbet.

Store cantaloupe mixture in a plastic container. Cover and freeze overnight or a few days.

To serve: use an ice cream scooper and scoop frozen granita. Serve in ice cream cups or cocktail glasses. Serve right away.

About the book: "Summer Cocktails: Margaritas, Mint Juleps, Punches, Party Snacks and More" by Maria Del Mar Sacasa and Photography by Tara Striano are available starting the end of April 2015, where most books are sold, at QuirkBooks.com, on Amazon or at my Amazon affiliate tab

'Shop For It

' here on the blog. From my

Shop For It

tab, the prices are the same for you, but a small percentage from the sale goes to sustain the recipes and ingredients for this blog.Click here for

Shop For It.

Disclosure: I was not paid to review this cookbook but will be glad to endorse it to bartender novices like me or experts who want to try something refreshingly new with their beverages.

Ingredient notes: the original recipe used 16 ounces of Strega, the Italian liqueur for this recipe (about 2 ounces per 1/2 cup serving according to the author). I preferred to use a lesser amount for our beverage. I have also used white wine in similar amounts, as substitute.

Where to buy a grater: the melon grater I used (see photo above) can be purchased on online sources at Amazon. For my readers' convenience, my

Shop For It tab

leads you to my Amazon affiliates page. Click on the search box for what you wish to purchase. Click here on

Shop For It.

Hello, Friends! All the images and content on this blog are COPYRIGHT PROTECTED and owned by my media company Besa-Quirino LLC. This means BY LAW you are NOT allowed to scrape, lift, frame, plagiarize or use my photos and  recipe content I wrote, on your website  without my permission. If you want to republish this recipe or content on another website or news article, please ASK my permission, re-write it in your own words and simply link back to this blog to give proper attribution. It's the legal thing to do. Thank you. Email me at [email protected]
Nutrition
Serving:
1
g
|
Sodium:
145
mg
Notes on Nutrition: The nutrition information provided is an estimate and will vary based on cooking methods and specific brands of ingredients used.
Did you like this recipe? I have more classic recipes inspired by my late mother's cooking in my popular cookbook: My Mother's Philippine Recipes. If you're learning how to cook Filipino food or a fan of Philippine cuisine, buy my cookbooks and books on Amazon.com sold worldwide in paperback and Kindle format.
Hello, Friends! Please DO NOT LIFT OR PLAGIARIZE my original recipe, stories, photos or videos. All the images and content on this blog are COPYRIGHT PROTECTED and owned by my media company Besa-Quirino LLC. This means BY LAW you are NOT allowed to copy, scrape, lift, frame, plagiarize or use my photos, essays, stories and recipe content on your websites, books, films, television shows, videos, without my permission. If you wish to republish this recipe or content on media outlets mentioned above, please ASK MY PERMISSION, or re-write it in your own words and link back to my blog AsianInAmericaMag.com to give proper attribution. It is the legal thing to do. Thank you. Email me at [email protected]