Hard-Boiled Eggs with Peas and Vegetables in Curry
As an Amazon Associate and member of other affiliate programs, I earn from qualifying purchases.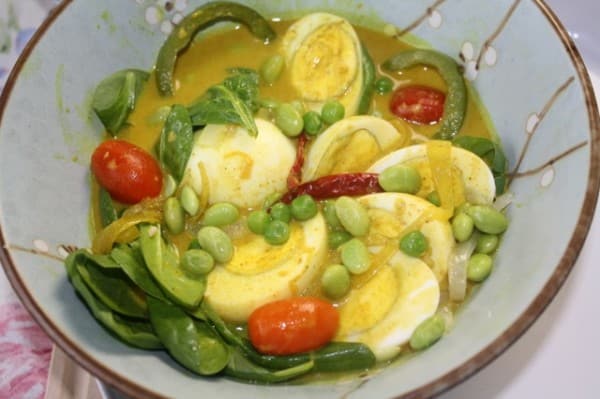 When we drove to Washington DC to attend the annual International Association of Culinary Professionals (IACP) , I was asked why I came at the breakfast meeting of the Digital Media Section.
"To reconnect, make new friends and learn about what's new," I answered. This year's IACP theme was 'communications'. I pondered how I could tap on that to make my recipes more meaningful for my readers.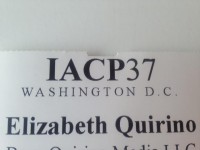 The best part of IACP was seeing old friends in the industry. I enjoyed the warm handshakes, the hugs, running into friends. Even better, I came home with new cookbooks, all packed with recipes I was excited to try and share with my readers.
Nancie McDermott, prolific cookbook author from Chapel Hill, NC came to us and gave me a parting gift: her "Simply Vegetarian Thai Cooking". The 125-recipe vegetarian cookbook was on its second printing. I have always been in awe of Nancie. She is a culinary pro, well respected in the industry and has been a warm, compassionate friend. This cookbook of easy, doable, everyday vegetarian recipes was sure to be a winner for me.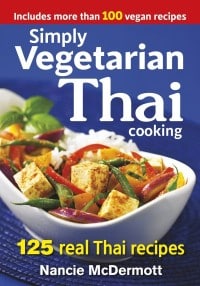 I knew my family would enjoy these Thai-inspired vegetarian recipes. Philippine cuisine was influenced by dishes of neighboring Southeast Asian countries, through geography and having the same agricultural crops. Thailand ranks high on the list of recipe influences for Filipinos. The zesty, spicy Thai flavors linger on our Filipino palate wherever we are. Every recipe in this vegetarian Thai cookbook goes well with rice, an Asian staple.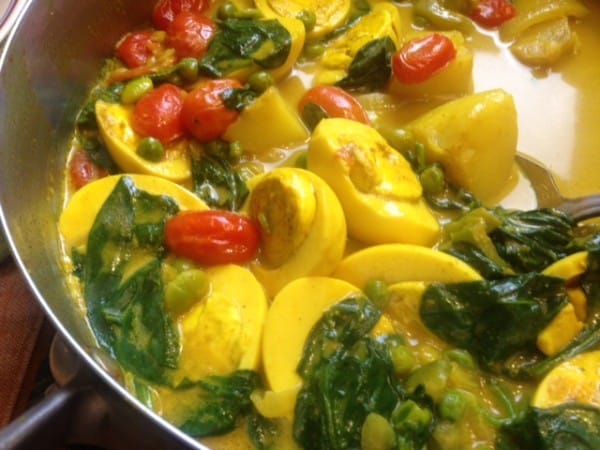 Soon as we got back from DC, my son, Constante, called to say he was coming home for the weekend. I quickly picked a recipe from this vegetarian cookbook. My adult sons now love to cook their own meals and develop their own recipes. Vegetables top their list of favorites.
This recipe for Hard-Boiled Eggs with Peas and Vegetables in Curry was the easiest to cook ever. Just like the rest of Nancie's cookbook, this was perfect for a busy weeknight, yet addressed all the proper food groups.
I sautéed the yellow curry powder and turmeric together with the onions. The golden glow of the spices soon coated the silky onion slices and minced garlic. The sizzling, spicy aromas from the skillet wafted upward then blended with the sweet aroma of coconut milk I poured in. The dish came together swiftly with the addition of the sliced hard-boiled eggs, leafy greens and plump green peas and edamame. It is wonderful when I find new ways to nourish and feed my family, especially when the recipes come from friends.
Attending the IACP was about discovery, savoring relationships and lessons learned. It was about genuine connections with people, things and experiences. It was a weekend made up of moments that connected me to culinary icons, cuisines, cultures and finding the best way to communicate it all to you, my dear readers. I was immersed completely. It was inspiring.
Hard-boiled Eggs with Peas and Vegetables in Curry
This Hard-Boiled Eggs in Curry with Peas and Vegetables was one of the easiest suppers I have made. I started cooking it at 4 o'clock in the afternoon, for dinner that night, and there was still a lot of time to spare after I finished. I made slight changes to the original recipe by using virgin coconut oil, yellow curry powder and turmeric. I also added more vegetables I had in my bin. The result was a flavorful, hearty all-in-one vegetarian meal in one skillet. It was perfect to serve with a big bowl of jasmine rice. This recipe was inspired by the "Simply Vegetarian Thai Cooking" cookbook by Nancie McDermott.
Ingredients
2

Tablespoons

organic virgin coconut oil

or use vegetable oil

1

whole

large onion

2

cloves

garlic

minced

2

Tablespoons

yellow curry powder

1

teaspoon

turmeric powder

1

whole

large green bell pepper

seeded, white membrane removed, sliced in strips

1

Tablespoon

patis (fish sauce)

3/4

cup

vegetable broth

1

can (14 oz./400 ml)

coconut milk

1

cup

cherry tomatoes

8

whole

hard-boiled eggs

peeled, sliced in halves, lengthwise

1

cup

frozen green peas

1

cup

frozen edamame

2

cups

fresh spinach

2

pieces

bird's eye chilies

'siling labuyo' in the Philippines

1

teaspoon

sea salt

1

teaspoon

freshly ground black pepper

1/4

cup

fresh cilantro

coarsely chopped (optional)

for serving: steamed rice
Instructions
 In a large skillet, over medium high heat, add the virgin coconut oil. When oil is hot enough in about 2 minutes, saute the garlic and onions.

Add the yellow curry and turmeric powders to the skillet. Mix it in the garlic and onions, till it coats the onions well. Stir around the skillet for the curry to emit its flavors. This should take about 2 minutes.

To the same skillet, add the green pepper slices, fish sauce and vegetable broth. Mix well.

Pour the coconut milk. Lower heat to a slow simmer. (Note: do not allow the heat to get too high or the coconut milk will curdle).

Place the cherry tomatoes, hard-boiled eggs, green peas and edamame inside the skillet. With a cooking spoon, pour the coconut milk-broth mixture over all the ingredients.

Add the fresh spinach to the rest at the last five minutes of cooking. Season with bird's eye chilies, salt and black pepper powder. Turn off heat and cover the skillet.

Garnish with chopped cilantro if desired. Serve hot with boiled rice.

Cook's comments: in the original recipe, Nancie McDermott used green curry paste. She also used soy sauce and palm sugar. I opted for fish sauce instead of soy because my son prefers savory flavors.

About the author:

 "

Nancie McDermott

is a food writer, cooking teacher and author of over ten cookbooks. Her passion is researching and celebrating traditional food in its cultural context. Her beloved subjects are the cuisines of Asia and the American South." Get to know Nancie McDermott more through

her blog

, buy her cookbooks and follow her at cooking events. Find her at

NancieMcDermott.com

.

Cookbook availability

: Nancie McDermott's "Simply Thai Vegetarian Cooking" cookbook (published by Robert Rose Inc.), is on

her blog

site or else in my convenient Amazon affiliates tab above this blog post.

Hello, Friends! All the images and content on this blog are COPYRIGHT PROTECTED and owned by my media company Besa-Quirino LLC. This means BY LAW you are NOT allowed to copy, scrape, lift, frame, plagiarize or use my photos and  recipe content I wrote, on your website,books, films, television shows or videos  without my permission. If you want to republish this recipe or content on another website, video, news article,or media outlets mentioned above please ASK my permission, re-write it in your own words and simply link back to this blog to give proper attribution. It's the legal thing to do. Thank you. Email me at [email protected]
Nutrition
Serving:
100
grams
|
Calories:
33
kcal
|
Carbohydrates:
6
g
|
Protein:
2
g
|
Fat:
1
g
|
Saturated Fat:
0.3
g
|
Polyunsaturated Fat:
0.1
g
|
Monounsaturated Fat:
0.2
g
|
Cholesterol:
15
mg
|
Sodium:
1530
mg
|
Potassium:
216
mg
|
Fiber:
1
g
|
Sugar:
3
g
|
Vitamin A:
708
IU
|
Vitamin C:
19
mg
|
Calcium:
20
mg
|
Iron:
1
mg