Turon ng Saging : Crisp Banana Wraps
As an Amazon Associate and member of other affiliate programs, I earn from qualifying purchases.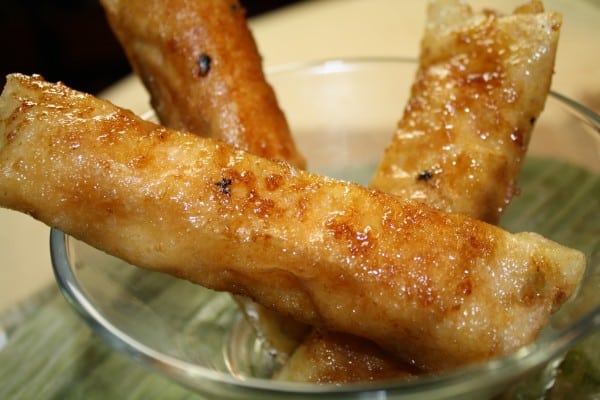 There is something about forbidden foods that makes it just so much more attractive and you want it even more. Turon ng Saging are crisp banana wraps which are sold as street food in the Philippines.
I was forbidden to buy this classic Filipino street food when I was in elementary. While waiting to be picked up by my dad at the school gate, there was a banana vendor who cooked and sold sweet plantains by the street corner. I watched her cook the bananas on her make-shift outdoor stove with a large wok brimming in hot lard. With swift movements of her turner, she rotated the fritters to cook evenly to a golden brown. I watched and smelled the aroma with much longing. She sold these Turon ng Saging (say 'too-ron nang sah-ging') to students and pedestrians. I can still picture the crisp banana plantains wrapped in egg roll wrappers, deep fried to a golden brown and sprinkled with sugar. The crunchy treats cost only a few centavos and the sweet fruity aroma was hard to resist.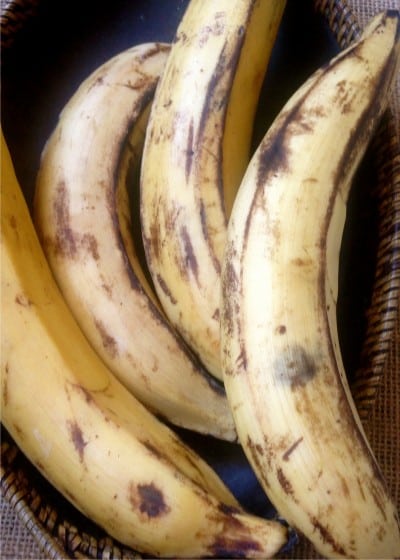 As an alternative, my mom had these delectable Turon ng Saging waiting for us at 'merienda' time when we got home from school. The 'saging saba' (plantains) were from the banana trees that grew in our backyard. Mom wrapped and cooked the Turon herself. They were just as delightful and best, Mom knew she had control over the cooking conditions and environment. They were also made with love, like everything Mom cooked for us.
I couldn't wait to grab a long piece, warm to the touch, a crunchy wafer-like wrapper encasing the luscious, sweet plump bananas, the entire wrap drizzled in brown sugar syrup. Nothing can compare to that first bite, sometimes the newly-fried piece scalding my eager tongue, but heavenly just the same.
Here in my American kitchen, I cooked a bunch of crisp Turon ng Saging for my son, Tim. They are his favorite and it is his birthday today. I made these often for my sons as a merienda (afternoon snack) treat all the years they came home from school. Nowadays, even if my boys live far from home, the mere mention of "turon ng saging" is just one of those things that lure them back to our dining table.
Turon ng Saging- Crisp Banana Wraps
The Filipino Turon ng Saging- Crisp Banana Wraps are fully ripened, sweet banana plantains or 'saging saba' (in the Philippines) which are encased in an egg roll wrapper, rolled in sugar and deep fried to a crisp for a few quick minutes. These easy to do banana fritters in egg roll wrappers are a favorite of most Filipino households for a merienda snack or a dessert. These are best served warm and crunchy. This is an Asian In America recipe and makes about 10 to 12 pieces.
Equipment
Large skillet or wok : 12 to 14 inches in diameter
Ingredients
5 to 6

whole

large fully ripened plantains (saging saba)

peeled, sliced in half, lengthwise

1

cup

water

for pre-boiling bananas

10 to 12

whole

egg roll wrappers

thawed at room temperature

1

cup

brown sugar

1/4

cup

vegetable oil

1

whole

large egg

beaten, mixed with a 4 to 5 Tablespoons water, for eggwash
Instructions
Plantain bananas must be fully ripened, with the outer skin yellow and may have some dark spots. When handled, ripened bananas must feel soft on the inside.

Peel and slice bananas vertically, in half.

*Note: The plantains I purchase in the USA need to be pre-boiled to soften. (In the Philippines, 'saging saba' are soft enough when fully ripened and there is no need to pre-boil or it gets mushy).

To boil bananas: In a medium sized stockpot filled with water, place the peeled and sliced bananas. Over medium high heat, cook the bananas for about 5 to 6 minutes till they are slightly soft when pierced with a fork. Remove from heat. Drain bananas and set aside.

How to wrap turon ng saging in lumpa wrappers: Separate the thawed lumpia wrappers individually. Arrange the wrappers individually on a dry surface.

Put the banana plantains slice (or saging saba) in the middle of the egg roll or lumpia wrapper.

 Brush the edges all around with egg-wash to seal. Roll the turon ng saging like a burrito, in a long cylinder. Tuck in the edges on the left and right.

Sprinkle a teaspoon of brown sugar all around each lumpia or egg roll filled with banana plantains. Set aside.

To cook the Turon ng Saging: Using a large wok or skillet, add the oil. When oil is hot enough, add a few pieces of the wrapped turon ng saging. Lay the wraps flat and evenly, do not overlap.

Rotate the wraps or lumpia around the wok or skillet for even cooking.

Cook the turon ng saging for about 3 to 5 minutes on each side or till they turn a golden brown.

Drain on paper towels or parchment paper to remove excess oil. Serve warm and crisp.

Cook's comments: Plantains can be found in the fruit section of major supermarkets or Asian markets here in America. In the Philippines, these bananas are called "saging saba", are shorter, plumper with a dark yellow-brown outer skin and are abundant everywhere. Egg roll or "lumpia" (say 'loom-pya') wrappers are found in the Asian markets. Use brown sugar because it does not burn like granulated sugar does when cooking.

Copyright Notice:Hello, Friends! All the images and content here are COPYRIGHT PROTECTED. This means BY LAW you are NOT allowed to use my photos or content on your website, videos, TV programs, media content, books,  without my permission. If you want to republish this recipe, please re-write it in your own words and simply link back to this blog to give proper attribution. It's the legal thing to do. Thank you. Email me at [email protected]
Nutrition
Serving:
1
g
|
Calories:
334
kcal
|
Carbohydrates:
55
g
|
Protein:
1
g
|
Fat:
14
g
|
Saturated Fat:
11
g
|
Cholesterol:
1
mg
|
Sodium:
33
mg
|
Potassium:
73
mg
|
Sugar:
53
g
|
Calcium:
46
mg
|
Iron:
1
mg
Nutrition Notes: The nutrition information provided is an estimate and will vary based on cooking or baking methods and brands of ingredients used.
Did you love this recipe? I have more Philippine dessert recipes in my popular cookbook How to Cook Philippine Desserts, Cakes and Snacks.
If you need Filipino Instant Pot recipes, find more in my newest cookbook Instant Filipino Recipes: My Mother's Traditional Philippine Cooking in A Multicooker Pot. Buy my cookbooks and books on Amazon.com sold worldwide in paperback and Kindle format.
Copyright Notice: Hello, Friends! Please DO NOT LIFT OR PLAGIARIZE my original recipe, stories, photos or videos. All the images and content on this blog are COPYRIGHT PROTECTED and owned by my media company Besa-Quirino LLC. This means BY LAW you are NOT allowed to copy, scrape, lift, frame, plagiarize or use my photos, essays, stories and recipe content on your websites, books, films, television shows, videos, without my permission. If you wish to republish this recipe or content on media outlets mentioned above, please ASK MY PERMISSION, or re-write it in your own words and link back to my blog AsianInAmericaMag.com to give proper attribution. It is the legal thing to do. Thank you. Email me at [email protected].