Mango Chutney
As an Amazon Associate and member of other affiliate programs, I earn from qualifying purchases.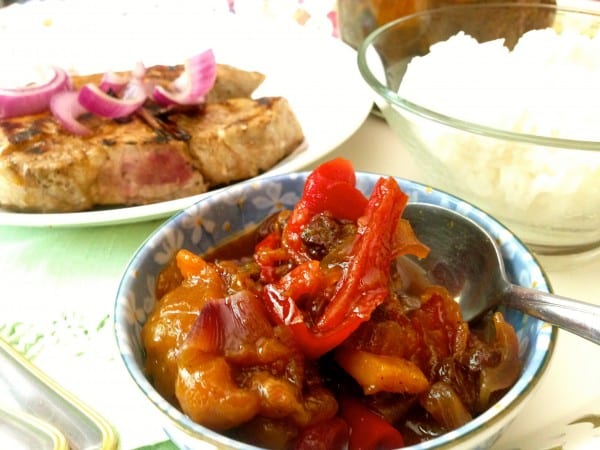 What do you do when you have too many mangoes ? Make sweet Mango Chutney relish just like my mom used to do. I love mango season. Here in the America, we enjoy them starting mid spring and the supply trickles off by mid summer in July. There are times we have so many mangoes that they ripen faster than we can eat them ,
And this is how I happened to make chutney. I had bought several cases of mangoes. They are my favorite fruit because I grew up with them in the Philippines. What I forgot was that when the mangoes ripen,it happens fast and you have to act quickly before they spoil.
My plan was to make mango jam, which I adore and I learned to make as a child. But I remembered mom used to make mango chutney, a sweet-sour-savory jam-like side that was great to pair with grilled dishes. I liked the latter plan because I could do it in a shorter time.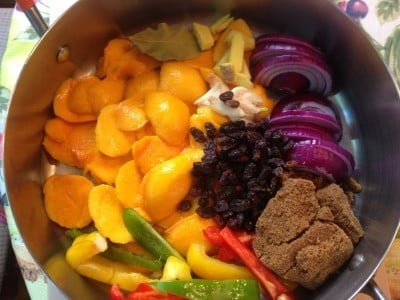 Making mango chutney is one of the easiest things to cook. It comes together in less than an hour. What's best, the bottled mango chutney you make lasts long into the fall and winter, if there's any left, though.
The very sweet, fully ripened succulent mango slices combined well with the melange of ingredients in the pan. After the chutney boiled and simmered, it took on a shiny, honey-like glaze. I sampled a few teaspoons with a newly pan seared pork chop. The sweet yet tart chutney with a jelly-like consistency enhanced the simplicity of the savory pork chop,perfectly served with fragrant rice.
What a wonderful way to enjoy the abundance of mangoes — make some chutney in the summer and relish it nearly all year long!
Recipe update: aside from serving mango chutney with pork chops like I did in this photo, I used this homemade relish as an ingredient when I cooked Roast Chicken in Mango Chutney. Click here for the recipe.
Mango Chutney
Mango chutney is a relish that enhances the flavors of other dishes when served as a side. This chutney I made tastes sweet,tart,tangy and has a jam-like consistency. If you have a surplus of fast-ripening mangoes like I did, then it's so easy to make mango chutney . Whenever I cook this sweet side with a hint of ginger flavors, my family enjoys pairing it with barbecues, roasts or pan-fried dishes. This is an Asianinamericamag recipe and makes about 2 cups or fills a 12 oz jar.
Equipment
1 mason glass jar, 12 oz.
Ingredients
2

whole pieces

fresh, ripe mangoes,

sliced, pitted, cut in cubes

1

knob

fresh ginger

about 1 inch, peeled, sliced in thin strips

2

cloves

fresh garlic

peeled and minced

1/2

teaspoon

salt

1

teaspoon

black peppercorns

1/2

cup

brown sugar

1

whole

red onion

sliced

1

teaspoon

ground black pepper powder

2

pieces

bay leaves

1/2

cup

cider vinegar
Instructions
Combine all the ingredients : mango, ginger, red pepper, garlic, salt, cider vinegar, brown sugar, raisins, peppercorns, red onion, bay leaves in a medium sized sauce pan.

Over medium high heat bring the mango mixture to a boil. Then reduce heat to a low simmer. Cook for about 25 to 30 minutes till mix is thick and has a jam-like consistency. While cooking, make sure to stir often to avoid mixture from sticking to the bottom of pan.

When done, remove pan from stove top. Cool on counter for at least 30 minutes. Store in sterilized glass jars. This recipe makes about 2 cups or fills a 12 oz. jar to the brim. Keep refrigerated.

Cook's comments: This mango chutney lasts about 3 months bottled and refrigerated. Use any variety of mangoes, but be sure they are fully ripened. Serve as a side condiment with roasts, barbecues or pan fried entrees. Also great to pair with curry dishes.

Hello, Friends! All the images and content here are COPYRIGHT PROTECTED. This means BY LAW you are NOT allowed to use my photos or content on your website, publications, videos or media content  without my permission. If you want to republish this recipe, please re-write it in your own words and simply link back to this blog to give proper attribution. It's the legal thing to do. Thank you.
Nutrition
Serving:
1
g
|
Calories:
115
kcal
|
Carbohydrates:
28
g
|
Protein:
1
g
|
Fat:
1
g
|
Saturated Fat:
1
g
|
Sodium:
300
mg
|
Potassium:
73
mg
|
Fiber:
1
g
|
Sugar:
27
g
|
Vitamin A:
30
IU
|
Vitamin C:
0.2
mg
|
Calcium:
32
mg
|
Iron:
0.6
mg