Strawberry-Blueberry Vanilla "Red White and Blue" Pie
As an Amazon Associate and member of other affiliate programs, I earn from qualifying purchases.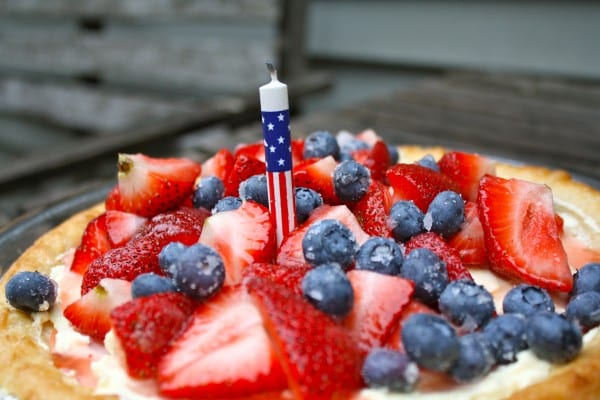 The unsung hero in our household is my husband, Elpidio Quirino so I made him a Strawberry-Blueberry-Vanilla Red White and Blue Pie. He was born on the 4th of July, when according to his mama, the parade was marching by on main street, in our hometown in the Philippines. Yes, Filipinos celebrate July 4th, too — in the past as Independence Day but that has been changed to Filipino-American Friendship Day.
July 4th is the USA Independence day. In the Philippines, it is commemorated as Philippine-American Friendship Day. So here in our Asian-American kitchen on the east coast, we celebrate this day with good food and merrymaking for the three occasions –America's Independence Day, Phil-Am Friendship Day and my husband, Elpi's birthday.
My husband is a low key person and never wants any lavish parties in his honor. In fact, we have always celebrated the 4th of July quietly, just us, his family enjoying a barbecue in our backyard. Nothing fancy – just good old Filipino-style pork barbecue skewers, pancit noodles (for long life), grilled vegetables and a birthday cake I make with seasonal fruits in summer colors.
My fellow food writers and friends in the culinary industry both here in the States and in the Philippines have met my husband, Elpi when he comes along to food conferences I attend during the year. They will all agree with me that my husband is quiet, soft-spoken and defers to me, the one who never stops talking. But behind that quiet man are traits of solid strength, tenacity and patience. He is our pillar of strength in the family. No matter how tired he is after a long day at work, he patiently shops for my long grocery list of ingredients which "I need for the blog recipe" I hysterically tell him on the phone. He is also my in-house tech support when all hell and the computers freeze and I don't know what to do. He has been a loving husband, awesome dad to our sons, the younger brother to his siblings, the good son to his parents. I couldn't have done anything in my life without his love and support.
In the spirit of simplicity which my husband prefers for today, his birthday, I baked a fast and easy to do 'red white and blue' blueberry-strawberry vanilla pie.
Enjoy this for your 4th of July weekend or any day all year round. Happy 4th, friends!
Strawberry-Blueberry-Vanilla Red White and Blue Pie
The saying "easy as pie" applies to this Strawberry-Blueberry-Vanilla Pie.  First, to make it easy on myself, when I make
pie crusts
, I make a double batch and freeze the extra disks for other dishes or pies just like this one. You never know when it will come in handy, so keep that thought in mind next time you make pie crust – do an extra one and freeze. So today, as a last minute decision to make a 'red white and blue' pie, I unfurled the pie dough which I kept in the freezer and baked it. Then I quickly mixed the vanilla part on the stove top till it became thick. I layered everything on the baked pie shell and here it is. Are you ready for pie? Let's do this then! This pie crust was adapted from the Memories of Philippine Kitchens cookbook and the filling is an AsianInAmericamag recipe. Serves 4 to 6.
Ingredients
1

single pie crust for a 9-inch pie

see past blog post for recipe single pie crust

2

cups

heavy cream

3/4

cup

cornstarch

1/2

cup

granulated sugar

1

teaspoon

vanilla extract

2

cups

fresh strawberries

washed, hulled, sliced

11/2

cups

fresh blueberries

or use frozen if fresh are not available

1/2

cup

organic powdered or confectioner's sugar

2

Tablespoons

melted unsalted butter

for pie crust
Instructions
Use the single

pie crust recipe

from a previous

blog post

. Pie crust recipe is

here

. Thaw the single pie crust and roll it out on a flour-dusted board on the counter. Lay out the pie crust on a 9-inch pie pan. Brush the top with melted butter. Prick the middle of the crust with a fork in four places. Bake in a preheated oven of 400 F for 11 minutes. Take the pie crust out of the oven and cool on the counter for about 25 minutes while you prepare the vanilla filling.

In a medium sauce pan, over medium high heat, combine the heavy cream, cornstarch, vanilla extract and granulated sugar. Use a wire whisk to blend mixture well. The cream will thicken in about 6 minutes. The creamy mixture should coat a cooking spoon. Remove from stove top and pour the vanilla cream over the baked pie shell. Set aside.

In a large bowl, combine the hulled strawberries, blueberries and organic powdered sugar. Mix lightly making sure the fruits do not get mashed. Pour the fruits over the vanilla cream layer in the baked pie shell. Cool on counter for about 10 minutes. Cover with a plastic wrap and refrigerate pie till ready to serve.

Cook's comments : A baker chef suggested I use organic powdered or confectioner's sugars for my baked treats and so I did. It has made a difference in natural, wholesome flavors.
Nutrition
Serving:
1
g
|
Calories:
602
kcal
|
Carbohydrates:
50
g
|
Protein:
3
g
|
Fat:
44
g
|
Saturated Fat:
27
g
|
Cholesterol:
163
mg
|
Sodium:
48
mg
|
Potassium:
89
mg
|
Fiber:
1
g
|
Sugar:
25
g
|
Vitamin A:
1750
IU
|
Vitamin C:
0.7
mg
|
Calcium:
77
mg
|
Iron:
0.1
mg
Nutrition Notes: The nutrition information provided is an estimate and will vary based on cooking or baking methods and brands of ingredients used.
Did you love this recipe? I have more Philippine dessert recipes in my popular cookbook How to Cook Philippine Desserts, Cakes and Snacks.
If you need Filipino Instant Pot recipes, find more in my newest cookbook Instant Filipino Recipes: My Mother's Traditional Philippine Cooking in A Multicooker Pot. Buy my cookbooks and books on Amazon.com sold worldwide in paperback and Kindle format.
Hello, Friends! Please DO NOT LIFT OR PLAGIARIZE my original recipe, stories, photos or videos. All the images and content on this blog are COPYRIGHT PROTECTED and owned by my media company Besa-Quirino LLC. This means BY LAW you are NOT allowed to copy, scrape, lift, frame, plagiarize or use my photos, essays, stories and recipe content on your websites, books, films, television shows, videos, without my permission. If you wish to republish this recipe or content on media outlets mentioned above, please ASK MY PERMISSION, or re-write it in your own words and link back to my blog AsianInAmericaMag.com to give proper attribution. It is the legal thing to do. Thank you. Email me at [email protected].