Pork Shoulder Barbecue and Inihaw na Talong, Roasted Eggplants
As an Amazon Associate and member of other affiliate programs, I earn from qualifying purchases.
I was not yet ready to say good bye to grilled meals like the ones we enjoyed over the summer. So while the outdoor temperatures were still pleasant, I made Pork Shoulder Barbecue and Inihaw na Talong-Roasted Eggplants, our char-grilled favorites.
The pork shoulder barbecue was a no-brainer. I had leftover marinade sauce from the pork barbecue skewers we had enjoyed over and over again. This is a tried and true formula that always captivates everyone who has a bite of these succulent, sweet-savory- almost teriyaki-flavored pork slices. Even if you're not Filipino, you will love these.
While we had the outdoor grill going, I threw in a couple of Asian eggplants to roast. Filipinos call these 'inihaw na talong' (say 'eee-nee-haw na tah-long'), meaning roasted eggplants. It only took a few minutes for their outer skin to look dark and charred, but inside the light green soft flesh was very flavorful. Once cooked, I sliced the eggplants lengthwise, nestled slices of sweet Jersey tomatoes next to it, and poured a tangy vinaigrette dressing all over the vegetables.
This whole assembly came together perfectly and went well with the bowls of fragrant steamed jasmine rice, a staple on our dinner table. No other meal for early fall, or any night for that matter, was easier to put together than this one. I did not even have to be in the kitchen!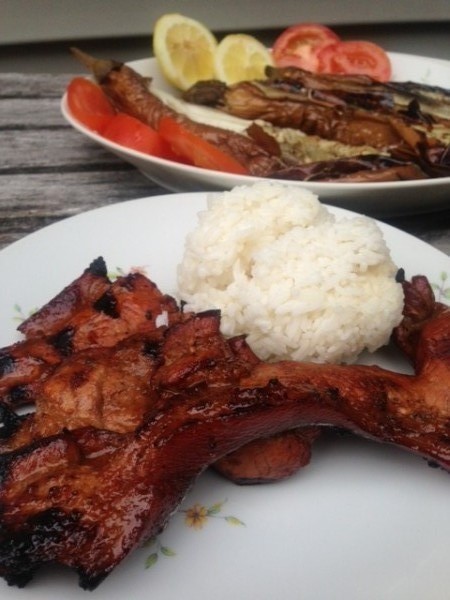 Pork Shoulder Barbecue and Roasted Eggplants
Barbecued pork is easy to do and pleases every palate there is. This one is typically Filipino tasting, with layers of flavors that are sweet and savory. I pre-marinated slabs of pork shoulder with a favorite barbecue marinade  
recipe
and on the same grill, I cooked Asian eggplants. The roasted vegetables were a perfect contrast to the strong barbecue  flavors, served with bowls of fragrant white rice. This is an AsianInAmericamag recipe and serves 4 if accompanied by rice.
Ingredients
2 ½

pounds

pork shoulder,

fat trimmed; sliced in 4-inch pieces

2

cloves

garlic,

minced

1/2

cup

toyo (soy sauce)

1/4

cup

calamansi juice,

or use lemon

1/2

cup

banana catsup

8

ounces

ginger ale,

or 1 can, divided, use half for marinade while grilling

1/2

cup

brown sugar

1

teaspoon

sea salt

1

teaspoon

freshly ground black pepper powder

1/8

teaspoon

sesame oil

2 to 3

whole

large Asian eggplants

1

teaspoon

sea salt,

for eggplant

1

teaspoon

ground black pepper,

for eggplant

1/4

cup

cider vinegar,

for eggplant

2

whole

large tomatoes,

sliced, for garnish
Instructions
Mix the marinade ingredients together in a bowl : minced garlic, soy sauce, calamansi juice, banana catsup (or use tomato catsup),  half of the ginger ale, salt, black pepper sesame oil. Leave ½ cup of the marinade plus half the ginger ale and 1/2 cup sugar aside for the grilling glaze. Pour the rest of the marinade over the pork. Keep in a non-reactive container. Cover with plastic wrap and refrigerate the pork overnight.

The next day, preheat the outdoor barbecue grill to a medium high. Separately, in a small bowl mix the grilling glaze with half of what was set aside from the previous day together with the remaining half can of ginger ale and brown sugar.

Grill the pork shoulder pieces, about 10 to 12 minutes on each side, rotating  the pieces for even cooking. Baste the pork pieces every few minutes so it gets moist and shiny.

To grill the eggplants: Separately wash and then grill the Asian eggplants. Place the whole pieces over medium high heat. The eggplants will roast in about 20 to 25 minutes, with the outer skin looking dark and charred. When cooked, transfer the eggplants to a platter and slice open in the center, lengthwise. Pour the Heinz vinegar and sprinkle with sea salt and black pepper. Garnish with sliced tomatoes on the side of the eggplants. Serve these vegetables with the grilled pork pieces accompanied by boiled white rice.

Recipe notes: If calamansi (the Filipino lime) is not available for the marinade, substitute with fresh lemon juice. If Asian eggplants are not available, use 1 large aubergine eggplant and roast on outdoor grill for the same amount of time. Banana catsup is sold in Asian groceries by the Philippine aisle. If not available, substitute with tomato catsup.
Hello, Friends! All the images and content here are COPYRIGHT PROTECTED. This means BY LAW you are NOT allowed to use my photos or content on your site  without my permission. If you want to republish this recipe, please re-write it in your own words and simply link back to this blog to give proper attribution. It's the legal thing to do. Thank you. Email me at [email protected]
Notes on Nutrition: The nutrition information provided is an estimate and will vary based on cooking methods and specific brands of ingredients used.
Did you like this recipe? I have more Filipino Instant Pot recipes in my newest cookbook Instant Filipino Recipes: My Mother's Traditional Philippine Cooking in A Multicooker Pot by Elizabeth Ann Besa-Quirino. Buy my cookbooks and books on Amazon.com sold worldwide in paperback and Kindle format.
Copyright Notice: Hello, Friends! Please DO NOT LIFT OR PLAGIARIZE my original recipe, stories, photos or videos. All the images and content on this blog are COPYRIGHT PROTECTED and owned by my media company Besa-Quirino LLC. This means BY LAW you are NOT allowed to copy, scrape, lift, frame, plagiarize or use my photos, essays, stories and recipe content on your websites, books, films, television shows, videos, without my permission. If you wish to republish this recipe or content on media outlets mentioned above, please ASK MY PERMISSION, or re-write it in your own words and link back to my blog AsianInAmericaMag.com to give proper attribution. It is the legal thing to do. Thank you. Email me at [email protected]
Disclosure: Instant Pot is the brand name of a multi-cooker that cooks in high and low pressure. I was not paid by the Instant Pot company to mention the product or brand nor endorse it. This is not an ad. My views and opinions are my own.