Salted-egg Flavored Potato Chips
As an Amazon Associate and member of other affiliate programs, I earn from qualifying purchases.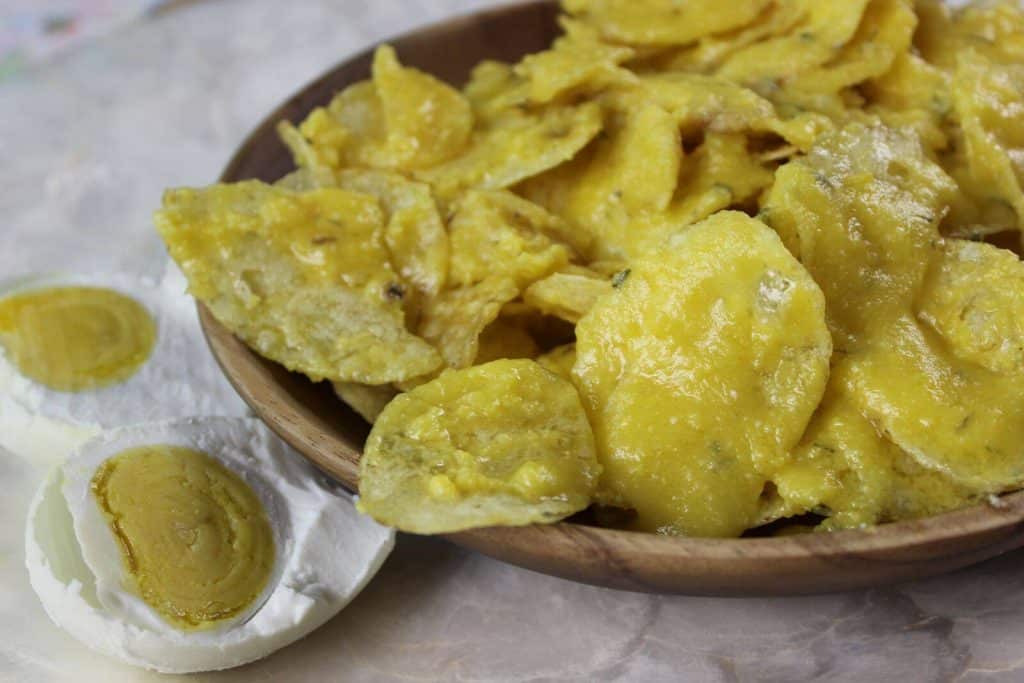 Salted egg-flavored Potato Chips, a current craze in the Philippines are great for Super Bowl Sunday or an appetizer any day. When my cousin Janet brought me back salted egg chips as pasalubong (gifts from travel) from the Philippines, my family craved for more long after the chips were gone. These chips are not yet sold widely in America, if at all. So I made my own. This savory crowd-pleaser is a winner and so easy to make with salted duck eggs, also known as itlog na maalat to Filipinos and regular potato chips.
First, let me explain what salted eggs are. In the Philippines, which is a warm, tropical country, salting foods is done so they have a longer shelf life. Salted eggs is an example. Duck eggs are more commonly used because they are larger and have bigger yolks. My good friend Chef Day Salonga has a blog post on how to make homemade salted eggs. If you buy these Filipino salted eggs in the markets, the shells are dyed and colored a dark red-purplish hue to set them apart from the regular fresh chicken eggs sold alongside.
So, to make these crunchy snack, simply grab a large bag of potato chips from the grocery, a couple of salted eggs from the Asian markets or you can make your own salted eggs which takes a few weeks, though. It's a straightforward, quick process to prepare these crisp appetizers. The results are crackling, saltier, almost earthy-flavored chips which are hard to put down and scrumptious with a chilled beverage. Enjoy watching the Super Bowl Sunday game day this weekend!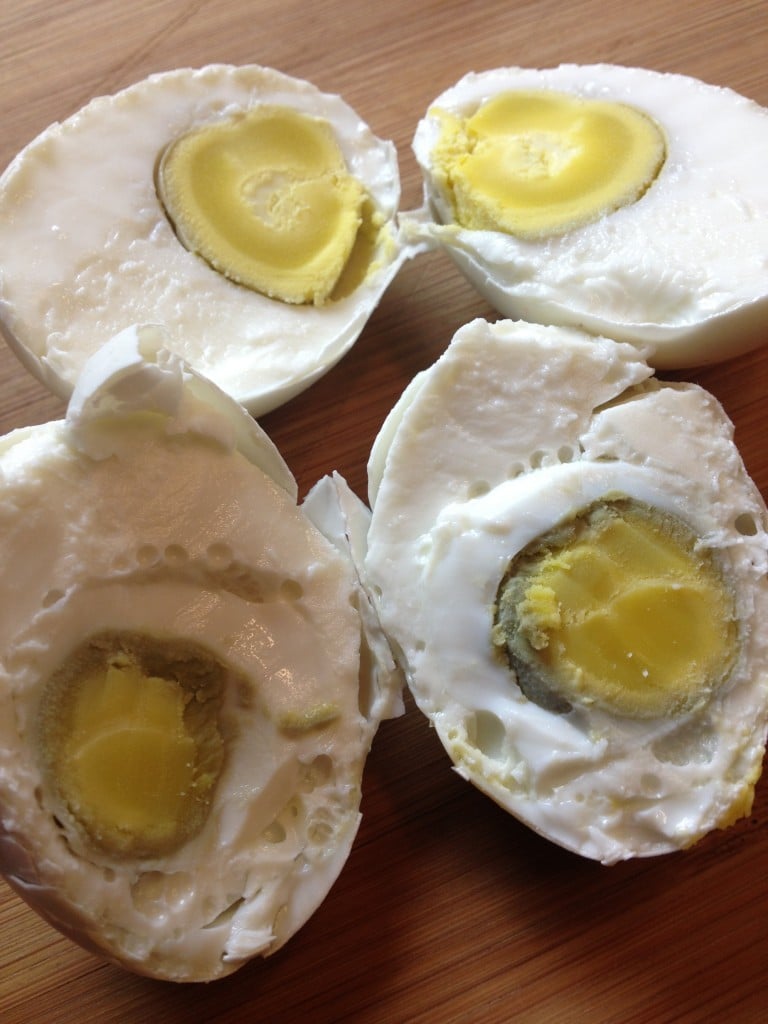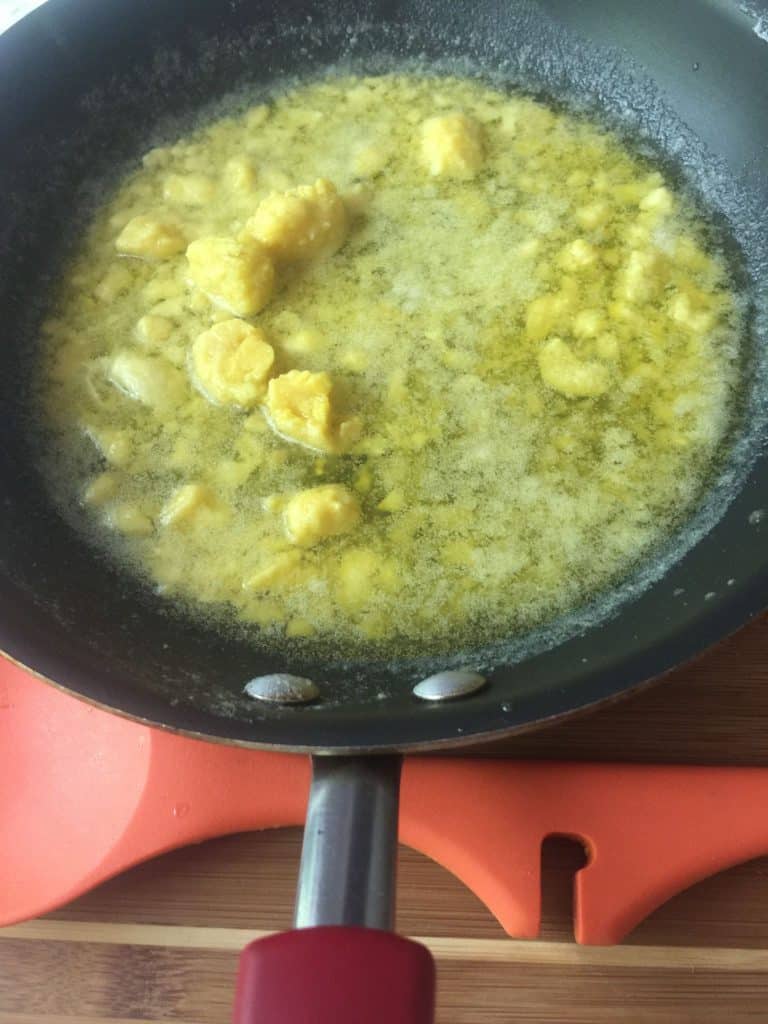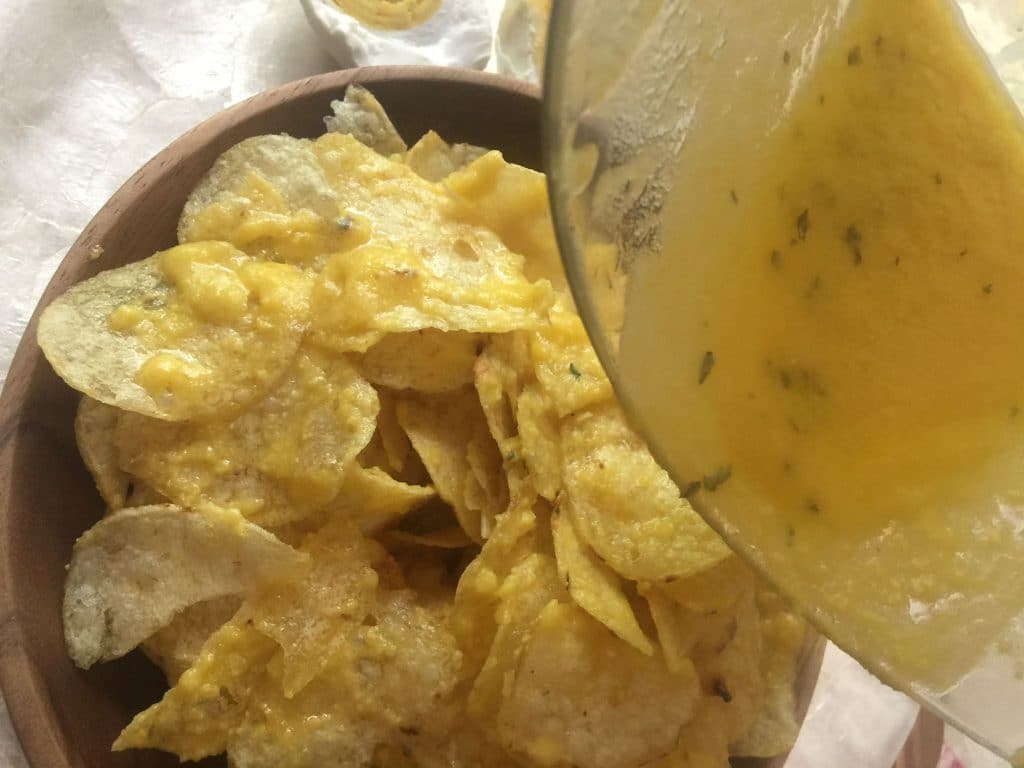 A recipe is in my cookbook My Mother's Philippine Recipes sold on Amazon.com. But you're in luck because this was featured together with a cookbook review on the online magazine Positively Filipino. My recipe follows in the procedure below.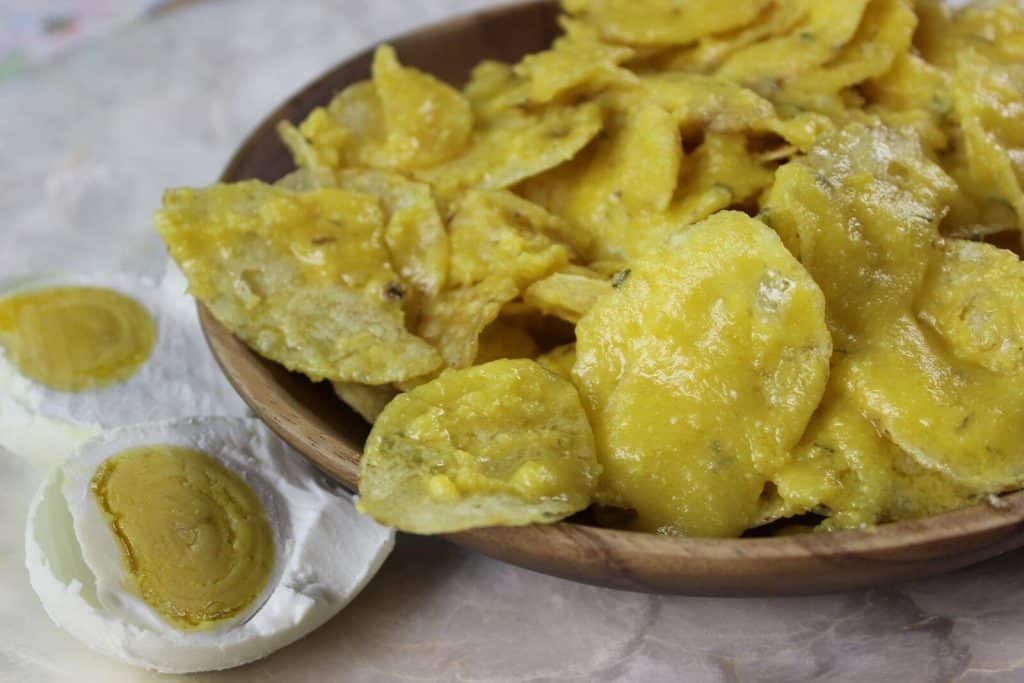 Salted Egg-flavored Potato Chips
Salted-egg flavored Potato Chips are a current craze in the Philippines, influenced by neighboring Asian countries. There are various commercial varieties sold online if you live abroad. I developed my own recipe in time for Super Bowl Sunday using salted duck eggs (also known as itlog na maalat) from Asian markets. My homemade salted egg chips were easy to make and more affordable than the imported ones. Lucky for me, my cousin brought back from the Philippines canisters of salted egg potato chips so, it helped me recreate these addictive appetizers. My recipe was featured by The Happy Home Cook on the Positively Filipino online magazine and reprinted from my original cookbook recipe: My Mother's Philippine Recipes (Amazon.com). Serves 2 to 4 as appetizers or snacks.
Ingredients
1/2

cup

unsalted butter

6

pieces

salted egg yolks

mashed, from Asian markets

1

Tablespoon

chopped flat leaf parsley

3

cups

potato chips, unsalted or low-salt
Instructions
Melt the butter in a small skillet over medium high heat.  

Add the mashed salted egg yolks and blend well.  

Transfer the butter-yolk mixture to a food processor or blender and process for 1 minute until smooth. 

Turn off processor and add the parsley, mixing by hand until well incorporated. Set aside. 

Preheat the oven to 400 F. Line a shallow 9 x 13-inch baking tray with parchment paper. Spread the potato chips all over the tray in a single layer, making sure the chips do not overlap. 

Pour the salted egg mixture over the potato chips—make sure to sprinkle the liquid evenly until all the chips are coated. 

Bake the coated chips at 400F for 10 minutes. Take the tray out of the oven and lay it on the counter to cool and for the chips to get crisp. Serve while still warm and crisp.  

Store the potato chips in an airtight, covered container. The chips should keep for 5 to 6 days in a cool part of the room.  

Cook's comments: It is important to use unsalted butter and unsalted or low-salt , unflavored potato chips. The salted egg yolks are already extremely salty and can stand alone as the sole seasoning for this appetizer. 

Ingredient comments on Salted Eggs:

 Here in America, I buy my salted eggs from the Asian supermarkets. The ones I find are not tinted red (like they are in the Philippines), but are in their regular white shells, preserved and packaged in plastic containers.These days, salted eggs are mostly made from large chicken eggs. Once you get home from the store, boil these salted eggs in water for 30 minutes. When cooked, peel and slice the boiled eggs. Each sliver gives off a sharp saltiness that goes well with ingredients of contrasting flavors. I also use salted eggs to bake the Filipino

Bibingka

rice cake. And when making this recipe for Salted Egg-flavored Potato Chips, there will be leftovers of the salty egg whites -- mix them with fresh tomatoes and blanched

kangkong

(spinach) for a delightful

Kangkong -Water Spinach salad

.

Hello, Friends! All the images and content on this blog are COPYRIGHT PROTECTED and owned by my media company Besa-Quirino LLC. This means BY LAW you are NOT allowed to copy, scrape, lift, frame, plagiarize or use my photos and  recipe content I wrote, on your website,books, films, television shows or videos  without my permission. If you want to republish this recipe or content on another website, video, news article,or media outlets mentioned above please ASK my permission, re-write it in your own words and simply link back to this blog to give proper attribution. It's the legal thing to do. Thank you. Email me at

[email protected]

Disclosure: As a participant in the Amazon Affiliate program, some blog posts contain links to products used in the recipe and sold on Amazon. The price stays the same for the readers who wish to purchase these products on my links. I earn a small commission from Amazon which helps maintain the blog expenses. Thanks in advance for your support.