Mango and Prosciutto Salad
As an Amazon Associate and member of other affiliate programs, I earn from qualifying purchases.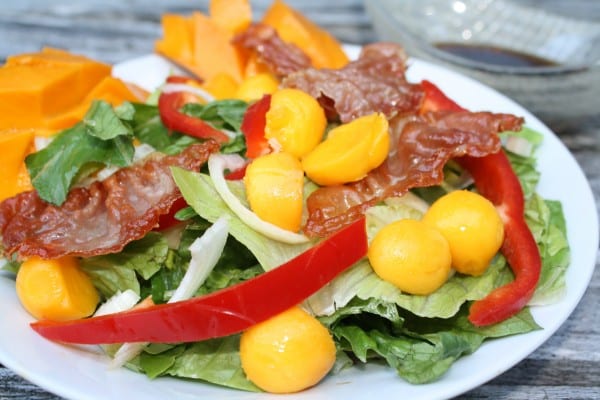 I put coffee in my mangoes and never realized what amazing flavors it could yield.
Mangoes are the sweetest and my favorite at this time of the year. They also come just in time for my blog's anniversary. I was searching for something to cook with the mangoes in my fruit basket. The heart-shaped yellow golden fruits were now fully ripened. As I ran my fingers across the smooth outer skin, deliriously inhaled the fruity, tropical aroma which clearly meant it was heavenly sweet inside, the mail arrived. In the mailbox was a gorgeous cookbook called "Passion for Coffee" by Patricia McCausland-Gallo.
I quickly flipped through the magnificent pages, recipe after recipe contained exciting ways to cook with coffee. The cup of coffee I loved to start my day with could now go beyond breakfast. I never imagined I could mix coffee in my mango salad until I read this cookbook. The author, Chef McCausland-Gallo puts coffee into every recipe from breakfast, lunch to dinner and in between. Coffee is in cookies, cakes, syrups, crepes, salads, entrees all the way to desserts and back. This Mango Salad with Prosciutto was a classic example.
Chef Patricia is a native of Colombia so she knows her coffee and it is apparent in her comprehensive book about coffee. One finds information on the background of coffee, the lives of people who work in the industry and like a bottomless cup, the endless recipes, all with a good amount of coffee. There's Grouper with Almonds, Rib Eyes with Blackberry BBQ Sauce, Pork Tenderloins with port wine sauce, Mocha Cheesecake Cups with Nougatine and more recipes in 244 pages with some mouthwatering photos that will make you run to the cupboard for the coffee.
The minute I saw a Mango Salad I knew I had to make it. It was the first recipe I liked instantly. As I read the clear instructions in the cookbook, I was aware this was a Mediterranean Salad. But I was drawn to the Asian vinaigrette with instant coffee on a different page, so I decided to make that dressing instead. I shook the glass jar with all the vinaigrette's ingredients. Then I sampled the dressing I just made which had instant coffee. It was a magical mixture of sweet, tangy and savory flavors all together. I could hardly wait to drizzle it on the fresh salad I was going to serve with some grilled kebabs, our main dish.
The outdoor grill was fragrant with the beef char-grilling. While that was going on, I took out the large wooden salad bowl. Into that went the crunchy lettuce, red bell pepper strips and the crisp prosciutto. I sliced open my sweet ripened mangoes and using a melon ball scooper made some fancy mango balls to go on top of the salad.
When we sat down to dinner, I placed the salad in front of my hubby and he devoured three fourths of what was in the bowl, slurping the salad dressing drippings which settled at the bottom of the bowl. He looked at me and happily said "I'm done. That was a good meal! "
He forgot we still had beef kebabs as our main dish. That's how marvelous this salad was.
Mango and Prosciutto Salad
This Mango Prosciutto Salad had the most unique, delectable Asian dressing infused with coffee. I made coffee syrup which I drizzled on the finished salad dish. The contrasting flavors of crisp,  fresh vegetables, savory prosciutto, the sweet ripened mango and the robust coffee flavor spiked our appetites around the table. This was one of the easiest and most amazing salads I've made in a while. Recipe was from The "Passion for Coffee" Cookbook by Patricia McCausland-Gallo (with permission from Creative Culinary Works). Serves 2 as a side.
Ingredients
4

teaspoons

rice vinegar

4

teaspoons

maple syrup

for vinaigrette

1

teaspoon

instant coffee granules or freeze-dried

3/4

teaspoon

salt

1/4

teaspoon

ground black pepper

1/4

teaspoon

sesame oil

6

Tablespoons

vegetable or canola oil

2

Tablespoons

minced fresh parsley

1/2

cup

ripe round balls cantaloupe balls;

about 1/4 of a melon or cantaloupe

3

cups

fresh shredded lettuce

4

ounces

prosciutto, sliced thin

1 3/4

cups

brewed coffee

for coffee syrup

3/4

cup

granulated sugar

for coffee syrup

1/4

cup

brown sugar

for coffee syrup

1

Tablespoon

balsamic vinegar

1/4

teaspoon

ground black pepper
Instructions
Prepare the Asian vinaigrette : Mix together all ingredients in a non reactive bowl or jar: rice vinegar, maple syrup, instant coffee (or freeze dried coffee), sea salt, black pepper, sesame oil, oil, parsley. Cover and shake to blend. Keep refrigerated till ready to use.

Prepare the salad: Pan sear the prosciutto strips for 2 to 3 minutes in a small skillet over medium high heat. The prosciutto strips will render its own fat while pan searing. The strips will curl up a bit. Drain the strips on parchment paper to remove excess oil. Set aside for the salad.

Arrange the lettuce on a platter or salad bowl. Place the sliced red bell peppers and mango balls on top.

Just before serving drizzle the Asian vinaigrette over the salad or serve dressing on the side if preferred.

If desired, drizzle some Savory Coffee Syrup on top of the salad in addition to the Asian vinaigrette.

How to make Savory Coffee Syrup : In a small saucepan combine 1 and 3/4 cups coffee (made from brewed coffee), granulated sugar, brown sugar, tomato paste, balsamic vinegar, black pepper. Let this mixture boil then reduce the heat. Simmer for 10 to 12 minutes over medium heat till it is reduced to 1 cup and is thick. Set aside. Refrigerate syrup leftovers.

Cook's Comments: If prosciutto is not available, use bacon instead. I used the variety called ataulfo mangoes (similar to Manila's carabao mangoes) for this recipe. Some Asian markets call it 'champagne mangoes'. If preferred, use any fully ripened mango variety available.

Disclosure: This cookbook was given as a complementary copy. I was not paid to review this book. My opinions are solely mine. But I will gladly recommend this cookbook for all lovers of coffee.

Copyright Notice:Hello, Friends! All the images and content here are COPYRIGHT PROTECTED. This means BY LAW you are NOT allowed to use my photos or content on your website  without my permission. If you want to republish this recipe, please re-write it in your own words and simply link back to this blog to give proper attribution. It's the legal thing to do. Thank you.
Nutrition
Serving:
1
g
|
Calories:
449
kcal
|
Carbohydrates:
113
g
|
Protein:
1
g
|
Fat:
1
g
|
Saturated Fat:
1
g
|
Polyunsaturated Fat:
1
g
|
Monounsaturated Fat:
1
g
|
Sodium:
888
mg
|
Potassium:
187
mg
|
Fiber:
1
g
|
Sugar:
111
g
|
Vitamin A:
3
IU
|
Calcium:
49
mg
|
Iron:
1
mg