Paksing Demonyu- A Devil's Vegetable Vinegar Stew
As an Amazon Associate and member of other affiliate programs, I earn from qualifying purchases.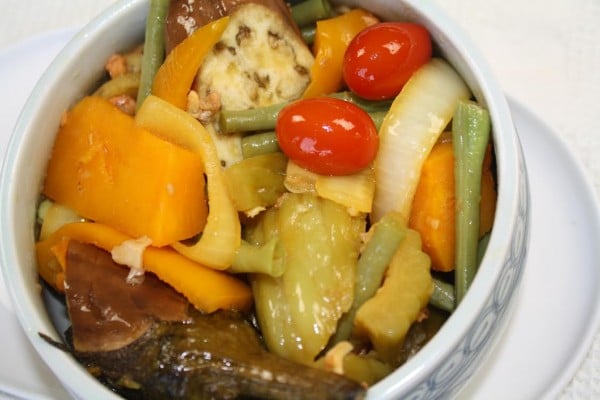 There is an old folk tale in the Pampanga province about how the Devil messed with a fisherman's stew, but in the end the mischievous deed backfired on the evil one. This was the origin of "Paksing Demonyu" which is Kapampangan (the Pampango dialect) for the Devil's Vinegar Stew. "Paksing" (say 'pak-seeng') translates to 'stewed', referring to a stew that was cooked. The word 'demonyu' (say 'deh-mohn-yu') is Pampango for 'devil'.
I found this old tale in a cookbook of heirloom recipes by Atching Lillian Borromeo of Mexico, Pampanga. 'Atching' (say 'at-ching') is a term of respect in Pampango which means 'elder sister', but is a title used to address a female relative or friend who is older. I visit Atching Lillian often during my trips to the Philippines. Pampanga is a province north of Manila, the capital. Mrs. Borromeo cooks and hosts private chef meals. She is one of the pioneers of Kapampangan heritage cooking and a visit to her home is like a delightful call to a dear aunt. She is warm, gracious, whips out a delectable 'merienda' (afternoon snack) she cooked and tells me stories about her recipes and its origins.
One amusing yet slightly dark tale is the story of 'Paksing Demonyu', one that Pampango grandmothers often retold during Good Friday of Lent, for the purpose of 'warding off the Devil' during those holy days.
Once upon a time, there was a poor fisherman who brought home the fish he caught for the day. He asked his wife to cook the fish in a vinegar stew with vegetables as soon as he got home. The Devil decided to play tricks on the fisherman. When the wife was not looking, the Devil mischievously removed the fish and replaced it with vegetables simmering in the pot. The Devil playfully re-seasoned the tangy broth and added sugar, resulting in a sweet sour flavor. Instead of being angry at his wife, the fisherman praised her for such a tasty vegetable stew. One of the fisherman's children revealed it was the Devil whom they saw playing around with the stew, and not their mother's doing. The fisherman's enjoyment of the vegetable stew did not please the Devil who abruptly left the home, never to come back again.
This was at the home of Mrs. Lillian Borromeo, whose cookbook was my source for the story.
Paksing Demonyu - A Devil's Vegetable Vinegar Stew
The Filipino Paksing Demonyu translates to a Devil's Vegetable Vinegar Stew. "Paksi" is the Pampango term for 'paksiw' (say 'pak-seew') which means a sour soup with fish, meat or vegetables in a vinegar-based broth. This is one of the most simple yet devilishly delightful ways to cook an entrée – by boiling it in vinegar with garlic, ginger and bird's eye chilies. The generous amount of broth is meant to be poured on steamed rice. Meals cooked in a vinegar stew taste better a day or two after because the tangy flavor has set so strong thus one's face puckers up in a tight grimace from the scorching superb taste. This recipe was adapted from my previous blog post and 'Atching Lillian's Heirloom Recipes' by Lillian Borromeo. Serves 2 or up to 4 if served with rice.
Equipment
Medium-sized Stock Pot: 8 or 10 quarts
Ingredients
1

cup

cubed kabocha squash

peeled, seeded

1

whole

ampalaya (bitter melon)

sliced or about 3/4 cup, seeded, white membrane removed

2

Tablespoons

salt

to soak the bitter melon

1

cup

water

for stew; or use vegetable broth

3/4

cup

white vinegar

1

cup

brown sugar

2

pieces

siling labuyo (bird's eye chilies)

1

whole

large red onion

sliced

1

Tablespoon

thinly-sliced fresh ginger

peeled, sliced in 1-inch pieces

4

cloves

garlic

minced

1

teaspoon

salt

1

teaspoon

black peppercorns

1

teaspoon

ground black pepper

1

whole

large tomato

sliced

2

whole

Asian eggplants

sliced ; or use aubergines, sliced to yield 2 cups

2

cups

sliced sitaw (long green beans)

cut in 2-inch pieces

for serving: steamed rice
Instructions
In a small stockpot, boil the cubed kabocha squash in water for about 15 to 20 minutes till it is soft when pierced with a fork. Drain water and set aside.

Prepare the bitter melon or 'ampalaya' in a small bowl by adding 2 tablespoons of sea salt and rubbing it well by hand to coat the slices. Let this mixture rest for about 10 minutes. Then wash off the salt and drain vegetables on paper towels. This process helps to remove the bitterness of the 'ampalaya'. Set aside.

In a medium stockpot, over medium high heat, combine the vinegar, water, sugar, siling labuyo or bird's eye chilies, red onions, fresh ginger, garlic, salt, peppercorns and black pepper. Bring to a boil, then lower heat to a slow simmer.

Add the eggplants, ampalaya, sitaw, tomatoes and the boiled kabocha squash. Let this simmer for about 10 to 12 minutes till vegetables are cooked.

Cook's comments : The original recipe of 'Paksing Demonyu' did not have the kabocha squash nor does a regular 'paksiw' dish do. I added the squash because I had it in my vegetable bin and decided it would add color and a new flavor to the vegetable stew.

Hello, Friends! All the images and content here are COPYRIGHT PROTECTED. This means BY LAW you are NOT allowed to use my photos or content on your website  without my permission. If you want to republish this recipe, please re-write it in your own words and simply link back to this blog to give proper attribution. It's the legal thing to do. Thank you.
Nutrition
Serving:
1
g
|
Calories:
452
kcal
|
Carbohydrates:
112
g
|
Protein:
1
g
|
Fat:
1
g
|
Saturated Fat:
1
g
|
Sodium:
8180
mg
|
Potassium:
200
mg
|
Fiber:
1
g
|
Sugar:
107
g
|
Vitamin C:
2
mg
|
Calcium:
118
mg
|
Iron:
1
mg
Notes on Nutrition: The nutrition data for this recipe includes the full amount of the marinade ingredients. The actual amount of the marinade consumed will vary. The nutrition information provided is an estimate and will vary based on cooking methods and specific brands of ingredients used.
Did you like this recipe? I have more classic recipes inspired by my late mother's cooking in my popular cookbook: My Mother's Philippine Recipes. If you're learning how to cook Filipino food or a fan of Philippine cuisine, buy my cookbooks and books on Amazon.com sold worldwide in paperback and Kindle format.
Copyright Notice: Hello, Friends! Please DO NOT LIFT OR PLAGIARIZE my original recipe, stories, photos or videos. All the images and content on this blog are COPYRIGHT PROTECTED and owned by my media company Besa-Quirino LLC. This means BY LAW you are NOT allowed to copy, scrape, lift, frame, plagiarize or use my photos, essays, stories and recipe content on your websites, books, films, television shows, videos, without my permission. If you wish to republish this recipe or content on media outlets mentioned above, please ASK MY PERMISSION, or re-write it in your own words and link back to my blog AsianInAmericaMag.com to give proper attribution. It is the legal thing to do. Thank you. Email me at [email protected]