Pasta with Crab Paste- Taba ng Talangka
As an Amazon Associate and member of other affiliate programs, I earn from qualifying purchases.
A few weeks ago, we were in the Philippines on a balikbayan visit. It was the season for taba ng talangka, so I purchased a few bottles and cooked Pasta with Crab Paste-Taba ng Talangka after we enjoyed it the traditional way of talangka with rice.
What is taba ng talangka? It is crab fat from very tiny crabs – the talangka (say "tah-lang-kah"). The word taba is Tagalog for 'fat'. These crablets measure about one to two inches in diameter. When I was little, I remember my parents introduced me to this savory crab paste mixed into a bowl of steaming white rice. I recall my dad telling us it took a bushels of talangka (small crabs) to extract a cup of crab paste and make it into this Filipino delicacy. I admit as a child I was afraid of those tiny crustaceans when they crawled out of the bayong (market baskets) but all those fears disappeared when I saw a bowl of the cooked dark orange crab paste on the table ready to be mixed into the newly-cooked rice.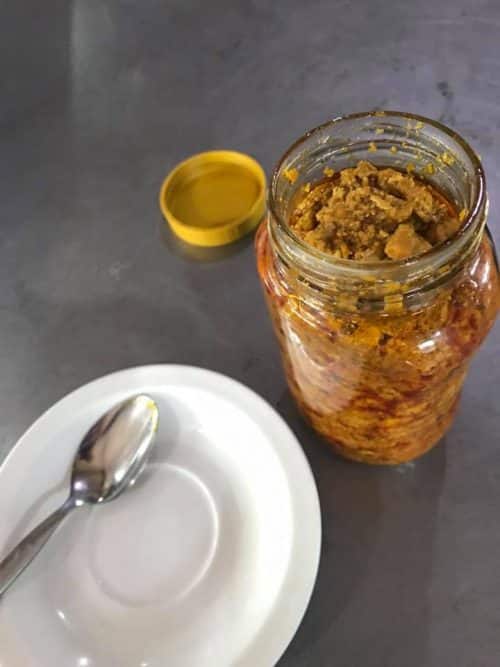 The process of extracting the fat from the tiny crabs is tedious and I will not exhaust you with the details. But I remember clearly how it was done, the way I saw it in my mother's kitchen. The process involved steaming the little crabs and opening them by hand to remove the prized possession — the crab fat. I recall how my mom was particular about the fat coming from female crabs vs. the male one. I'm not an expert but I know it was the more prolific female fat crab that was preferred for this process. A good description was on this blog I found. These days, I rely on dependable sources for my small jar of crab paste. Here in America, I can find crab paste at Filipino stores or online. But if you are in the Philippines, make sure to grab a bottle or two to enjoy like I did when I bought the Probinsyano Taba ng Talangka at the Everybody's Cafe in Pampanga.
The Probinsyano brand of Everybody's Café was a good buy and one I trust well. Owner Poch Jorolan is an old friend and has brought us around to many Pampanga Culinary Tours plus introduced us to several Kapampangan chefs and culinary entrepreneurs. This is just one of the many Probinsyano products (ready-to-cook pork barbecue, tocino, palm vinegar, Spanish sardines, ube haleya and more) he sells at their Everybody's Cafe restaurants in San Fernando and Angeles City, Pampanga. In Manila, find these products at the Salcedo Market on weekends in Makati.
The salty, thick crab paste is already boiled and cooked when you find it in bottles. A classic way to enjoy it is to smear a few dollops on white rice, spritz some calamansi (or lemon) juice on it and mix it all up. It is a savory, pleasurable experience. I went a step further and mixed up crab paste and boiled shrimps on long strips of pappardelle pasta then garnished it with slices of tart green mangoes. The salty, citrusy flavors were unbelievable. One tablespoon was enough to remind me I was home. It was so good to be home.
Pasta with Crab Paste - Taba ng Talangka
This Pasta with Crab Paste-Taba ng Talangka was my take on cooking with the rich, salty crab fat paste I purchased on my recent trip back to the Philippines. Traditionally, we enjoy taba ng talangka on steaming, hot white rice and sprinkled with calamansi, the Filipino lime. But this time, I went a step further and added the savory crab paste to pasta, sprinkled the citrus and garnished it with tart slices of green mango. The results were amazing and it was an easy dish to put together. This is an Asian in America recipe. Serves 2 to 4.
Ingredients
8

ounces

Pappardelle pasta

boiled al dente

1/2

pound

large fresh shrimps

peeled, heads & tails removed, par-boiled in the pasta water

2

teaspoons

calamansi or lemon juice

for boiling shrimps

2

Tablespoons

vegetable oil

2

cloves

garlic

peeled and minced

3/4

cup

taba ng talangka (crab paste)

bottled, from Asian markets

1/4

cup

calamansi or lemon juice

1/2

teaspoon

salt

1

teaspoon

ground black pepper

1/2

slice

fresh green mangoes

peeled, sliced vertically in slim strips, for garnish
Instructions
Boil Pappardelle pasta for 8 minutes till al dente. Drain pasta and set aside.

Reserve pasta water for boiling shrimps. (*Note: If using other types of pasta, follow directions on package on how to cook).

In a medium-sized stockpot, using the pasta water, par boil the shrimps with the calamansi or lemon juice. Cook for 5 to 6 minutes till shrimps turn pink. When shrimps are cooked, drain and set aside.

In a large skillet, over medium heat, add the oil. When oil is hot, saute the garlic for one minute.

Add the boiled shrimps and crab paste.

Pour the calamansi or lemon juice. Blend well for one minute.

Add the cooked pasta to the skillet. Mix ingredients well. Season with salt and black pepper.

Arrange pasta with crab paste on a platter. Garnish with slices of green mango. Serve warm.

Cook's comments: Use other types of pasta if preferred. I have used fettucini and spaghetti pasta for this dish.

Disclosure:  I was not paid to endorse or mention the brands in this blog post. I purchased the products myself. However, if you're visiting the Philippines and are either in the Pampanga or Makati area, I am glad to recommend the Probinsyano line of food products by Everybody's Cafe. Contact Poch Jorolan of [email protected] for details on where to purchase. Or follow Outereater (Mt. Pinatubo and Pampanga Tours) on Instagram and Facebook. [This is not an ad].

Hello, Friends! Do not plagiarize or lift my recipes and photos without permission. All the images and content here are COPYRIGHT PROTECTED. This means BY LAW you are NOT allowed to use my photos or content on your website, videos, TV programs, cookbooks, media content  without my permission. If you want to republish this recipe, please re-write it in your own words and simply link back to this blog to give proper attribution. It's the legal thing to do. Thank you. Email me at [email protected]

Disclosure: As a participant in the Amazon Affiliate program, some blog posts contain links to products used in the recipe and sold on Amazon. The price stays the same for the readers who wish to purchase these products on my links. I earn a small commission from Amazon which helps maintain the blog expenses. Thanks in advance for your support.
Nutrition
Serving:
1
g
|
Calories:
128
kcal
|
Carbohydrates:
2
g
|
Protein:
1
g
|
Fat:
14
g
|
Saturated Fat:
11
g
|
Sodium:
582
mg
|
Fiber:
1
g
|
Sugar:
1
g
|
Vitamin C:
0.9
mg
|
Calcium:
5
mg
|
Iron:
0.1
mg
Notes on Nutrition : The nutrition information provided is an estimate and will vary based on cooking methods and brands of ingredients used.
Did you like this recipe? I have more classic recipes inspired by my late mother's cooking in my popular cookbook: My Mother's Philippine Recipes. If you're learning how to cook Filipino food or a fan of Philippine cuisine, buy my cookbooks and books on Amazon.com sold worldwide in paperback and Kindle format.