Filipino Iced Candy: Frozen Ice Pops in Mango, Watermelon and Coconut-Pandan Flavors
As an Amazon Associate and member of other affiliate programs, I earn from qualifying purchases.
[amazon_link asins='B0050IL73Q,B00M8VSKW4,B00061EYDW,B00RUQZLYW,B01HODPDSO,B005NKK04S,B01CMU1DCY' template='ProductCarousel' store='queensnotcom-20′ marketplace='US' link_id='e8dd2fe9-08d7-11e7-8046-2d83034c5f4d']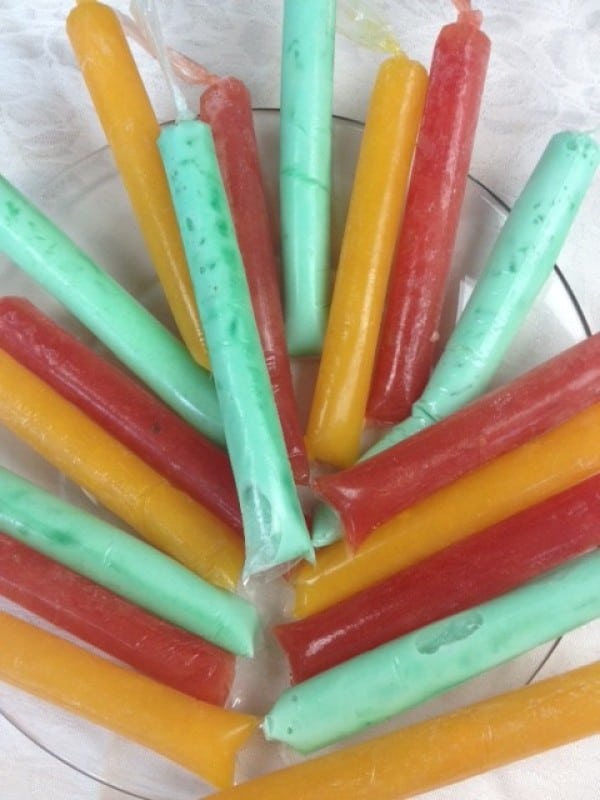 Just when I was getting ready to shut my suitcase while packing for my trip from Manila back to the USA, I asked my sister. "Can you get me a few packs of Iced Candy plastic bags?" I wanted to make the Filipino Iced Candy in Mango, Watermelon and Coconut-Pandan flavors when I returned to the States. One of the most iconic street foods in the Philippines is the Iced Candy. They are actually frozen ice pops in different flavors. It is street food that's so commonplace. The kind you buy from any ordinary street vendor. But these little iced delights are simply extraordinary.
These little frozen treats are packaged in long plastic bags measuring 1 inch by 10 inches. Once prepared with fruity or milky flavors, they are frozen till they are rock- solid . Anybody who eats these sweet cold treats enjoys them like frozen ice pops and thus they are called "iced candy".
On my trip to Manila recently, I enjoyed these 3 fruity flavors in various ways, all the time : mangoes, watermelons and buko (coconut) – pandan.
Watermelons in Manila are bright red inside and are the sweetest in the universe. Freshly made watermelon juice is very popular everywhere because of it's refreshing flavor.
The "buko"(coconut)-pandan desserts in Manila are out of this world. PANDAN is a tropical plant commonly grown in Asia, and has long green leaves. If the leaves are boiled or pounded into a paste, it adds a unique, sweet almond-like, nutty flavor to desserts and dishes. And if pandan flavors are added to desserts with coconut, then it is an explosion of yumminess!
Mangoes are the national fruit and I simply languished in them 3 times daily, in any way….a fully ripened fresh slice, a freshly-pureed tall, cold glass of juice, or in divine cakes and pastries.
So when I returned back to the USA, I lost no time recreating these flavors. I wanted to make some fruit sherbets, but since I already had the plastic bags on hand, ICED CANDY seemed like a wonderful idea.
First, I made some mango puree, using golden ripe, fresh mangoes. My food processor practically did all the work for me.
Then, I made some watermelon juice. Aaaaaah, it was wonderfully thirst-quenching!
And finally, I made my own "buko" (coconut) pandan concoction. It was sweet euphoria.
After filling up a few dozen little plastic bags, I froze them overnight, and the next day….like magic, they were tantalizing little iced candies in three magnificent Manila flavors : mangoes, watermelon and "buko"(coconut) pandan!
Filipino Iced Candy- Frozen Iced Pops in Mango, Watermelon and Coconut-Pandan Flavors
The Filipino Iced Candy is our counterpart to the American frozen iced pops, The ingredients and process are basically the same for both. The difference is that Filipino iced candy are packed in small, long, thin plastic bags which look like frozen candy tubes. These iced candies in mango, watermelon and coconut-pandan flavors are classic summer treats my family enjoys when I make them at home. In the Philippines' year-round tropical weather, these are enjoyed all the time, whether at home or often sold as street food. They are simple pleasures that bring a multitude of joyful memories. This is an Asian in America recipe.
Equipment
small plastic bags for iced candy; funnel; strainer; food processor or blender
Ingredients
For Syrup
1/2

cup

Karo corn syrup

or use honey

1/2

cup

sugar

1

cup

water
For Mango Juice
1

cup

mango puree

from 1 to 2 whole fresh, ripe sweet mangoes

1

cup

mango juice

canned or bottled

4

Tablespoons

syrup
For Watermelon Juice
4

cups

chopped fresh ripe watermelon

seeded

1/4

cup

syrup
For Coconut-Pandan Juice
1

bar

green gulaman (agar-agar)

2

cups

water

for boiling gulaman

2 + 1 1/2

teaspoons

McCormick International Pandan Flavoring

divided; use 2 teaspoons for gulaman; rest for coconut cream

1

cup

milk

1

cup

coconut cream

canned or fresh
Instructions
To make the syrup:
Mix all the ingredients together in a small saucepan over medium-high heat. In about 7 to 8 minutes, the mixture will boil. Let it boil for 5 minutes more till syrup is thick. When syrup coats the spoon, remove from stove-top. Cool on counter before adding to the juices. Set aside.
To make the mango juice:
Put all the ingredients in a food processor or blender. Pulse or blend for 2 minutes till smooth. Set aside.
To make the watermelon juice:
Put all the ingredients in a food processor or blender. Pulse or blend for 2 minutes till smooth. Set aside.
To make the coconut-pandan juice:
Tear the gulaman into small pieces with your hand. Add them to the water in a small stockpot. Over medium-high heat, allow this mixture to boil in about 5 minutes. Stir as the gulaman pieces dissolve in the boiling water. Lower heat to a medium. Add the pandan flavoring and blend. Turn off heat. Pour green gulaman liquid into a heatproof container. The gulaman should firm up in about 40 minutes to one hour. If you need to rush it, place the cooked gulaman in the refrigerator to firm up. Set aside.

Separately, in a medium-sized bowl, mix the milk, coconut cream, sugar and 1 1/2 teaspoons pandan flavoring. Blend liquid.

When the green gulaman has cooled, cut into 1/4-inch cubes. Add these cubes to the cooled milk-coconut mixture. Set aside.
To fill up iced candy plastic bags:
Loosen up the little plastic bags.

Using a funnel, add 2 tablespoons of each juice flavor individually to each plastic bag. Leave about 2-inches space at the top of each bag so you have room for tying the knot. You should have about 8-inches of the plastic bag filled up. Secure each bag by tying a knot on top.

Freeze the iced candy bags overnight before serving. Store them in vertical or horizontal positions to maintain its shape.
Cook's comments:
Gulaman or agar-agar is the Asian gelatin. It is a solid, coarse bar that comes in different colors. After it is boiled in water, it firms up like jello. It only takes an hour without refrigeration for the gulaman to firm up and become solid. It has a bland taste on its own. Gulaman is used in Filipino or Asian desserts and dishes. They are sold at Asian markets or online sources.

Plastic bags for iced candy are about 10 inches in length and 1 inch in width. These are sold at Asian markets, Filipino groceries or online sources. In the Philippines, they are inexpensive and available at supermarkets, kitchen wares at department stores or the 'palengke' (market). If more convenient, you can use regular ice popsicle plastic containers.
Nutrition
Serving:
1
g
|
Calories:
493
kcal
|
Carbohydrates:
75
g
|
Protein:
5
g
|
Fat:
23
g
|
Saturated Fat:
20
g
|
Cholesterol:
6
mg
|
Sodium:
66
mg
|
Potassium:
383
mg
|
Fiber:
2
g
|
Sugar:
70
g
|
Vitamin A:
790
IU
|
Vitamin C:
24.9
mg
|
Calcium:
92
mg
|
Iron:
1.5
mg
Nutrition Notes: The nutrition information provided is an estimate and will vary based on cooking or baking methods and brands of ingredients used.
Did you love this recipe? I have more Philippine dessert recipes in my popular cookbook How to Cook Philippine Desserts, Cakes and Snacks.
If you need Filipino Instant Pot recipes, find more in my newest cookbook Instant Filipino Recipes: My Mother's Traditional Philippine Cooking in A Multicooker Pot. Buy my cookbooks and books on Amazon.com sold worldwide in paperback and Kindle format.
Hello, Friends! Please DO NOT LIFT OR PLAGIARIZE my original recipe, stories, photos or videos. All the images and content on this blog are COPYRIGHT PROTECTED and owned by my media company Besa-Quirino LLC. This means BY LAW you are NOT allowed to copy, scrape, lift, frame, plagiarize or use my photos, essays, stories and recipe content on your websites, books, films, television shows, videos, without my permission. If you wish to republish this recipe or content on media outlets mentioned above, please ASK MY PERMISSION, or re-write it in your own words and link back to my blog AsianInAmericaMag.com to give proper attribution. It is the legal thing to do. Thank you. Email me at [email protected].