Sangria Cocktail and Cheese-Chorizo Tapas
As an Amazon Associate and member of other affiliate programs, I earn from qualifying purchases.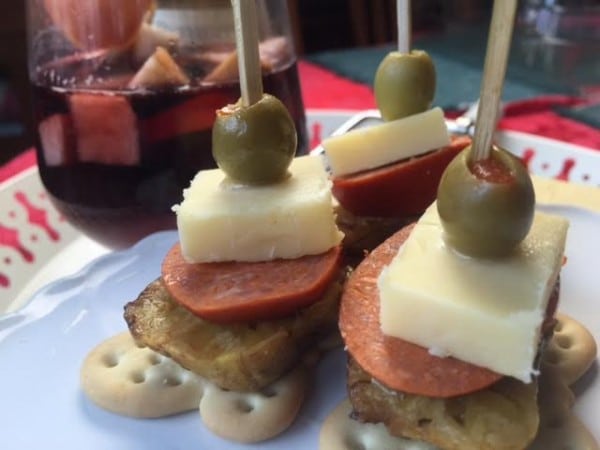 Celebrating the New Year's has been different for our Filipino family here in America. Every time I talk to my sister back home in the Philippines her expectations of New Year's is different from how we celebrate. A typical Filipino New Year's was my sister's benchmark of traditions. My sister asked if we had fireworks, a big 'handa' (feast with family), held grapes and coins in our hands at the stroke of midnight (a superstitious tradition which invites good fortune) and made sure we were complete as a family on the first day of the New Year.
Except for the 'grapes and coins' I told my sister the rest of the Filipino traditions were not happening for us. It was impossible and illegal to have fireworks on the east coast in the middle of winter. We did not live near our larger, extended family, so the four of us only had each other. It bothered my sister we were not following our childhood traditions. I assured her it was more important we welcomed the New Year renewed and optimistic, with hope for better things to come.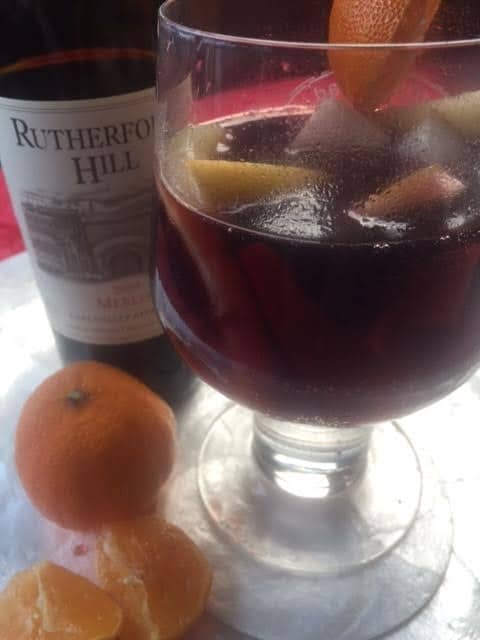 That said I put together a spirited pitcher of Sangria and some spicy, savory 'tapas' to ring in the New Year here at home. Thanks to the Spanish colonial influence in our cuisine and culture, Filipinos love sangria. Concocting a tall pitcher of fruity sangria has always been fun.
I found helpful sangria recipes and information in the book "Field Guide to Cocktails" by Rob Chirico (Quirk Books). 'Sangria' in Spanish means 'bleeding' and so the cocktail was named for its red color. It is a refreshing drink year round. The author suggested preparing a pitcher of the drink early in the day for large parties. A good quality red wine is recommended for this drink. I used a 2009 Merlot which was a gift from friends.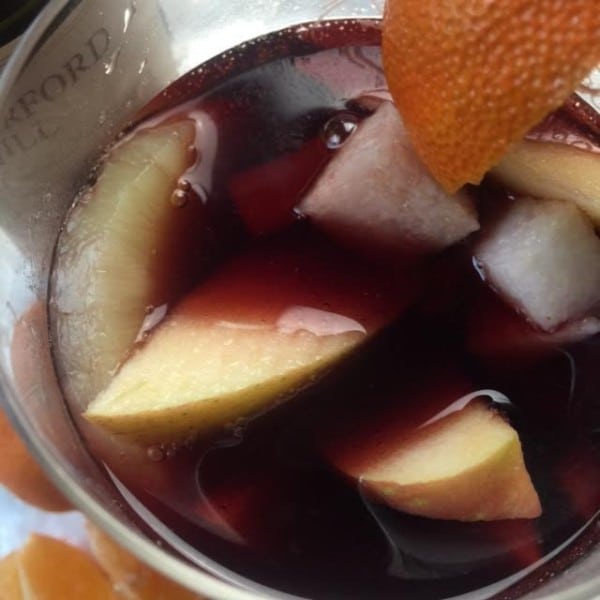 To match the fruity flavors of this robust crimson cocktail, I put together 'tapas'. 'Tapas' are appetizers that originated from Spain. 'Tapas' comes from the root word 'tapar' (Spanish for 'to cover'). In this case, one sliced ingredient covers the other, till neat stacks of hors d'oeurvres were created. The beauty of tapas is that you can go as imaginative as your ingredients allow.
I had fun stacking up these easy Cheese-Chorizo Tapas — in a plethora of flavors — sweet plantain slices, spicy Spanish Chorizos, sharp-tasting aged Cheddar cheese, and topped with savory olives. The best part of it all was that it only took me 20 minutes to prepare both — mix the Sangria, as well as stack up the tapas.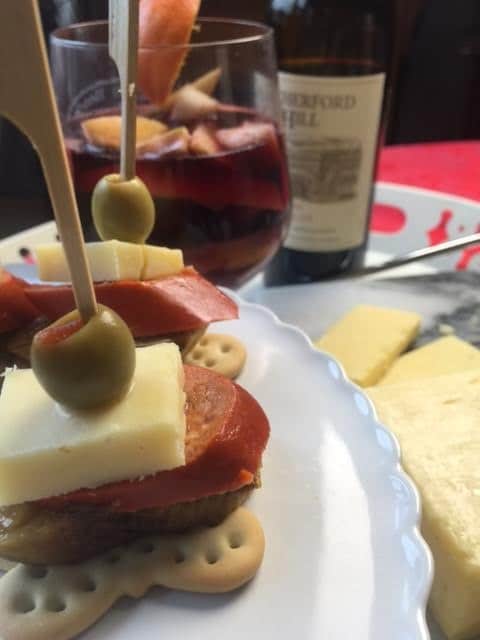 In no time, our New Year's feast was ready, and I still had a few hours to spare before the clock struck midnight. This gave me time to review the year that was.
The past year was an amazing year of travels, new things, friendships and learning. We even had the opportunity to write a history book "Statesman and Survivor Elpidio Quirino, 6th President of the Philippines" for our family. And now, as I stirred the sangria filled with the silky red wine with a berry-like aroma, I watched the colorful fruit slices dance around. I welcomed thoughts about the New Year with gratitude from the past and optimism for the months ahead.
Often, an optimistic attitude invites an influx of positive energy in us. I always look to optimism as the "yeast" in the bread of our lives. With optimism, we rise and our spirits soar and bloom. No matter where we are in the world, or how we choose to ring in the New Year, the best tradition we can choose is to revive our spirits and cultivate optimism around us.
Happy New Year, dear friends and family! May 2016 bring you an abundance of good things, new experiences and much happiness.
Sangria Cocktail and Cheese-Chorizo Tapas
Sangria is a type of red punch, with fresh fruit, red wine and some brandy. Tapas are appetizers consisting of different ingredients all stacked up. Both the sangria and the tapas are of Spanish influence and are as scrumptious as they are easy to put together at a moment's notice. For Sangria, it is important to chill the wine and use fresh fruit. As for the tapas, use ingredients that are conveniently available in a range of flavors that you and your guests prefer. This sangria recipe was inspired by the book "Field Guide to Cocktails" by Rob Chirico (Quirk Books). The tapas were from an AsianInAmericaMag recipe. Both the Sangria and the Cheese-Chorizo Tapas serve 4.
Equipment
Large Sangria pitcher; Appetizer platter for tapas

large serving platter for tapas
Ingredients
1

whole

Asian pear

peeled, cubed, for sangria

1

whole

Fuji apple

peeled, sliced, for sangria Fuji apple

3

whole

Clementines

divided, use juice from 2, slices for garnish of remaining piece, for sangria

3

slices

fresh pineapple

for sangria

1

cup

seedless grapes

washed, separated, stems removed (red or green)

1

bottle (750 ml)

red wine

for sangria

4

ounces

brandy or light rum

for sangria

12

ounces

club soda

for sangria

24 to 30

pieces

assorted crackers

for tapas

24 to 30

slices

plantain slices

pre-fried for 2 minutes in brown sugar, for tapas (saging saba in the Philippines)

2 to 3

whole

Spanish chorizos

sliced, pre-fried for 2 minutes, for tapas

1

whole (7 ounces/198 g)

Kerrygold aged cheddar cheese

cut into 1 inch squares, for tapas (or use any brand of the same flavor or cheese variety)

24 to 30

pieces

olives

pitted, drained; Spanish or black; or assortment

24 to 30

pieces

cocktail toothpicks

for tapas
Instructions
To make the Sangria: In a large pitcher, layer the fruits at the bottom in this order – Asian pear, apple and pineapple slices, and grapes. Pour the Clementine juice, club soda, red wine and brandy. Stir well. Cover the pitcher and refrigerate for a few hours till ready to party.

To prepare the tapas: Line up the assorted crackers on a dry, flat surface like a wooden chopping board or festive platter for appetizers. Stack the ingredients on top of each cracker in this order – pre-fried sweet plantain slices (saging saba in the Philippines), pre-fried Spanish chorizos, sharp cheddar slices. Place a pitted olive on top of each tapa appetizer. Hold each tapa together with a cocktail toothpick. Cover the platter with plastic wrap and set aside till ready to serve with the Sangria.

Cook's comments: I used slices of Kerrygold USA Aged Cheddar, which were a gift from the brand. Use this or if not convenient, use slices of very sharp, dry cheddar or Pecorino Romano.

Disclosure: Thank you to the nice folks at Kerrygold USA who sent me a big box of assorted cheese products for the holidays as a gift. I was not paid to mention the brand or create recipes for it. But I will gladly recommend these cheese and butter products to everyone. Kerrygold cheese and butter products are made from milk churned from cows in Ireland that graze on green pastures of small farms.

Hello, Friends! All the images and content on this blog are COPYRIGHT PROTECTED and owned by my media company Besa-Quirino LLC. This means BY LAW you are NOT allowed to copy, scrape, lift, frame, plagiarize or use my photos and  recipe content I wrote, on your website  without my permission. If you want to republish this recipe or content on another website or news article, please ASK my permission, re-write it in your own words and simply link back to this blog to give proper attribution. It's the legal thing to do. Thank you. Email me at [email protected]
Nutrition
Serving:
1
g
|
Calories:
35
kcal
|
Carbohydrates:
7
g
|
Protein:
1
g
|
Fat:
1
g
|
Saturated Fat:
1
g
|
Sodium:
112
mg
|
Potassium:
72
mg
|
Fiber:
1
g
|
Sugar:
6
g
|
Vitamin A:
48
IU
|
Vitamin C:
2
mg
|
Calcium:
11
mg
|
Iron:
1
mg
Notes on Nutrition: The nutrition information provided is an estimate and will vary based on cooking methods and specific brands of ingredients used.
Did you like this recipe? I have more classic recipes inspired by my late mother's cooking in my popular cookbook: My Mother's Philippine Recipes. If you're learning how to cook Filipino food or a fan of Philippine cuisine, buy my cookbooks and books on Amazon.com sold worldwide in paperback and Kindle format.
Hello, Friends! Please DO NOT LIFT OR PLAGIARIZE my original recipe, stories, photos or videos. All the images and content on this blog are COPYRIGHT PROTECTED and owned by my media company Besa-Quirino LLC. This means BY LAW you are NOT allowed to copy, scrape, lift, frame, plagiarize or use my photos, essays, stories and recipe content on your websites, books, films, television shows, videos, without my permission. If you wish to republish this recipe or content on media outlets mentioned above, please ASK MY PERMISSION, or re-write it in your own words and link back to my blog AsianInAmericaMag.com to give proper attribution. It is the legal thing to do. Thank you. Email me at [email protected]