My visit to "Bale Dutung" in Pampanga: I Ate Where Anthony Bourdain Was
As an Amazon Associate and member of other affiliate programs, I earn from qualifying purchases.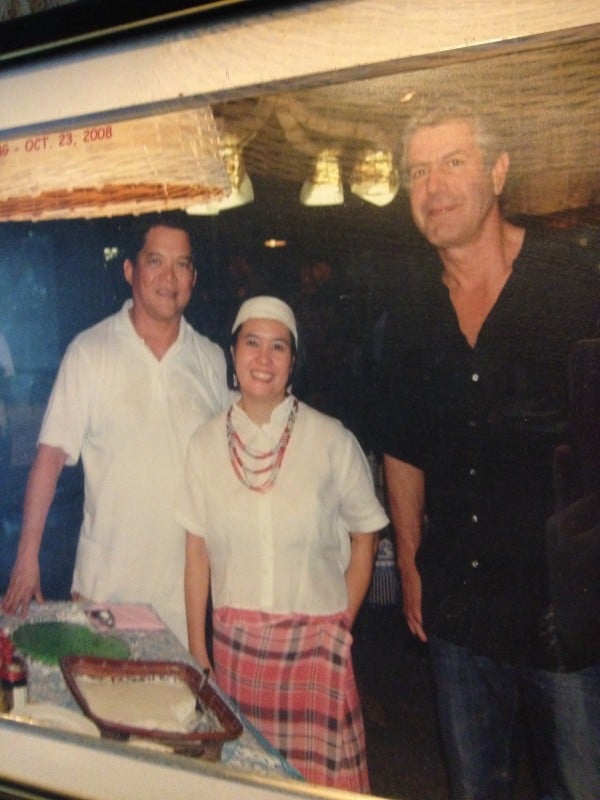 "I ate where Anthony Bourdain was." I now have bragging rights to that. When I went on a trip to the Philippines last month, there was nothing else I wanted to do, from the minute I landed in Manila. I had to eat at "Bale Dutung" in Angeles, Pampanga. I wanted to find out for myself why Bourdain picked Pampanga, Claude Tayag & Bale Dutung (House of Wood). When Anthony Bourdain ate at Bale Dutung in Angeles, Pampanga a few years ago, I was just as curious as the rest of the food world was. What was so special about Bale Dutung ? Ever since I saw that episode on the Travel Channel , my quest to eat at the same place were Bourdain ate never ceased.
Anthony Bourdain, is the fiercely followed host of the Travel Channels' highly rated television show "No Reservations". He treads where no one dares. The frontiers of food are limitless to him. Bourdain is brave, adventurous and is admired by the rest of us. So, when Tony Bourdain made Bale Dutung a destination in Pampanga, the food world sat up and looked. Including me. So I made that same decision…this was going to be my destination, too.
From my hometown Tarlac, the trip to Angeles, Pampanga was shorter than if I had come from Manila. It took us 2 hours with the traffic, to get to Bale Dutung. Claude and Mary Ann's house is easy to miss. In fact, we missed it, driving past the house . There is no sign outside of the house, because it is a nondescript home from the outside.
Upon entering, you immediately notice the garden is gorgeous. It has well-appointed landscaping and artifacts, mementos that are rich with stories of Pampanga culture greet you as you make your way to the "restaurant" area.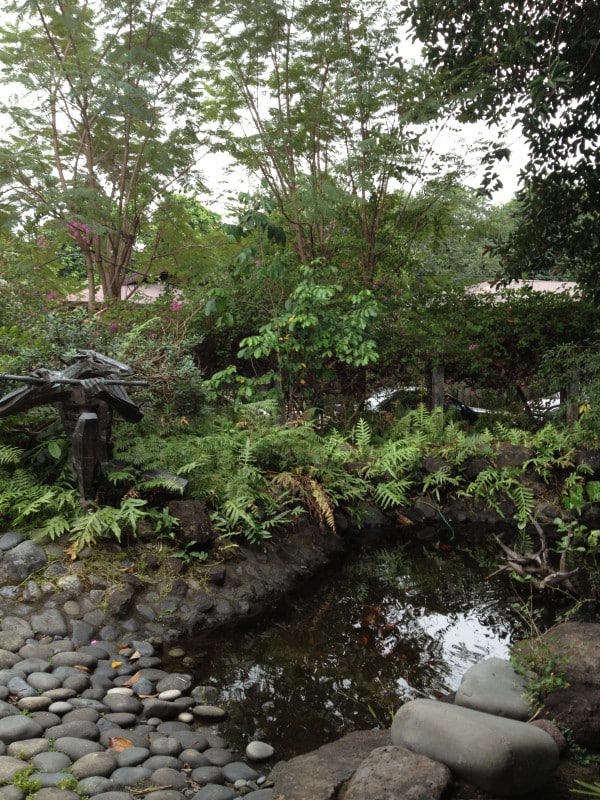 We were led to an open-air wide, spacious room that is located under the Tayags' home. There are long, large wooden tables where large groups are seated. This is where you eat, watch the kitchen in action, stop at the little "store" afterwards, and even browse through Claude's personal art gallery. Weekends are reserved for this kind of culinary experience. You need to give yourself time to travel, time to enjoy the leisurely lunch pace, and time to take it all in, one dish at a time, out of nearly 10 courses.
Meeting Mary Ann for the first time, lovely wife of Claude Tayag is like seeing an old friend. She is warm, welcoming, gracious and makes you feel at ease right away. She even kindly introduced me to other guests who originally lived in the east coast here in the USA, and I appreciated her efforts to look after me. Mary Ann is the force behind Claude Tayag. She is the yin to his yang. She is also the lively emcee of the afternoon, articulate and knowledgeable about Capampangan food and all that matters about what you're eating right then.
Mary Ann showed us to our table and charmingly fussed over us. We were late because of the traffic , so we missed the first course. But we didn't feel it at all. Mary Ann made sure of that. She saw to it we were served promptly and efficiently. A wonderful welcome drink greeted us : Tall, chilled glasses of Dalandan. Dalandan is the Filipino orange that has a limier, more tart, citrus flavor. The freshly squeezed juice was made sweeter by the muscovado.
The very popular Ensaladang Pako, a fiddlehead fern salad , was fresh and crisp. Bourdain had this, too and if you saw the Travel Channel TV clip, he excitedly exclaimed to Claude, "Nice ! This is like twenty dollars in New York!" He was right. But in Pampanga, it was very much cheaper than a twenty dollar New York salad. The appetizers were a parade of salty and zesty flavors. My palate was being made ready for the piece de resistance that was to come . We started with 3 dips :Balo- balo, salty fish in fermented rice; talangka , golden orange, salty, coarse crab paste made from crab fat ; and a pesto spread.
Then there were the 2 sushis: "talangka sushi", the classic Japanese roll which had rich, crab paste in the center; and hito at balobalo sushi (catfish and fermented rice ).
Who could resist the "Piniritong Lumpia Ubod", fried egg rolls stuffed with sautéed heart of palms and topped with Claude 9's Oriental Sauce? This was the classic fried "lumpia" (egg roll), but there was nothing ordinary about its sweet, sour, salty and crunchy ways.
"Balat ng Lechon at liver sauce" (crisp roast pork skin with liver sauce) read the personalized menu we had. The lechon (roasted pig) is the most iconic of all Filipino fiesta fare. A whole roast pig is cooked over a slow , roasted fire, giving its skin a crispness that is unimaginably out of this world. We were all invited to get up from our tables and help ourselves to the "lechon" carving station. What an experience. I had to restrain myself from reaching out, and pulling a strip of the crisp "lechon" (roast pork) skin. I patiently waited my turn till a slice was placed on my plate.
The promise of the afternoon was that we were having "Lechon: 5 Ways". The flavors of the lechon were so lavish, it felt like 500 ways. This is the kind of meal where you have to starve yourself, for days before and after. It is rich and immense. It is packed with different delicious aromas. It is a dyed in the wool Capampangan meal, and proudly Filipino.
Ever had Lechon Tortilla? Well, here it was. For the first time, I had this interesting re-make of what you do with Lechon after the crispy skin is devoured. Deep fried thin shreds of the pork lechon meat. Put these crisp flaky tendrils on a soft, warm tortilla. Then top it with some interesting sides suggested. And if you want to get serious, add some of the sensational Claude 9 sauces. Even more interesting to know was that this was the brainchild of Claude and Mary Ann's son, Nico, and the proud parents declared that he sells this Lechon Tortilla on weekends in Manila.
"You have to be Pampango first, before you can be Filipino," Claude Tayag declared on the same TV show to his friend Tony Bourdain.
This luscious spread before us that afternoon was so typical of Pampango or "Capampangan" food. Rich, hefty, bold, and an explosion of flavors. And if you were not Capampangan, I'm sure you would want to be Capampangan just for the cuisine!
"Inihaw na Tadyang na Lechon at Ensaladang Talong", ( grilled pork ribs with an eggplant salad) – the pork ribs were taken aside and grilled to perfection. The pork was tender, had smokey flavors and paired with the sides, well, you'll never look at ribs the same way again.
"What is this big unbelievable thing?" exclaimed Bourdain, in the TV clip, when he saw the 'Sinigang'. "There is something kind of gumbo-esque about it, " he added. I shared Anthony's sentiments. This Sinigang (sour soup), made from lechon, was superb ! Sinigang, is the classic Filipino sour soup. The broth is flavored with souring agents, usually from fruits and veggies grown in one's backyard. A common sour source is the tamarind.
"In Pampanga, the standard of our soup is thick ! Just look at our sinigang, " announced Mary Ann to all of us, as we eagerly slurped the thick, tangy, tasty broth filled with gabi (taro), okra, kangkong (swamp cabbage) and hefty chunks of lechon pork .
But oh my, this was the best tasting Sinigang made with lechon. Who knew you could do this with leftover lechon? And yes, the sourness level was enough for your "face to break up", as Mary Ann guaranteed. A sign of a good sinigang.
"Sisig Ulo ng Lechon" was the last entrée on the menu.' Sisig is a Pampango dish of chopped grilled pig's cheeks and chicken liver smothered with onions, red-hot "siling labuyo" (small chili peppers) and calamansi (a Philippine lime) extract', as defined by the LINAMNAM Book.*
When we were served our "sisig" portions, Mary Ann urged us to "put our own flavors", from the different side condiments and sauces served alongside. I dove right in and put everything on my sisig. I ate pork sisig growing up in Tarlac city, so I knew what a true Capampangan's standards are for this dish. The Bale Dutung sisig did not disappoint. If you're having pork sisig for the first time, try Bale Dutung's, and it will be your benchmark for the ultimate sisig all your life.
Finally, the best part of the meal was dessert. Paradiso is exactly what it is…..paradise. Perfectly round sweet balls of ube (purple yam), macapuno (coconut sport) float deliciously in a deep bowl of thick sweetened carabao's milk that tastes like pastillas (milk candy), a sweet dulce de leche-like milky spread. If you were to have your last meal on earth, ask for the Paradiso as dessert, and you'll feel like you went straight to heaven. So this is why Bale Dutung, Claude Tayag and Pampanga were prime destinations for the "No Reservations" TV host. This is what Anthony Bourdain lives by….he is forever in search of the cuisine that makes you "jump out of your seat".
The place doesn't have to be high end or in some palatial establishment. The food just needs to be good. Bourdain is brave. He braces for the bold, the fiercely unexplored. And so should we. This is what life is all about. We must have the eagerness to go where there's always something new to discover. Claude Tayag at "Bale Dutung" does this for us. He brings us far away, to a culinary experience mastered by our grandmothers, but made better by our generation today. Claude's Bale Dutung boasts of old fashioned cooking ways, traditional cooking, pride in Pampanga cuisine.
And so I came to this conclusion : by way of Bale Dutung's Pampanga cuisine, Claude connected us to Anthony Bourdain, the bold, brave man with No Reservations about food. Claude connected Bourdain and me to old fashioned heritage Pampanga cuisine. And with his newly-published Linamnam Book connects you, me and the rest of the world, to more infinite culinary possibilities all over the Philippines.
LINAMNAM BOOK: Eating One's Way Around the Philippines
By Claude Tayag and Mary Ann Quioc
The "LINAMNAM Book" is a 300 + page book that chronicles different Filipino restaurants, eateries and hot eating spots all around the Philippines. Claude and Mary Ann personally went all around the country's 7,100 islands to try out the best eating places.
The book is divided into geographical locations, starting with the Manila metropolis, the capital. Then they mapped out the "Tagalog" region, consisting of restaurants in the Luzon area, the Visayas and Mindanao. The best tasting Filipino food and specialties of each town or province are showcased.The last chapters of this amazing restaurant guide book have a thick appendix packed with helpful information for any food enthusiast. If you appreciate Filipino food, you'll like the chapters at the end on translations, dipping sauces, rice, adobo, sour-inspired food, a glossary of Filipino food terms and a well organized food index. The LINAMNAM Book is the best restaurant guide to end all guides for eating around the Philippines.
Why the title "LINAMNAM" and what does it mean?
This is how Claude explained the word "linamnam" to Anthony Bourdain during that famous Pampanga visit:
"It's the LINAMNAM", which has no direct translation in English. It's beyond the word "delicious, flavorful, savory". The Japanese call it 'umami', who claim to have discovered this fifth taste 100 years ago. But our grandmothers knew it all along and we call it 'malinamnam' (it's delicious)" ….this is what Claude Tayag articulated to Tony Bourdain when the food TV host asked "What defines Filipino cuisine, 'Pampangan' in particular ?"
*About the author: Claude Tayag is a known Filipino painter, sculptor and furniture designer. He is also a handy chef. In between mixing paints or chopping garlic, he's not mincing words on his keyboard, dishing out stories on food and his travels.
Availability: The LINAMNAM BOOK is available at most branches of National Bookstore in major cities of the Philippines. Or contact Mary Ann Tayag for where to find it in the USA at mq[email protected]. Check online sources for more availability.
How to eat at Bale Dutung: For directions & restaurant reservations check out www.baledutung.com .
Paul St., Villa Gloria Subdivision
Angeles City, Pampanga, Philippines
Phone : (63-45) 888-5163
Email : [email protected]
*Reservations to eat at Bale Dutung in Angeles City, Pampanga should be made in advance. Only group reservations are accepted.
Disclosure: I was not compensated to review this restaurant or book. But I highly recommend a visit to Bale Dutung in Angeles, Pampanga for excellent Capampangan food. And the Tayags' Linamnam book is a good guide to restaurants.
Hello, Friends! Do not plagiarize or lift my recipes and photos without permission. All the images and content here are COPYRIGHT PROTECTED. This means BY LAW you are NOT allowed to use my photos or content on your website, videos, TV programs, cookbooks, media content without my permission. If you want to republish this recipe, please re-write it in your own words and simply link back to this blog to give proper attribution. It's the legal thing to do. Thank you. Email me at [email protected]
Disclosure: As a participant in the Amazon Affiliate program, some blog posts contain links to products used in the recipe and sold on Amazon. The price stays the same for the readers who wish to purchase these products on my links. I earn a small commission from Amazon which helps maintain the blog expenses. Thanks in advance for your support.