Japanese Potato Salad
As an Amazon Associate and member of other affiliate programs, I earn from qualifying purchases.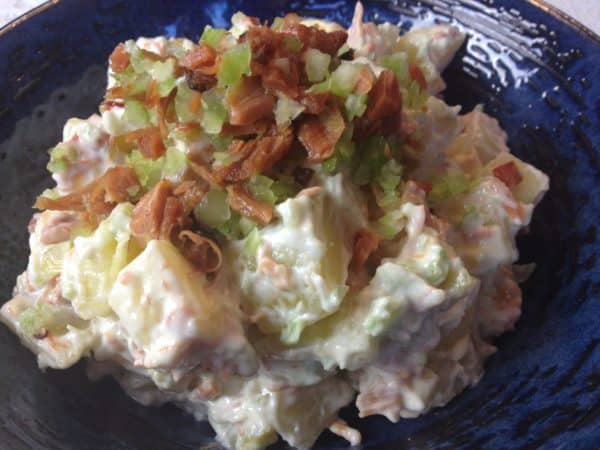 During our trip to Kyoto, Japan our tour group stopped by a hotel for a sumptuous lunch buffet of modern and traditional Japanese food. There was a vast spread of cold salads which was a welcome respite on a hot, sultry summer June day. I immediately reached out for the chilled Japanese Potato Salad regally plated in a large, elegant, transparent glass bowl.
The firm, yet moist potato cubes were nestled prettily next to carrots, cucumbers, mashed hard-boiled eggs. All the salad ingredients were coated with the silky, creamy mayonnaise dressing. I scooped two servings on my plate and I knew this savory-sweet salad was all I wanted for lunch, in spite of the other inviting entrees that were on display at the buffet.
When we returned back to our home in America, I couldn't wait to recreate the Japanese potato salad in my own kitchen. This was just the thing for the oppressive heat wave we've been having on the east coast this summer month. I found a good Japanese potato salad recipe from my food blogger friend Namiko Chen of Just One Cookbook. Her recipe inspired me to make the same chilled salad.
The difference between Japanese potato salad and the American version is that the Japanese one has partially mashed potatoes, crumbled hard-boiled eggs and uses the Japanese mayonnaise.
What is Japanese mayo and how different is it from the USA brands? Namiko explained it well on her blog. Following her suggestion, I purchased the Kewpie Mayonnaise, one of the most popular Japanese brands. The difference lies in the flavor of the mayo. Japanese mayonnaise is made of egg yolks versus American mayo which uses whole eggs. Also, rice vinegar is used in the Japanese mayonnaise while distilled white vinegar is found in the American versions.
I started making the potato salad early in the day to give it time to stay chilled in the refrigerator for a few hours. The richer, creamier texture of the Japanese mayonnaise was a joy to mix into the potato salad. The silky, pearl-like cream substance worked its magic on the potatoes, crumbled hard-boiled egg and other vegetable ingredients. I gently folded the ingredients to blend well. The mild, sweet aroma of the mayo mixing into the newly-boiled potato cubes was an inviting treat. I couldn't wait to serve this Japanese potato salad to my family paired with the summer barbecues we were grilling outdoors. This salad had the right amount of sweet and salty which appeals to Filipinos and pairs well with Filipino food.
We don't mind the heat wave really. It just gives us more excuses to enjoy the comfort of a huge bowl of superb Japanese potato salad.
Japanese Potato Salad
On a steamy, hot summer day, a serving of Japanese Potato Salad is one of the most refreshing sides to any entree. This type of potato salad uses Japanese mayonnaise which is richer and more savory than the American mayo which is sweet. Japanese mayonnaise uses only egg yolks and rice vinegar. If you cannot find the Japanese brands, a substitute version is in the recipe below. This recipe was inspired by Namiko Chen of Just One Cookbook. Serves 4 as an appetizer or side.
Equipment
Large stock pot: 8 or 10 quarts

Large mixing bowl
Ingredients
2 to 3

whole

large Russet potatoes

1 to 2

whole

hard-boiled eggs

peeled, sliced

1

whole

carrot

peeled, sliced thin

1

whole

cucumber

peeled, sliced, seeded

1/2

cup

cooked corn kernels

3/4

cup

cubed cooked ham

1

stalk

celery

chopped

3/4

cup

Kewpie Japanese mayonnaise

1

teaspoon

salt

1

teaspoon

white pepper powder
Instructions
Peel potatoes and place in a heavy stockpot filled with water. Boil over high heat, then lower to a medium and cook for about 12 minutes till potatoes are cooked to a soft texture, but not too mushy.

Drain water from potatoes. Cool the potatoes in a colander for a few minutes till easy enough to handle. Cut up the potatoes in 1-inch cubes. Transfer potatoes to a large mixing bowl.

In the bowl, mash the potatoes but leave some chunks for a cubed texture.

Crumble the hard boiled eggs and add to the potatoes. Set aside.

Separately, place the carrots in a microwave-save bowl and cover with enough water. Microwave for about 3 to 4 minutes till fork can go through carrots. Do not overcook. Drain water. Let the carrots cool down a few minutes on the counter.

When carrots are cool enough, add together with cucumber, corn, celery to the potatoes and hard-boiled eggs in the bowl.

Gently fold in the mayonnaise till blended well. Season with salt and white pepper powder.

Sprinkle the cooked ham on top of the potato salad.

Cover and chill in the refrigerator for a few hours till ready to serve.

Ingredient Substitute: If Japanese mayonnaise is not available, Namiko suggests this substitute -- to 1 cup American mayonnaise, add 2 Tablespoons of rice vinegar (from Asian and Japanese markets) and 1/8 teaspoon granulated sugar. Whisk well and incorporate into the potato salad.

Hello, Friends! All the images and content here are COPYRIGHT PROTECTED. This means BY LAW you are NOT allowed to use my photos or content on your website  without my permission. If you want to republish this recipe, please re-write it in your own words and simply link back to this blog to give proper attribution. It's the legal thing to do. Thank you. Email me at [email protected]
Nutrition
Serving:
1
g
|
Calories:
3
kcal
|
Carbohydrates:
1
g
|
Protein:
1
g
|
Fat:
1
g
|
Saturated Fat:
1
g
|
Cholesterol:
3
mg
|
Sodium:
590
mg
|
Potassium:
26
mg
|
Fiber:
1
g
|
Sugar:
1
g
|
Vitamin A:
85
IU
|
Vitamin C:
0.3
mg
|
Calcium:
4
mg
Notes on Nutrition: The nutrition information provided is an estimate and will vary based on cooking methods and specific brands of ingredients used.
Did you like this recipe? I have more classic recipes inspired by my late mother's cooking in my popular cookbook: My Mother's Philippine Recipes. If you're learning how to cook Filipino food or a fan of Philippine cuisine, buy my cookbooks and books on Amazon.com sold worldwide in paperback and Kindle format.