Petit Fortunes, Pampanga's Sweet Cashew Macaroons
As an Amazon Associate and member of other affiliate programs, I earn from qualifying purchases.
[amazon_link asins='B00IOQKMW8,B01LBF726C,B00QH2PGRC,B000SABX12,B003AQNT0O,B01LWSQS5E' template='ProductCarousel' store='queensnotcom-20′ marketplace='US' link_id='64f0dec2-d9fd-11e7-bf15-63de5be24482′]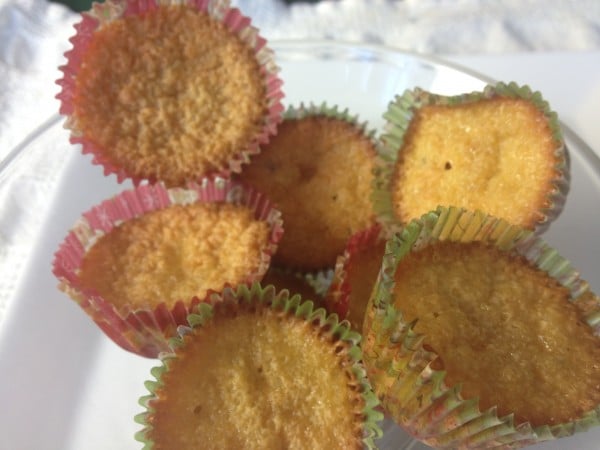 He doesn't remember how much funds they raised Christmas caroling, but he can't forget these heavenly Petit Fortunes, sweet tiny pastries they were served in each home they sang and bellowed out festive holiday songs.
Petit Fortunes are Filipino sweets also known as Petit Fours Macaroons, a Pampanga specialty. They are popular little one-inch pastry cups, wrapped in colorful cellophane, made of crushed cashew nuts, butter, eggs, cream. These are tiny and delicate looking, but they are packed with a sweetness and crunch that's unforgettable.
In his younger high school years, my husband happily remembers all the sweets and pastries he and his classmates were served when they went Christmas caroling. The many beautiful homes of Pampanga opened their doors to listen to their baritone voices as they sang joyous holiday hymns. I'm sure their fundraising efforts were successful. But ask them how much money they got, and my husband shook his head. He told me he had no clue. All they cared about, as teenagers then, were the delightful pastries after they sang. He said their hosts gave them lots more to bring home, so he stuffed his pockets with these treats.
Pampanga, the culinary capital of the Philippines is well known for their extraordinary pastries and sweets. It is a fact, that every Pampango host ends every meal with a great dessert – these Petit Fortunes, a classic example. I grew up near Pampanga, and these gastronomic tiny treats were regular fixtures of our holidays.
There's a few days left to Christmas, but there's still time for you to whip up these dreamy little cashew cups. Each inch-sized mini morsel daintily ensconced in a fluted paper cup, has an enormous amount of crushed nuts, richly held together by butter, sweet cream, yolks and sugars. They're fragrant, buttery and simply hard to forget.
Petit Fortunes - Sweet Cashew Macaroons
Do you need some quick sweets to make? These bite-sized holiday treats 'Petit Fortunes' are easy to whip up and a delight to give. Anyone who gets these nut-filled pastries will find them hard to put down. Sometimes called 'Petit Fours' or 'Petit Fortune Macaroons', these originated from Pampanga, a province north of Manila, Philippines. Simply put together the crushed cashew nuts and other ingredients. Bake them quickly and when cooled, wrap them in colorful cellophane, put them in pretty baskets and they make great gifts. I added some of my own ingredients to this recipe adapted from the "
Atching Lillian's Heirloom Recipes
" cookbook by
Lillian Mercado Lising
Borromeo
. From this, I made 48 tiny pieces, which measured 1-inch in diameter.
Ingredients
1

cup

crushed cashew nuts (unsalted)

2

Tablespoons

flour

3

Tablespoons

heavy cream

2

Tablespoons

bottled or homemade caramel dulce de leche

4,

beaten well egg yolks

4

egg whites

1/2

cup

separate 1 Tablespoon for beating with egg whites granulated sugar

1/3

cup

melted unsalted butter

45 to 48

pieces

measuring 1-inch diameter, for lining muffin pans fluted paper cups

2

Tablespoons

for sprinkling (optional) confectioners' sugar

1 to 2

Tablespoons

for topping (optional) candied dried fruits or dried cherries
Instructions
Preheat the oven at 350 degrees. Prepare and line a  mini muffin tin with small sized fluted paper cups about one-inch in diameter.

To crush the whole cashews, place in a resealable plastic bag and pound with a mallet. Or for fast results, use a food chopper or processor. Put the cashews aside.

In a medium mixing bowl, mix together the dry ingredients: cashew, flour, sugar. Set aside.

Beat the egg whites till stiff and no bubbles are showing. Add the 1 tablespoon of sugar.

Meanwhile in the mixing bowl, to the dry ingredients, add the following: melted butter, cream, dulce de leche and egg yolks. Blend and incorporate everything well.

Gradually fold by hand the cashew and yolks mixture into the egg whites. Blend well.

Pour a tablespoon of the batter into tiny fluted paper cups lining small muffin tins. Batter should fill only ¾ of the cup.

Bake at 350 F degrees for 15 minutes or till top is golden brown.

When done, remove from oven. If desired, sprinkle the top of the petit fortunes with confectioner's sugar using a fine sieve or colander. Optional – top each cup with 1 or 2 pieces of candied dried fruit. Allow the Petit Fortunes to cool, wrap in colored cellophane paper and pack in pretty baskets or decorative jars for gifts.

Storage: You can make these ahead, cool them thoroughly, then wrap in plastic resealable freezer bags or airtight plastic containers. They can be kept frozen for 2 to 3 weeks.