Ube Pichi-Pichi – Instant Pot + Stovetop
As an Amazon Associate and member of other affiliate programs, I earn from qualifying purchases.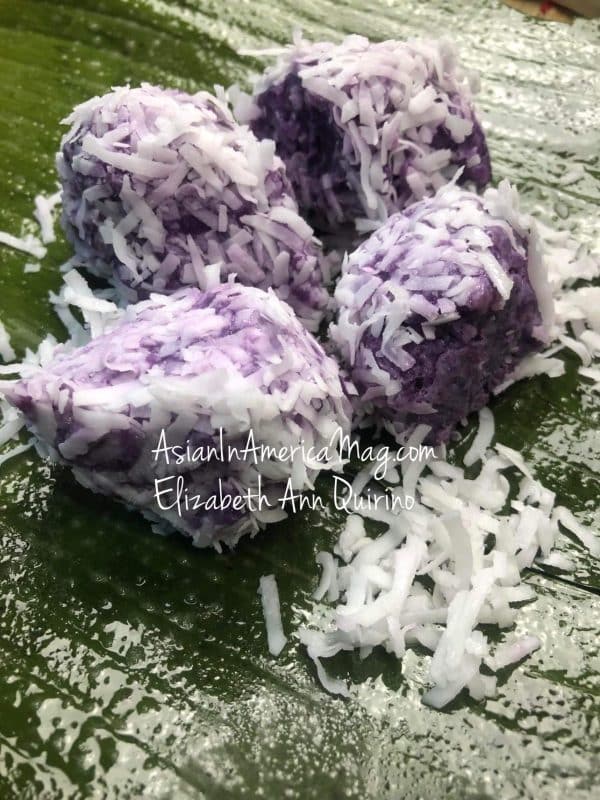 Once Thanksgiving week is over, it's time to roll out the Christmas recipes of Filipino kakanin. This is why I made Ube Pichi-Pichi for merienda today.
Pichi-Pichi, are bite-sized, gelatinous cassava treats which are steamed first. Then they are sliced into two-inch pieces, and rolled around grated coconut. When we were kids, my Mom made Pichi-Pichi from the cassava and coconut which my Dad planted. It was a good after-school merienda treat, that filled us up, and helped tide us over till dinner.
This time, from my American kitchen, not only did I recreate the Pichi-Pichi of my childhood, I transformed it to Ube Pichi-Pichi. And I shared two alternate ways to cook this: in the Instant Pot or stovetop. The sweet, nearly almond-like flavor of ube and its faint floral fragrance was a bonus to this gooey snack. I used frozen cassava which I got at the Asian market, and it was easier to work with, than manually grating the cassava (or yuca ) the way I remembered from my childhood.
It was all a matter of mixing, steaming, then rolling the sticky kakanin in coconut. The fragrant steam gently warmed the air, as I took it out of the Instant Pot. I sliced them and the purple yam-flavored pichi-pichi looked like shiny amethysts gems, before I rolled them around the wisps of white shredded coconut flakes. I pierced a fork into one thick, dense piece, just for good measure. Then I popped the shiny, dark violet Pichi-Pichi into my mouth, and rolled it around, as I chewed into its softness. It was mildly sweet, and quite a delight. I can't wait to make more for the holidays, and pack several pieces into little containers as gifts.
Ube Pichi-Pichi - Instant Pot + Stovetop
Ube Pichi-Pichi are Filipino snacks which are bite-sized, jelly-like pieces of cooked cassava, flavored with ube (purple yam) extract, steamed, then rolled in coconut flakes. Though tiny, each dark purple slice is thick, and dense, but mildly sweet and fragrant. Pichi-pichi are often served at Filipino parties and family gatherings. This is an Asian in America recipe by Elizabeth Ann Quirino.
*I shared two alternative ways to cook this: in the Instant Pot or stovetop.
Equipment
Large Steamer - for stovetop cooking

Instant Pot - for high pressure cooking

Round cake pan - 9 inches diameter- for stovetop cooking

Round cake pan - 7 inches diameter - fits inside Instant Pot
Ingredients
16

oz.

frozen grated cassava, thawed at room temperature; or 2 cups freshly-grated cassava

1

cup

granulated sugar

2

cups

water

1

teaspoon

lihiya (lye water)

3

teaspoons

ube flavoring
For topping:
1 to 2

cups

grated fresh coconut; or dessicated coconut flakes
Instructions
To cook in the Instant Pot (option 1)
In a large mixing bowl, combine the grated cassava, and sugar. Pour the ube flavoring. Mix well.

Process the cassava mixture in a food processor or blender for about 2 minutes till smooth.

Add the lihiya and mix thoroughly.

Grease the round pan with baking spray. Pour the ube-cassava mixture in a pre-greased round pan that fits inside the Instant Pot.

Place the round pan on top of a trivet in the inside pot. Pour about 2 to 3 cups water on the side of the pan. Water should reach the top of the trivet, or the bottom of the pan.

Close and lock the lid. Check that the release valve is set to Sealing.

Click Manual + Steam + 20 minutes. When cooking is complete, do a Quick Release (pressure comes down on its own).

Click Cancel to turn off. Carefully open the lid and place on a dry spot on counter.

Mixture should be solid and firm. Pierce the tip of a knife in the center to check if firm.

Use a pair of silicone mitts and a long pair of tongs to remove the round pan.

Set the pan on the counter and let cool. Refrigerate for 1 to 2 hours for easy handling..

When the pichi-pichi is firm enough, slice into 2-inch length rectangle pieces.

Place the coconut flakes in a bowl. Roll each piece of pichi-pichi in the coconut.

Arrange the pieces side by side on a dessert platter. Serve warm or chilled.

*Leftovers need to be refrigerated.
To cook on the stovetop: (option 2)
Fill the bottom pan of the large steamer with 3/4 full water. Over high heat, bring to a boil. Keep covered while preparing the cassava with ube mixture.

In a large bowl, combine the grated cassava, sugar, water, and ube flavoring. Mix well. Process in a food processor or blender for 2 minutes till smooth.

Pour the lihiya and mix well.

Pour the cassava - ube mixture in a pre-greased round pan that can fit into the steamer.

Cover and steam for 55 minutes over rapidly boiling water.

Check to see if cassava-ube mixture is firm enough by pierving the center with the tip of a sharp knife.

Carefully remove the pan from the inside of the steamer. Cool on the counter for 1 hour. Then refrigerate for 1 to 2 hours to firm up.

When cassava-ube is firm, slice into 2-inch length pieces. Then roll each slice on coconut. Arrange pieces on a dessert platter. Serve warm or chilled.

*Refrigerate any leftovers.
Cook's comments:
Lihiya or lye water is sodium hydroxide, an alkaline substance used in cooking to improve the thick texture and color.

If using frozen grated cassava, thaw at room temperature before cooking. I soak the frozen bag in a large bowl filled with water. Do NOT defrost in the microwave.
Nutrition
Serving:
100
g
|
Calories:
194
kcal
|
Carbohydrates:
50
g
|
Sodium:
6
mg
|
Potassium:
1
mg
|
Sugar:
50
g
|
Calcium:
4
mg
|
Iron:
1
mg
Notes on Nutrition: The nutrition information provided in the recipe links is an estimate and will vary based on cooking methods and specific brands of ingredients used.
Copyright Notice: Hello, Friends! Please DO NOT LIFT OR PLAGIARIZE Asian in America recipes on this blog, my original recipes, stories, photos or videos. All the images and content on this blog are COPYRIGHT PROTECTED and owned by my media company Besa-Quirino LLC by Elizabeth Ann Quirino. This means BY LAW you are NOT allowed to copy, scrape, lift, frame, plagiarize or use my photos, essays, stories and recipe content on your websites, books, films, television shows, videos, without my permission. If you wish to republish this recipe or content on media outlets mentioned above, please ASK MY PERMISSION, or re-write it in your own words and link back to my blog AsianInAmericaMag.com to give proper attribution. It is the legal thing to do. Thank you. Email me at [email protected]