Pork Bagnet – Lechon Kawali Ilocano
As an Amazon Associate and member of other affiliate programs, I earn from qualifying purchases.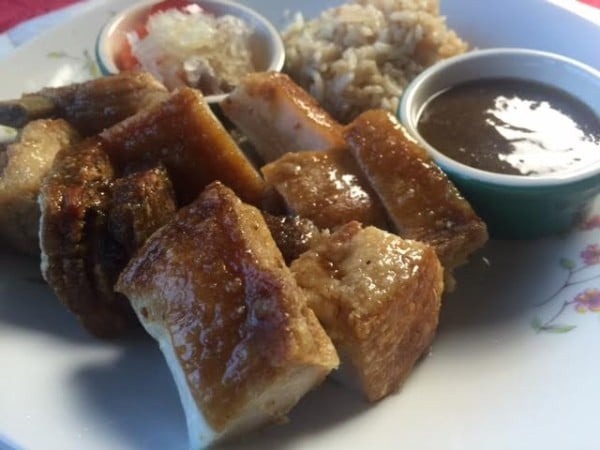 Pork bagnet is a popular Ilocano dish, the Ilocos version of Lechon Kawali (crisp pork belly pieces). It is a large pork slab, cooked thrice till one gets crisp, crackling pork pieces. In my article about holiday dishes, which published on Positively Filipino, I reminisced about how I watched my late father in law enjoy morsels of crunchy pork bagnet dipped in bagoong alamang (fermented fish sauce) which had a sprinkling of calamansi or lime.
We enjoyed pork bagnet when we visited Ilocos Sur, a province in the Philippines north of Manila. We were there last year for a family reunion. Filipinos are enamored with pork dishes, especially this irresistible crunchy platter of pork pieces. A party is not festive enough if there is no lechon in the middle of the table.
The word "bagnet" comes from the term 'bagnenettin' which is Ilocano for 'to preserve without refrigeration'. In many parts of the Philippines, refrigeration of food was not common in the early days of our great grandmothers. So Filipinos found ways of preserving foods without a refrigerator.
A slab of pork belly is cooked thrice. The initial process of pre-boiling the slab of pork was part of the preservation process back in the day. After boiling, I oven roasted the pork slab. Then I air dried the pork a few hours. Later on the pork was chopped up in cubes, then deep fried in the right temperature to make the pork crisp and crunchy.
When I cooked this pork bagnet, I was drawn to the crisp, crackling pieces which gave me a head rush as I bit into each crunchy piece. I quickly prepared the side sauce because the aroma from the scrumptious pork reminded us we were ready to eat.
Our aunt, Attorney Aleli G. Quirino told me about favorite dishes of the elder Quirinos and Tita Lila reminded me most Ilocano dishes are eaten with the "proverbial KBL" – colloquial term for 'kamatis' (tomatoes), bagoong (shrimp or fish paste), lasona (onions) . This is the Ilocano or Filipino version of a side salsa. Sometimes we add chopped fresh mangoes, not yet fully ripe, but with enough tartness to add another dimension to the side dish.
Last February 29, 2016, in Manila, our family hero, the late Philippine President Elpidio Quirino was honored by his country. President Quirino's remains were reburied at the Libingan ng mga Bayani (Heroes Cemetery) with full military honors, led by the President of the Philippines. After the ceremony, our Quirino family got together for a huge family luncheon. The pork bagnet was very much a part of the celebration.
Naimas! That's Ilocano for "delicious", folks.
Pork Bagnet - Lechon Kawali Ilocano
The Pork Bagnet is the Ilocano version of lechon kawali. Cook the slab of pork twice and chop it into cubes, then deep fry the pork for a few minutes more till the skin is blistered, crisp and crackling. Serve with a side sauce of either the following: Sweet lechon sauce or salty bagoong balayan (fish and shrimp paste) sprinkled with calamansi or lime -- this was the Ilocano way of my late father-in-law. Lechon Kawali is good served with a side of 'achara' sweet-savory papaya pickles. This is an Asian In America recipe adapted from a previous blog post. Serves 2 to 4 as an entree.
Equipment
Large stockpot: 6 quarts or 8 quarts

Roasting pan with rack: 9 inches x 13 inches or larger

Large skillet or Wok: 12 to 14 inches diameter
Ingredients
2

pounds

pork belly, whole slab

liempo in the Philippines

1

teaspoon

salt

1

teaspoon

ground black pepper powder

1/2

cup

vegetable oil

1

cup

achara (green papaya pickle relish), for serving

recipe on previous blog post

lechon sauce for serving;

bottled found in Asian markets or online sources

steamed rice for serving
Instructions
Place whole slab of pork belly in a deep stockpot. Fill with enough water to cover the pork. Add salt and black pepper to the meat and liquid. Cover and bring to a boil over high heat. When the liquid boils, lower heat to a simmer. Cook this amount of 2 lbs pork. for one hour till meat is tender at the sides and no more pink parts are visible.

When boiled pork is cooked, drain the liquid. Transfer the pork to an oven roasting pan which has a wire rack. Place the pork on the rack. Roast in the oven at 250 F for two hours (for 2 lbs. of pork belly). The pork should be slightly brown at the end of cooking.

Transfer cooked pork slab on a flat tray and allow to air dry for 1 to 2 hours. The more dry the pork the more crisp it will get later.

To cook crisp pork pieces of lechon kawali: over medium high heat, add oil in a large skillet. Oil should be hot enough in about 3 to 4 minutes. If taking the temperature with a thermometer, oil should be about 350F.

Chop the pork pieces into 2-inch square cubes. Deep fry in the oil till the pork skin looks golden brown and has blisters. Cook the pieces for about 8 minutes till crisp.

Serve while the pork belly pieces or lechon kawali are piping hot and crispy with a side of "lechon sauce" (bottled or homemade). Serve with rice and homemade '

achara' (green papaya pickles)

.

Hello, Friends! DO NOT PLAGIARIZE, LIFT OR SCRAPE MY RECIPES AND PHOTOS.  All the images and content on this blog are COPYRIGHT PROTECTED and owned by my media company Besa-Quirino LLC. This means BY LAW you are NOT allowed to copy, scrape, lift, frame, plagiarize or use my photos and  recipe content I wrote, on your website,videos, TV programs, cookbooks, media content  without my permission. If you want to republish this recipe or content on another website or news article, please ASK my permission, re-write it in your own words and simply link back to this blog to give proper attribution. It's the legal thing to do. Thank you. Email me at [email protected]
Nutrition
Serving:
1
g
|
Calories:
1175
kcal
|
Protein:
21
g
|
Fat:
120
g
|
Saturated Fat:
44
g
|
Cholesterol:
163
mg
|
Sodium:
654
mg
|
Potassium:
420
mg
|
Vitamin A:
25
IU
|
Vitamin C:
0.7
mg
|
Calcium:
11
mg
|
Iron:
1.2
mg
Buy the book on Amazon: "A Statesman and Survivor Elpidio Quirino 6th President of the Philippines" is a book of 125 presidential quotes, inspiring and memorable from President Quirino's speeches and memoirs. Buy the book from my Amazon affiliate page. Click here. Proceeds will be donated to the charities of the President Elpidio Quirino Foundation.
Notes on Nutrition: The nutrition information provided is an estimate and will vary based on cooking methods and specific brands of ingredients used.
Did you like this recipe? I have more classic recipes inspired by my late mother's cooking in my popular cookbook: My Mother's Philippine Recipes. If you're learning how to cook Filipino food or a fan of Philippine cuisine, buy my cookbooks and books on Amazon.com sold worldwide in paperback and Kindle format.
Copyright Notice: Hello, Friends! Please DO NOT LIFT OR PLAGIARIZE my original recipe, stories, photos or videos. All the images and content on this blog are COPYRIGHT PROTECTED and owned by my media company Besa-Quirino LLC. This means BY LAW you are NOT allowed to copy, scrape, lift, frame, plagiarize or use my photos, essays, stories and recipe content on your websites, books, films, television shows, videos, without my permission. If you wish to republish this recipe or content on media outlets mentioned above, please ASK MY PERMISSION, or re-write it in your own words and link back to my blog AsianInAmericaMag.com to give proper attribution. It is the legal thing to do. Thank you. Email me at [email protected]