Chicken Barbecue, Filipino-Style – Inihaw na Manok
As an Amazon Associate and member of other affiliate programs, I earn from qualifying purchases.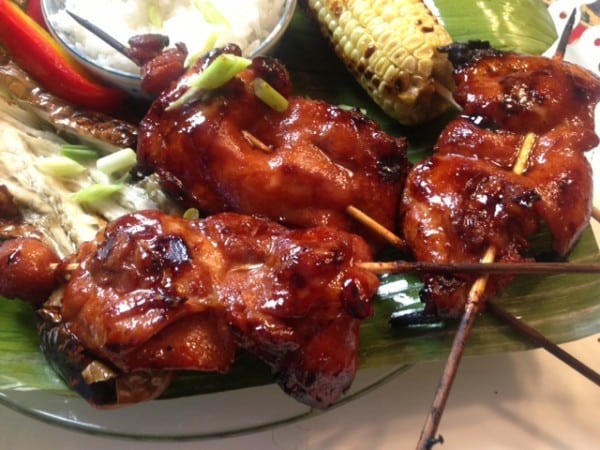 Do you have a secret recipe like one for Chicken Barbecue, Filipino-style or Inihaw na Manok that you keep closely guarded and don't want to share with anyone? When I ask friends for the recipe of their dish it means I love their cooking and it has made me happy. This is why I don't get it when people tell me " It's a secret family recipe, I am not sharing it with you!" Or this is a classic I often hear "That's a secret recipe. She is bringing it with her to her grave." Okay then, here's my take on that.
I've enjoyed so many dishes cooked by friends and family — blueberry cheesecakes, butterscotch bars, chicken Inasal, shrimp relleno, Puto rice cakes and nobody wants to give me the recipe when I ask. When I ask for the recipe I get that guarded look, the pretend excuse " oh I don't have it on me," the furtive eyes looking away and they quickly change the topic. I'm familiar with that 'brush off'. Please don't try that on me next time I ask you for your recipe.
Life is too short to dwell on negativity. So I do not want to waste time on feeling hurt when recipes are hidden from me. Instead I turn people's rejection into a positive. When someone refuses to let go of that "secret family recipe" it motivates me even more to develop my own, even if it takes me a thousand attempts.
Food is meant to be shared. Happiness that comes from sharing is priceless. My parents always told me, "You will be richer in blessings when you share."
So here is my latest recipe for Inihaw na Manok, translated it means 'grilled chicken barbecue'. This is a classic party fare in Filipino homes. The combined sweet-savory flavors are immersed in the succulent chicken pieces so these get devoured soon as it gets off the grill. I am sharing it with you, with the hope that you enjoy it with your family and friends.
Be happy, folks. Share what you know and what you have. You make a difference in someone else's life when you share what you do best.
Chicken Barbecue Filipino-style- Inihaw na Manok
Inihaw na Manok (say 'ee-nee-haw-nah-mah-nok')  is Pilipino which translates to Chicken Barbecue. This barbecue dish is a well-loved grilled entrée and ranks as a top party favorite along with the Pork BBQ skewers I have featured on this blog. The secret is to marinate it the night before. The ingredients are fairly simple and are probably in your pantry already. Just mix it together, pour it on the chicken, keep it in a resealable plastic bag and refrigerate overnight. Once you start char-grilling these chicken pieces the aroma that is a medley of sweetness and savory seasonings float all over your backyard. Be prepared for neighbors to come knocking once they sniff the aroma. This is an AsianinAmericamag recipe. Serves 4.
Equipment
Outdoor grill: Charcoal or Gas
Ingredients
4

pounds

chicken thighs

boneless, skinless (about 8 to 10 pieces)

1/2

cup

soy sauce

1/2

cup

banana ketchup

or use tomato catsup

1/8

cup

chili sauce

bottled

1/4

cup

calamansi juice

fresh or frozen concentrate; or use lemon juice

1/2

cup

brown sugar

1

can (8 oz)

Sprite or 7-Up soda

1

teaspoon

finely minced fresh garlic

1/8

teaspoon

sesame oil

1

teaspoon

salt

1

teaspoon

ground black pepper

8 to 10

pieces

bamboo skewers

pre-soaked in water for 30 minutes before adding meat

for serving: boiled white rice
Instructions
Prepare the marinade:
In a medium-sized bowl, combine the soy sauce, banana ketchup, chili sauce, calamansi juice, Sprite soda, garlic, sesame oil, salt and black pepper.

Pour the marinade over the chicken thighs. Pierce the chicken with a fork for the marinade to absorb.

Keep the marinated chicken in a resealable plastic bag. Refrigerate 4 to 6 hours or overnight.

*Note: Or you can freeze the marinated chicken for a week or two till you are ready to grill. Make sure to thaw chicken at room temperature before grilling.
To cook Chicken Barbecue:
The next day, skewer the chicken meat in bamboo sticks that were pre-soaked in water for 30 minutes. Use one bamboo skewer for one chicken thigh.

Prepare the basting liquid by using the marinade. Or, if preferred make a new mix by using the same marinade ingredients listed above.

Add the brown sugar to the basting liquid and blend well.

*Note: I add the sugar at the very end. Sugar crystallizes and can toughen the meat if left in the marinade too long.

Spray or brush the grates of the grill with oil so meat does not stick.

Pre-heat the outdoor grill to a medium-high for 5 to 10 minutes.

Place the skewered chicken thighs on the grates. Grill the chicken pieces for a total time of 20 to 25 minutes, basting every now and then to have a shiny glaze.

Flip the skewered chicken after the first half of cooking so they cook thoroughly and evenly on all sides.

Serve warm with jasmine rice.
Cook's comments:
Ingredients like banana ketchup and calamansi juice (frozen or fresh) can be purchased at Asian markets. If not available, substitute with tomato catsup and fresh lemon juice. Meyer lemons are the closest in taste to the Filipino calamansi.

Boneless chicken thighs are best for this recipe and cook fast. If preferred, use boneless chicken breast. If using chicken breast, tenderize with a meat mallet before marinating.
Nutrition
Serving:
1
g
|
Calories:
1127
kcal
|
Carbohydrates:
32
g
|
Protein:
77
g
|
Fat:
76
g
|
Saturated Fat:
20
g
|
Cholesterol:
445
mg
|
Sodium:
2673
mg
|
Potassium:
1059
mg
|
Fiber:
1
g
|
Sugar:
28
g
|
Vitamin A:
410
IU
|
Vitamin C:
1.4
mg
|
Calcium:
65
mg
|
Iron:
4.1
mg
Notes on Nutrition: The nutrition data for this recipe includes the full amount of the marinade ingredients. The actual amount of the marinade consumed will vary. The nutrition information provided is an estimate and will vary based on cooking methods and specific brands of ingredients used.
Did you like this recipe? I have more classic recipes inspired by my late mother's cooking in my popular cookbook: My Mother's Philippine Recipes. If you're learning how to cook Filipino food or a fan of Philippine cuisine, buy my cookbooks and books on Amazon.com sold worldwide in paperback and Kindle format.
Hello, Friends! Please DO NOT LIFT OR PLAGIARIZE my original recipe, stories, photos or videos. All the images and content on this blog are COPYRIGHT PROTECTED and owned by my media company Besa-Quirino LLC. This means BY LAW you are NOT allowed to copy, scrape, lift, frame, plagiarize or use my photos, essays, stories and recipe content on your websites, books, films, television shows, videos, without my permission. If you wish to republish this recipe or content on media outlets mentioned above, please ASK MY PERMISSION, or re-write it in your own words and link back to my blog AsianInAmericaMag.com to give proper attribution. It is the legal thing to do. Thank you. Email me at [email protected]