Waffles with Spanish Chorizos
As an Amazon Associate and member of other affiliate programs, I earn from qualifying purchases.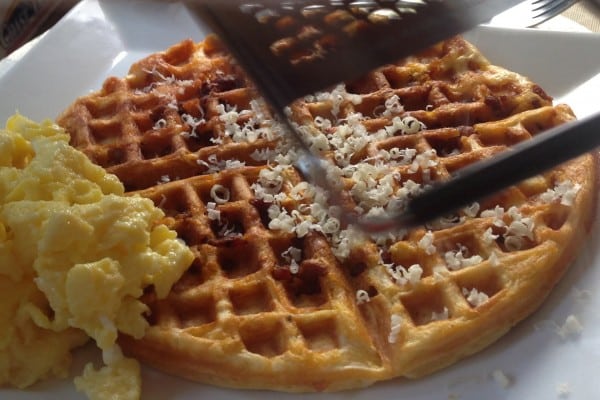 My son, Tim likes to send me text messages like this one: " I would like to volunteer to cook brunch for everyone this Sunday.The menu is as follows:
Chorizo stuffed waffles with Cotija cheese
A runny fried egg topping is optional
I'll also probably make a side of cayenne-infused maple syrup for the bold/adventurous type. Thoughts?"
The next thing we knew Tim was home and the kitchen was ablaze with these fiery, savory Spanish chorizo-stuffed waffles he made for me and the family, for the weekend brunch.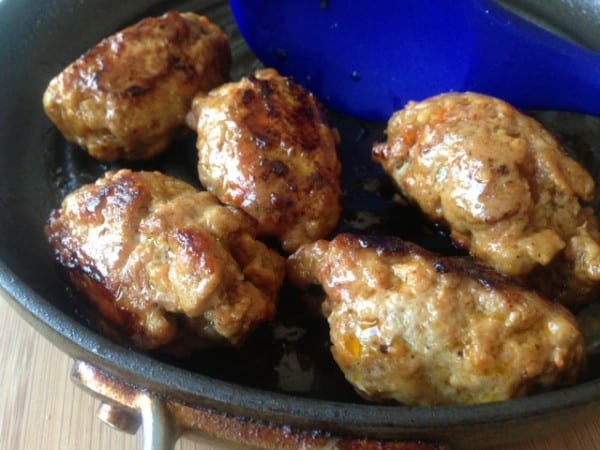 While my grown sons turned my kitchen topsy turvy with their cooking, I fondly looked back to the years I raised them. A long time ago, a psychic friend foretold "you will be surrounded by men in your future." The naïve me thought that meant suitors would line up around the block asking for my hand in marriage. Well, only one did, but that's another story. What happened was I had sons. I was not used to an all-male household. My parents had daughters and it was all about bows and frills where I grew up.
Raising sons taught me to go through unchartered areas I was not trained for. As a mom and working wife, I juggled schedules to be with them for scouts and sports. I learned from these experiences as much as they learned from me. When the time came for them to go off to college and life later on, I taught them how to cook. My biggest concern was the amount of junk food they would encounter outside of my home cooking. So I trained them to be in the kitchen, to whip up recipes on their own, to shop for the best ingredients. Somehow, my sons got it. They learned what real good food should be.
Today, my two sons are full grown adults, both living on their own, making a life for themselves. When we get together, conversations are about their 401K, health coverage, to rent or to buy property, career goals, politics, you know the adult stuff. My relationship with my sons has gone on to being more than a parent. We have become good friends, who learn from one another or are sounding boards for each other. And on their own, without being told, they cook real, honest to goodness delicious, healthy dishes.
Tim and Toby live on opposite sides of the country. One is in the west coast and works in Silicon Valley. The other is in the east, nearly a hundred miles from home. But they both send me text messages with photos of what they cook. We communicate on their terms, through social media or their mobile devices. I get a glimpse of what they're eating tonight on their Instagram postings. Or even better, when they come home to visit, they call ahead and tell me they're going to cook for me.
Sometimes it gets contentious. We don't always agree in the kitchen. So they tell me to go untie my apron and watch TV so they can cook the dish the way they want to, with no interruptions. Nothing else makes my heart swell with pride. They get it. My sons finally learned the lessons I had been teaching them all their lives. And when they come home to cook for me, I know that life has come full circle.
Waffles with Spanish Chorizos
Waffles with Spanish Chorizos is a unique, scrumptious breakfast fare which my sons prepared for me. The fluffy, crisp waffles were stuffed with savory, slightly spicy Spanish Chorizos, which I made ahead. This is a delightful, hearty brunch fare for a family weekend or get-together. This is an Asian in America recipe. Serves 4.
Ingredients
2

whole

large Spanish Chorizos

cooked then crumbled, about 1 cup if loose and casings removed

4

Tablespoons

vegetable oil

divided, 1 Tablespoon for pre-cooking Spanish chorizos

1 1/4

cups

all purpose flour

1

Tablespoon

granulated sugar

1

teaspoon

baking powder

1/4

teaspoon

baking soda

1/4

teaspoon

salt

1/2

cup

milk

2

whole

egg yolks

1

teaspoon

pure vanilla extract

1/2

cup

club soda

2

whole

egg whites

1/2

cup

grated cheddar cheese

for garnish

for serving: scrambled or sunny-side eggs

for 4 people eggs

maple syrup

for waffles
Instructions
Thaw the uncooked Spanish chorizos at room temperature.

Pre-cook the Spanish chorizos in a small skillet, with a tablespoon of cooking oil. Maintain a medium heat to cook the pork chorizos thoroughly for about 6 to 8 minutes. When cooked, drain chorizos on parchment paper to remove excess oil. Then crumble the chorizo so it looks like ground meat. Two crumbled chorizos should yield about ¾ to 1 cup of ground meat. Set aside while preparing the waffles.

Preheat a waffle iron to medium-high heat for about 5 minutes.

In a medium bowl, sift together the flour, sugar, baking powder, baking soda and salt. (To sift you can use a sifter, or a wire mesh sieve and shake it by hand, or use wire whisk by blending the flour and ingredients inside the bowl.)

In another separate bowl, whisk together the milk, egg yolk, vanilla extract, and 3 tablespoons oil until smooth. Whisk in the club soda. Slowly add the wet ingredients into the bowl of dry ingredients. Blend well till the batter is smooth.

Using an electric mixer, beat the egg whites in a separate clean bowl. Beat the whites till they form peaks. This should take about 5 minutes. Gently fold in the yolks batter into the whites using a wide spatula. Pour the crumbled Spanish chorizos into the waffle batter. Blend well to incorporate the meat into the mixture.

Pour  ¼ cup of the batter into the preheated waffle iron. Adjust settings to medium. Cover the waffle and cook each one for about 6 to 7 minutes or till waffle iron lights up to indicate it is "done".  Put the waffles on a platter and serve while still hot. Sprinkle grated cheddar cheese on top of warm waffles. Serve with scrambled eggs on the side.

Recipe suggestion: If you do not have a waffle maker, use the same recipe and make pancakes, using a medium-sized non-stick skillet, over medium heat. Spray the skillet with cooking spray, pour 1/4 cup batter into the pre-heated pan, cook each side for 3 to 5 minutes. Flip pancakes when there are no more bubbles and the edges are brown.

Hello, Friends! All the images and content here are COPYRIGHT PROTECTED. This means BY LAW you are NOT allowed to use my photos or content on your website  without my permission. If you want to republish this recipe, please re-write it in your own words and simply link back to this blog to give proper attribution. It's the legal thing to do. Thank you.
Nutrition
Serving:
1
g
|
Calories:
356
kcal
|
Carbohydrates:
35
g
|
Protein:
9
g
|
Fat:
20
g
|
Saturated Fat:
15
g
|
Cholesterol:
23
mg
|
Sodium:
324
mg
|
Potassium:
197
mg
|
Fiber:
1
g
|
Sugar:
5
g
|
Vitamin A:
191
IU
|
Calcium:
185
mg
|
Iron:
2
mg
Notes on Nutrition: The nutrition data for this recipe includes the full amount of the marinade ingredients. The actual amount of the marinade consumed will vary. The nutrition information provided is an estimate and will vary based on cooking methods and specific brands of ingredients used.
Did you like this recipe? I have more classic recipes inspired by my late mother's cooking in my popular cookbook: My Mother's Philippine Recipes. If you're learning how to cook Filipino food or a fan of Philippine cuisine, buy my cookbooks and books on Amazon.com sold worldwide in paperback and Kindle format.
Copyright Notice: Hello, Friends! Please DO NOT LIFT OR PLAGIARIZE my original recipe, stories, photos or videos. All the images and content on this blog are COPYRIGHT PROTECTED and owned by my media company Besa-Quirino LLC. This means BY LAW you are NOT allowed to copy, scrape, lift, frame, plagiarize or use my photos, essays, stories and recipe content on your websites, books, films, television shows, videos, without my permission. If you wish to republish this recipe or content on media outlets mentioned above, please ASK MY PERMISSION, or re-write it in your own words and link back to my blog AsianInAmericaMag.com to give proper attribution. It is the legal thing to do. Thank you. Email me at [email protected]