Baked Ham with Pineapple-Honey Glaze
As an Amazon Associate and member of other affiliate programs, I earn from qualifying purchases.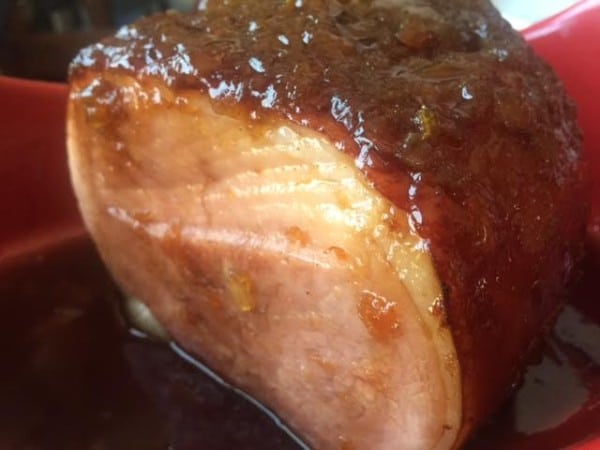 A whole Baked Ham with Pineapple-Honey Glaze is one of the most versatile, most appealing entrees for a holiday or a family gathering. To Filipinos, it's always a feast if there's baked ham on the table. Aside from the ham, you only need a few ingredients to put it together. And the results are always a dazzling dish which often takes center stage at the feast.
My research about ham varieties on the internet revealed different types: Bone-in, semi-boneless, boneless, spiral cut. If you opt to buy the supermarket hams, they are usually uncooked but cured with salt and sugar or else brined with a solution. Either way, the labels will tell you what the curing ingredients are.
My baked hams are not limited to Christmas or Easter. A whole ham goes with our family to the beach, too, in the summer. For years, we'd go to the beach for a week in the summer and stay at a condo with full kitchen facilities. I always brought enough food to feed an army. I would bake a medium-sized ham at home before our trip. When we got to the beach, we enjoyed the savory ham all week — tender ham steaks at mealtimes, or made into sandwiches for lunch after a swim, or even tossed with crisp, green salads.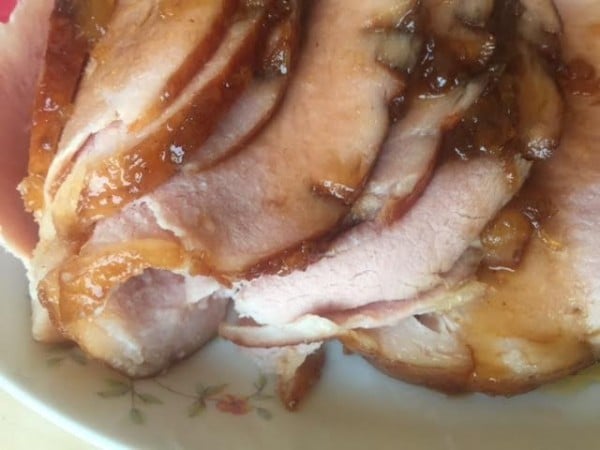 One of the easiest types of ham I like to cook with is the boneless cooked ham. I prefer a medium-sized ham (about 4 to 6 lbs) which is just enough for our household. The most I have to do is mix the glaze ingredients and baste it on top of the ham. Filipinos like tropical flavors so I made a pineapple glaze mixed with honey creme– a gift from my friends at Honey Ridge Farms. After a few minutes of baking, the ham came out of the oven splendid with a shiny glaze and sweet aroma that was hard to resist. You know you baked the ham perfectly when you slice it and get tender, juicy, moist pieces. Then when you bite into it, the combination of sweet, savory and slightly smokey flavors stand out.
When I bake ham, not a shred is left in the house. If there are even leftovers, I cook it in fried rice with ham and pineapple. If there are any shredded scraps left, we like to stuff them between slices of freshly baked Pan de Sal–the Filipino bun and cheese. These are the few small pleasures I am grateful for — the ease of baking a ham for a party, enjoying the time with my family and later relishing the ham leftovers in many ways.
Baked Ham with Pineapple-Honey Glaze
Baked Ham with Pineapple-Honey Glaze is one of the easiest holiday dishes to prepare. I often choose a boneless cooked ham which can be purchased at supermarkets. I mix the ingredients for the glaze and baste it on the ham before baking. The extent of baking depends on the size of your ham. A medium-sized boneless ham, about 6 to 8 pounds, for our family bakes quick. Filipinos enjoy sweet flavors so I made a pineapple-honey glaze with a hint of a few spices. Make this for Easter, Christmas or any family get-together. This is an AsianInAmericamag recipe. Serves 4 to 6.
*Baking time indicated is for a 4-lb. boneless ham.
Equipment
Large roasting pan - 9 x 13 inches
Ingredients
1

4 to 6 pounds

boneless cooked ham

1

cup

pineapple preserves

bottled

1/2

cup

Honey Ridge Farms Honey Creme with Lemon honey

or use any brand of regular honey

1/2

cup

brown sugar

1/2

teaspoon

ground cloves powder

1/2

teaspoon

finely minced garlic

1

piece

bay leaf

crumbled

1/2

teaspoon

ground black pepper powder
Instructions
Preheat oven to 325 F. Pre-grease a shallow roasting pan, about 9 x 13 inches.

In a medium-sized bowl, mix the glaze ingredients : pineapple preserves, honey, brown sugar, ground cloves, garlic, bay leaf, black pepper powder. Blend well. You will have about 1 1/2 cups of glaze.

Using a large spoon, baste the top of the ham with the glaze, leaving 1/2 cup aside for use later.

Place the ham on top of a rack inside the roasting pan. Cover the entire ham with foil.

Bake at 325 F. Cooking time for a medium sized boneless ham like this one is 15 minutes per pound. For a 4-lb. ham, it took 60 minutes of baking.

At the last 20 minutes of baking, remove foil and baste the last half cup of the pineapple-honey glaze on top. Continue baking the ham till the top is golden brown.

To serve: S

lice ham in 1/2 inch thick slices.

Best to slice ham only a few slices at a time to preserve the tender, moist qualities. Serve ham warm or chilled.

Cook's comments: I used Honey Ridge Farms Honey Creme for this recipe. They were given as gifts. Feel free to use other brands if preferred.
Nutrition
Serving:
1
g
|
Calories:
227
kcal
|
Carbohydrates:
57
g
|
Protein:
1
g
|
Fat:
1
g
|
Saturated Fat:
1
g
|
Sodium:
23
mg
|
Potassium:
68
mg
|
Fiber:
1
g
|
Sugar:
45
g
|
Vitamin C:
5
mg
|
Calcium:
27
mg
|
Iron:
1
mg
Notes on Nutrition: The nutrition information provided is an estimate and will vary based on cooking methods and specific brands of ingredients used.
Did you like this recipe?I have more Filipino Instant Pot recipes in my newest cookbook Instant Filipino Recipes: My Mother's Traditional Philippine Cooking in A Multicooker Pot by Elizabeth Ann Besa-Quirino. I also have more classic recipes inspired by my mother's cooking in my popular cookbook: My Mother's Philippine Recipes. If you're learning how to cook Filipino food or a fan of Philippine cuisine, buy my cookbooks and books on Amazon.com sold worldwide in paperback and Kindle format.
Copyright Notice: Hello, Friends! Please DO NOT LIFT OR PLAGIARIZE my original recipe, stories, photos or videos. All the images and content on this blog are COPYRIGHT PROTECTED and owned by my media company Besa-Quirino LLC. This means BY LAW you are NOT allowed to copy, scrape, lift, frame, plagiarize or use my photos, essays, stories and recipe content on your websites, books, films, television shows, videos, without my permission. If you wish to republish this recipe or content on media outlets mentioned above, please ASK MY PERMISSION, or re-write it in your own words and link back to my blog AsianInAmericaMag.com to give proper attribution. It is the legal thing to do. Thank you. Email me at [email protected]
Disclosure: Honey Ridge Farms sent me a few jars of artisan gourmet honey as gifts. For more information or to purchase follow Honey Ridge Farms on Facebook or Twitter or check out www.honeyridgefarms.com