Thai Son-In-Law Eggs in Tamarind Sauce
As an Amazon Associate and member of other affiliate programs, I earn from qualifying purchases.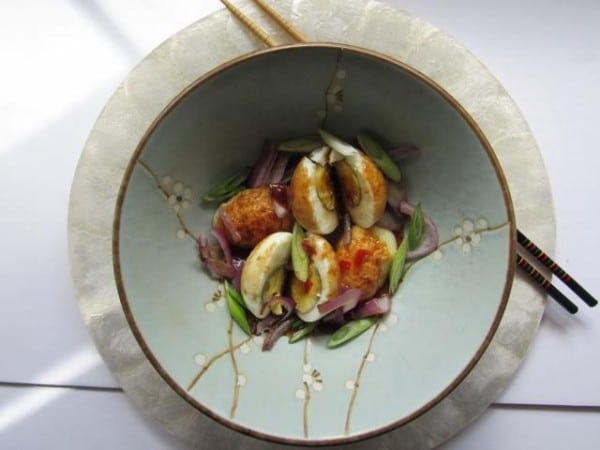 Typically I am not amused by in-law jokes because I had a great relationship with my late mother-in-law who was like a second mother to me. Likewise, my husband was well-loved by my parents even before we got married. Contrary to clichés, I have never regarded my in-laws as adversaries, but rather as family I love dearly.
This brings me to the recipe for Thai-inspired Son-In-Law Eggs. I was inspired by two recipe versions from good sources I trust for Thai cooking.
In the cookbook "Nong's Thai Kitchen", authors Nongkran Daks and Alexandra Greeley translated this recipe to "Khai Look Khoey" or "Son-In-Law Eggs". They described the legend of the dish to a time when a new son-in-law wanted to impress his wife's parents so he invented this egg dish which has a tamarind sauce base.
Meanwhile, my good friend and cookbook author, Nancie McDermott described in her cookbook "Simply Vegetarian Thai Cooking" that this hardboiled egg dish is often served at banquets in Thailand. It is part of menus at weddings, a birth, and the ordination of a family member as a Buddhist monk or some other special occasion.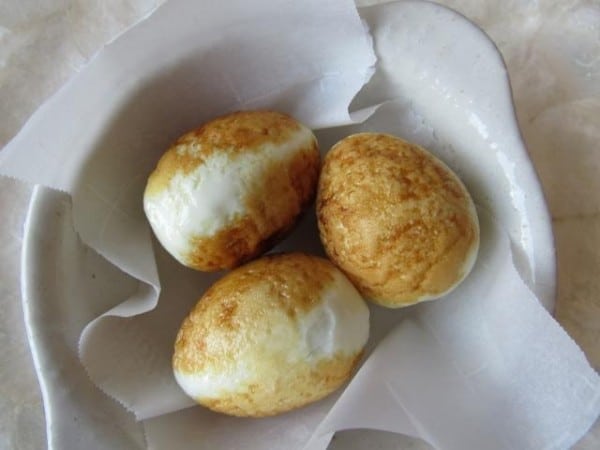 I adapted both recipes of Nongkran and Nancie when I cooked my own version. It took no time for me to make this. First, I boiled the tangy tamarind concentrate with the rest of the ingredients for the sauce. Then separately, I pan-fried the hard boiled eggs till they had a golden brown, chewy texture. It was enjoyable to assemble the whole entree by merely placing the halved eggs over the sauce in the serving bowl. I served this with steaming fragrant Jasmine white rice and it was a delight to spoon the sauce over the rice and eggs again and again during the meal.
As a variation, if you don't have tamarind sauce, Nancie suggested using hoisin sauce sprinkled with freshly-squeezed lime juice. I am certain if my parents-in-law were still with us, they would have relished this egg entrée and enjoyed a great meal like we often did during family gatherings.
Thai Son-in-Law Eggs in Tamarind Sauce
Here's a unique meal with hard-boiled eggs. Make this easy Thai-inspired Son-In-Law Eggs or Eggs in Tamarind Sauce. The combined flavors of sweet, spicy, tart, tangy tamarind sauce goes splendid over hard-boiled egg halves. The eggs have a golden brown coating from pan frying which gives it an interesting texture -- so the thick sauce stays on the eggs longer and doesn't just slide off. My AsianInAmericaMag recipe version was inspired by two sources: the cookbook "Nong's Thai Kitchen" by Nongkran Daks and Alexandra Greeley (Tuttle Publishing); and "Simply Vegetarian Thai Cooking" by Nancie McDermott (Robert Rose Publishing). Serves 2 to 4.
*I have updated the recipe procedure. I share how to cook the hard-boiled eggs on the stove-top the traditional way or how to cook eggs in the Instant Pot the 5-5-5 method.
Equipment
Instant Pot or any multicooker brand: 3 quarts, 6 quarts or 8 quarts

For the Instant Pot: egg racks
Ingredients
1/4

cup

tamarind paste

concentrated blocks can be purchased from Asian markets

1/2

cup

warm water

for soaking tamarind paste warm water

2

Tablespoons

patis (fish sauce)

1

Tablespoon

soy sauce

2

Tablespoons

brown sugar

3/4

cup

vegetable broth

1

teaspoon

red pepper flakes

2

Tablespoons

vegetable oil

1

whole

medium-sized red onion

sliced red onion

2

cloves

garlic

minced

6

whole

hard-boiled eggs

peeled

1/2

teaspoon

salt

2

stalks

scallion greens

sliced, for garnish

for serving: boiled jasmine rice
Instructions
To prepare tamarind liquid: Soak tamarind paste in warm water for 30 minutes. Using a fork ( or your hands) mash the softened paste and mix it into the water. Blend well till you get a thick tamarind liquid. Use 4 tablespoons tamarind liquid for this recipe. Keep leftovers in a covered container in the refrigerator for other dishes like pad thai noodles or a sinigang soup recipe.

In a medium saucepan, mix together the ingredients: tamarind liquid, fish sauce, soy sauce, brown sugar, vegetable broth, red pepper flakes. Cover and cook over medium heat for about 5 minutes. The sauce will become slightly thick. Stir well and set aside.

Over medium high heat, in a large skillet or wok, add the vegetable oil. When oil is hot enough in about 2 minutes, saute the red onions and garlic for 1 minute. Remove from the skillet and set aside.

Place the whole hard-boiled eggs into the same skillet with the hot vegetable oil. Pan fry the eggs over medium heat on each side for 1 to 2 minutes till the exterior are golden brown and have a slightly rough texture. Turn the eggs around to brown evenly. Remove the eggs and drain on parchment paper to remove excess oil.

Slice the eggs in half, lengthwise.

To assemble: Place the tamarind sauce in a serving bowl. Arrange the halved eggs on the sauce. Spoon some of the sauce over the eggs. Garnish the top with onions and scallions. Serve with rice.
To cook the Instant Pot 5-5-5 Hard-boiled Eggs:
Add 1 cup water to the inside pot of the Instant Pot or multicooker.

Set the egg rack in the inside pot.

With the pointed tip of the egg facing downward, stack the eggs on the rack.

The egg rack can contain 7 eggs. If cooking more than 7 hard-boiled eggs, place a second rack above the first rack and stack the eggs with the pointed tip facing down.

Lock the lid. Set valve to Sealing. Press Manual button on keypad. Adjust timer to cook on HIgh Pressure for 5 minutes.

When buzzer sounds after 5 minutes, click Cancel to turn off the Instant Pot. Do a 5-minute Natural Pressure Release (NPR), by turning the Sealing valve to face you. Wait for 5 minutes for the pressure to come down on its own.

Open the lid carefully. Use tongs to transfer the eggs to a large bowl filled with ice and cold water. Soak eggs for 5 minutes.

Peel eggs and use for this recipe.
Notes on the Instant Pot:
It takes about 17 to 20 minutes for the Instant Pot to pre-heat before the High Pressure cooking time begins. For other multicookers, check the product manual.

For safety, use accessories recommended for the Instant Pot or most multicookers like silicone or metal. Do NOT use glassware.

Read the product manual for safety instructions.
To cook hard-boiled eggs on the stove:
Fill a medium-sized, deep stockpot with enough water to cover the 6 eggs. (Do not put eggs till water boils).

Cover the stock pot and over high heat let the water come to a boil in about 5 to 6 minutes.

When water is boiling, add eggs using a slotted spoon. Cook the eggs in the boiling water for 10 minutes to make them hard-boiled.

After eggs are done, transfer the eggs to a bowl filled with cold water and ice. Soak eggs for 5 minutes. Peel to use for this recipe.
Nutrition
Serving:
1
g
|
Calories:
114
kcal
|
Carbohydrates:
13
g
|
Protein:
1
g
|
Fat:
7
g
|
Saturated Fat:
6
g
|
Cholesterol:
6
mg
|
Sodium:
733
mg
|
Potassium:
83
mg
|
Fiber:
1
g
|
Sugar:
11
g
|
Vitamin A:
302
IU
|
Vitamin C:
2
mg
|
Calcium:
18
mg
|
Iron:
1
mg
Notes on Nutrition: The nutrition information provided is an estimate and will vary based on cooking methods and specific brands of ingredients used.
Did you like this recipe? I have more classic recipes inspired by my late mother's cooking in my popular cookbook: My Mother's Philippine Recipes. If you're learning how to cook Filipino food or a fan of Philippine cuisine, buy my cookbooks and books on Amazon.com sold worldwide in paperback and Kindle format.
Hello, Friends! Please DO NOT LIFT OR PLAGIARIZE my original recipe, stories, photos or videos. All the images and content on this blog are COPYRIGHT PROTECTED and owned by my media company Besa-Quirino LLC. This means BY LAW you are NOT allowed to copy, scrape, lift, frame, plagiarize or use my photos, essays, stories and recipe content on your websites, books, films, television shows, videos, without my permission. If you wish to republish this recipe or content on media outlets mentioned above, please ASK MY PERMISSION, or re-write it in your own words and link back to my blog AsianInAmericaMag.com to give proper attribution. It is the legal thing to do. Thank you. Email me at [email protected]