No-Bake Cheesecake with Strawberries and Blueberries
As an Amazon Associate and member of other affiliate programs, I earn from qualifying purchases.
]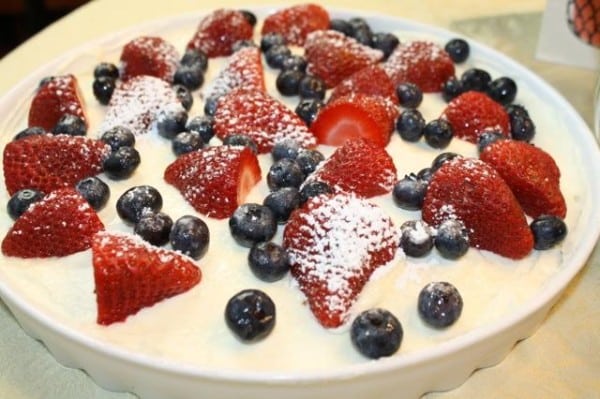 The first thing I recommend to anyone with jet lag is "do not cook". Order take-out or heat up leftovers. Or make the simplest, easiest no-bake dessert like this No-Bake Cheesecake with Strawberries and Blueberries and laze with a slice on the couch.
We just got back from our trip to Asia. If you haven't been yet, travels to Asia take about 15 hours from the east coast on a nonstop flight, with a layover or two along the way before you reach your final destination. You cross the International Date Line so you arrive at your city a day or two after you first set out, making your entire body system totally out of sorts. And yes, my sleep patterns are topsy turvy — I am awake from midnight to dawn and fall asleep during the day. That is jet lag and I am fighting it with lots of liquids and trying to sleep when everyone else is asleep at night, EST time.
We travel to the Philippines often because that is our home country and we have family and community ties there. This year, in addition to Manila, we flew to Japan for a week's vacation with my hubby and sons. Stories about Japan will come in another blog post, so stay tuned.
Meanwhile, back in my home here in the USA, I woke up to see that in a few days we would be celebrating the 4th of July. From my past blog posts, you will recall July 4th is also my husband's birthday. My hubby prefers we don't make a fuss and is much happier WITHOUT a big party. But I still make his favorite dishes and desserts, in smaller portions for our family of 4 to enjoy.
This No-Bake Cheesecake with Strawberries and Blueberries is the perfect dessert for the 4th of July. Like me, you probably don't want to spend hours in the kitchen amidst the blistering summer heat. Simply mix all the creamy ingredients together, layer them in a pie plate on a no-bake crust and refrigerate overnight. Let the ref do the work for you. The next day, decorate the top of the no-bake cheesecake with favorite fresh fruit slices. And for the 4th of July, go to town with an abundance of berries to make this delightful 'red-white-and-blue' dessert. Did I mention this was no-bake? Enjoy the holiday weekend, folks.
No-Bake Cheesecake with Strawberries and Blueberries
Summer season or not, there will be days you need a dessert but don't have time to fuss in the kitchen for hours. This easy No-Bake Cheesecake with Strawberries and Blueberries is the solution for you. Simply put together a no-bake pie crust and the creamy cheesecake ingredients. After refrigerating the entire pie overnight, decorate with a bounty of fresh berries or fruits in season. This is an AsianInAmericaMag recipe. Serves 2 to 4.
Ingredients
1

cup

graham cracker crumbs

for pie crust graham

1

cup

shortbread crumbs

for pie crust

1/3

cup

granulated sugar

for pie crust

1/2

cup

unsalted melted butter

for pie crust

2

packs (8 oz. each)

Philadelphia cream cheese

for filling

1

tub (8 oz.)

regular whipped cream

, for filling

1/2

cup

granulated sugar

1

Tablespoon

lemon juice

2

cups

fresh strawberries

washed, hulled, sliced in halves, for topping

1 1/2

cups

fresh blueberries

washed f

1/4

cup

confectioner's sugar

for sprinkling on fruits organic powdered
Instructions
In a medium-sized bowl, mix together the graham cracker and shortbread crumbs. Add the sugar. Blend in the melted butter. Place the crumbs mixture on a 9-inch pie plate. Spread evenly and press with a fork against the pie plate. Cover and refrigerate for 30 minutes while preparing the filling.

Prepare the pie filling by mixing together the blocks of cream cheese, whipped cream, sugar and lemon juice. Use a stand mixer or mix thoroughly with a wooden spoon till blended. Pour the filling on the pie crust. Cover the entire pie with plastic wrap and refrigerate overnight.

The next day, decorate the top of the pie with strawberries and blueberries. Sprinkle powdered sugar all over just before serving. Keep the cheesecake refrigerated at all times till ready to slice and serve.

COOK'S COMMENTS: To transform crackers or cookies to crumbs, place them in a plastic or Ziploc bag. Then pound the crackers with a meat mallet till you have enough crumbs. I used part graham crackers and part shortbread for this recipe for a twist on the pie crust flavor. Feel free to use all graham crackers if you prefer.
Hello, Friends! Do not plagiarize or lift my recipes and photos without my permission. All the images and content on this blog are COPYRIGHT PROTECTED and owned by my media company Besa-Quirino LLC. This means BY LAW you are NOT allowed to copy, scrape, lift, frame, plagiarize or use my photos and recipe content I wrote, on your website, blogs, videos, cookbooks, TV programs, media content  without my permission. If you want to republish this recipe or content on another website or news article, please ASK my permission, re-write it in your own words and simply link back to this blog to give proper attribution. It's the legal thing to do. Thank you. Email me at [email protected]
Nutrition
Serving:
1
g
|
Calories:
280
kcal
|
Carbohydrates:
65
g
|
Protein:
1
g
|
Fat:
2
g
|
Saturated Fat:
1
g
|
Sodium:
139
mg
|
Potassium:
37
mg
|
Fiber:
1
g
|
Sugar:
54
g
|
Vitamin C:
1.5
mg
|
Calcium:
17
mg
|
Iron:
0.9
mg