Strawberry Pie
As an Amazon Associate and member of other affiliate programs, I earn from qualifying purchases.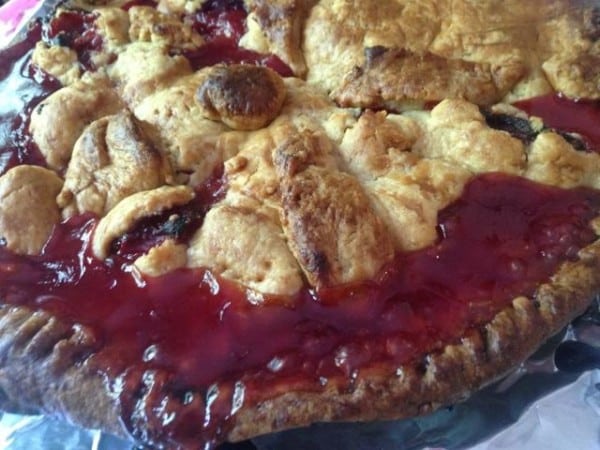 Where were you on 9/11? The sad memories made me go to the kitchen and bake a Strawberry Pie. Every year like clockwork our minds and hearts go back to that day in 2001. It will forever be etched in our consciousness — I guess just like Pearl Harbor or the fall of Bataan was to our parents and their generation.
I was at work on a business call to London. The nice British lady on the other line suddenly gasped and said "I am so sorry for what is happening to America right now." It was 2001 then, but news did not go viral as quickly as it does in seconds today. I looked through the glass wall beside my desk and stared at the sparkling blue sky, the golden rays of the sun and the perfect day outdoors. Who knew then that 50 miles away eastward in New York City the twin towers were tumbling down.
Life has never been the same for any of us since. Our generation will always be identified as the one that experienced 9/11. Our children and theirs will never know what it was like to leisurely walk into any airport, with no security lines, no metal detectors, no shoes to take off and water bottles allowed.
Like the rest of America, my heart is heavy today. I am one with the families who lost loved ones that day. The next best thing I can do when this heaviness prevails is to reach for the comfort of what is familiar. And there is nothing like a good, old-fashioned pie to ease the soul on a day like this. This pie was easy to make and the warm, sweet comfort of every slice felt like a hug from a good friend. Best of all, it was a pie recipe from the cookbook of a true friend, Nancie McDermott, author of "Southern Pies".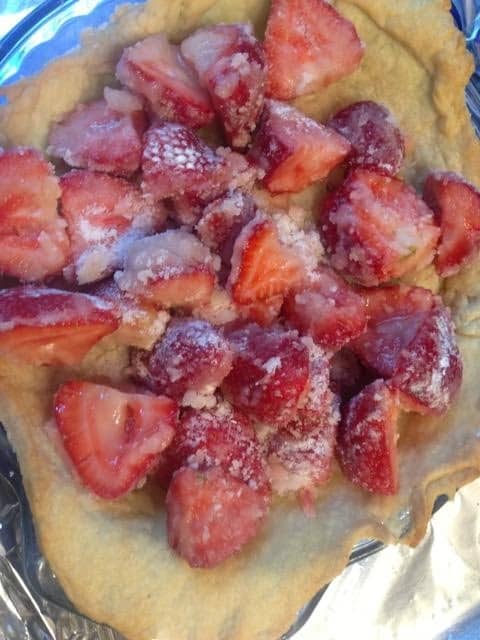 I was not yet ready to bid goodbye to the last of the season's fruits so I was relishing a few fresh strawberries. It didn't take long to put this pie together. The rituals of hulling the green tops off the bright red strawberries were calming. Mixing, blending and rolling out the pastry crust was soul soothing. Finally, when the baked pie came out of the oven and the gooey strawberry syrup which formed inside the pie was dripping out of the flakey, buttery crust …then that was all I needed to make the day seemed better, brighter.
9/11 was a heart stopping day for us. It taught us life is brief, volatile and in a few swift seconds everything can alter completely. September 11th taught us every moment is precious. So let's appreciate and understand situations and people with more compassion, kindness and gratitude in our hearts.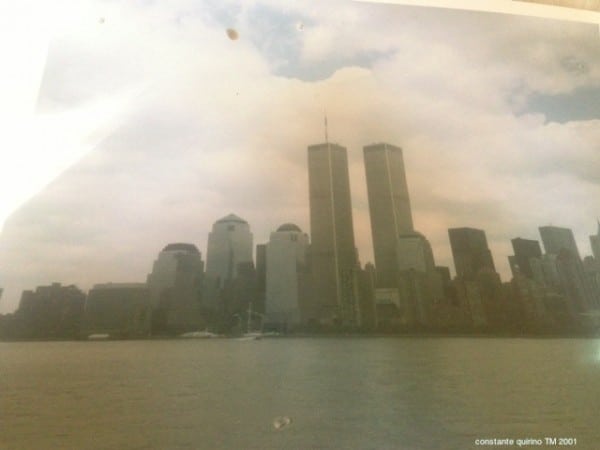 In May 2001, during a class trip, a boat ride around the Hudson River in New York, my son Constante Quirino took a photo of this view of Manhattan, which included the Twin Towers. Little did he know how the world would change a few months after he took this photograph. (Photography and Copyright owned by Constante G. Quirino)
Strawberry Pie
I baked this easy Strawberry Pie because I had a mountain of berries, the last few from the season. I often mix pie crusts ahead and freeze the discs wrapped in plastic. Today, I unfurled two discs to make a double crust pie. The strawberries were lush and large. I simply tossed the fruits in and sealed the pie crust on the sides. This is the kind of recipe you make again and again when you need a slice of heaven to get you through the day. This recipe was inspired by "Southern Pies Cookbook" by Nancie McDermott; the butter pie crust was from the recipe of Sandra Gutierrez in the same cook book. Sandra is another awesome culinary authority. This pie serves 6 to 8.
Equipment
Pie plate: 9-inch; Rolling pin
Ingredients
2

cups

all-purpose flour

1

teaspoon

salt

1/2

cup

chilled unsalted butter

must be very cold; cut into small cubes

4 to 6

Tablespoons

ice water

add to pastry crust as needed

1

teaspoon

white vinegar

3

cups

fresh strawberries, hulled

sliced in quarters strawberries (fresh or frozen)

1 1/4

cups

granulated sugar

1/3

cup

all-purpose flour

for filling all purpose flour

1

Tablespoon

fresh lemon juice

2

Tablespoons

chilled unsalted butter

cubed; for filling

2

Tablespoons

milk

for egg wash

1

whole

medium-sized egg

for wash egg

1

Tablespoon

water

for egg wash
Instructions
How to make the Sandra Gutierrez double butter piecrust: I used the food processor and mixed the flour and salt in the work bowl. Pulse this dry mixture for 10 seconds. Then add the cubes of chilled butter.

Process again till mixture looks coarse with small lumps. This takes about 30 to 40 seconds. Add 3 tablespoons of the ice cold water and the vinegar. Pulse 5 to 7 times.

The dough will start looking smooth. Add 1-2 tablespoons or iced water if needed to make the dough stay together. Place the pastry on plastic wrap and seal well.

Store in the refrigerator for at least one hour till ready to use. (*Note: if you don't own a food processor, you can do this pastry dough by hand in a large mixing bowl using a pastry blender or else two table knives to mix the butter into the flour).

On a floured surface, roll out the chilled dough with a rolling pin. Roll out dough between two pieces of parchment or wax paper. Make a circle which is about 1/8 inch thick and 10 inches wide.

Transfer this pastry dough to a 9-inch pie plate. Press the dough down gently. Try to trim away any excess dough on the sides. Pierce the fork about 4 times all over the insides of the pie crust. Bake this pie pastry crust in a preheated oven of 400 F for about 15  minutes till crust turns brown. Remove this from the oven and set aside while you prepare the pie filling.

Keep the second pie crust disc in the refrigerator till ready to roll out.

To make the pie filling: Wash, hull and slice the strawberries. Drain off any excess water. In a large bowl, mix the strawberries, sugar, flour salt, lemon and butter.

Place strawberries inside the pre-baked pie shell. Roll out second disc of pastry wide enough to cover the top of the pie between two sheets of parchment or wax paper. Brush the edges of the first pie crust with water. Carefully transfer the second pie crust on top of the pie with filling. Seal the sides of the pie with a fork.

Pierce the top of the pie with a fork in several places for two to four times. Mix the milk with the egg and water to make a wash. Brush the top pastry crust with milk-egg wash.

Place a shallow baking sheet under the uncooked pie to catch any spills while baking. Then place the entire thing in the bottom rack of the oven. Bake at a preheated oven of 350 F degrees for 45 to 50 minutes. The filling will be bubbly and pastry crust will turn golden crown.

When done, remove the pie from the oven and cool on a rack for 10 to 15 minutes.

Cook's comments:

 In the cookbook "Southern Pies"

Nancie McDermott

makes this Strawberry Pie with a rhubarb filling. She also suggests store-bought pie pastry if making some from scratch is not convenient.

Hello, Friends! All the images and content on this blog are COPYRIGHT PROTECTED and owned by my media company Besa-Quirino LLC. This means BY LAW you are NOT allowed to copy, scrape, lift, frame, plagiarize or use my photos and  recipe content I wrote, on your website  without my permission. If you want to republish this recipe or content on another website or news article, please ASK my permission, re-write it in your own words and simply link back to this blog to give proper attribution. It's the legal thing to do. Thank you. Email me at [email protected]
Nutrition
Serving:
1
g
|
Calories:
341
kcal
|
Carbohydrates:
79
g
|
Protein:
5
g
|
Fat:
1
g
|
Saturated Fat:
1
g
|
Cholesterol:
1
mg
|
Sodium:
392
mg
|
Potassium:
59
mg
|
Fiber:
1
g
|
Sugar:
42
g
|
Calcium:
12
mg
|
Iron:
2
mg
Notes on Nutrition: The nutrition information provided is an estimate and will vary based on cooking methods and specific brands of ingredients used.
Did you like this recipe? I have more classic recipes inspired by my late mother's cooking in my popular cookbook: My Mother's Philippine Recipes. If you're learning how to cook Filipino food or a fan of Philippine cuisine, buy my cookbooks and books on Amazon.com sold worldwide in paperback and Kindle format.
Hello, Friends! Please DO NOT LIFT OR PLAGIARIZE my original recipe, stories, photos or videos. All the images and content on this blog are COPYRIGHT PROTECTED and owned by my media company Besa-Quirino LLC. This means BY LAW you are NOT allowed to copy, scrape, lift, frame, plagiarize or use my photos, essays, stories and recipe content on your websites, books, films, television shows, videos, without my permission. If you wish to republish this recipe or content on media outlets mentioned above, please ASK MY PERMISSION, or re-write it in your own words and link back to my blog AsianInAmericaMag.com to give proper attribution. It is the legal thing to do. Thank you. Email me at [email protected]