Mongolian Beef Stir Fry
As an Amazon Associate and member of other affiliate programs, I earn from qualifying purchases.
[amazon_link asins='B0005YVWBM,B000OFREDC,B01DUZMBP8,B00GIBKC3K' template='ProductCarousel' store='queensnotcom-20′ marketplace='US' link_id='dbc9165b-7558-11e7-ad0e-3da622a3c740′]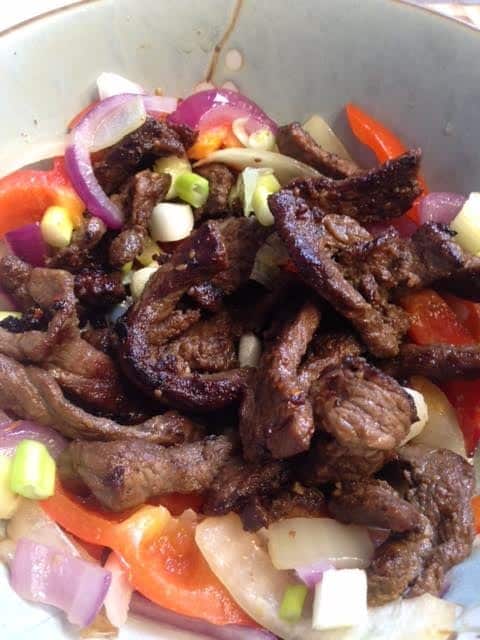 I have been cooking this Mongolian Beef Stir Fry recipe for years, remembering it from my mom's own dish. It may have been a trend years ago and perhaps recently got attention again. Who knows? I am not one to cook based on trends. I cook dinner from what I have in my kitchen, ref and pantry. I also cook because my family enjoys home cooked meals more than eating out.
I am serious when I tell you this recipe was incredibly easy to make. You can use sirloin beef, skirt steak or thinly sliced beef cuts that are on sale. That's the beauty of this recipe — it can be a 'whatever' type of beef, all you need to do is make sure the slices are slim to cook fast and easy.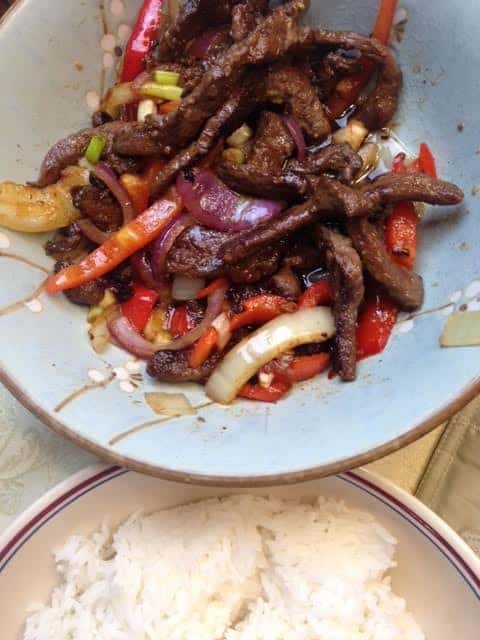 I made this recipe my own by tweaking the amount of seasonings used. Some friends marinate these beef slices overnight which is a good idea, but if you do, be sure to omit the sugar. Sugar will sweeten the dish the way I remember it. But sugar toughens meat. So like most entrees which require sugar, I add it at the last few minutes before cooking.
The sweet-savory sauce of this Mongolian beef defines the dish. It is almost like a teriyaki-based sauce, but when cooked is reduced so the beef strips are nearly dry. The strips maintain a shiny glaze all over, and pan searing it gives that slightly dark brown crusty edge which is almost like a grilled barbecue entree. Once the meal is ready, the ginger-onion aromas blend well with the peppers. There will be droplets of sauce remaining in the skillet — make sure to have a mound of steamed rice ready to catch the heavenly slurry.
The finished platter of Mongolian beef will look vibrant and splendid, your family will attack it with no questions asked about its origin. Nobody will even ask where Mongolia is. They'll be too busy wiping their plates clean by swishing the last grains of rice on the streams of sauce left.
Mongolian Beef Stir Fry
This Mongolian Beef Stir-Fry is an Asian-flavored beef entree that has a sweet-savory sauce base. It is basically a stir-fry beef and peppers dish. The origin of a Mongolian Beef recipe is unclear to many including myself. But it doesn't matter because this is one of the easiest, most superb beef dishes I have made. It's no wonder it's a family favorite. All it takes is thinly sliced beef strips and the seasonings here which are probably in your pantry. This is an AsianInAmericamag recipe. Serves 2 up to 4 if paired with rice.
Ingredients
1/2

pound

sliced thin, in 2-inch long strips beef sirloin (or use skirt steak, tenderloin, or other beef cuts preferred)

2

Tablespoons

divided, use 1 Tablespoon to marinate beef vegetable oil

4

Tablespoons

divided, use 1 Tablespoon for slurry with cornstarch, rest for marinade soy sauce (low sodium)

1/2

teaspoon

for marinade sea salt

1

teaspoon

freshly ground black pepper powder

3

Tablespoons

divided, use 1 Tablespoon to coat beef, rest for sauce cornstarch

1

large

sliced red or white onion

1

cup

sliced

seeded, white membrane removed red or green bell peppers

2

cloves

minced garlic

1

piece

about 1-inch long, cut further into thin strips fresh ginger

1/4

cup

to mix the slurry water

1/8

teaspoon

sesame oil

2

Tablespoons

to add to beef brown sugar

2

stalks

chopped, for garnish scallions or green onions

for serving boiled rice

white or brown
Instructions
Marinate beef strips in oil, soy sauce, salt and black pepper for 4 to 6 hours, or even overnight. Place beef and seasonings in a covered plastic container or resealable plastic bag (Ziploc) and refrigerate.

The next day, over medium  heat add the remaining oil to the large skillet or wok. When oil is hot, stir fry the onions and bell peppers for 1 to 2 minutes till onions are translucent. Remove the onions and peppers from the skillet and set aside.

To the same skillet or wok, add the garlic and ginger. Stir fry for 1 minute. Keep cooking at medium heat.

Add brown sugar to the beef and mix well. Coat the beef strips with a tablespoon of corn starch. Add the beef to the hot oil with the garlic and ginger. Pan sear for 8 to 10 minutes till beef strips are brown. Remove beef and set aside.

In a small bowl, combine the 2 tablespoons cornstarch, water, remaining soy sauce. Blend well till there are no lumps. Add this mixture to the skillet or wok over medium heat. Let the sauce mixture boil. When it boils the sauce thickens. Lower heat to a slow simmer.

Return to the skillet the onions and peppers, then the cooked beef strips. Add the sesame oil. Mix all the ingredients well till thickened sauce coats the beef and vegetables.

Garnish with scallions. Serve with boiled rice.

Cook's comments: I used low sodium soy sauce for this recipe because I marinated the beef strips overnight. Feel free to use regular soy sauce for a stronger flavor or even the lighter flavored Tamari soy sauce (gluten free  ) if these are your personal preferences.

Hello, Friends! All the images and content on this blog are COPYRIGHT PROTECTED and owned by my media company Besa-Quirino LLC. This means BY LAW you are NOT allowed to copy, scrape, lift, frame, plagiarize or use my photos and  recipe content I wrote, on your website  without my permission. If you want to republish this recipe or content on another website or news article, please ASK my permission, re-write it in your own words and simply link back to this blog to give proper attribution. It's the legal thing to do. Thank you. Email me at [email protected]