Coffee-flavored Leche Flan
As an Amazon Associate and member of other affiliate programs, I earn from qualifying purchases.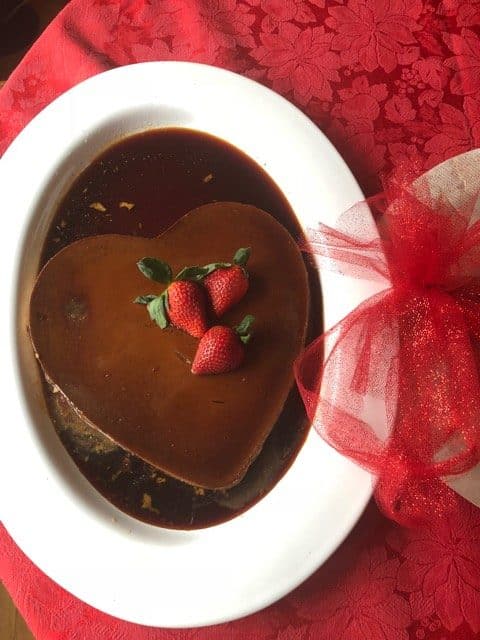 A leche flan dessert almost always is on the Filipino table during special occasions. So, for Valentine's I made this heart-shaped Coffee-flavored Leche Flan. I've posted several versions of flan on this blog – from the traditional version to fruit-flavored flans. In my two cookbooks, I've shared a chocolate flan, a coconut flan and even a combined ube puto-flan (purple yam rice cake with a flan topping).
Every February, I stare at my heart-shaped cake pans and try to think of creative, new ways to offer you, my readers a different dessert recipe. This time, I did not need to look too far. Even before baking this flan, I already imagined what the luscious dessert would taste and smell like. I knew it was going to be wonderful.
This is the kind of dessert for those who can't resist a coffee-flavored sweet treat. If you love the hot, dark brew in the mornings to perk you up, then the magic of this flan will captivate you, as well. It wasn't difficult to mix the custard ingredients and pour it over the caramel-lined heart cake pan. A day after the flan was baked, I sliced a few servings for my husband and myself. The velvety, mocha-colored custard looked irresistible as it swerved on the dessert plates when I brought it to the table. Once our spoons cut through the silky flan, I sensed a malt-like taste seeping slowly within. This time, the shimmery, light brown flan before me tasted less vanilla-like and almost chocolatey.
I liked this new, robust flavor. I caught hints of freshly-brewed coffee from the sweet aroma. It was the kind of nutty scent that coffee lovers get lured to first thing in the morning. I must confess. We couldn't wait for Valentine's day to enjoy this dessert. There was something hard to resist about the mocha undertones blending in a cream custard. Whether it was the rich, almost-chocolate-like flavor or the caramel syrup glistening and cascading downwards, this was just the thing we needed to make us escape into dessert heaven for a few, brief moments.
Coffee-flavored Leche Flan
The traditional Filipino Flan custard dessert takes on a different flavor in this Coffee-flavored Leche Flan. I added a few teaspoons of coffee granules to the custard mixture and it magically transformed the baked custard into a delightful, mocha-flavored sweet treat. Like most flans, serve this on special occasions or make any day more special with this flan. No need to wait for Valentine's. After all, love can be celebrated any day, every day. This is an Asian in America recipe. Serves 4.
Equipment
Round cake pan - 9-inch; Or a Heart-shaped metal pan - 10-inch (Wilton brand)
Ingredients
1

cup

granulated sugar

for the caramel

3

teaspoons

instant coffee granules

1/4

cup

boiling water

to dissolve coffee granules boiling water

8

whole

egg yolks

1

can (12 oz./354 ml)

evaporated milk

1

can (14 oz./397 g.)

sweetened condensed milk

1

teaspoon

hazelnut flavoring
Instructions
To make the caramel:
Using a medium-sized heavy stock pot, over medium heat, add the sugar. In about 5 to 6 minutes, the sugar will start to bubble. It will turn from white to golden brown.

Tilt the pan around to level off the caramel syrup. When the entire mixture is golden amber and the sugar has melted completely, immediately pour the syrup into the prepared cake pan.

Set aside for the caramel to cool at room temperature.
To make the custard:
Pre-heat the oven at 325 F.

In a small bowl, dissolve the coffee granules in 1/4 cup boiling water. When coffee has dissolved, strain the liquid. Set aside to cool at room temperature.

*Note: Do not add hot coffee liquid to the custard mixture. The eggs will cook prematurely.

In a large mixing bowl, combine the egg yolks, evaporated milk, condensed milk, hazelnut flavoring and the cooled coffee liquid. Mix by hand with a wooden spoon. Do not whisk or beat or it will cause unnecessary bubbles in the custard.

Strain the custard liquid on a cheesecloth for a smooth texture. Pour the custard into the caramel-lined pan.

Cover the pan with foil all over. Seal the sides well.
To cook Flan in a water bath or bain marie style:
Place the foil-covered flan over a larger roasting pan, which has a deeper depth than the flan.

Place the roasting pan on the center rack of the oven. Fill the roasting pan with water (I use a kettle to pour the water).

The water should come up a little more than halfway full in the large pan.

The foil-covered flan should be in the center of this pan with water.

Bake at 325 F degrees for 1 hour and 30 minutes.

Test if custard is done by inserting the small tip of a sharp knife in the center. If knife comes clean, then flan is done.

Remove the flan from the oven and cool on the counter till it is easy to handle.

Refrigerate flan for at least 4 hours or up to overnight before serving.
To plate the flan:
After the flan has cooled and firmed up, remove the foil.

Run a sharp knife around the sides of the flan to loosen it up.

Prepare a large round or oval rimmed platter and put this over the cake pan with the flan.

Hold the bottom of the flan container firmly with one hand.

Place your other hand over the back of the serving platter. Quickly turn over the flan on the serving platter. The caramel syrup will flow around the sides of the custard. Slice in small portions and serve.
Cook's comments:
I used instant coffee granules for this recipe because they dissolve faster in hot water. If you don't have instant coffee use 1/8 cup brewed liquid coffee (black/no dairy) to add to the custard mixture.
Nutrition
Serving:
1
g
|
Calories:
204
kcal
|
Carbohydrates:
51
g
|
Protein:
1
g
|
Fat:
1
g
|
Saturated Fat:
1
g
|
Cholesterol:
22
mg
|
Sodium:
2
mg
|
Potassium:
27
mg
|
Sugar:
50
g
|
Vitamin A:
29
IU
|
Calcium:
3
mg
|
Iron:
1
mg
Notes on Nutrition: The nutrition information provided is an estimate and will vary based on cooking methods and specific brands of ingredients used.
Did you like this recipe? I have more Filipino Instant Pot recipes in my newest cookbook Instant Filipino Recipes: My Mother's Traditional Philippine Cooking in A Multicooker Pot by Elizabeth Ann Besa-Quirino. Buy my cookbooks and books on Amazon.com sold worldwide in paperback and Kindle format.
Hello, Friends! Please DO NOT LIFT OR PLAGIARIZE my original recipe, stories, photos or videos. All the images and content on this blog are COPYRIGHT PROTECTED and owned by my media company Besa-Quirino LLC. This means BY LAW you are NOT allowed to copy, scrape, lift, frame, plagiarize or use my photos, essays, stories and recipe content on your websites, books, films, television shows, videos, without my permission. If you wish to republish this recipe or content on media outlets mentioned above, please ASK MY PERMISSION, or re-write it in your own words and link back to my blog AsianInAmericaMag.com to give proper attribution. It is the legal thing to do. Thank you. Email me at [email protected]
Disclosure: Instant Pot is the brand name of a multi-cooker that cooks in high and low pressure. I was not paid by the Instant Pot company to mention the product or brand nor endorse it. This is not an ad. My views and opinions are my own.