When in Rome….Rich Brunn: Must-have Tour Guide
As an Amazon Associate and member of other affiliate programs, I earn from qualifying purchases.
As we tossed 3 coins into the Trevi Fountain, to make a wish, I slowly looked to my left….a brightly-lit sign caught my eye…and I gasped. It had our name on it! Surprised? Of course, we were. That's because right here, in Rome, Italy, next to the Trevi Fountain, we found an elegant restaurant with our family name on it …Ristorante Quirino. Our guide, Rich Brunn, could not believe it. He had done numerous tours in the last few years. And he'd never encountered a coincidence like this – American tourists finding a restaurant with their name on it. How cool is that?
There is a saying, "a lifetime is not enough to visit Rome." Well, neither is a week, or much less a day. There is never enough time to see all the grandeur of Rome.
And this is why, when in Rome, I highly recommend RICH BRUNN. You see, a trip to Rome is the visit of a lifetime. You only have a few days, or if on a cruise, merely a few hours. Rome in only a couple of days or hours? Some people may be skeptical. But it is definitely possible. How? Book Rich Brunn as a day tour guide, that's how.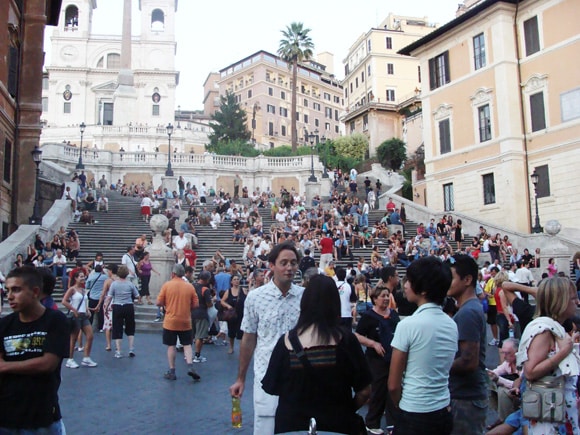 Rich Brunn is an American living in Rome, Italy. He owns ROME DAY TOURS, high quality personalized walking tours. Rich started his company while finishing his Masters in Rome, and simultaneously teaching Roman Topography (Ancient) and Medieval/ Renaissance Roman and European History at St. Stephen's High School, Rome.
We found Rich by searching on Google, "Rome day tours", a month before our trip. He was quick to reply to my email and immediately set up 2 day tours for the week we were going to be in Rome.
The first tour was the HISTORICAL CENTER. And the second, ANCIENT ROME.
For first time visitors, this is a good start, and Rich was right there to open our eyes to the complex layering of Rome's hundreds of years of history, art, and architecture. This was a fantastic introduction for us to the city. Rich puts together a nice mix of Rome's most famous periods: ancient, Renaissance and Baroque masterpieces. Highlights of the tour are the Piazza Navona, Trevi Fountain, Spanish Steps and the Pantheon.
We met up with Rich on our first day in Rome, that week in September. He walked us through an all-afternoon tour which took about 4 hours, stopping here and there for a cold drink or snack. One of the most significant sites was the stately Pantheon…one of the world's most inspiring architectural designs. Fittingly built as a temple to the Gods by Emperor Hadrian in the 120's AD. its perfectly proportioned floating dome rests on sturdy marble columns. As it is oriented perfectly north, it's only light source flowing through the central "could easily have been used to measure time, and the dates of equinox and solstices."
One of the most amazing things is that Rich knew exactly what was THE BEST SPOT in the Pantheon for us to get a good family photo, with the dome in the background.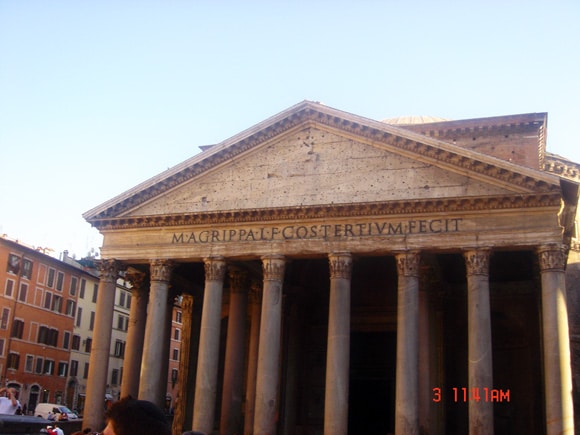 Every turn, every alley, every column, every mural or sculpture we encountered was brought vividly to life by Rich's knowledge of its interesting history. That first day tour ended on the famous Spanish Steps and Piazza di Spagna. The graceful steps built in 1725, curve their way from the Piazza di Spagna to the pastel tinted Church of the Trinita dei Monti. The shopper's paradise of Via Condotti leads back to the Spanish Steps to Via del Corso, and during spring, the steps are festively decorated with pink azaleas.
At the foot of the steps, lies Bernini's boat-shaped Barcaccia fountain and to the right is the unassuming Keats-Shelley Memorial House.
While at the Trevi Fountain, Rich brought the numerous statues of sea horses, historical reliefs and allegories to life in an amazing context of hidden vegetation, architectural and Papal intrigue.
Tossing a coin into the fountain is supposed to guarantee a return trip to Rome, and yes, inspired, we closed our eyes, made that wish, and tossed the coins.
Tour 2: ANCIENT ROME
For this tour, Rich covered a pretty extensive time frame from the foundations of the ancient Roman Monarchy, through some of the most significant elements of the Republic. The highlights were : the Roman Forums, Palatine Hill and the Colosseum.
The Forum's main thoroughfare, Via Sacra, slices through the old market square and former civic center. To make sense of the ruins and relics of the old Republic, it is so helpful to have a tour guide like Rich, whose vast knowledge of Rome's history is unparalleled. Rich graduated from the Pontifical University of St. Thomas Aquinas. While there he said, " I took an entire class on the Bones of Sts. Peter and Paul. "
I have always wanted to see the COLOSSEUM, but dreaded the hour-long lines. Thus, it was a relief to know that Rich, as an Officially Licensed Tour Guide of Rome, is able to go to the "special ticket window", get tickets super fast, and get his tour group in pronto, avoiding the lines.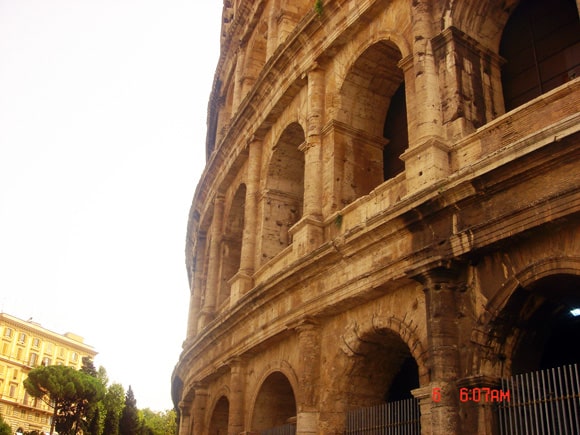 But the best part of each tour was Rich's limitless knowledge on the Colosseum's history and all the stories he could tell. Rich has the ability to bring the history to life, as though it was happening in real time and we were right there, at the Colosseum, alongside the gladiators, walking through the Corinthian columns, the cells, long corridors, the ramps and re-live the experience in our minds.
Rich is one of the few Americans in Rome to become an Officially Licensed Tour Guide of Rome (Guida Turistica di Roma). He is warm, friendly, easy-going and very flexible to our needs and schedules. He obviously loves his job and his love of Rome is apparent in the topnotch quality of the day tours.
Rich's Rome Day Tours also offers other tourist favorites: the Vatican Tour: the Vatican Museums, Raphael Rooms, Sistine Chapel, and the St. Peter's Basilica. Like the other tours, Rich can facilitate avoiding the long lines and big crowds, making the tour more pleasant and private.
In 2010, Rich was quick to respond to tourist's issues about the global economic downturn. As a solution, Rich is now giving customers the opportunity to PAY A LOT LESS for tours. He limits the number of people to a total of 15 to ensure personalized attention.
So when you plan to go to Rome, contact Rich Brunn at www.rome-day-tours.com or [email protected].
Day tours are available all year round except Christmas day.
Arrivederci, Roma!