Crab Rangoon Lumpia
As an Amazon Associate and member of other affiliate programs, I earn from qualifying purchases.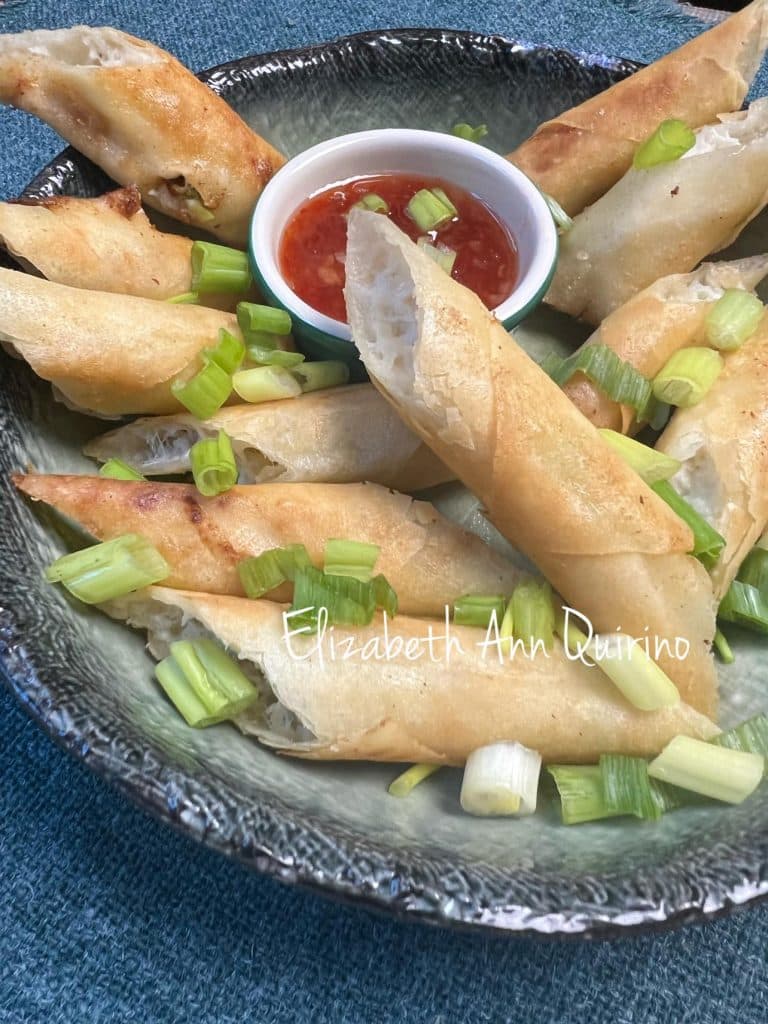 I cooked crisp Crab Rangoon Lumpia because we were craving the usual crab puffs from the takeout menu. But there's never enough of those crunchies so the best thing was to make it at home and have more portions to go around. Instead of encasing the creamy filling into square wontons like restaurants do, I wrapped the cream cheese-crab stuffing in Filipino lumpia wrappers.
The crab Rangoon puffs sold in takeout restaurants are likely an American-Chinese invention, according to internet sources. My version of Crab Rangoon Lumpia only needed a few ingredients: the wrappers and the cream cheese, crab meat, scallions and seasonings. The cream cheese should be at room temperature for easy mixing. Once wrapped, it's a good idea to freeze the logs for a few hours, or even a whole day.
The oil in the skillet sizzled and oozed on medium heat, so, I deep-fried the crab Rangoon lumpia. They were done within minutes. As they lay on the parchment paper to take off the grease, I used kitchen shears to cut up the whole, long lumpia into bite-sized pieces. The lumpia was light and crunchy. The filling was soft, and perfectly encased the savory crab flakes. I had a homemade sweet-sour sauce, which was slightly spicy, ready for dipping the crackling crab lumpia. This was the kind of appetizer that could transcend instantly into a main course, especially when served with rice. And that's just superb.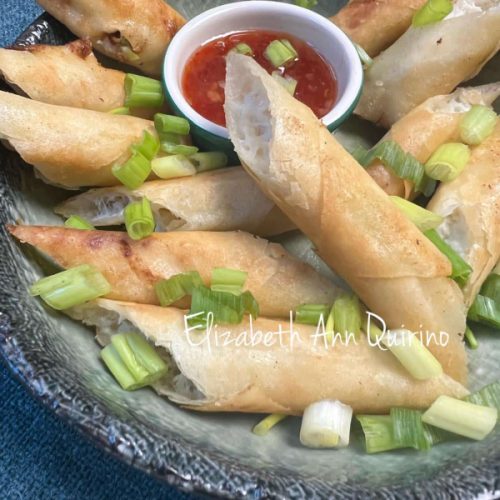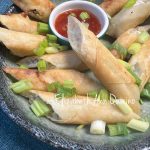 Print Recipe
Crab Rangoon Lumpia
Crab Rangoon Lumpia is my version of the crab puffs often on takeout menus. I used Filipino lumpia wrappers to encase the thick filling of cream cheese, crab meat, scallions and seasonings. After firming up in the freezer, the lumpia logs are deep-fried and ready in minutes. Dip the bite-sized crunchy lumpia in a homemade spicy sweet-sour sauce. These lumpia are great as appetizers, sides, or a main course. This recipe is by The Quirino Kitchen - Elizabeth Ann Quirino.
Equipment
Large and small mixing bowls

chopping board

Large skillet or Wok- 10 to 12 inches diameter

Small saucepan
Ingredients
For the Crab Rangoon Lumpia:
1

cup

canned crab meat, flaked

1

teaspoon

lemon juice

1

teaspoon

melted butter

1

teaspoon

Worcestershire sauce

1

package (8 ounces)

Philadelphia cream cheese, softened at room temperature

2

stalks

scallion whites, chopped

1

teaspoon

garlic powder

¼

teaspoon

salt

¼

teaspoon

ground black pepper

12

pieces

lumpia wrappers

1

whole

large egg, for egg wash

½

cup

vegetable oil, for deep-fry

2

stalks

scallion greens, chopped, for garnish
For Sweet-Sour sauce:
1

Tablespoon

vegetable oil

⅓

cup

tomato catsup

⅓

cup

white vinegar

¾

cup

water

⅓

cup

granulated sugar

½

teaspoon

red pepper flakes

2

Tablespoons

cornstarch

¼

cup

water
Instructions
To make the Crab Rangoon:
In a bowl, combine the crab meat with lemon juice, butter and Worcestershire sauce.

Add the cream cheese, scallion whites, and garlic powder. Season with salt and pepper. Combine ingredients well so everything is evenly distributed.

Take out the lumpia wrappers and separate them.

Place a sheet on a clean, dry surface on the counter.

Add a tablespoon of the cream cheese-crab filling in the center. Spread it around the middle like a long, thin log.

Wrap the lumpia like a burrito. Take the edge nearest you, lift it and roll the lumpia away from you, tucking the left and right sides neatly inside.

Mix the whole egg with 1 tablespoon of water for the egg wash. Brush the egg wash on the edges of the lumpia wrapper to seal it, and so the wrapper won't open up while frying.

Repeat process with other wrappers. You should have about 12 long crab lumpias.

*Keep the uncooked lumpia in a plastic container, and freeze for at least 4 to 6 hours, or up to overnight.
To deep-fry the Crab Rangoon Lumpia:
In a large skillet or wok, pour the oil. When oil is hot enough, over medium-high heat, add the Crab Rangoon Lumpia, almost straight from the freezer.

Deep-fry each one for five minutes, turning the pieces around with a pair of long tongs or a turner. Turning the lumpia around will ensure they brown evenly.

The lumpia will brown and cook in about 5 minutes. Do not overcook or the cream cheese filling will melt or ooze out.

Place the cooked Crab Rangoon Lumpia pieces on parchment paper or paper towels to remove excess grease.

Using a pair of kitchen scissors, cut up each long log into 3 parts, so you'll have three bite-sized pieces from each lumpia.

Serve while warm and crisp, with a side dipping sauce of Sweet-Sour Sauce.

Garnish with chopped green scallions all over.
To cook the Sweet-Sour Sauce:
In a small saucepan, over medium heat, add the 1 tablespoon oil.

When oil is hot enough, pour the catsup. Let the catsup sizzle for thirty seconds.

Pour the vinegar and the water.

Mix in the sugar and the red pepper flakes.

Separately, in a small bowl, mix the cornstarch and 1/4 cup water. Blend till there are no more lumps.

When the liquid in the saucepan starts to boil, pour the cornstarch mixture with the rest of the sauce ingredients.

Keep stirring the sauce mixture so it doesn't burn. As you stir, the sauce will become thick in 1 or 2 minutes. The sauce should be thick enough to coat the spoon.

This makes about a cup of sauce.

Serve warm as a side dipping sauce for the lumpia.
Nutrition
Serving:
100
grams
|
Calories:
108
kcal
|
Carbohydrates:
27
g
|
Protein:
0.4
g
|
Fat:
0.1
g
|
Saturated Fat:
0.01
g
|
Polyunsaturated Fat:
0.03
g
|
Monounsaturated Fat:
0.01
g
|
Sodium:
355
mg
|
Potassium:
86
mg
|
Fiber:
0.3
g
|
Sugar:
21
g
|
Vitamin A:
179
IU
|
Vitamin C:
2
mg
|
Calcium:
10
mg
|
Iron:
0.3
mg
Notes on Nutrition: The nutrition information provided in the recipe links is an estimate and will vary based on cooking methods and specific brands of ingredients used.
Copyright Notice: Hello, Friends! Please DO NOT LIFT OR PLAGIARIZE Asian in America recipes on this blog, my original recipes, stories, photos or videos. All the images and content on this blog are COPYRIGHT PROTECTED and owned by my media company Besa-Quirino LLC by Elizabeth Ann Quirino. This means BY LAW you are NOT allowed to copy, scrape, lift, frame, plagiarize or use my photos, essays, stories and recipe content on your websites, books, films, television shows, videos, without my permission. If you wish to republish this recipe or content on media outlets mentioned above, please ASK MY PERMISSION, or re-write it in your own words and link back to my blog AsianInAmericaMag.com to give proper attribution. It is the legal thing to do. Thank you. Email me at [email protected]