Monggo-Mung Beans Soup with Ham and Bok Choy
As an Amazon Associate and member of other affiliate programs, I earn from qualifying purchases.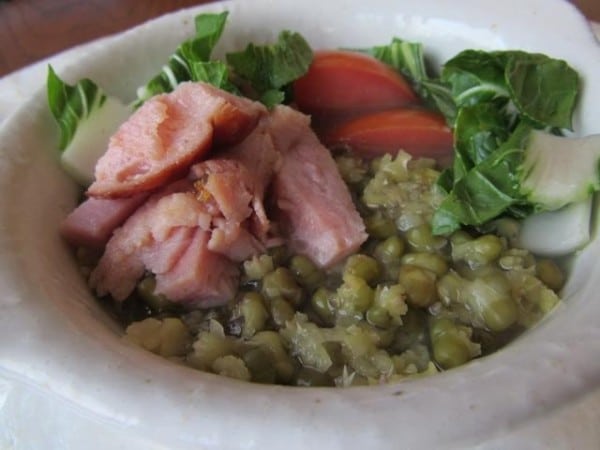 My family needed a reprieve from the rich, heavy holiday dishes. And I had ham leftovers from Christmas –so I cooked Monggo-Mung Beans Soup with Ham and Bok Choy.
From holidays past, I experienced that leftover ham slices get dry and tough after refrigeration or even if I freeze it well-wrapped and covered. The fresh, tender slices do not remain the same as it was when newly baked. So I knew I needed to come up with dishes using the ham leftovers quickly.
There was a bag of uncooked monggo or mung beans I kept as a staple in my pantry. Monggo (say 'mongh-goh') beans are a popular vegetable ingredient of Filipinos because it is inexpensive and easy to store. In the Philippines, dried monggo beans are easy to find in markets. Here in America, I buy a large bag of monggo from the Asian market. It is convenient to have around all year long. Knowing I have a bag of monggo in my pantry assures me we have vegetables I can cook any time. The dried beans stay on the shelf long enough for me to get a good mileage out of it. One bag of about 2 to 3 pounds can yield many simmering bowls of monggo guisado or soup like what I did with this recipe.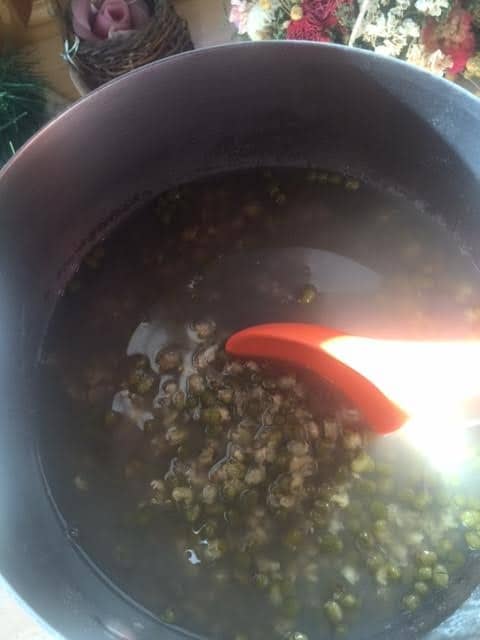 I am not a health expert nor claim to be one, but reading books on nutrition revealed that mung beans have the highest protein content among the beans family. One tablespoon of mung beans has 13 grams of protein. This was a delight to know because I have enjoyed monggo guisado as a vegetable side or entrée for as long as I can remember. I loved it not necessarily for the nutrion value then but for the rich, herbal flavors from the cluster of beans in my soup bowl. I often enjoyed mixing the dark green tiny round beans on rice. Sometimes it is the simplest of meals that are the best. And you can even make a luscious 'guinataang monggo' (mung beans in sweet rice and coconut) for merienda (afternoon snack).
When making monggo soup or a sauté, one just needs to plan ahead. Boiling the monggo beans takes about 35 to 40 minutes for it to soften to a nearly mushy, soft texture. You can tell the boiled monggo beans are ready to be sautéed once you sense the earthy aroma of the beans coming from the simmering stockpot.
A few minutes later, the sautéed aromatic monggo mixture with garlic, onions, tomatoes and patis (fish sauce) combined with the soft, savory cubes of ham and crunchy bok choy shreds is irresistible. Pour it on a mound of steaming, boiled white rice and you will know what sheer comfort truly means.
Monggo- Mung Beans Soup with Ham and Bok Choy
Monggo- Mung Beans Soup with Ham and Bok Choy can be cooked in a saute for a soup meal like this one. I added ham cubes, succulent tomato slices and crisp bok choy shreds. The rich, thick dark green, mushy monggo beans are said to have the highest protein content of most beans. Each bean is tinier than green peas and needs to be pre-boiled before sautéing. Its mild, sweet flavors blend well with the savory ham cubes and simplicity of the crunchy bok choy shreds. This is an AsianInAmericamag.com recipe. My version serves 4.
Ingredients
1

cup

dried monggo or mung beans

3 to 4

cups

water

to boil monggo beans

1

Tablespoon

vegetable oil

2

cloves

garlic

minced

1

whole

onion

chopped

1-2

whole

tomatoes

sliced in wedges

1 1/2

cups

cooked ham

cut in 1/4-inch sized cubes

4 to 5

cups

organic vegetable or chicken broth

2

cups

bok choy or Chinese cabbage

shredded in slim strips

1

Tablespoon

patis (fish sauce)

1

teaspoon

salt

1

teaspoon

ground black pepper powder

for serving boiled rice
Instructions
In a medium-sized heavy stock pot, combine the cup of dried monggo beans with the water. The monggo beans need to be submerged and covered with water. Cover the stockpot. Over high heat, bring this to a boil. After it boils, lower heat to a medium and continue cooking monggo till beans soften for about 35 to 40 minutes. Keep an eye on the stockpot because the liquid gets absorbed quickly by the beans.

If the heat is too high, you will end up with burnt monggo. Add a cup or two of water if liquid goes below the level of the monggo beans. When monggo beans are soft enough, turn off heat. Discard liquid. Place monggo beans in a bowl and set aside.

Use the same stock pot to saute the monggo. Dry the insides with paper towels. When dry enough, over medium heat, add the vegetable oil. After 1 to 2 minutes when oil is hot enough, saute the garlic, onions, tomatoes.

Add the patis or fish sauce. Mix the ingredients around to blend well.

When onions are translucent, add the ham cubes. Then pour the pre-boiled monggo beans and the soup broth. Cover and continue cooking over a low simmer for about 25 minutes so flavors blend well.

Add the shredded bok choy and cook for 3 to 5 minutes till leaves soften. Season with salt and black pepper. Serve piping hot with a side of boiled rice.

Instant Pot recipe: For a quick-cooking Monggo recipe, find it in my newest cookbook Instant Filipino Recipes by Elizabeth Ann Quirino, which are recipes for cooking in the Instant Pot. My books are all sold on Amazon in paperback and Kindle format.

Cook's comments: If desired, substitute spinach or 'kangkong' (water spinach) for the bok choy, or any leafy greens preferred. If you do not have leftover ham from the holidays, use ham slices from the supermarket deli and cut into cubes.

Copyright Notice:Hello, Friends! All the images and content on this blog are COPYRIGHT PROTECTED and owned by my media company Besa-Quirino LLC. This means BY LAW you are NOT allowed to copy, scrape, lift, frame, plagiarize or use my photos and  recipe content I wrote, on your website  without my permission. If you want to republish this recipe or content on another website or news article, please ASK my permission, re-write it in your own words and simply link back to this blog to give proper attribution. It's the legal thing to do. Thank you. Email me at [email protected]
Nutrition
Serving:
1
t
|
Calories:
104
kcal
|
Carbohydrates:
2
g
|
Protein:
8
g
|
Fat:
7
g
|
Saturated Fat:
4
g
|
Cholesterol:
31
mg
|
Sodium:
1083
mg
|
Potassium:
227
mg
|
Fiber:
1
g
|
Sugar:
1
g
|
Vitamin A:
379
IU
|
Vitamin C:
17
mg
|
Calcium:
15
mg
|
Iron:
1
mg
Did you like these photos and want the recipes? I have more Filipino Instant Pot recipes in my newest cookbook Instant Filipino Recipes: My Mother's Traditional Philippine Cooking in A Multicooker Pot by Elizabeth Ann Besa-Quirino. I also have more classic recipes inspired by my mother's cooking in my popular cookbook: My Mother's Philippine Recipes. and HowTo Cook Philippine Desserts, Cakes and Snacks. If you're learning how to cook Filipino food or a fan of Philippine cuisine, buy my cookbooks and books on Amazon.com sold worldwide in paperback and Kindle format.
Copyright Notice: Hello, Friends! Please DO NOT LIFT OR PLAGIARIZE my original recipe, stories, photos or videos. All the images and content on this blog are COPYRIGHT PROTECTED and owned by my media company Besa-Quirino LLC. This means BY LAW you are NOT allowed to copy, scrape, lift, frame, plagiarize or use my photos, essays, stories and recipe content on your websites, books, films, television shows, videos, without my permission. If you wish to republish this recipe or content on media outlets mentioned above, please ASK MY PERMISSION, or re-write it in your own words and link back to my blog AsianInAmericaMag.com to give proper attribution. It is the legal thing to do. Thank you. Email me at [email protected]