Ginataang Bilo-Bilo -Sweet Rice Dumplings in Coconut Milk
As an Amazon Associate and member of other affiliate programs, I earn from qualifying purchases.
I scooped a generous portion of the bubbly Ginataang Bilo-Bilo, stew of coconut milk and ladled it into a small serving bowl. I made sure the round globules of gummy rice balls and strips of fragrant langka (jackfruit) slid into the soupy merienda (afternoon snack) as well. The sweet coconut milk blended well with the fruity flavors of langka and simple heartiness of the rice balls.
I had just made Ginataang Bilo-Bilo, or round glutinous rice balls cooked in coconut milk for the first day of the year. It was a Filipino New Year's tradition which I remember from childhood. My late mom and the elder relatives in the Philippines always insisted we ate "something round" to start off the year. The round shapes resembled coins, thus symbolizing money and prosperity.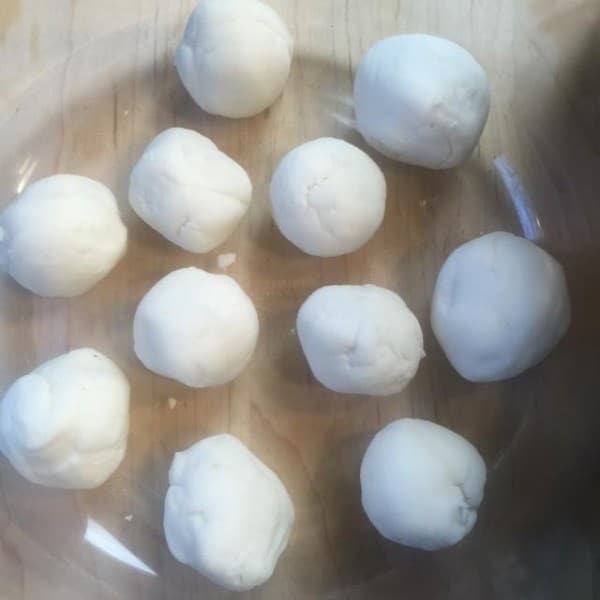 There is a fine line between tradition and superstition. But ultimately, no one wants to turn away the promise of prosperity. So whether it's a tradition or superstition, most Filipinos like to make "bilo-bilo" for the New Year. Conveniently, I had rice flour to make the rice balls. Plus I had cans of coconut milk and the jackfruit in my Filipino pantry here in my American kitchen.
Bilo-bilo comes from the root word "bilog" (a Tagalog word which translates to 'round'). The word 'ginataan' comes from the word 'gata' which is coconut milk. So 'ginataan' (say "gee-nah-tah-anh") means 'made of coconut'. In the Philippines, there are many desserts, snacks and main dishes cooked with coconut, so you will find the word "ginataan" used in many recipes and cookbooks.
This is a snack or dessert that goes beyond the New Year's. 'Bilo-bilo' can be served as a snack after school or after coming home from work. It can be served cold or warm. We like it served warm, the sweet coconut broth cascading down from each yummy gummy rice 'bilo-bilo'. Sometimes, I add a cup or two of cooked tiny tapioca balls or "sago" as we call them. This afternoon, for the first day of the year, I did not have the tapioca or sago balls available, so I promised my family the tiny translucent sago would be in it next time.
Nothing spells sheer comfort like a bowl of warm, thick, rich ginataang bilo-bilo. The glistening snowy white creamy coconut milk clings to the rice balls and together with the fruity langka strips, the entire experience is simply scrumptious.
Guinataang Bilo-Bilo - Sweet Rice Dumplings in Coconut Milk
Ginataang Bilo-Bilo - Sweet Rice Dumplings in Coconut Milk is one of the easiest Filipino "kakanin"(made of rice cake and coconut) snacks or desserts to put together at a moment's notice if you have all the ingredients. This is a snack or dessert which consists of  hearty, hefty gummy-like rice balls made from rice flour, shaped then boiled in a thick broth of sweet coconut milk. The strips of golden langka (jackfruit) defines the added dimension to the flavors of this comforting stew which my family enjoys at the start of the year or else during 'merienda' (snack time) in the winter months. The milky coconut broth that coats the rice balls or bilo-bilo is best served warm. This recipe was inspired by the site Panlasang Pinoy. My version serves 2 to 4.
Equipment
Large Stock Pot: 10 or 12 quarts
Ingredients
1

cup

Mochiko rice flour;

this makes 20 rice balls

1/2

cup

water,

to make bilo-bilo or rice balls

2

cups

langka (jackfruit)

sliced in strips; fresh or canned -drain syrup

2

cups

coconut milk

1

cup

water

to add to coconut milk

1/2 + 1/4

cups

granulated sugar

to add to coconut milk

1

cup

cooked sago (tapioca balls) bottled, from Asian markets;

optional
Instructions
To make the rice dumplings: In a medium-sized bowl, mix the rice flour and water. Slowly mix the flour and water till the flour becomes less powdery and starts to get thick and solid. Using your hands, shape the rice flour mixture into one-inch sized balls. Put them in a dry, large plate. Refrigerate for 30 minutes to one hour for the rice balls to firm up.

To cook the dumplings in coconut: Separately, over medium heat, in a medium-sized stockpot, add the coconut milk, water and sugar. Stir to blend well. Allow the coconut milk mixture to heat up then start to bubble. Lower heat to a simmer and let the mixture cook for ten minutes. Stir the coconut milk and water a few times and make sure heat is kept at a simmer or milk might curdle. This takes about 10 minutes.

Add the bilo-bilo rice flour dumplings to the coconut milk mixture. Stir gently so coconut milk coats the rice balls. Add the strips of langka/jackfruit and blend well. Over low-medium heat, cook for about 6 minutes more till rice balls puff up and get slightly enlarged.

The langka strips will soften at this same amount of time. Keep stirring the mixture every so often. The rice balls or 'bilo-bilo' tend to stick to the bottom of the stockpot if left unattended.

If available, throw in the cup of tapioca balls or "sago" at this time and stir the mixture so the sago blends with the rest of the ingredients.

Serve warm. Or if preferred, this can be served cold, too.

How to store: keep this Ginataan Bilo-Bilo refrigerated in a covered container. It will keep for about three days in the refrigerator.

 Cook's comments: If available, I also add cubes of ube (purple yam), camote (sweet potato) and fresh, ripe plantain slices (saging saba).

Copyright Notice: Hello, Friends! All the images and content on this blog are COPYRIGHT PROTECTED and owned by my media company Besa-Quirino LLC. This means BY LAW you are NOT allowed to copy, scrape, lift, frame, plagiarize or use my photos and  recipe content I wrote, on your website, films or videos  without my permission. If you want to republish this recipe or content on another website or news article, please ASK my permission, re-write it in your own words and simply link back to this blog to give proper attribution. It's the legal thing to do. Thank you. Email me at [email protected]
Nutrition
Serving:
1
g
|
Calories:
368
kcal
|
Carbohydrates:
41
g
|
Protein:
2
g
|
Fat:
24
g
|
Saturated Fat:
21
g
|
Sodium:
20
mg
|
Potassium:
249
mg
|
Sugar:
37
g
|
Vitamin C:
1
mg
|
Calcium:
20
mg
|
Iron:
4
mg
Notes on Nutrition: The nutrition information provided is an estimate and will vary based on cooking methods and specific brands of ingredients used.
Did you like this recipe?I have more Filipino Instant Pot recipes in my newest cookbook Instant Filipino Recipes: My Mother's Traditional Philippine Cooking in A Multicooker Pot by Elizabeth Ann Besa-Quirino. I also have more classic recipes inspired by my mother's cooking in my popular cookbook: My Mother's Philippine Recipes. If you're learning how to cook Filipino food or a fan of Philippine cuisine, buy my cookbooks and books on Amazon.com sold worldwide in paperback and Kindle format.
Copyright Notice: Hello, Friends! Please DO NOT LIFT OR PLAGIARIZE my original recipe, stories, photos or videos. All the images and content on this blog are COPYRIGHT PROTECTED and owned by my media company Besa-Quirino LLC. This means BY LAW you are NOT allowed to copy, scrape, lift, frame, plagiarize or use my photos, essays, stories and recipe content on your websites, books, films, television shows, videos, without my permission. If you wish to republish this recipe or content on media outlets mentioned above, please ASK MY PERMISSION, or re-write it in your own words and link back to my blog AsianInAmericaMag.com to give proper attribution. It is the legal thing to do. Thank you. Email me at [email protected]