Eggplant and Okra Stew by Herbivoracious
As an Amazon Associate and member of other affiliate programs, I earn from qualifying purchases.
I peeked through my grocery bags and found a bounty of vegetables… long, shiny purple colored Chinese eggplants, a fresh pound of plump okra its fuzzy green outer skin enticed me to cook it right away, a large piece of fresh ginger with its coarse, flesh -colored outer skin gave way to yellow fibrous insides with a sweet nearly licorice-lemony aroma,and some bright green leafy little baby bok choys.
Nestled with these were huge, plump tomatoes, robust, firm white onions, and a bulb of white garlic. In my fridge, a large tub of tofu awaited my orders. I couldn't wait to start cooking my vegetable dish of "Eggplants and Okra" stew and many other delightful veggie dishes for days to come.
I've baked and eaten way too many sweet treats this week, enough for my Dad to have frowned on, if he were still around today. In an effort to eat better, the way Dad would have wanted, I shopped for a bundle of fresh vegetables from my fave Asian grocery and opened a fantastic new cookbook called "Herbivoracious." to get recipe ideas.
My first instinct when I have a new cookbook, is to put a Filipino or Asian twist to dishes. To my delight "Herbivoracious" had a lots of recipes that were Asian inspired. I was thrilled! The author, Michael Natkin, had done the work for me.
Finding the "Eggplant & Okra Stew" was like seeing an old friend. I love eggplants, especially the Chinese variety. I like how much sweeter they taste compared to a large aubergine, and how they remind me of family dishes growing up. I love okra especially when it is cooked with eggplant and other veggies. It reminds me of a Filipino veggie stew called "pinakbet", which I default to for busy weeknight meals. (I've posted about the "pinakbet" in my 2nd blog, Asian In America).
* Speaking of my 2 blogs, please bear with me while I give a big THANKS to Gourmet Live for featuring me as "Food Blog of the Week" ! I am superbly thrilled and so honored!
But going back to this recipe … it is just one of the many deliriously delicious vegetable recipes I found in the "Herbivoracious" cookbook. I came home with a copy after I came back from the "Eat Write Retreat 2012" conference in Washington DC last month. While there, I had the pleasure of meeting in person cookbook author Michael Natkin, of the cookbook and well-known site "Herbivoracious". What a tremendously nice, unassuming and very sincere guy he was with a wealth of information, tips, stories about vegetables and recipes.
"I met a Filipino blogger who's vegetarian" Michael happily told me. And that started our lively conversation on vegetables. At the EWR conference, he talked to food bloggers like me and told us how he started blogging and creating recipes, and eventually how he developed his cookbook.
"When you start to learn about ingredients from cultures beyond your own, food becomes a bridge that builds mutual respect." Michael said (from "Herbivoracious). What interesting stories he had. And his cookbook of over 40+ recipes with great photos he took himself is unrivalled.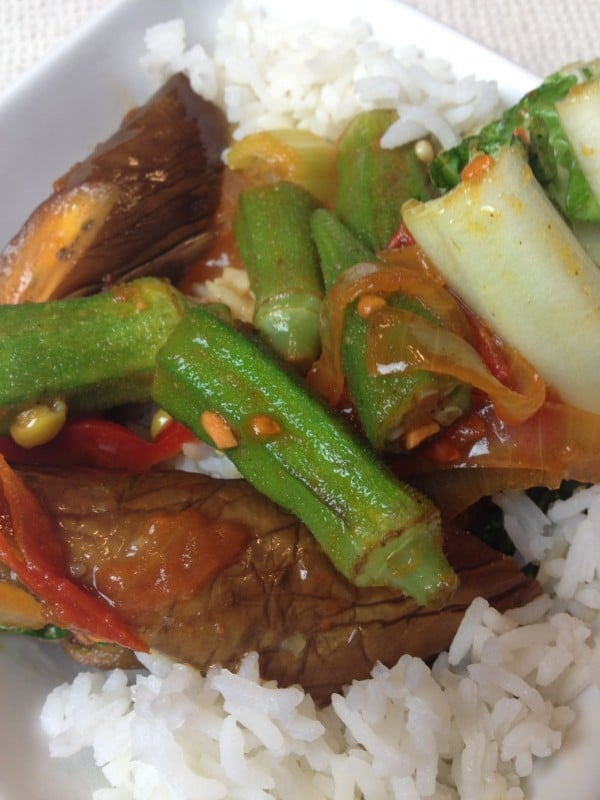 His knowledge and repertoire of recipes spans several countries and generations. You will find a vegetable dish for everyone. I found this Eggplant & Okra stew and I bookmarked many others I liked : Chirashi Sushi, Crispy Vietnamese Crepes, Sichuan Dry-Fried Green Beans and Tofu, Asparagus with Nori Butter. And YES, he's got desserts & sweets : Dutch Baby with Sauteed Apples, Crunchy Crusted yeast-raised Belgian Waffles, Caramelized Pear and Ginger Scones and lots more yummy treats.
What's amazing is that the author built these recipes on one thing : "Vegetarian meals are good for you." Who knew that veggies could go beyond a steamed side dish or an ordinary salad ? This cookbook sets the stage for a totally new, better way to enjoy your meals, in the healthiest manner.
It's Father's day this weekend. It's a good idea to get this cookbook for Dad, yourself or the family. If my late dad was still around, I would have gotten him one, because I just know all these "Herbivoracious" recipes would have been "Dad-approved*"!
Eggplant and Okra Stew
*Adapted from "Herbivoracious" by Michael Natkin
4 Chinese eggplants
2 Tablespoons vegetable oil
1 medium onion, diced
4 garlic cloves, thinkly sliced
Kosher salt
2 Tablespoons grated fresh ginger
1 Tablespoon ground coriander
1 tablespoon ground cumin
1 pound okra, trimmed and cut into 1-inch lengths
3 fresh whole tomatoes, diced
6 to 8 pieces baby bok choy buds
Freshly ground black pepper
1 cup corn kernels, from frozen corn, defrosted
3 cups steamed jasmine white rice, for serving
1 handful fresh flatleaf parsley leaves, torn, for garnish
Preheat the oven to 400 F degrees. Prick each eggplant several times with a fork. Roast on a baking sheet with parchment paper till tender, for 30 minutes.
While the eggplant is cooking, heat the vegetable oil in a large saucepan over medium high heat. Add the onion and saute for about 2 minutes. Add the garlic, 1 teaspoon salt, 1 tablespoon grated ginger, the coriander, cumin. Cook and stir for a minute.
Add the okra and tomatoes. Simmer gently till vegetables are tender. This will take about 15 minutes. Add the baby bok choy buds and cook for 2 minutes more. Then turn off the heat. When the eggplant is ready, slice diagonally into 2-inch pieces and add with the rest of the vegetables. Season with black pepper.
Just before serving, add the corn kernels and rest of the ginger. Mix well, but be careful not to mash the vegetables in the process. Garnish with fresh parsley. Serve with steamed jasmine white rice.
Cook's Comments: The recipe indicated summer squash, but I did not have it. Instead, I added some baby bok choy buds, a shorter version of the regular ones. It was a great addition to this dish and just filled the "leafy" aspect I enjoy in vegetables. Availability : the Chinese eggplants and baby bok choy buds were found in the Asian grocery. Substitute regular large aubergine eggplants if desired.
It was great to meet Michael Natkin, cookbook author of "Herbivoracious",
and reconnect with Casey Benedict, co-founder of "Eat Write Retreat 2012"
Follow up to the story : My Dad isn't around with us anymore, but I did the next best thing he would have liked me to do. I'm giving a signed copy of the "Herbivoracious" cookbook to my son, Toby this weekend, as a graduation gift. My younger son graduates from Drexel University, Class 2012 with a BA in Communications & Global Journalism and a minor in Sociology, Cum Laude. And yes, I'm proud to say Toby loves vegetables and cooks a lot of good dishes with them.
Disclaimer : I was not compensated to review this cookbook or recipe. This book was a gift from the author. I will be glad to recommend this cookbook to all vegetable lovers out there. And if you haven't explored veggies yet, you'll come out a different person after reading this cookbook.