Beef Dumplings Soup with Noodles and Vegetables
As an Amazon Associate and member of other affiliate programs, I earn from qualifying purchases.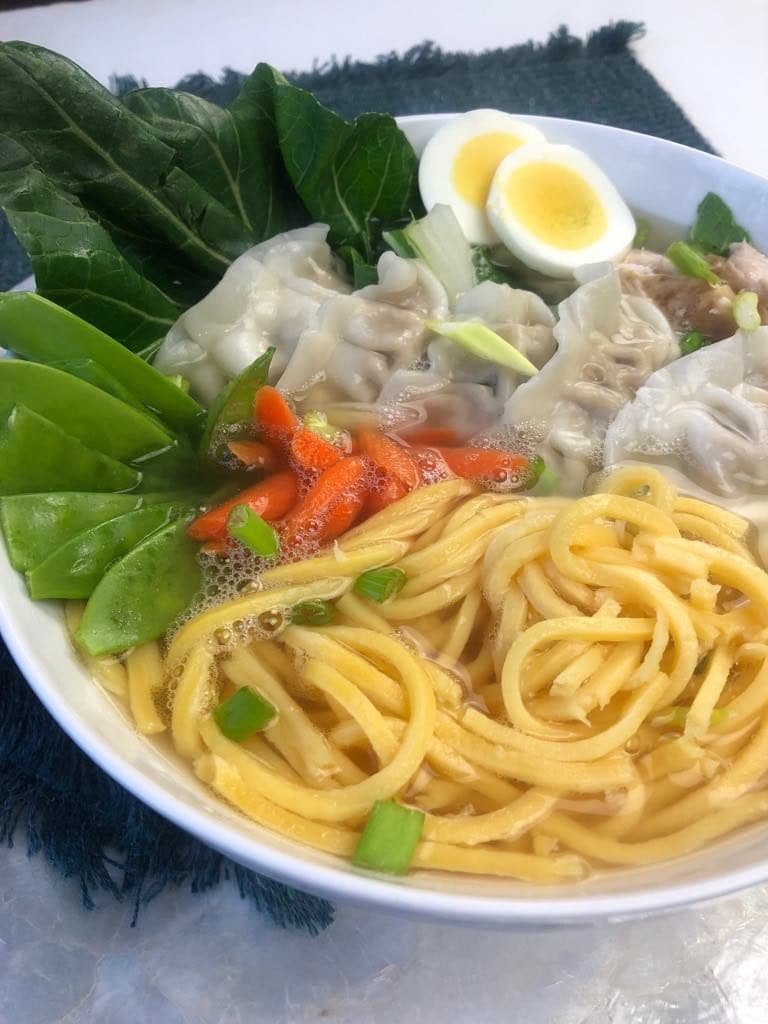 We had freezing below zero temperatures last week during this winter season and I cooked Beef Dumplings Soup with Noodles and Vegetables to keep warm. Filipinos love soup no matter what the weather. When a dish is soupy, we like to pour it on a bed of steaming jasmine rice and if that isn't sheer comfort food, I don't know what to tell you. Today, I craved for this kind of soup entree. I scrounged around the refrigerator to search for what I could put together in an instant yet made from scratch.
A few days ago, I made some gyoza dumplings or pot stickers and stashed them away in the freezer. And if you recall, I cooked my Instant Pot Chicken Nilaga – Chicken Stew in Vegetables recently. I had leftover broth and boiled chicken from that meal which I also froze. Quickly, I peeked in my vegetable bin and found greens I could add to the meal. As always, I have a pack of fresh Chinese noodles in my refrigerator for these kinds of days, so I got cooking.
Have you ever made gyoza or pot stickers before? I learned a lot from my friends and fellow food bloggers like Namiko Chen of Just One Cookbook. She has a great technique and recipe for gyoza, and it has helped me a lot. I use the weekends to mix and wrap a batch of dumplings and keep them in the freezer to cook during the busy weekdays. So, these came in handy.
It didn't take long for the savory, piping-hot soup meal with Asian flavors to come together. The beef gyoza dumplings were encased in silky soft wonton wrappers. With each bite of the plump dumplings, one tastes the salty, robust beef filling. It was a perfect combination for the crisp, leafy assortment of vegetables and thick Chinese noodles swaying in the clear broth. This is the kind of soup entrée where you just dump it all and simmer. In minutes, you have a superb all-in-one meal that warms you up, like a kind thought or good wishes sent your way by a friend. No matter what the weather is like in your part of the world, this beef dumpling soup will get you through the week wonderfully.
Beef Dumplings Soup with Noodles and Vegetables
This Beef Dumpling Soup with Noodles and Vegetables has gyoza dumplings I had prepared and frozen a few days earlier. Once the dumplings, noodles and vegetables are ready, you simply add everything to the simmering broth. This is an Asian in America recipe. Serves 4 to 6.
Ingredients
For gyoza dumplings:
½

pound

ground beef

1

whole

egg

1

large

white or yellow onion

chopped, divided, use half for dumplings, rest for soup

1

stalk

scallion whites

chopped

½

teaspoon

minced ginger

2

Tablespoons

soy sauce

2

teaspoons

shao xing rice wine

1

teaspoon

salt

1

teaspoon

ground black pepper

18 to 20

pieces

round wonton wrappers

thawed at room temperature

1

whole

egg combined with ¼ cup water

for egg wash
For soup broth:
2

Tablespoons

vegetable oil

2

cloves

garlic

minced

1

Tablespoon

patis

fish sauce

10

cups

chicken or vegetable broth

6

ounces

fresh Chinese noodles

blanched for 1 minute

1

cup

sugar snap peas

1

medium-sized

carrot

peeled, sliced

2

cups

shredded bok choy or cabbage

½

teaspoon

sesame oil

1

teaspoon

salt

1

teaspoon

ground black pepper

1

cup

cooked chicken

sliced in 2-inch lengths, to add on

stalk

Scallion greens

for garnish

1

whole

hard-boiled egg

sliced for garnish

1/4

cup

Soy sauce

for side dipping sauce
Instructions
To make the gyoza dumplings:
In a large mixing bowl, combine the ground beef, egg, half of the onion, half of the scallion whites, rice wine, ginger, soy sauce, salt and black pepper. Blend ingredients. Lay out the wonton wrappers on a dry, clean surface. Place half a teaspoon of the meat mixture in the center. Brush wrapper with egg wash on the inner sides. Fold filled wrapper in half. Form pleats to seal the wrapper. Namiko of Just One Cookbook shows a good technique how to shape the pleats.

Set the gyoza dumplings in a single layer on a flat tray without overlapping. Fast freeze the dumplings for 30 minutes to firm up till ready to drop in the stockpot. This will make about 18 to 20 pieces.
To make the soup broth with the dumplings:
In a large stockpot, over medium high heat, add the vegetable oil.

Sauté the rest of the onions, garlic, scallion whites and carrots. Stir fry for 1 minute till onions are translucent. Add the patis (fish sauce).

Pour the broth. Cover and let the soup come to a boil.

Lower heat to a medium. Add the dumplings, and fresh Chinese noodles. Cover and cook the dumplings for 10 minutes. The noodles will thicken by this time.

To the simmering dumplings and noodles, add the sugar snap peas and the bok choy. Continue cooking for 3 minutes till vegetable greens wilt.

Season with sesame oil, salt and black pepper. Add cooked chicken slices.

Serve piping hot in a soup tureen or individual soup bowls. Garnish with scallion greens and slices of hard-boiled egg.
Notes
Cook's comments: I used fresh Chinese noodles which are made of wheat flour and water. They are pre-cooked and can be found in Asian markets in the refrigerated section. Blanche the noodles for 1 minute in boiling water before adding to the soup. If using dry noodles, follow instructions on package to cook. Other varieties of noodles work well with this recipe, too.