Bibingkang Kanin Malagkit – Biko Rice Cake with Coconut Topping
As an Amazon Associate and member of other affiliate programs, I earn from qualifying purchases.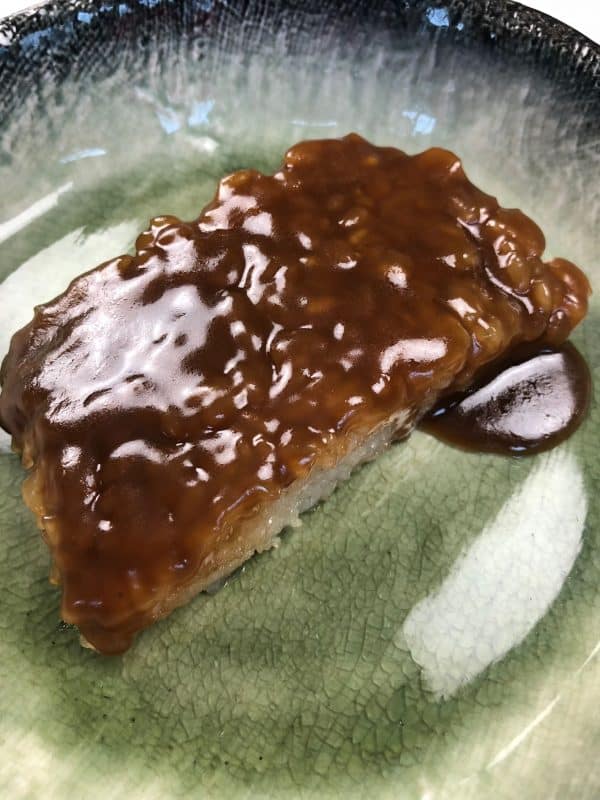 Holiday recipes connect us to friends and family. Thus, was the case with this Bibingkang Kanin Malagkit – Biko Rice with Coconut Topping. I wanted to recreate a kakanin (rice cake) which we enjoyed when we lived in Manila. It was like a biko (sticky rice cake), encased in a round bilao (flat basket) lined with banana leaves and had a thick, caramel-like, sweet coconut topping. It was offered as a dessert at a Makati restaurant. During balikbayan trips back to the Philippines, my friends served this at a merienda (afternoon snack). When I returned to America, I attempted to recreate this kakanin numerous times.
One day, while chatting online with my childhood friend, Stella, who lived in New Zealand, she shared with me her biko recipe. I have since transformed Stella's original biko recipe to different flavors: ube and pandan, both with coconut toppings. I shared the Ube Biko recipe in my first cookbook How to Cook Philippine Desserts, Cakes and Snacks (available on Amazon). I cooked Stella's biko recipe for our weekend snack and dessert. I went a step further and added a decadent coconut-caramel topping. And voila! I managed to recreate the Bibingkang Kanin Malagkit of my dreams from Manila.
This rice cake is not for the faint of heart. Its simple rice grains transform to a thick, coconut-flavored dessert. Once cooked, the pearly white grains are plump and cling together to form a solid mass of deliciousness. When you pour the dark amber colored coconut glaze over the rice cake, you will see golden-colored bubbles through the oven door and inhale the sweet tropical aroma all over the kitchen. When you slice a serving portion and plate it, watch a few drops of the shiny caramel topping slide down from the top, through the sides of the sticky rice cake. And all it took was a connection with friends who are like family to create this scrumptious kakanin I longed for.
Bibingkang Kanin Malagkit - Biko Rice Cake with Coconut Topping
Bibingkang Kanin Malagkit - Biko Rice Cake with Coconut Topping is an ideal Filipino dessert or snack for family gatherings. It is hearty, filling and decadent. And it is quite simple to make. The pearly-white sticky rice is cooked stove-top with the coconut milk for a few minutes till the grains soften and plump up. Then it is baked in the oven with the coconut topping. Slice in individual pieces and serve this warm or chilled with piping-hot tea or a cold beverage. Either way, it is unbelievably superb. This is an Asian in America recipe. Makes an 8 x 8 inch or 9 x 11 inch pan. Serves 4 to 6.
Equipment
Oven-proof baking pan: 9 inches x 13 inches

Small saucepan: 1-quart capacity
Ingredients
1

cup

dark brown sugar

for topping

2

Tablespoons

butter (unsalted)

for topping butter

1/2

cup

coconut cream

canned, for topping

1/2

cup

coconut jam

bottled, for topping (from Asian markets)

1/2

teaspoon

salt

for topping

1 1/2

cups

cups malagkit (sweet rice)

soaked in cold water

3

Tablespoons

coconut oil

divided, use 1 Tablespoon for greasing baking pan, rest for skillet

1

(14 ounce) can

coconut milk

1/2

cup

granulated sugar

1/4

teaspoon

salt
Instructions
To make the coconut glaze topping: In a small saucepan, combine the sugar, butter and coconut cream. Mix well. Over medium heat, stir and cook for 5 minutes till it starts to thicken. Add the coconut jam and salt. Continue to cook and stir every so often. Do not leave this unattended or the glaze will burn. The liquid will thicken slightly after 7 to 8 minutes of cooking. You will have at least 1 cup of the coconut topping. Turn off heat and set aside to cool.

To make the bibingkang kanin:

In a small bowl or container, soak the malagkit (sweet rice) grains in cold water for at least 6 hours or overnight. Cover and refrigerate till ready to use.

Preheat oven to 375 F.

Grease the baking pan with a tablespoon of coconut oil. Set aside.

Drain and discard the water from the soaked rice.

In a large, non-stick skillet, over medium-high heat, add the coconut oil.

When oil is hot enough in 1 to 2 minutes, add the sweet rice, coconut milk, sugar and salt. Mix well.

Bring rice mixture to a boil. Then lower heat to a medium simmer. Stir rice.

Continue stirring for about 15 minutes till rice gets puffy and grains become soft. The mixture will become thicker like porridge. Rice and thick liquid should coat the spoon.

Transfer the cooked rice-coconut mixture to the pre-greased baking pan. Use a spatula to level off rice mixture in pan.

Bake in a preheated oven of 375 F for 20 minutes.

After 20 minutes, pour ¾ of the coconut topping on the Bibingkang Kanin Malagkit. Reserve about 1/4 cup to be added later. Return the bibingkang kanin to the oven.

Continue baking for 20 minutes more.

When done, take out of the oven to cool on counter for 10 minutes. Pour the remaining coconut topping and spread with a spatula. Let the bibingkang kanin cool completely. The rice layer and the glaze will firm up even more after it has cooled. Cut into squares to serve.

To store: Cover baking pan with foil and keep refrigerated till ready to serve. Always store any leftovers in the refrigerator.

Hello, Friends! All the images and content on this blog are COPYRIGHT PROTECTED and owned by my media company Besa-Quirino LLC. This means BY LAW you are NOT allowed to copy, scrape, lift, frame, plagiarize or use my photos and  recipe content I wrote, on your website,books, films, television shows or videos  without my permission. If you want to republish this recipe or content on another website, video, news article,or media outlets mentioned above please ASK my permission, re-write it in your own words and simply link back to this blog to give proper attribution. It's the legal thing to do. Thank you. Email me at [email protected]
Nutrition
Serving:
1
g
|
Calories:
331
kcal
|
Carbohydrates:
54
g
|
Protein:
1
g
|
Fat:
14
g
|
Saturated Fat:
12
g
|
Sodium:
302
mg
|
Potassium:
114
mg
|
Fiber:
1
g
|
Sugar:
52
g
|
Vitamin C:
1
mg
|
Calcium:
33
mg
|
Iron:
1
mg
Nutrition Notes: The nutrition information is an estimate and will vary based on cooking methods and brands of ingredients used.
Did you like this recipe? I have more classic recipes inspired by my late mother's cooking in my popular cookbook: My Mother's Philippine Recipes. If you're learning how to cook Filipino food or a fan of Philippine cuisine, buy my cookbooks and books on Amazon.com sold worldwide in paperback and Kindle format.
Hello, Friends! Please DO NOT LIFT OR PLAGIARIZE my original recipe, stories, photos or videos. All the images and content on this blog are COPYRIGHT PROTECTED and owned by my media company Besa-Quirino LLC. This means BY LAW you are NOT allowed to copy, scrape, lift, frame, plagiarize or use my photos, essays, stories and recipe content on your websites, books, films, television shows, videos, without my permission. If you wish to republish this recipe or content on media outlets mentioned above, please ASK MY PERMISSION, or re-write it in your own words and link back to my blog AsianInAmericaMag.com to give proper attribution. It is the legal thing to do. Thank you. Email me at [email protected]