Coconut Shrimps with Mango Salsa
As an Amazon Associate and member of other affiliate programs, I earn from qualifying purchases.
Writing about my mom on Mother's Day weekend is not easy for me. We miss her. But the memories of cooking, learning new recipes, watching cooking TV shows together has lingered. They are the best ones I remember. I thought of all these as I gathered together the ingredients for this easy Coconut Shrimp with a Mango Salsa.
Each of the measuring cups contained different ingredients. The stainless steel measuring spoons on the counter, spread out in a fan-like arrangement were waiting to be picked up. The shiny, new frying pan contained cooking oil and started to sizzle. As the lovely TV host, her hair coiffed upward in a beehive bun and dressed in a double-breasted linen top, reminiscent of 1960's fashion smiled at the camera and started to sauté the ingredients, she explained to the television audience how to cook the dish.
This was a scene from a popular 1960's TV show in the Philippines back then. I used to enjoy watching this culinary show with my mom when I was a child every weekend. My mom, Lulu Reyes Besa, would have her spiral notebook, and in the lined pages, she scribbled the recipe ingredients and procedure in her elegant cursive hand writing. While other children my age watched cartoons on a Saturday, my weekend ritual was to watch cooking shows on TV with my mom. When she kitchen-tested the recipes she learned, I was there with her, in the kitchen, too. I could barely reach the counter, but mom made me feel important and part of the cooking process.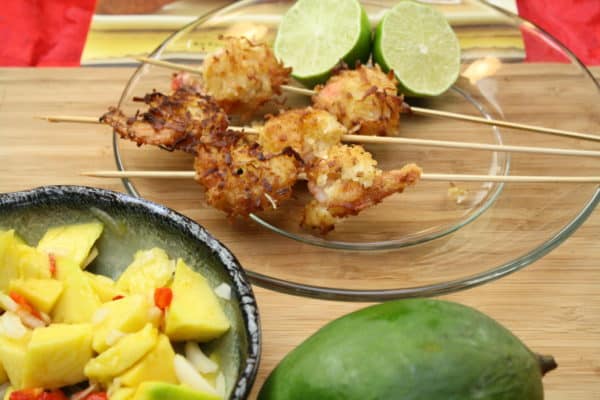 It was the fresh mangoes that inspired me to make this dish. Mangoes are the Philippines' national fruit and mom taught me many different dishes with mangoes. Mango season is in full swing here in the USA from spring to early summer (April to July). For this recipe, it is best to use mangoes that are not yet fully ripe, the flesh is light yellow with slivers of light green, the texture is crisp and firmer than a fully ripe mango and the flavors are tart. In the Philippines, we call this "manibalang" (say "mah-knee-bah-lang") which is that yellow-green phase that is a prelude to the mangoes' full ripeness.
I cooked the fresh shrimps the same day I purchased them. Mom taught me this was the best way to enjoy shrimps and seafood – cook them the same day you bought it. As I pan fried the coconut-coated shrimps, the tropical aroma clung in the air and the Asian scents reminded me of mom's kitchen when I was a child standing next to her.
Food memories with mom are the best. The aromas, textures, flavors and colors paint the best pictures of happy times which live on in our bellies and hearts forever.
Coconut Shrimps with Mango Salsa
If you want to cook something quick or simply want to make the family weekend special, this easy, delightful Coconut Shrimp with Mango Salsa is perfect. This dish is a light, refreshing, savory starter to a meal that is best served with crisp slices of mango salsa on the side. This is an AsianInAmericamag recipe inspired by a previous blog post. Serves 2 to 4 for appetizers.
Ingredients
2

whole

unripe, green mangoes

peeled, pit discarded, cut in cubes,

1-2

whole

large tomatoes

washed, cut in cubes, for salsa

1

whole

large red onion

diced, for salsa

1

Tablespoon

chopped fresh cilantro

for salsa

1

Tablespoon

lime juice

for salsa

2

teaspoons

salt

divided, use 1 teaspoon for salsa, rest for shrimp coating

2

teaspoons

ground black pepper

divided, use 1 teaspoon for salsa, rest for shrimps

12

pieces

fresh large shrimps

peeled, deveined, remove heads, leave tails intact (use uncooked shrimps)

3/4

cup

cup

to coat shrimps all purpose flour

2

cloves

garlic

minced

1/2

teaspoon

red pepper flakes

1

whole

egg

3/4

cup

unsweetened coconut flakes

1/2

cup

Panko bread crumbs

Japanese or use regular bread crumbs

1/3

cup

vegetable oil

1

whole

fresh lime or lemon

to sprinkle on cooked shrimp

12

pieces

bamboo skewers

to skewer shrimps (pre-soak bamboo skewers for 20 minutes, then pat dry)or use long cocktail picks
Instructions
Toss salsa ingredients in a bowl. Season with salt and pepper. Cover and refrigerate until ready to serve with the coconut shrimp.

Season shrimp with salt and pepper. Combine flour, garlic, and red pepper flakes in a shallow dish. Beat egg in a separate bowl. In a third dish, combine coconut and panko bread crumbs.

Dredge shrimp first in flour mixture, sharing off excess, and then dip in egg. Roll the shrimps in coconut mixture, gently shaking off excess.

Place shrimps coated with mixture in the refrigerator for about 30 minutes, covered loosely with wax or parchment paper.

After shrimp have chilled, preheat oil in a large skillet over medium-high heat. Once oil reaches 350 degrees (if using a thermometer), in about 2 to 3 minutes, gently drop coated shrimps into skillet and pan fry about 6 to 8 minutes, or until cooked and outer coating is golden. Turn shrimps around for even browning. Drain shrimps on a paper towel or parchment paper. Serve  crisp and warm, with mango salsa on the side.Serve with slices of lime and feel free to sprinkle some on shrimps just before eating or at table side.

To serve: thread the cooked shrimps in long cocktail picks or pre-soaked bamboo skewers for guests to easily pick up during appetizers.

Hello, Friends! All the images and content on this blog are COPYRIGHT PROTECTED and owned by my media company Besa-Quirino LLC. This means BY LAW you are NOT allowed to copy, scrape, lift, frame, plagiarize or use my photos and recipe content I wrote, on your website without my permission. If you want to republish this recipe or content on another website or news article, please ASK my permission, re-write it in your own words and simply link back to this blog to give proper attribution. It's the legal thing to do. Thank you. Email me at [email protected]
Nutrition
Serving:
1
g
|
Calories:
1784
kcal
|
Carbohydrates:
212
g
|
Protein:
23
g
|
Fat:
99
g
|
Saturated Fat:
59
g
|
Cholesterol:
9
mg
|
Sodium:
3545
mg
|
Potassium:
545
mg
|
Fiber:
9
g
|
Sugar:
122
g
|
Vitamin A:
321
IU
|
Vitamin C:
4
mg
|
Calcium:
482
mg
|
Iron:
7
mg
Notes on Nutrition: The nutrition information provided is an estimate and will vary based on cooking methods and specific brands of ingredients used.
Did you like this recipe? I have more classic recipes inspired by my late mother's cooking in my popular cookbook: My Mother's Philippine Recipes. If you're learning how to cook Filipino food or a fan of Philippine cuisine, buy my cookbooks and books on Amazon.com sold worldwide in paperback and Kindle format.
Hello, Friends! Please DO NOT LIFT OR PLAGIARIZE my original recipe, stories, photos or videos. All the images and content on this blog are COPYRIGHT PROTECTED and owned by my media company Besa-Quirino LLC. This means BY LAW you are NOT allowed to copy, scrape, lift, frame, plagiarize or use my photos, essays, stories and recipe content on your websites, books, films, television shows, videos, without my permission. If you wish to republish this recipe or content on media outlets mentioned above, please ASK MY PERMISSION, or re-write it in your own words and link back to my blog AsianInAmericaMag.com to give proper attribution. It is the legal thing to do. Thank you. Email me at [email protected]