Pumpkin Flan by Yana Gilbuena
As an Amazon Associate and member of other affiliate programs, I earn from qualifying purchases.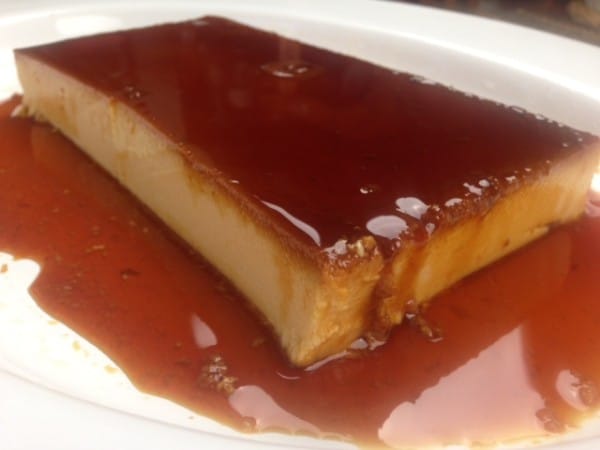 One day in autumn, Yana Gilbuena, chef creator of the Salo Series came to visit me in my New Jersey home and made this Pumpkin Flan, a recipe from her Lola Purit. If you haven't heard of Yana she's created The Salo Series pop-up events which feature Filipino food in every one of the 50 states.
Yana was warm, charming and lively. Her energy and love for Filipino food, her roots and heritage were inspiring. She was also nice enough to make the 3-hour train trip (one way) from Brooklyn, NYC to NJ where I live in the 'burbs. So what do Filipinos do when they get together? We cooked and we ate. Yana cooked bibingka (rice cakes with cheese and butter) for me and I made a pot of tea. We sat down and Yana shared stories of how she is traveling around the 50 USA States via her pop up dinner events, cooking and serving Filipino food. She told me she learned how to cook from her grandmother. One of those recipes was this easy, delightful Pumpkin Flan. I tried her recipe for Thanksgiving. For a first try, it was a perfect flan. Each slice was thick in texture, yet smooth like silk and tasted like a dream.
Will Yana be in your city soon? For the complete recipe, Yana's travel stories and where she's headed to next read my feature of her on Positively Filipino, the premiere online magazine on Filipinos. Click here for her Lola Purit's Pumpkin Flan recipe and my article "Have Filipino Food Will Travel."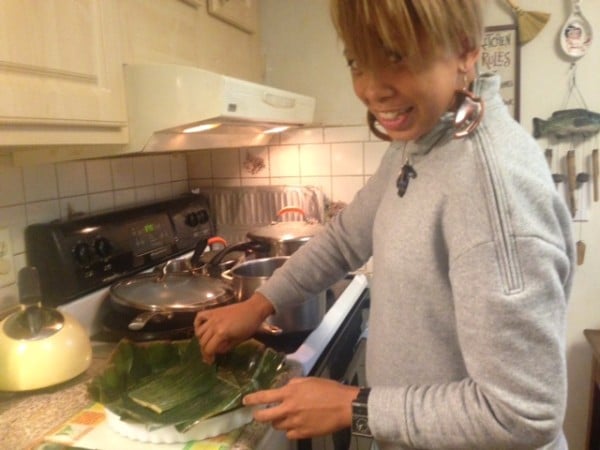 "Everything is going to work out the way it's supposed to." – Yana Gilbuena of the Salo Series cooked in my kitchen last fall.
Pumpkin Flan by Yana Gilbuena
When pumpkins and autumn come around, it's time to make this easy Pumpkin Flan, a recipe shared by Yana Gilbuena, of the Salo Series. Self-taught Chef Yana visited my home in New Jersey and cooked this classic dessert which was handed down  by her grandmother Lola Purit. The pureed pumpkin was pre-roasted then blended into the classic custard mixture. Bake this in  a water bath and serve during the holidays. The thick, rich custard with the decadent caramel dripping down is a favorite around the table any time. This was a recipe inspired by Chef Yana Gilbuena of the Salo Series.
Equipment
2 Baking pans - 8 x 8 inches; or 9 x 11 inches;

or the Filipino llanera - 8 inches in length

1 Medium -sized stockpot
Ingredients
2

cups

cubed kabocha squash, from a half of a medium-sized ,

seeded

2

cups

granulated sugar,

for caramel topping

1

can (12 oz. fl. or 354 ml.)

evaporated milk

2

cans (14 oz. each)

sweetened condensed milk

12

whole

egg yolks

1

teaspoon

vanilla extract
Instructions
Roast whole squash/pumpkin at 425 F oven temperature until soft, usually 45-60 minutes.  Keep oven on.

Prep your llanera or baking pan. This recipe makes two baking pans of 8 inches x 8 inches or one large loaf pan of 9 inches x 11 inches that is 4 inches deep.

To make the caramel topping: Over low medium heat, in a heavy, medium-sized stock pot, place the granulated sugar. Caramelize the 2 cups of sugar, tilting around as the sugar turns a golden brown syrup. This will take about 5 minutes. Distribute and pour quickly and evenly on your pans to line.

To prepare the pumpkin flan : De-seed and peel your squash/pumpkin.

Mash the squash/pumpkin with evaporated milk

Add condensed milk and egg yolks.  Blend well.

Pour the vanilla extract. Mix well.

Using a strainer, pour squash flan mixture in a bowl. With a fork, press the squash flan mixture deep through the strainer. Repeat straining if needed till smooth.

Pour into the caramel-lined baking pans. Cover pans with foil and seal tightly.

Put the foil-covered baking pans in a water bath ( a larger pan filled with water), cook in oven at 425 F for 45 minutes.

To check, stick a toothpick in the flan. If it's clean, it's done.

Remove from water bath, let cool and serve.

Hello, Friends! All the images and content here are COPYRIGHT PROTECTED and owned by my media company Besa-Quirino LLC. This means BY LAW you are NOT allowed to use my photos or content on your website  without my permission. If you want to republish this recipe or content, please ask my permission, re-write it in your own words and simply link back to this blog to give proper attribution. It's the legal thing to do. Thank you.
Nutrition
Serving:
100
grams
|
Calories:
399
kcal
|
Carbohydrates:
100
g
|
Protein:
1
g
|
Fat:
1
g
|
Saturated Fat:
0.3
g
|
Polyunsaturated Fat:
0.1
g
|
Monounsaturated Fat:
0.4
g
|
Cholesterol:
33
mg
|
Sodium:
3
mg
|
Potassium:
9
mg
|
Sugar:
100
g
|
Vitamin A:
45
IU
|
Vitamin C:
0.02
mg
|
Calcium:
7
mg
|
Iron:
0.1
mg