Udon Noodles-Sotanghon Soup with Shrimps, Chicken, Pork
As an Amazon Associate and member of other affiliate programs, I earn from qualifying purchases.
[amazon_link asins='B06XCRQP97,B00GOEMDRO,B007W0D0HQ,B00L4NTDBY,B00822ZE2M,B076563QJK,B073VGFFYK,B076JT3DQC,B07DGY5KFQ,B00FLYWNYQ' template='ProductCarousel' store='queensnotcom-20′ marketplace='US' link_id="]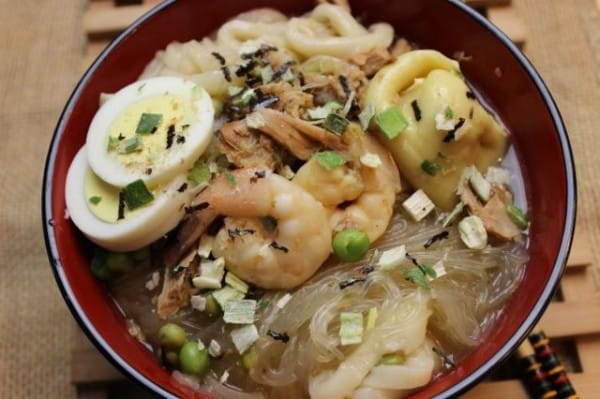 When I cooked this Udon Noodles-Sotanghon Soup with Shrimps, Chicken and Pork, I was reminded of how friends and family tease a couple who are dating by saying "malapit na ba tayong humigop ng maiinit na sabaw" (Are we going to sip some hot soup soon?). This question has nothing to do with actual soup. Neither does the expression "malapit na ba ang long table?" (Are we going to be at a long table soon)? Again, this has nothing to do with a table literally.
These are just some euphemisms, or 'kanchaw' (teasing) Filipinos like to tease a couple with — usually those who are dating but not yet engaged– and especially if the couple have been going out for a while. The origin of the teasing and banter about 'soup' and 'long tables' was unclear to me before. But the insinuation of 'when the heck will you get married' was not lost on me. I researched and asked historians about the sociological aspect of these Filipino expressions. I got assorted responses. Historian author and writer from Pampanga, Alex R. Castro said it best "… it refers to the practice of eating and drinking from a communal bowl or container as a sign of unity and goodwill."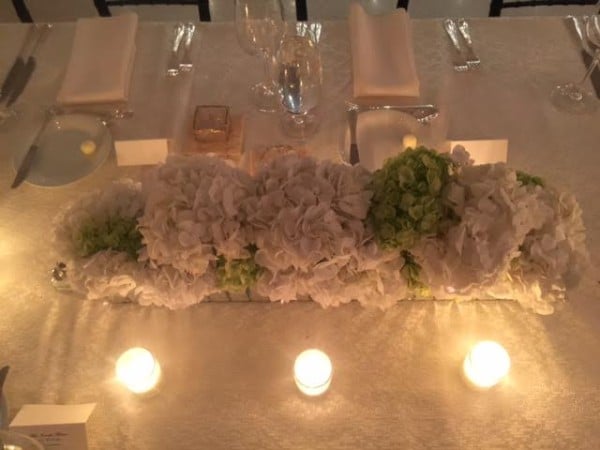 One thing was certain, though…Filipino weddings are made more special by our own traditions.And like many Filipino-American couples who get married, our nephew Alan and his bride Lyn found a way to blend the trendy with tradition.
Last weekend our families traveled from all corners of the world and converged in Chicago for the wedding of Alan and Lyn. But let me backtrack. You see, beyond the bridal party of bridesmaids and groomsmen, a Filipino wedding has traditions that make the ceremony more meaningful.
When a Filipino couple about to marry is planning their wedding, one of the first things they do is choose their 'primary sponsors'. These are also known as godparents or 'Ninong' (godfather) and 'Ninang' (godmother) to the bride and groom. The primary sponsors are chosen from relatives or family friends the engaged couple is close to. Sometimes they can pick their own godparents from their christening or else siblings of their parents. This gesture symbolizes the affirmation of family ties. It is also ideal when the soon to be newlyweds pick godparents whose marriage they look up to and would like to emulate. Thus, to be asked as primary sponsors to a wedding is an honor and a privilege. And this is how my husband and I felt when Alan and Lyn first asked us to be their primary sponsors as soon as they got engaged.
As we watched the bride and groom exchange vows at a historic cathedral during the holy mass, we re-lived our own wedding by witnessing the familiarity of traditions we have passed on in our families. Alan and Lyn picked their closest friends to participate in the ceremony of lighting the candle, wrapping the newlyweds in the tulle veil, and binding them together with a silk cord. To those not familiar, these are wedding rituals in most traditional Filipino weddings wherever in the world it is done. These symbols are meant to spiritually start off the married couple to blessed beginnings: the candles to light their way; the veil to clothe and wrap them in love throughout their lives; the cord to bind their lives together.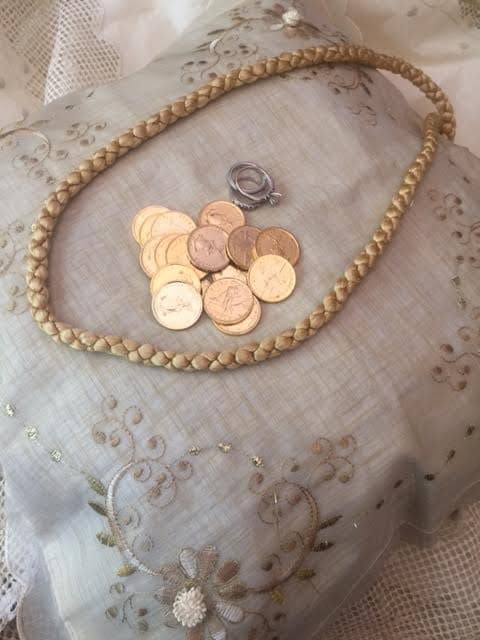 When Alan and Lyn slipped the wedding rings on each other's fingers, the passing of the 'arrhae' (also known as 'arras') or gold coins followed soon. The groom cradled the cluster of antique gold coins in both his hands and gently placed them in the cupped hands of the bride. The bride did the same to the groom. The gesture of exchanging the gold coins symbolized how the newly-married couple pledged to take care of each other forever. The coins used can be gold or silver; they can be newly minted or old ones kept in the family then passed on through generations when children marry.
Later on in the evening, Alan and Lyn invited our families and friends to come together to toast their marriage with cocktails and hor d' oeuvres; then we culminated the celebration with a scrumptious full course dinner made splendid with wedding cake and the groom's cake slices for dessert, an open bar, non-stop dancing and sheer fun all night.
All in all, it was a wonderful wedding weekend filled with memories and traditions. The next time you hear a Filipino couple being teased "hihigop na ba tayo ng sabaw" (Are we going to share some soup soon)…you can smile at the promise of a good time at a wedding and the start of sweet beginnings for the couple.
There is nothing like a good dose of old fashioned traditions to remind us that the future is made up of the past and the present.
And now, here's a sumptuous bowl of thick udon noodles, silky sotanghon-cellophane noodles in a clear broth with shrimps, chicken slivers, pork dumplings and everything in it to warm your bellies and hearts for many meals to come.
Udon Noodles-Sotanghon Soup with Shrimps, Chicken and Pork
Love, family and happiness make up a beautiful wedding like the one we just witnessed this past weekend when my nephew married his lovely bride. The coming together of families, friends, the blending of traditions and new trends reminded me of the bowls of soup I cook at home just like this one. Families are built from two people marrying. Similarly, a simple soup broth starts with boiling a few basic ingredients. One adds more to the mix as the broth simmers and becomes more flavorful. As the broth became rich with flavors, I added the rest: chicken, pork dumplings, fresh shrimps, vegetables, two kinds of noodles, slices of egg, seasonings and garnish. This is an AsianInAmericamag.com recipe. Serves 2 to 4.
Ingredients
32

fl. oz

chicken broth

4 cups or add more if preferred

1

whole

large onion

chopped

1

cup

chopped celery

1

whole

carcass on; or 3 to 4 roasted pieces with bone in cooked roast chicken leftovers

1

cup

boiled chicken slices

from the chicken that was boiled roast chicken

4 to 6,

pieces

steamed or boiled; use leftovers from other soups cooked pork wonton dumplings

1/4

pound

shrimps

peeled, deveined, heads and tails removed fresh shrimps

1/2

cup

frozen green peas

1/2

cup

frozen steamed edamame

500

gms

udon noodles

from Asian markets udon noodles

500

gms

dry sotanghon or cellophane noodles

1

teaspoon

salt

1

teaspoon

ground black pepper powder

1/8

teaspoon

sesame oil

1/2

cup

chopped scallions

for garnish

1/4

cup

nori wrappers

cut into tiny confetti sized squares; for garnish (optional) nori wrapper for sushi

1-2

Tablespoons

toyo (soy sauce)

side dipping sauce

1-2

whole

hard-boiled eggs

peeled, sliced, for garnish
Instructions
Using a large stockpot, over medium high heat, pour the soup stock or chicken broth and add the leftover roasted chicken pieces. Add onions and celery. Cover and let the broth boil. Once the broth boils, lower the heat to a simmer and continue boiling so the soup stock becomes more flavorful. Add more water or soup stock if liquid starts to evaporate. Have enough soup for the noodles to absorb later. Simmer for about 40 minutes more. Take out the chicken pieces and shred the meat into slivers. Discard the chicken bones or carcass. Set the chicken meat aside.

Add the slivers of chicken, the pre-steamed pork dumplings and fresh shrimps to the broth. Simmer for about 8 minutes till the shrimps turn pink and are cooked thoroughly.

Separately, blanch the udon noodles in a different stockpot filled with boiling water. Blanch noodles by putting them in a heat-resistant colander, then dipping the entire colander with the noodles into the bubbling water for a minute or two to soften udon. Remove the noodles from the colander then add to the simmering stockpot of soup broth.

Also, separately soak the sotanghon or cellophane noodles in a medium-sized bowl filled with water at room temperature. Do not soak cellophane noodles longer than 30 minutes or they will melt and get too soft to handle. Drain the water off the sotanghon.

Add the sotanghon to the large stockpot simmering with chicken broth. Add the green peas and edamame. Cook for five minutes more. Season with salt, pepper and sesame oil. Mix ingredients well. Cover and turn off the heat. The residual heat in the stockpot will continue cooking the ingredients, so turning it off at this point will prevent both noodles from getting mushy.

Place slices of hard-boiled eggs around the soup. Garnish with slivers of nori (sushi wrapper cut in confetti-like squares) and chopped scallions .

Serve while piping hot, individually in soup bowls. If desired, season individual servings with a side of soy sauce.

Cook's comments: When reheating any leftovers, add a cup or two of soup stock or broth. The thick udon noodles tend to absorb a lot of liquid.

Hello, Friends! All the images and content here are COPYRIGHT PROTECTED. This means BY LAW you are NOT allowed to use my photos or content on your website  without my permission. If you want to republish this recipe, please re-write it in your own words and simply link back to this blog to give proper attribution. It's the legal thing to do. Thank you.
Nutrition
Serving:
1
g
|
Calories:
473
kcal
|
Carbohydrates:
85
g
|
Protein:
26
g
|
Fat:
4
g
|
Saturated Fat:
1
g
|
Cholesterol:
72
mg
|
Sodium:
3168
mg
|
Potassium:
212
mg
|
Fiber:
7
g
|
Sugar:
11
g
|
Vitamin C:
18
mg
|
Calcium:
55
mg
|
Iron:
1
mg
Notes on Nutrition: The nutrition information provided is an estimate and will vary based on cooking methods and specific brands of ingredients used.
Did you like this recipe? I have more classic recipes inspired by my late mother's cooking in my popular cookbook: My Mother's Philippine Recipes. If you're learning how to cook Filipino food or a fan of Philippine cuisine, buy my cookbooks and books on Amazon.com sold worldwide in paperback and Kindle format.
Hello, Friends! Please DO NOT LIFT OR PLAGIARIZE my original recipe, stories, photos or videos. All the images and content on this blog are COPYRIGHT PROTECTED and owned by my media company Besa-Quirino LLC. This means BY LAW you are NOT allowed to copy, scrape, lift, frame, plagiarize or use my photos, essays, stories and recipe content on your websites, books, films, television shows, videos, without my permission. If you wish to republish this recipe or content on media outlets mentioned above, please ASK MY PERMISSION, or re-write it in your own words and link back to my blog AsianInAmericaMag.com to give proper attribution. It is the legal thing to do. Thank you. Email me at [email protected]