Easy Baked Peach Galette
As an Amazon Associate and member of other affiliate programs, I earn from qualifying purchases.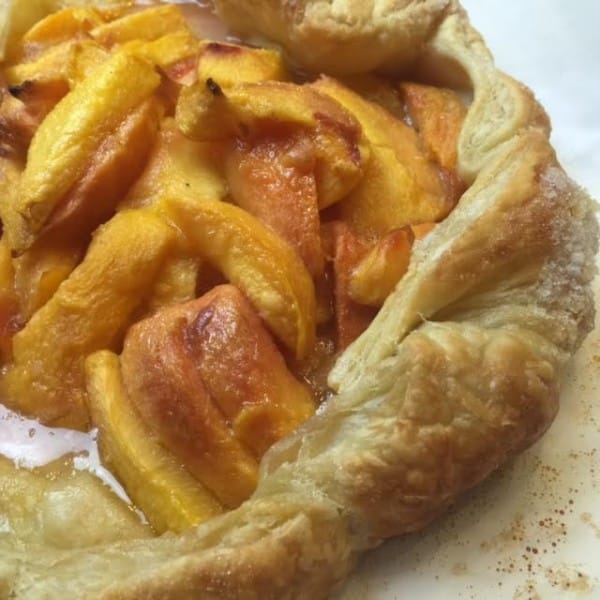 I never ate fresh peaches till I came to live in America. When we lived in the Philippines,we could only buy the canned peaches in syrup– this was still a luxury imported ingredient and something we only enjoyed during parties.
Today, I enjoy fresh peaches in the summer here in the USA. The other day, I drove past a sign that said "Peach Festival" here in our suburban New Jersey town. I knew that meant fresh peaches were being sold from the farm stands, as well as peach pies, jams, and other peach treats. So that inspired me to make this Peach Galette.
As soon as I got home I got busy with the bowlful of fresh peaches in my kitchen. This was my first ever attempt at baking a galette. It was so easy. I have to give thanks to the guidance of my friend Jenni Field of the site Pastry Chef Online. Jenni shared a recipe and gave me baking tips. I trust Jenni when it comes to baking or cooking. If you haven't met her yet, please go to her site which has lots of recipes and cooking ideas.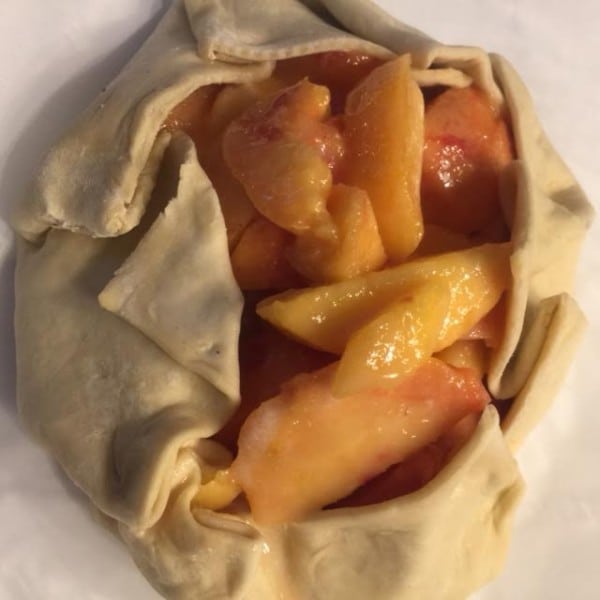 In the short time it took me to bake this galette, I found interesting peach information on the internet. The origin of peaches goes back to China as early as the 10th century BC. Early writings showed this fruit was favored by royalty. Later the peach was brought to Persia and Greece by merchants. The peach was brought to America by Spanish explorers in the 16th century. And later it was brought to England and France in the 17th century where royalty considered it "an expensive treat".
The oven timer buzzed and my galette was done. The whole pastry looked gorgeous. I used a store bought puff pastry, a suggestion by Jenni Field. In earlier days (before I had children) I knew how to make puff pastry from scratch and I still do — having learned it at a cooking school. But it is an intense baking procedure, so I will only post how to make pastry puff from scratch if I get numerous requests for it.
This procedure was easier. I thawed the pastry and I laid it out on the baking sheet. I placed the peach slices on top then fluted the sides in a circular shape. It only took under half an hour to bake the entire galette. The peaches I used had a bright orange-reddish outer skin which I peeled. Inside, the slices yielded were soft, silky and bright yellow.
Once the galette was out of the oven, the buttery aroma of the pastry was so inviting. It felt crisp and delicate. The peaches had a shiny film over it which tasted sweet and syrupy. I sliced a piece and some of the pastry crumbles fell on the side. The peach syrup trickled down from the fork to my fingers and though it felt slightly warm and sticky, I knew it was going to feel like I was eating an "expensive treat" fit for royalty.
Easy Baked Peach Galette
Fresh peaches are sweet and in full swing this summer season here in the USA. Enjoy them while they're around. If you have an abundant supply, make this easy to do Peach Galette. The basic things needed are a sheet of puff pastry and some sweet, ripe peaches. Once assembled, it's all up to the oven. Enjoy this easy galette as a snack or dessert. Serve it with vanilla ice cream on the side and it will be a superb treat. This was inspired by
Jenni Field of Pastry Chef Online
. Serves 2 to 4.
Ingredients
1

whole sheet

puff pastry,

store bought

4 to 5

whole

fresh ripe peaches

peeled, seeded, sliced

1/3

cup + 2 Tablespoons

granulated sugar

divided use 1/3 cup for peach filling; the rest to sprinkle on puff pastry

2

Tablespoons

cornstarch

1/2

teaspoon

sea salt

1

teaspoon

lemon juice

1/4

cup

softened unsalted butter

vanilla ice cream for serving
Instructions
Thaw the puff pastry and lay it out flat on a baking sheet lined with parchment paper. Set aside.

Peel and slice the peaches. Discard the pits. Place the slices in a medium sized bowl. Add the sugar, cornstarch, salt and lemon juice.

To the center of the puff pastry, pour the sliced peaches. Include whatever liquids have formed with the sliced peaches. Dot the butter on top of the peach slices.

Using both hands, gather the puff pastry. Shape and flute the sides all around the peach slices. Leave the center part with the fruit open and uncovered. The pastry sides should look like it was a flower about to bloom.

(Note: work on this with the puff pastry already on the baking sheet so you don't have to move it).

Sprinkle granulated sugar around the puff pastry.

Bake at a preheated oven of 400 F for 25 to 28 minutes till pastry is golden brown on sides and peach mixture is bubbly.

Serve warm or cold. Best if served with a scoop of vanilla ice cream.

Cook's Comments: If puff pastry is not available, substitute with a single-layer pie crust (homemade or store-bought). Follow directions for fruit and bake at the same amount of time.

Hello, Friends! All the images and content here are COPYRIGHT PROTECTED. This means BY LAW you are NOT allowed to use my photos or content on your website, videos, cookbooks,  without my permission. If you want to republish this recipe, please re-write it in your own words and simply link back to this blog to give proper attribution. It's the legal thing to do. Thank you. Email me at [email protected]
Nutrition
Serving:
1
g
|
Calories:
244
kcal
|
Carbohydrates:
62
g
|
Protein:
1
g
|
Fat:
1
g
|
Saturated Fat:
1
g
|
Sodium:
584
mg
|
Sugar:
54
g
|
Vitamin C:
1
mg
Nutrition Notes: The nutrition information provided is an estimate and will vary based on cooking or baking methods and brands of ingredients used.
Did you love this recipe? I have more Philippine dessert recipes in my popular cookbook How to Cook Philippine Desserts, Cakes and Snacks.
If you need Filipino Instant Pot recipes, find more in my newest cookbook Instant Filipino Recipes: My Mother's Traditional Philippine Cooking in A Multicooker Pot. Buy my cookbooks and books on Amazon.com sold worldwide in paperback and Kindle format.