Food for The Gods – Dates and Nuts Bar + Holiday Treats To Bake
As an Amazon Associate and member of other affiliate programs, I earn from qualifying purchases.
This is the time of year when I get into a panic mode and resort to easy holiday treats to bake. I need to simplify my life by planning simpler dishes and quick-cooking desserts. I have to try and remember the holidays are a time to reflect and be thankful for the many blessings our family was given through the year. I rounded up a list of baked goodies with recipe links, which are my readers' favorites. You still have time to bake one or two of these recipes for Christmas gifts or your family's Noche Buena.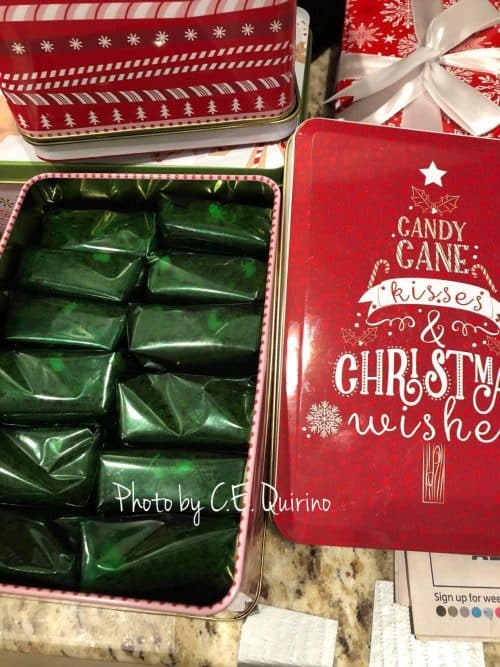 The secret to baking Food for the Gods – Dates and Nuts Bars, this all-time favorite Filipino dessert is to use good butter. I used premium butter and the dessert bars were rich, moist and decadent. Each bar was packed with dates, raisins, nuts, and butter, even more than the amount of flour. It was easy to bake and even easier to love. Bake these for gifts, for the family or just to indulge. These date bars stored well and were easy to travel with. Recipe follows below.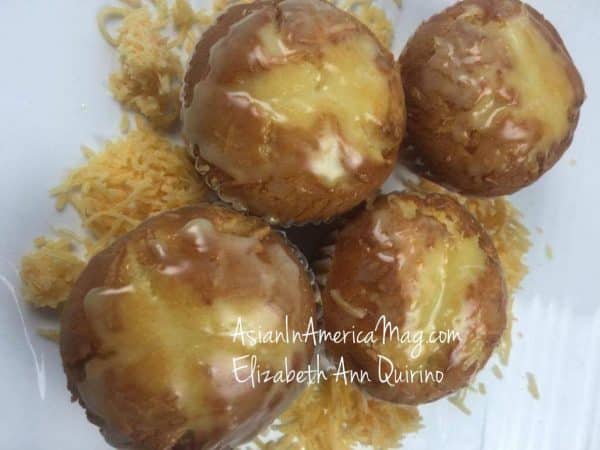 These Filipino Cheese Cupcakes are popular among Pinoys and often sold at Philippine bakeries. The cupcakes are lush and buttery. Yet the recipe only has a few ingredients, including grated cheese. This is the kind of homemade baked treat that can be quickly whipped up by the kitchen novice or culinary pro. Bake these for friends or for the family get-together this Christmas or holiday season.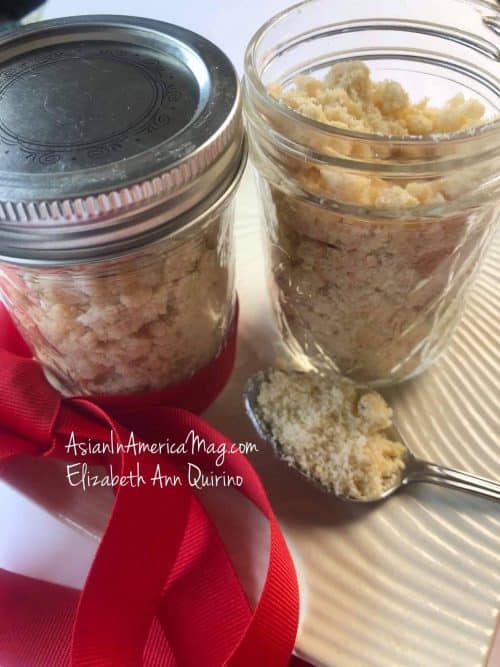 Polvoron – Filipino Powdered Candy In a Jar is a modern take on the classic dessert or snack that's usually individually shaped round and wrapped in colored crepe papers. Polvoron has a buttery-milky flavor and is like crumbled shortbread. My easy recipe has powdered milk, melted butter, flour and sugar. Instead of the usual round-shaped treats, I filled mason jars with the powdered confection for a spoonable dessert. Check out my Polvoron recipe which was featured on the Filipino Food Movement site when I was a guest at their weekly Kulinarya Live cooking segment.
These Petit Fortunes– Bite-sized Cashew Macaroons are easy to whip up and a delight to give. These nut-filled pastries are hard to put down. Sometimes called 'Petit Fours' or 'Petit Fortune Macaroons', these originated from Pampanga, a province north of Manila, Philippines. Simply put together the crushed cashew nuts and other ingredients. Bake them quickly and when cooled, wrap them in colorful cellophane.
If you love the traditional fruitcake then this Filipino Holiday Fruitcake with Dried Mangoes, Pineapple and Jackfruit recipe is one you should try. This version consisted of tropical dried fruits: mangoes, pineapple and langka (jackfruit) plus the classics of raisins, dates, and nuts with generous amounts of flavorings. The procedure is straightforward and easy once you get started. It's simply soaking, mixing, then baking.
These Filipino Lenguas de Gato Butter Cookies are slim yet decadent buttery treats for desserts or snacks. Lenguas de Gato in Spanish translates to 'cat's tongues'. Thus, the cookies are shaped like a tiny tongue. These bake quickly and the rich butter aroma surrounds the kitchen during the process.
This Banana Bread Loaf with Pineapple has all the familiar, wholesome flavors of a banana bread but with the added sweetness of pineapple chunks. I used canned pineapple. You can use fresh, ripe pineapple in the same amount, if it's your preference. This is a quick mix-by-hand cake so you don't need to bring out the large electric mixer. Use very ripe bananas for best results.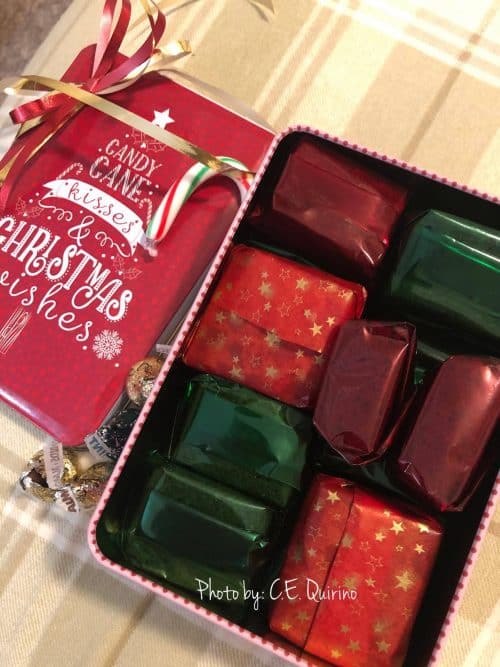 Socially and culturally we are trained to give to others. But in order for us to be giving, we must find it in ourselves to be kind, compassionate and respectful to others. Finding little ways to show these to others is a good start. Being a blessing is infectious. Like a pebble tossed in a pond, one simple act of caring shared with our circle of friends and family, can emanate to a larger circle of blessings all around. In these unique and challenging time of the pandemic, it's a good idea to start the blessings. Be the first to toss that pebble.
Happy Holidays from our table to yours!
Food for the Gods - Dates and Nuts Bar
Food for the Gods - Dates and Nuts Bar is a favorite Filipino dessert bar. It is richly filled with dates, raisins and walnuts, molasses and premium butter. These are much sought-after gifts during the holidays and special occasions. Wrap the bars in colorful cellophane wrappers and store them in cookie tins to give as gifts. This is an Asian in America recipe created by my sister, Isabel Besa Morales, M.S.R.D. This recipe makes 12 to 14 pieces of about 2-inch in length.
Equipment
Baking Pan - 9 inches x 11 inches
Ingredients
1

cup

unsalted butter, softened at room temperature

¾

cup

brown sugar

¾

cup

granulated sugar

3

whole

large eggs

1 ½

cups

all purpose flour

½

teaspoon

baking soda

½

teaspoon

baking powder

1

teaspoon

pure vanilla extract

¼

cup

molasses

1

cup

chopped unsalted walnuts (optional, omit if there are allergies)

1

cup

raisins

1

cup

chopped pitted dates
For wrapping:
12 to 14

pieces

colored cellophane wrappers, cut into 4 x 4 inches
Instructions
Preheat oven at 350 F.

Grease the pan with baking spray. Line bottom of the pan with parchment paper.

Cream the butter and sugars using an electric mixer at medium speed.

Add eggs one at a time. Mix well.

Pour the molasses and vanilla.

Add flour, baking soda and baking powder. Blend ingredients till completely incorporated.

Mix in by hand the following: Nuts, raisins and pitted dates.

Blend ingredients well.

Pour batter into the prepared baking pan.

Bake at preheated oven of 350 F for 35 minutes. Use a cake tester to test if done. If tester comes out clean after piercing the middle of the baking pan, then this is done.

Cool on the counter for up to 1 hour. Slice into 2-inch sized bars.
To wrap and package:
Wrap the individual Food for the Gods bars in brightly-colored cellophane wrappers.

If you don't have cellophane, place the bars in muffin paper liners.

Store them in cookie tins to give as presents.
To store:
These Food for the Gods date bars will keep with no refrigeration for up to 3 days. You can refrigerate them afterwards. Or you can store them in the freezer - in plastic wrap and foil. These keep in the freezer for at least one month.
Nutrition
Serving:
1
g
|
Calories:
644
kcal
|
Carbohydrates:
158
g
|
Protein:
6
g
|
Fat:
1
g
|
Saturated Fat:
1
g
|
Sodium:
168
mg
|
Potassium:
763
mg
|
Fiber:
4
g
|
Sugar:
93
g
|
Vitamin C:
2
mg
|
Calcium:
116
mg
|
Iron:
4
mg
Notes on Nutrition: The nutrition information provided in the recipe links is an estimate and will vary based on cooking methods and specific brands of ingredients used.
Copyright Notice: Hello, Friends! Please DO NOT LIFT OR PLAGIARIZE my original recipe, stories, photos or videos. All the images and content on this blog are COPYRIGHT PROTECTED and owned by my media company Besa-Quirino LLC. This means BY LAW you are NOT allowed to copy, scrape, lift, frame, plagiarize or use my photos, essays, stories and recipe content on your websites, books, films, television shows, videos, without my permission. If you wish to republish this recipe or content on media outlets mentioned above, please ASK MY PERMISSION, or re-write it in your own words and link back to my blog AsianInAmericaMag.com to give proper attribution. It is the legal thing to do. Thank you. Email me at [email protected]