Manila Clams in Pinot Grigio
As an Amazon Associate and member of other affiliate programs, I earn from qualifying purchases.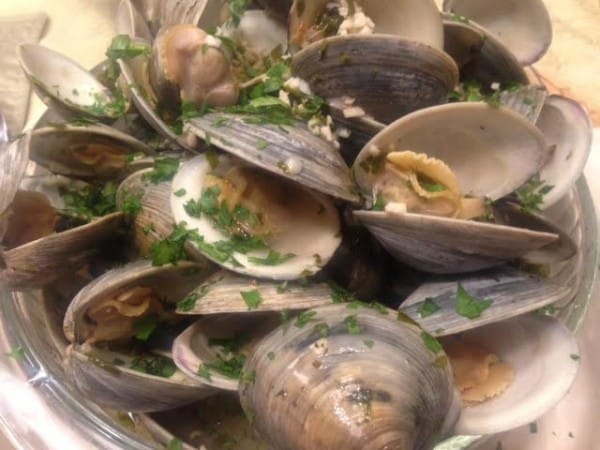 My son came back from Europe with gifts and a recipe for Manila Clams in Pinot Grigio. He brought me back refrigerator magnets to go with my collection. He also brought back a recipe and cooked the dish for us. My sons have learned from what I do. When I travel, one of the souvenirs I bring back is a recipe. If we eat at a new restaurant and I am enamored with a dish, I memorize how it tastes like, then try to recreate it when we're home. Or if the chef is nice, then I ask for the recipe.
So when my sons were home for the weekend they went food shopping for the dinner they were cooking. Tim cooked a few new dishes. These Clams in Pinot Grigio stood out. He had enjoyed a similar dish in France so much he cooked his own interpretation.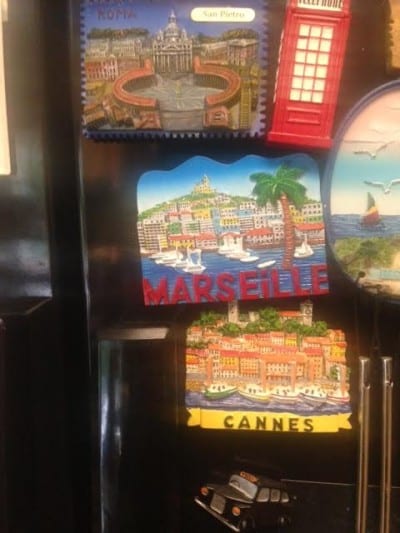 I was shooed out of the kitchen. My sons preferred to cook by themselves. So I went off to find out the origin of Manila Clams. The thought has always intrigued me.
The internet yielded interesting information. In the 1930s, Manila clams arrived from Japan via cargo ships on the west coast of the USA. Today, most Manila clams are farm-raised in the Pacific Northwest (Washington, Northern CA and Southeastern Alaska).
Like all seafood, I've found the flavors are best when cooked the day they are purchased. The fresh quality emerges when the dish is cooked. Clams are sold by the pound here in the USA. They are available in small, regular or large size. When cooking, it only takes about 10 minutes of cooking or steaming for the clams to open up.
I heard the pots banging in the kitchen as my sons cooked. Then I heard the sizzle of sautéed garlic, and shallots in the melted butter on the skillet. The garlic-butter aromas flew from the kitchen and captivated my senses as I was surfing for clam information.
One of the most rewarding things I've experienced is that my sons, all grown up with lives of their own, cook well and take care of their own health diligently. And when they come home to visit, they practice what they preach. They cook healthy meals for us, their parents. Just like that, all the years I put into making home cooked meals daily for my family have paid off.
My boys are young men now. They have matured in spirit, acknowledge and build on their unique gifts, talents and glean wisdom from my own kitchen experiences. I didn't realize it till now they were always watching me. My sons learned intuitively how to cook. Even better, they have taken the nutritious route. The roles have reversed. Our boys are now feeding us healthy, nourishing and delightful dishes.
Manila Clams in Pinot Grigio
One of the easiest, fastest meals to put together were these Manila Clams in Pinot Grigio. My son, Tim, had enjoyed a similar dish on his trip to Europe. He liked it so much; he shared his recreated version with us, his parents when he returned from France. The one-inch wide Manila clams were tender, savory and heavenly. The sweet broth was flavored with Pinot Grigio and added a special dimension to the appeal of this dish. This is an AsianInAmericamag.com recipe by Tim Quirino. Serve this as an appetizer, a side or an entree. Serves 4.
Equipment
Large stock pot - for boiling clams

Large skillet: 12 to 14 inches in diameter
Ingredients
50

whole

fresh Manila clams

regular-sized, live in their shells

8 to 10

cups

water

enough to fill a large stock pot

6

Tablespoons

unsalted butter

6

cloves

garlic

peeled, minced

1

whole

shallot

chopped

1

cup

Pinot Grigio

1/2

cup

organic vegetable broth

1/2

cup

fresh flat leaf parsley

chopped, for garnish

1 1/2

teaspoons

sea salt

divided, use 1/2 teaspoon for boiling clams

1

teaspoon

freshly ground black pepper

1

whole

lemon

sliced, for garnish, to sprinkle juice on cooked clams
Instructions
Cook clams the same day purchased. When you get home, wash clams in water. Brush off the beards while washing.

In a large stockpot, place the clams and enough water to cover it. Add half a teaspoon sea salt. Over high heat, cover and cook the clams for 10 to 12 minutes. The steam will allow the clam shells to open. (Note: if any clams failed to open, discard them. It's a sign the clams are dead. Do not eat the unopened clams).

In a large skillet, over medium high heat, add the butter. After a minute or two, when  butter has melted, saute the garlic and shallots. Swirl these around the skillet for a minute or two till shallots are transparent.

Add the Pinot Grigio and deglaze the wine. When it's sizzling (not boiling) after about two minutes, allow the alcohol to cook out, till there is no more scent of the Pinot.

Drain the water from the clams in the stockpot. Add the cooked clams to the skillet with the sauteed ingredients. Add the organic broth.Season with salt and black pepper powder. Shake the skillet sideways so the clams settle and blend all around with the rest of the ingredients.

Cover and let the broth simmer for 5 minutes more over medium heat.

Garnish with fresh flat parsley and lemon slices. Serve hot. Sprinkle lemon juice over clams if desired.

Cook's comments: Tim suggested to add more wine or broth if you want a more soupy broth to dip bread into. My sons served these clams together with other dishes they cooked -- baked flounder in lemon, farro with vegetables, eggplants in panko, salad greens, fresh mozarella slices, baguette slices.

Ingredient Notes: Manila Clams differ from littleneck clams. I learned from the fish monger the littleneck clams are easy to find here on the east coast. Littleneck clams are about 2-inches wide. They have a greyish-brown shell. Sometimes, I chance upon Manila clams in the supermarket. These are larger and measure about 3 to 4 inches wide. The shells are similar in appearance to the littleneck clams. Manila clams were not originally native to North America. Seafood sources cite Manila clams were introduced to the Washington state from Japan years ago. They are mostly found in northern California and British Columbia. Both types of clams taste sweet and are very juicy when fresh and steamed properly.

Hello, Friends! All the images and content on this blog are COPYRIGHT PROTECTED and owned by my media company Besa-Quirino LLC. This means BY LAW you are NOT allowed to copy, scrape, lift, frame, plagiarize or use my photos and  recipe content I wrote, on your website  without my permission. If you want to republish this recipe or content on another website or news article, please ASK my permission, re-write it in your own words and simply link back to this blog to give proper attribution. It's the legal thing to do. Thank you. Email me at [email protected]
Nutrition
Serving:
1
g
|
Calories:
209
kcal
|
Carbohydrates:
3
g
|
Protein:
1
g
|
Fat:
17
g
|
Saturated Fat:
11
g
|
Cholesterol:
45
mg
|
Sodium:
903
mg
|
Potassium:
60
mg
|
Fiber:
1
g
|
Sugar:
1
g
|
Vitamin A:
1157
IU
|
Vitamin C:
11
mg
|
Calcium:
38
mg
|
Iron:
1
mg
Notes on Nutrition: The nutrition information provided is an estimate and will vary based on cooking methods and specific brands of ingredients used.
Did you like this recipe?I have more Filipino Instant Pot recipes in my newest cookbook Instant Filipino Recipes: My Mother's Traditional Philippine Cooking in A Multicooker Pot by Elizabeth Ann Besa-Quirino. I also have more classic recipes inspired by my mother's cooking in my popular cookbook: My Mother's Philippine Recipes. If you're learning how to cook Filipino food or a fan of Philippine cuisine, buy my cookbooks and books on Amazon.com sold worldwide in paperback and Kindle format.
Copyright Notice: Hello, Friends! Please DO NOT LIFT OR PLAGIARIZE my original recipe, stories, photos or videos. All the images and content on this blog are COPYRIGHT PROTECTED and owned by my media company Besa-Quirino LLC. This means BY LAW you are NOT allowed to copy, scrape, lift, frame, plagiarize or use my photos, essays, stories and recipe content on your websites, books, films, television shows, videos, without my permission. If you wish to republish this recipe or content on media outlets mentioned above, please ASK MY PERMISSION, or re-write it in your own words and link back to my blog AsianInAmericaMag.com to give proper attribution. It is the legal thing to do. Thank you. Email me at [email protected]