Biscotti with Toblerone Chocolate
As an Amazon Associate and member of other affiliate programs, I earn from qualifying purchases.
[amazon_link asins='B0046IGQD2,B06WWQGWPW,B00O2FLXQ4,B00UEMAJVO,B00YEYL8T0′ template='ProductCarousel' store='queensnotcom-20′ marketplace='US' link_id='b9999c49-8f35-11e7-8c2e-8130f865a69c']
As I write this, the cookies have not been baked, the Christmas cards have not been sent out. I am still missing several important gifts on my list. It's a few days before Christmas Day and I am not ready. Are you?
It's always overwhelming. Other food bloggers have their perfect cookies with frosting dribbling down the platters photographed and posted on Twitter, Facebook and Instagram. There are foodie friends who are on Snapchat and Periscope demonstrating how to bake the perfect cookie. Good for them. I am grateful for alI the baking and cooking recipe ideas. But personally I do not know how to find the time to do it all.
Every year I tell myself I will start buying presents in July, start baking in November and shall be sipping my warm cup of tea, with my feet up, listening to Christmas carols by this time. It never ever happens.
But I try not to dwell on it. I grab the easiest recipes for homemade baked treats and just roll with it. Thank goodness for the "Ciao Biscotti" cookbook of Domenica Marchetti, author and friend I trust for great recipes. These Biscotti with Toblerone were easy to bake and easy to pack in cookie tins. I sampled some and they were marvelous. The chunky chocolate Toblerone was so tempting, even more so once chopped and crumbled into the rich biscotti batter. I knew it was going to come out heavenly.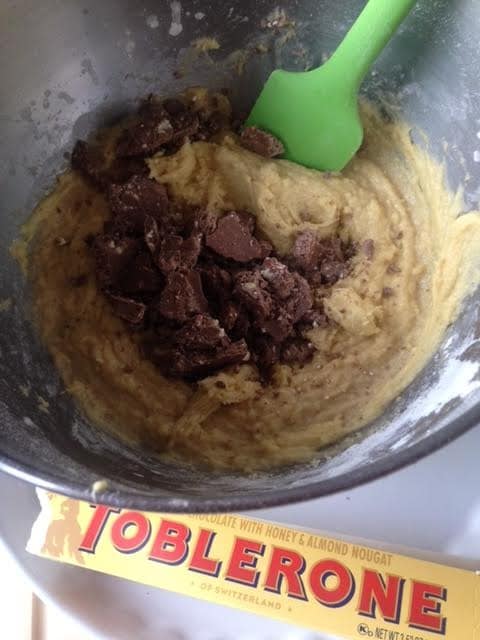 True enough, as soon as the twice baked biscotti came out of the oven, the butter-chocolate aromas were intoxicating. I packed some in colorful containers, put a pretty bow on each and wrote out the cards to go with each gift.
The holidays are always overwhelming for most of us. Not everyone feels like skipping and hopping through winter wonderland. Some folks find the holidays melancholic — especially for those who are missing loved ones, are far from home or even lost family during Christmas.
I remember my late mom used to get pensive during the holidays. When she was a little girl at five years old, her father drowned in a shipping accident on Christmas Eve. Mom told me it devastated their family. But she never let the sad memories take over what she had on Christmas — us. She had us, my sister and me, and my dad in the present. She relished that and made every Christmas even more beautiful than the last. And for years we built on those happy memories with my parents which I cherish to this day.
The thing is that the holidays, no matter how or when we celebrate it are a reminder of what is important — finding faith, hope and joy in whatever life brings us in the present. It's what keeps us going no matter how overwhelming the season is.
Merry Christmas, dear friends!
Thank you for bringing me and my recipes into your kitchens, your dining tables and your lives. I am grateful for your support and friendship.
Biscotti with Toblerone Chocolate
If you like to bake gifts for the holidays, here's an easy recipe for Biscotti with Chocolate Toblerone. Biscotti is the Italian version of our Filipino Biscocho. The crisp texture and buttery flavors are similar. I like to bake recipes from cookbook authors I know personally. There's nothing like a trust-worthy recipe that you know will be foolproof, something you need during the busy holiday season.The best part about baking this is you're entitled to the leftover Toblerone pieces from the big, giant triangular bar you used.The enticing chocolate aroma filled my kitchen as I took out the cookie trays lined with parchment paper. No need to worry about cookie shapes with this one. Just slice the loaf from the first baking, then put them back on the cookie trays and bake a few minutes more to make them crisp. Store these biscotti pieces in decorative cookie jars. Top with a festive red bow and make someone's holiday brighter with this gift. This recipe was inspired by
Domenica Marchetti's
cookbook
"Ciao Biscotti"(Chronicle Books)
. Makes about 30 pieces.
Ingredients
2

and 3/4 cups all purpose flour

unbleached

1

and 1/2 teaspoons baking powder

1/2

teaspoon

sea salt

8

Tablespoons

or 1 stick butter

unsalted

3/4

cup

granulated sugar

1

Tablespoon

brandy

2

teaspoons

pure vanilla extract

1

teaspoon

pure almond extract

3

large eggs

1

piece

3.52 oz, cut in small pieces Toblerone bar

1

Tablespoon

vegetable oil

4

oz.

melted, for drizzling on biscotti (optional) semisweet chocolate
Instructions
In a bowl, combine and sift the dry ingredients: flour, baking powder and salt. Whisk them together till well combined. Set aside.

How to make the browned butter: using a small saucepan, melt the butter over medium low heat. Cook the butter till it is melted. In about 6 minutes, the butter will get bubbly, slightly foamy and the color will turn dark brown. Remove from the stove top.

Into the mixing bowl of a stand mixer, add the browned butter. Allow the butter to cool for about 10 minutes before mixing in the other ingredients.

When cool enough, add to the butter the sugar, brandy, vanilla and almond extracts. Beat well on low speed for about 2 to 3 minutes.

Add the eggs one at a time till completely mixed.

Gradually add the flour mixture. Beat on low speed till combined.

Slowly add the chopped and crumbled chocolate Toblerone into the mixture.

Transfer the batter onto plastic wrap. Shape into a round disk. Seal and store in the refrigerator for about one hour to firm up.

Preheat the oven to 350 F.  Prepare a large baking sheet, measuring 11 x 17 inches by lining it with parchment paper or greasing with oil.

Shape the biscotti disk into 2 long logs. Place them on the baking sheet. Bake at 350 F for 25 minutes.

When the logs are baked, using a spatula, transfer them to a baking rack to cool for about 15 to 20 minutes.

Adjust the oven temperature and lower it to 325 F.

Place the cooled logs on a flat, dry surface or cutting board. Slice the logs  diagonally, measuring 1/2 inch thick per slice.

Arrange the sliced biscotti on the same baking sheet used earlier. Bake at 325 F for 16 minutes. Turn the tray around half way through baking so the biscotti bake evenly. The biscotti should be crisp and golden brown. Transfer to a rack to cool completely.

Store in airtight covered tins. These biscotti can keep up to ten days in a container stored at room temperature.

Cook's comments: for an even richer biscotti, the author suggested in the cookbook recipe to drizzle melted chocolate over these slices. Then refrigerate the biscotti for 30 minutes to allow the melted chocolate to firm up.

Hello, Friends! All the images and content on this blog are COPYRIGHT PROTECTED and owned by my media company Besa-Quirino LLC. This means BY LAW you are NOT allowed to copy, scrape, lift, frame, plagiarize or use my photos and  recipe content I wrote, on your website  without my permission. If you want to republish this recipe or content on another website or news article, please ASK my permission, re-write it in your own words and simply link back to this blog to give proper attribution. It's the legal thing to do. Thank you. Email me at [email protected]
Nutrition
Serving:
1
g
|
Calories:
193
kcal
|
Carbohydrates:
38
g
|
Fat:
4
g
|
Saturated Fat:
3
g
|
Sodium:
291
mg
|
Sugar:
38
g