Filipino Chicken Pipian
As an Amazon Associate and member of other affiliate programs, I earn from qualifying purchases.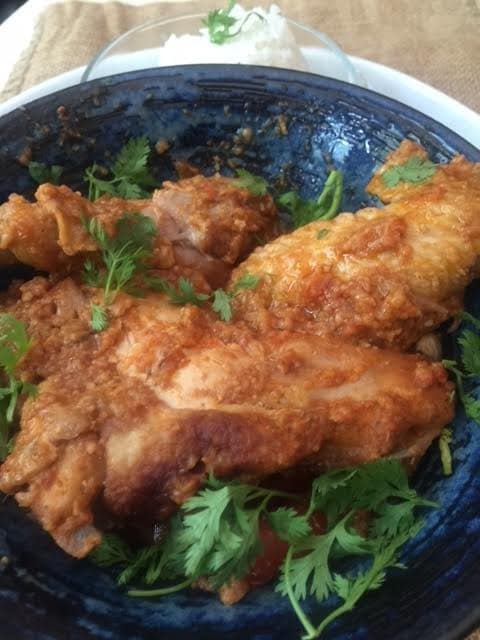 I glanced at the calendar and 'December 15' jumped at me. If we were in the Philippines now, I would be attending the 9-day 'Misa de Gallo' or dawn masses. Misa de Gallo is Spanish that translates to 'mass of the rooster'. Christmas celebrations in the Philippines are centered around religious traditions that are centuries-old. Attending the Misa de Gallo is one of them. Before I had children, in my days as a single, carefree working girl in Manila, I used to attend the 5 AM dawn masses religiously. Our parents taught us, we could pray, wish and petition for special requests from the good Lord above during those nine days we went to church at the crack of dawn.
Here in America, we did not live close to any Filipino-American communities. So I did not have the opportunity to attend a dawn mass. My two sons grew up not knowing what it was like to roll out of bed early, the sky still dark to the sound of the rooster crowing. I missed these traditions I grew up with. But I had a chance to salve the ache of homesickness when my husband and I, with our youngest son traveled to the Philippines last November to be with family.
We reconnected to our roots to celebrate November 16, 2015. It was the 125th birth anniversary of our granduncle, the late Elpidio Quirino, former Philippine President (1948-1953). Lolo Elpidio, as he is fondly called by our family was a visionary leader, a great economist and nation builder. He led the country in the aftermath of World War II and helped restore the country in many levels.
This photo below of Elpidio Quirino, 6th President of the Philippines (1948 to 1953) was courtesy of the President Elpidio Quirino Foundation.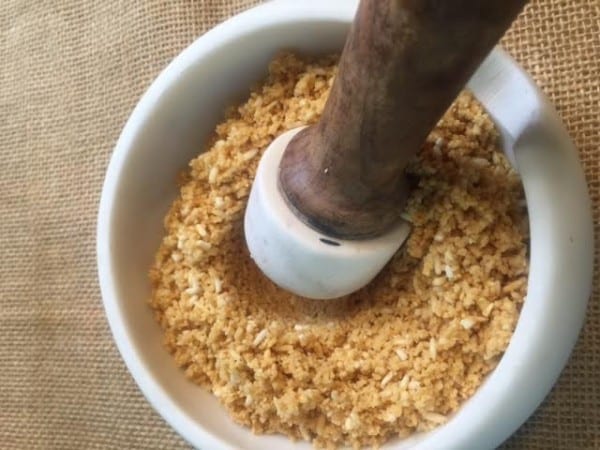 In preparation for our family reunions, I talked to our Quirino aunts and cousins about traditional Ilocano dishes. This Pipian dish was one of those. It is a chicken recipe which has a culinary and historical pedigree that runs deep.
Chicken Pipian ('Pepian' to some) traces its origins to Vigan, Ilocos Sur, a UNESCO World Heritage City and home town of the late President Quirino. Our aunt, Attorney Aleli Angela G. Quirino described it: "Pipian is a chicken stew using pasotes, an herb brought in from Mexico by the galleon trade in the 16th century. Pasotes is grown only in Ilocos Sur. According to the Mexican Ambassador, a recent guest of Eddie Quirino, Ilocos Tourism Council President, this dish with the herb epazotes is still served in Mexico to this day."
My search for the recipe led me to a similar one in the cookbook 'Memories of Philippine Kitchens' by Amy Besa and Romy Dorotan. The authors trace the recipe back to Rusty, the cook from the Syquia Mansion, where the late President Quirino lived in Vigan.
I cooked this Pipian in my American kitchen from a recipe by cousin Gina Quirino Adea. All the Pipian versions had the unique Ilocano flavors of a dish that was a favorite of the Quirino brothers: Ernesto, President Elpidio, Eliseo and Antonio, and sister Rosa, during their time.
The toasted rice grounded and mixed with crushed peanuts made for a rich, savory tomato sauce broth. The tender chicken cutlets simmered in the thick broth and brought on a tangy, nutty aroma that reminded me of past Christmases. It was an heirloom recipe that brought the past to the present and reminded me of what Christmas was all about –family and love.
*For more articles about Philippine President Elpidio Quirino, read Quirino at 125: Statesman and Survivor by Constante G. Quirino and published on Positively Filipino online magazine.
Filipino Chicken Pipian
This Filipino Chicken Pipian dish is a great holiday meal for the family or a party. My recipe for the classic heirloom dish from Ilocos, Chicken Pipian is my modern version which used oregano and cilantro (kinchay) as combined substitutes for epazotes (pazotes) which can only be found in Vigan, Ilocos Sur. Here in the USA, the dried herb which originated in Mexico can be found through Mexican food markets. I did not have it at the time of cooking, so I substituted per advice of my cousin Gina Adea. This recipe was inspired by the Syquia Mansion family cook, Rusty, based in Vigan, Ilocos Sur and from "Memories of Philippine Kitchens" by Amy Besa and Romy Dorotan. My version below serves 4 to 6.
Ingredients
4

pounds

chicken cutlets, bone-in, skin-on

about 10 pieces or use a whole chicken

1

Tablespoon

extra virgin olive oil

for marinade

2

teaspoons

dried oregano

for marinade

1/2

teaspoon

salt

for marinade

1/2

teaspoon

ground black pepper

for marinade

1/2

cup

uncooked white jasmine rice grains

3/4

cup

unsalted roasted peanuts

bottled

4

Tablespoons

vegetable oil

for saute

1

whole

large white onion

chopped

4

cloves

garlic

peeled and minced

3 to 4

whole

large tomatoes

sliced

1

Tablespoon

patis (fish sauce)

1/4

cup

calamansi juice (or lemon)

1/2

cup

tomato paste

2

cups

chicken broth

divided, use 1/4 cup, warmed up to soak achuete (annatto) seeds

2

teaspoons

achuete or annatto seeds

1

Tablespoon

epazote (pasotes) herbs

from Mexican stores or else only grows in Vigan, Ilocos Sur - substitute with dried oregano if not available

1

teaspoon

salt

1

teaspoon

ground black pepper powder

1

Tablespoon

chopped fresh parsley

for garnish

for serving: boiled rice
Instructions
The night before: Marinate the chicken pieces in dried oregano, olive oil, garlic, salt and black pepper. Place the chicken in plastic re-sealable bags and refrigerate for at least 6 hours or overnight.

The following day: Toast the raw rice grains in a small skillet over medium heat for about 5 to 6 minutes. Do not leave stove unattended or rice will burn. When the rice grains turn light brown and have a fragrant toasted aroma, remove from skillet and cool on a small plate.

Once the toasted rice cools, place it in a mortar and pestle together with the cooked peanuts. Crush them together till mixture becomes powdery. (*Note: for faster results, process rice grains and peanuts in a food processor for 1 minute). Set this rice-peanut mixture aside.

In a large stockpot, over medium high heat, add the vegetable oil. When oil is hot in about 2 minutes, braise the chicken pieces till they turn brown on all sides. Turn the meat around so they brown evenly. Brown the meat for about 8 to 10 minutes till light brown. Transfer chicken to a plate. Set aside.

Using the same stockpot, over medium heat, sauté the onions, garlic and tomatoes till onions are translucent and tomatoes are softened. This should take about 3 minutes.

Add the patis (fish sauce), lemon or calamansi juice, tomato paste and chicken broth. Stir ingredients. Cover and let simmer.

Meanwhile, pour the warm ¼ cup broth over the achuete (annatto) seeds. Press down the seeds with a fork till broth turns orange. Strain the achuete seeds. Use the achuete liquid and pour this into the simmering stock pot with the onion-tomato mixture.

Add the pre-browned chicken into the stockpot. Lower heat to a slow simmer. Continue cooking till chicken pieces are cooked thoroughly, for about 50 to 55 minutes.

Add the epazotes (or substitute with oregano and chopped cilantro). Then add the rice grains-peanut mixture to thicken the broth. Stir well to combine ingredients. Lower heat to low and stir the mixture every now and then so the rice does not burn at the bottom. Cover and continue cooking, but be mindful rice can burn if not stirred.

Season with salt and black pepper. Serve piping hot with boiled rice on the side. Garnish with chopped parsley.

Cook's comments: When I cooked this and refrigerated it, the sauce was thick after refrigeration. When heating up, add about half a cup broth if a soupy dish is desired.
Copyright Notice:
Hello, Friends! All the images and content on this blog are COPYRIGHT PROTECTED and owned by my media company Besa-Quirino LLC. This means BY LAW you are NOT allowed to copy, scrape, lift, frame, plagiarize or use my photos and  recipe content I wrote, on your website  without my permission. If you want to republish this recipe or content on another website or news article, please ASK my permission, re-write it in your own words and simply link back to this blog to give proper attribution. It's the legal thing to do. Thank you. Email me at [email protected]
Nutrition
Serving:
1
g
|
Calories:
350
kcal
|
Carbohydrates:
14
g
|
Protein:
9
g
|
Fat:
32
g
|
Saturated Fat:
14
g
|
Sodium:
1563
mg
|
Potassium:
618
mg
|
Fiber:
4
g
|
Sugar:
5
g
|
Vitamin A:
499
IU
|
Vitamin C:
16
mg
|
Calcium:
39
mg
|
Iron:
2
mg
Buy the book on Amazon: "A Statesman and Survivor Elpidio Quirino 6th President of the Philippines" is a book of 125 presidential quotes, inspiring and memorable from President Quirino's speeches and memoirs. Buy the book from my Amazon affiliate page. Click here. Proceeds will be donated to the charities of the President Elpidio Quirino Foundation.
Notes on Nutrition: The nutrition information provided is an estimate and will vary based on cooking methods and specific brands of ingredients used.
Did you like this recipe? I have more classic recipes inspired by my late mother's cooking in my popular cookbook: My Mother's Philippine Recipes. If you're learning how to cook Filipino food or a fan of Philippine cuisine, buy my cookbooks and books on Amazon.com sold worldwide in paperback and Kindle format.
Copyright Notice: Hello, Friends! Please DO NOT LIFT OR PLAGIARIZE my original recipe, stories, photos or videos. All the images and content on this blog are COPYRIGHT PROTECTED and owned by my media company Besa-Quirino LLC. This means BY LAW you are NOT allowed to copy, scrape, lift, frame, plagiarize or use my photos, essays, stories and recipe content on your websites, books, films, television shows, videos, without my permission. If you wish to republish this recipe or content on media outlets mentioned above, please ASK MY PERMISSION, or re-write it in your own words and link back to my blog AsianInAmericaMag.com to give proper attribution. It is the legal thing to do. Thank you. Email me at [email protected]