My No-Bake Desserts on LA18-KSCI TV's "Halo-Halo with Kat Iniba"
As an Amazon Associate and member of other affiliate programs, I earn from qualifying purchases.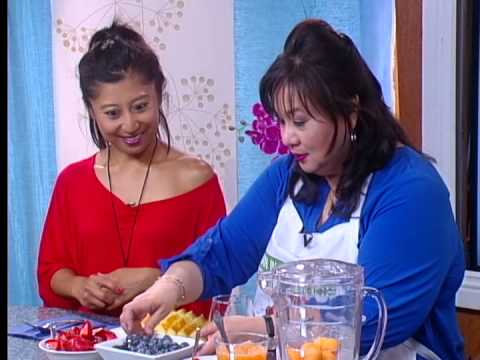 We had fun trip to Los Angeles, CA a few weeks ago. I was on TV's LA18 "Halo-Halo with Kat Iniba" and it was such an enjoyable experience. My TV guest appearance was just a few days before the 4th of July weekend. So I thought of sharing with viewers two refreshing recipes: my Cantaloupe-Calamansi Fruit Drink and a No-Bake Berry Refrigerator Cake. I have posted these recipes on the blog before, but it's always exciting when friends and followers get to see me doing it on TV.
For those of you who haven't watched yet, "Halo-Halo with Kat Iniba" is hosted by Katherine Iniba in Los Angeles. It is an entertainment and lifestyle TV show that airs on the LA18 network on Mondays to Wednesdays at 4:30 pm. The same show airs on the Hawaii KIKU TV networks from Mondays to Wednesdays at 3 pm.
LA18 –KSCI TV has nearly 36 years of broadcasting experience in the largest Asian communities of the USA. 'Halo-Halo with Kat Iniba" has been on the air for the last 5 years. The LA18 network serves Los Angeles' large culturally diverse and multi-lingual communities. The network has received prestigious TV awards like the Emmys and the Hope Award from the LA community.
As a guest to Kat Iniba's TV show, I felt like I was going to a friend's house. Kat and the production team were warm and welcoming. It was the middle of summer and humid outdoors in downtown LA. So I shared two refreshing recipes: a favorite cantaloupe beverage and a no-bake berry refrigerator cake. Both recipes needed very little prep work. When I arrived at the station, I got to work quickly slicing the fruits and whipping up the cream. On the show, Kat Iniba joined me and helped put together the Cantaloupe Fruit Drink and the No-bake Berry Cake. I gave her tips on how to pick the right cantaloupe, how to grate and how to mix it all up.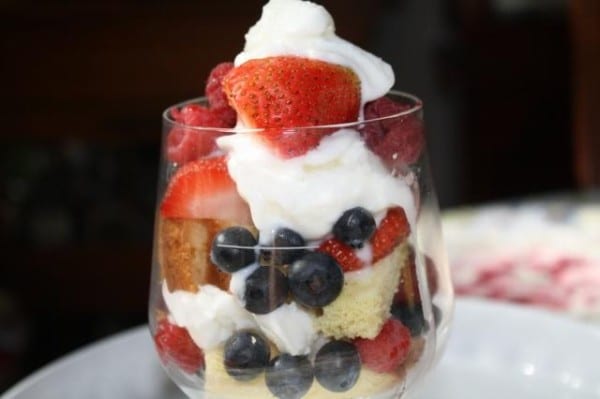 The title of the LA18 TV show is"Halo-Halo" — in Pilipino it translates to mix-mix; or a favorite noun to describe a much-loved Filipino dessert (a recipe for Halo Halo has been posted on this blog before). Just like the Halo-Halo dessert, the show is a colorful gathering of exciting topics, stories, features on news, lifestyle and events. For links to the YouTube video of my TV guest spot, find them below. For recipes of the Cantaloupe-Calamansi Fruit Drink and the No-Bake Berry Dessert click here. And if you want to watch more of the LA18 TV clips go see their YouTube channel, filled with a good mix of everything.
Happy summer, folks!
Photos and videos of the TV show on LA18-KSCI TV provided by "Halo-Halo with Kat Iniba".
Did you like this recipe? I have more Filipino Instant Pot recipes in my newest cookbook Instant Filipino Recipes: My Mother's Traditional Philippine Cooking in A Multicooker Pot by Elizabeth Ann Besa-Quirino. Buy my cookbooks and books on Amazon.com sold worldwide in paperback and Kindle format.
Hello, Friends! Please DO NOT LIFT OR PLAGIARIZE my original recipe, stories, photos or videos. All the images and content on this blog are COPYRIGHT PROTECTED and owned by my media company Besa-Quirino LLC. This means BY LAW you are NOT allowed to copy, scrape, lift, frame, plagiarize or use my photos, essays, stories and recipe content on your websites, books, films, television shows, videos, without my permission. If you wish to republish this recipe or content on media outlets mentioned above, please ASK MY PERMISSION, or re-write it in your own words and link back to my blog AsianInAmericaMag.com to give proper attribution. It is the legal thing to do. Thank you. Email me at [email protected]