Instant Pot Beef Ribs with Chinese Noodles
As an Amazon Associate and member of other affiliate programs, I earn from qualifying purchases.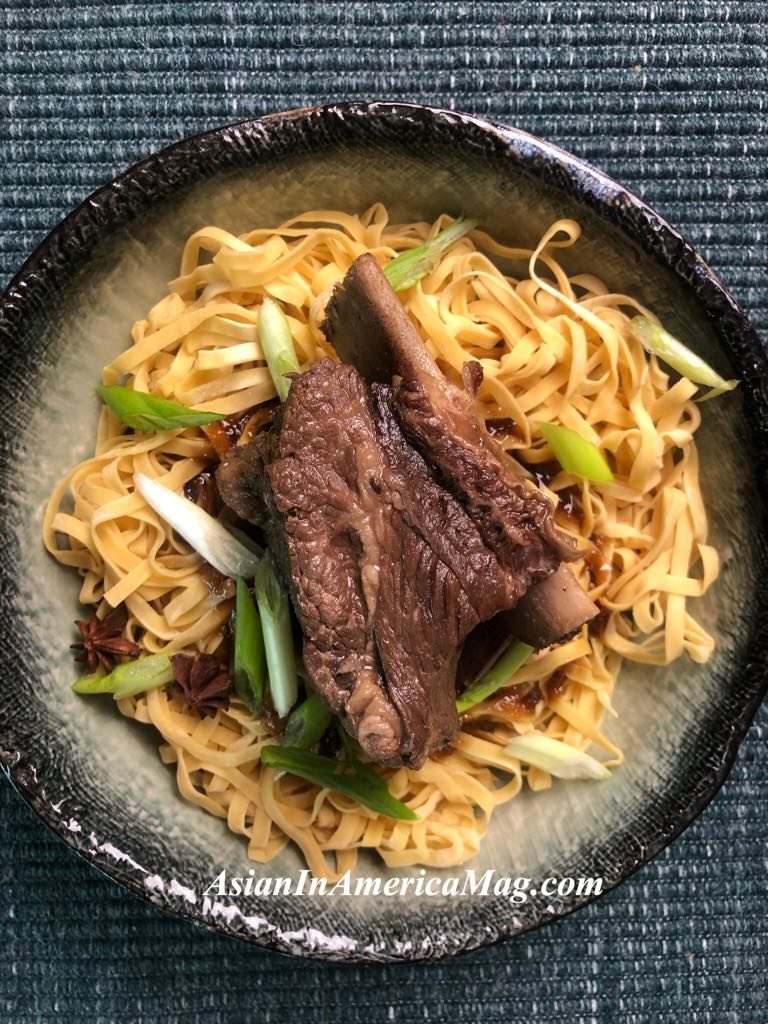 At first bite of these Instant Pot Beef Ribs in Chinese Noodles, my husband said, "You've been cooking beef this way for a long time." He remembered how I cooked this Asian-flavored beef stew years ago. It's because this is a recipe inspired by my mother when I was growing up in the Philippines.
Mom used to buy beef kenchi to cook this stew which she called Beef in Peking Noodles. Beef has always been an expensive ingredient in the Philippines, so, she taught me how to cook it properly. I was not allowed to mess up the dish because it was an expensive cut. Before there were the Instant Pot multi-cookers of today, we had large cauldrons in my mother's kitchen back in Tarlac. Sometimes, tenderizing the beef meant several hours of simmering, so, she cooked the beef outdoors in a large stockpot or clay pot, over kindled firewood. It was more economical than using the gas stove, she said. To me, the stew turned out more scrumptious.
Today, in my American kitchen, I have cooked this dish on the stove top for nearly two hours. But with the onset of the current favorite kitchen appliance, the Instant Pot, I can now cook these Beef Ribs in nearly half the time. The large, beef cuts simmered in soy sauce, beef broth, and flavored with sangke (star anise), which gave a sweet licorice-like flavor to the entire entree. I blanched the pre-boiled Chinese noodles for a few seconds in boiling water and set it on the platter as the base to catch the dark brown, fragrant beef gravy. The tender, juicy beef cuts nestled beautifully on the glistening noodles and the sweet soy sauce aromas floated around the dinner table, reminding us of happy food memories from years past.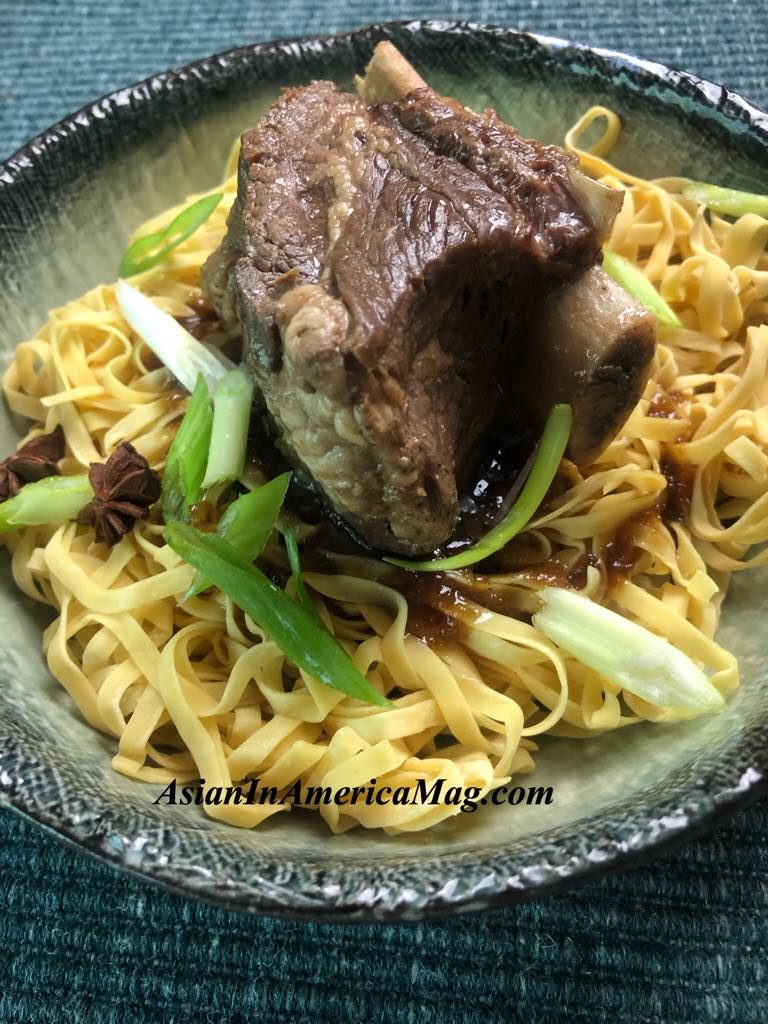 Instant Pot Beef Ribs with Chinese Noodles
My Instant Pot Beef Ribs in Chinese Noodles is a stew of beef cuts cooked in a sweet-savory broth flavored with soy sauce, scallions and sangke (star anise). The beef cubes are simmered till they are falling off the bone, then served on a platter of boiled Chinese wheat noodles laced with the golden-brown broth.
I offer two ways to cook this hearty stew: In the Instant Pot which cuts cooking time to nearly half or the traditional way on the stove-top. This is an Asian in America recipe.
*Note: Cooking time indicated is for the Instant Pot.
Equipment
Instant Pot (or any multicooker) : 6 quarts or 8 quarts
Ingredients
8

ounces

fresh Chinese noodles pre-boiled

from Asian markets

2

cups

water to blanch noodles

4

pounds

beef short ribs bone-in

about 4 to 5 pieces

1

teaspoon

salt

1

teaspoon

ground black pepper

2

Tablespoons

vegetable oil

2

cloves

garlic peeled

minced

1

whole onion chopped

2

stalks scallion whites chopped

1

whole piece sangke

star anise

1/2

cup

soy sauce

8

cups

beef broth

1

Tablespoon

brown sugar

2

stalks scallion greens chopped

for garnish
Instructions
To blanch noodles in the Instant Pot

Pour 2 cups water in the inside pot.

Click Saute. When water gets bubbly and starts to boil in about 5 to 7 minutes, blanch the Chinese noodles for 30 seconds. Click Cancel to turn off Saute function.

Using tongs or a slotted spoon remove the noodles and drain the liquid. Cover and set aside.

Using silicone mitts, hold the inside pot and discard the water.

To cook beef ribs in the Instant Pot

Marinate beef with salt and black pepper.

Return the inside pot to the Instant Pot.

Click Saute. Add the vegetable oil. When oil is hot enough in 1 to 2 minutes, saute the garlic, onions, scallion whites for 1 minute.

Add the beef and brown the meat for 2 to 3 minutes. Click Cancel to turn off Saute function.

Add the sangke (star anise) to the sauteed ingredients. Pour the soy sauce and broth. Add the brown sugar.

Close and lock the lid. Set the valve to Sealing. Press Meats/Stews and cook on High Pressure for 40 minutes.

When buzzer sounds to announce cooking is done, do a Quick Release. When the float pin drops, it is safe to unlock the lid. Open lid carefully.

Plate the noodles on a large platter. Place the beef ribs on the noodles. Pour the broth over the beef and noodles. Garnish with scallion greens. Serve warm.

Cook's comments:

The fresh Chinese noodles are thick, wheat noodles, yellow-colored and pre-boiled. They are sold in Asian supermarkets in about 12 oz. packs and are found in the refrigerated section. Blanch the noodles for 30 seconds in boiling water before adding to the dish. The noodles expand after cooking. If dried Chinese noodles are preferred or more convenient, follow package directions on how to prepare in boiling water.

To cook on the stove top

Blanch noodles in boiling water for 30 seconds. Set aside.

Marinate beef with salt and pepper. In a large stockpot, add the vegetable oil. Saute garlic, onions, scallion whites. Brown the beef for 2 to 3 minutes. Add the star anise. Pour the soy sauce and broth. Add the brown sugar. Cover and simmer for 1.5 to 2 hours till beef is tender. Plate the noodles then add the beef and broth on top. Garnish with scallion greens.
Notes on the Instant Pot
After the Saute function, it takes about 17 minutes for the Instant Pot to preheat before the High Pressure cooking time begins. For other multi-cooker pressure cooker brands, please consult the manual.

Safety precautions: Use accessories recommended for the Instant Pot like silicone or metal. Do not use glassware in the Instant Pot or similar multi-cookers. Consult the product manual.
Nutrition
Serving:
1
cup
|
Calories:
2787
kcal
|
Carbohydrates:
20
g
|
Protein:
287
g
|
Fat:
167
g
|
Saturated Fat:
82
g
|
Cholesterol:
781
mg
|
Sodium:
16812
mg
|
Potassium:
6011
mg
|
Fiber:
1
g
|
Sugar:
14
g
|
Calcium:
244
mg
|
Iron:
34.8
mg
Notes on Nutrition: The nutrition information provided is an estimate and will vary based on cooking methods and specific brands of ingredients used.
Did you like this recipe? I have more Filipino Instant Pot recipes in my newest cookbook Instant Filipino Recipes: My Mother's Traditional Philippine Cooking in A Multicooker Pot by Elizabeth Ann Besa-Quirino. Buy my cookbooks and books on Amazon.com sold worldwide in paperback and Kindle format.
Hello, Friends! Please DO NOT LIFT OR PLAGIARIZE my original recipe, stories, photos or videos. All the images and content on this blog are COPYRIGHT PROTECTED and owned by my media company Besa-Quirino LLC. This means BY LAW you are NOT allowed to copy, scrape, lift, frame, plagiarize or use my photos, essays, stories and recipe content on your websites, books, films, television shows, videos, without my permission. If you wish to republish this recipe or content on media outlets mentioned above, please ASK MY PERMISSION, or re-write it in your own words and link back to my blog AsianInAmericaMag.com to give proper attribution. It is the legal thing to do. Thank you. Email me at [email protected]
Disclosure: Instant Pot is the brand name of a multi-cooker that cooks in high and low pressure. I was not paid by the Instant Pot company to mention the product or brand nor endorse it. This is not an ad. My views and opinions are my own.