Longanisa Quiche with Homemade Cured Pork Sausages
As an Amazon Associate and member of other affiliate programs, I earn from qualifying purchases.
[amazon_link asins='B01IUH0N6U,B0000VLPAS,B004VLYQHM,B005NKJWBA' template='ProductCarousel' store='queensnotcom-20′ marketplace='US' link_id='0bee1682-1eeb-11e7-b20c-bb2377ae0531′]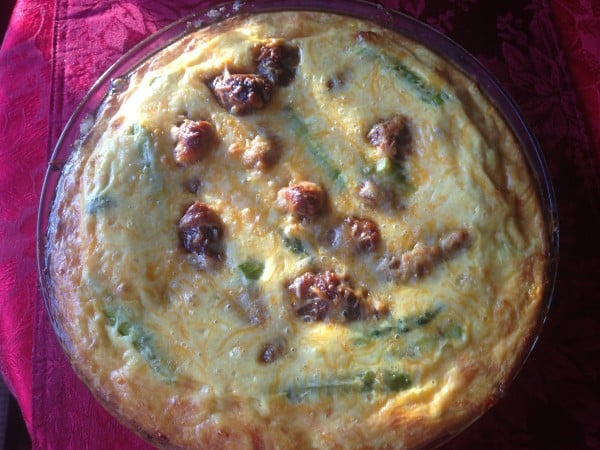 New Year's is an extension of Christmas for Filipinos and that's why I cooked this Longanisa Quiche. We keep the decorations around till January. We have family reunions on New Year's day. We never run out of reasons to have a big 'handa' (celebration with plenty of food). And in the Philippines, it is not New Year's eve if there are no fireworks.
"Do you have fireworks tonight?" asked my sister once during an overseas phone call from the Philippines to the USA. She had forgotten that my family and I lived in the east coast, and in the snowy winter weather, including strict government laws, fireworks were unauthorized and unheard of.
"Hindi masaya," (It's not fun) my sister declared, upon hearing we would have a very quiet New Year's Eve. I assured her we were fine. New Year's does not lose its luster for me just because we can't greet it with noise.
It is customary in Asia to celebrate New Year's in a huge way. In some Asian countries, New Year's is celebrated in a bigger way than Christmas itself. Cultural beliefs prevail. Debts are paid. The house is cleaned up. Closets are put in order. Clutter is de-cluttered. The slate is wiped clean and we start the New Year with renewed optimism.
I remember it was the custom to wear polka dots, eat grapes, hold coins in our hands and eat food that was round ~ at the stroke of midnight of December 31st. These were all beliefs centered on having 'everything round' , the circular shape symbolizing prosperity.
What is constant and enduring though, is finding the reason to be together as a family. And always, food is at the center of our holiday events.
Over the holidays, I made homemade longanisa, the Filipino cured pork sausage. This is often served at breakfast with fried garlic rice and eggs. I had the ground pork to make the longanisa a week before Christmas. Come Christmas day, I cooked the little sweet sausages in a skillet. Then when ready, I put them together with other ingredients to make a Longanisa Quiche. This was a traditional ingredient given a new spin to make into a unique, easy to do cheese pie.
As we celebrate the past and prepare for the future, we blend the old traditions with new ones. We mix the classic dishes and infuse them with a fresh, new appeal. All these, illustrating our will to let our faith and hope emerge as we usher in the New Year.
Happy New Year, to all of you, my loyal and faithful readers and friends! May the coming year be abundant with joy, bottomless bowls of food, good fortune and many blessings. Manigong Bagong Taon sa inyong lahat!
Longanisa Quiche with Homemade Cured Pork Sausages
This Longanisa Quiche with Homemade Cured Pork Sausages is a great classic made new for a family brunch or dinner. Longanisa, the cured pork sausages in the Philippines are often served for breakfast paired with 'sinangag' (garlic fried rice) and eggs. For the holidays, I made a large batch of homemade longanisa. It is an easy, make-ahead process which involves storing the sausages in the freezer to set a few days. Just in time for our Christmas and New Year's day family brunches, I whipped up this quick-to-do Longanisa Quiche with the longanisas, leftover cheeses and vegetables, plus added some eggs. After a few minutes of baking, the cheesy aromas came out of the oven. The quiche smelled divine with a whiff of the garlicky, tangy longanisa sausages embedded in the melted cheese mix. The longanisa pork sausage and pie crust recipe were adapted from "Memories of Philippine Kitchens" by Amy Besa and Romy Dorotan. The quiche is an Asian In America recipe. This 9-inch quiche serves 4 to 6 as a side, for 2 as an entree.
Ingredients
1

whole to fit bottom of pie

recipe below pie crust for a 9-inch pie

2

Tablespoons

for brushing on pie crust melted butter

1

pound

homemade recipe follows below (or use store bought), cooked, about 2 cups cut up longanisa, Filipino pork cured sausages

6

whole large pieces

beaten eggs

1

cup

heavy cream

1/2

cup

steamed or roasted, slice into 2-inch pieces fresh asparagus (cooked)

1

cup

grated cheddar cheese

1

Tablespoon

to pre-cook longanisa vegetable or corn oil
Instructions
Preheat oven to 375 F degrees. Prepare a 9-inch pie plate by greasing the bottom and sides.

Make-ahead Pie crust recipe: in a large bowl blend 1 and 1/2 cups all purpose flour with 6 tablespoons cold butter and 2 tablespoons cold Crisco shortening. Using a pastry blender (or a knife and fork), blend till flour mixture looks like small peas. Add 1 cold beaten egg and blend till dough pulls aways from sides of the bowl. If needed, add 1-2 tablespoons ice cold water to make dough stick together. (Note: use a food processor to make pie crust if it is more convenient). Form dough in a round disc and cover all around with a plastic wrap. Refrigerate for 4 to 6 hours to keep firm till ready to roll out.

Roll out the pie crust dough on a floured surface. Transfer on the pie plate and press dough to flatten. Use a fork to press it evenly on all sides. Brush the top of the pie crust with melted butter. Bake at 375 F for 12 minutes to brown the pie crust. Remove from oven and set aside while filling is prepared.

Make-ahead Longanisa recipe: in a medium bowl, mix together 1 pound ground pork, 3/4 cup brown sugar, 1 tablespoon sea salt, 1 teaspoon paprika, 2 teaspoons minced garlic, 1 teaspoon freshly ground black pepper, 1 tablespoon white wine. When blended, shape the longanisas into 2-inch sized sausages. Arrange them in a plastic container, lined up, leaving 2-inch spaces in between. Seal the plastic container well and freeze longanisas for at least 12 hours for flavors to set. (Tip: I make these ahead on weekends before the holidays or a big family event). This recipe serves 4.

Have longanisas ready thawed at room temperature. In a medium-sized skillet, over medium heat, add a tablespoon of vegetable oil. After 1 to 2 minutes, when oil is hot enough, add the longanisas. Pan fry for about 15 to 17 minutes till brown and nearly cooked. Remove from skillet and drain on parchment paper to remove excess oil. (Note: do not overcook longanisa, they will have to be baked some more with the quiche).

In a medium-sized mixing bowl, beat the eggs with a whisk till fluffy. Add the heavy cream and blend well. Set aside to assemble the quiche.

To assemble the quiche: take the pie plate with the pre-baked pie crust; arrange in this order - longanisas, asparagus, half of the cheese, heavy cream and egg mixture, top with half of the grated cheese. Bake the quiche at 375 F degrees for 25 to 28 minutes till top is a golden brown crust. Serve hot or cold. Store leftovers in the refrigerator or freezer.

Cook's comments: For a more savory longanisa recipe, I have also made the one from Memories of Philippine Kitchens by Amy Besa and Romy Dorotan. It contains 1 pound pork butt, ground, 1 teaspoon each of freshly ground white and black pepper, a tablespoon of salt, 2 egg yolks. I omit the pork casing indicated. Instead, I mix the ingredients well and shape the skinless longanisas into sausages, then freeze them in a plastic sealed container till ready to cook. This amount serves 4.

Ingredient tip: If using store-bought longanisas which have casings, before cooking in the skillet, remove sausage casing and cut up meat coarsely. Cook according to package directions for about 15 to 18 minutes. Then assemble longanisa with the rest of the quiche as directed above.

Substitute notes: Replace vegetables with spinach, green beans, peas or anything you prefer that is within reach. I used leftover cooked vegetables. This is a very forgiving recipe and anything can go in it with marvelous results.
Nutrition
Serving:
1
g
|
Calories:
480
kcal
|
Carbohydrates:
57
g
|
Protein:
6
g
|
Fat:
26
g
|
Saturated Fat:
15
g
|
Cholesterol:
158
mg
|
Sodium:
477
mg
|
Potassium:
129
mg
|
Fiber:
1
g
|
Sugar:
33
g
|
Vitamin A:
990
IU
|
Vitamin C:
0.3
mg
|
Calcium:
112
mg
|
Iron:
2.3
mg
Nutrition Notes: The nutrition information provided is an estimate and will vary based on cooking or baking methods and brands of ingredients used.
Did you love this recipe? I have more Philippine dessert recipes in my popular cookbook How to Cook Philippine Desserts, Cakes and Snacks.
If you need Filipino Instant Pot recipes, find more in my newest cookbook Instant Filipino Recipes: My Mother's Traditional Philippine Cooking in A Multicooker Pot. Buy my cookbooks and books on Amazon.com sold worldwide in paperback and Kindle format.
Hello, Friends! Please DO NOT LIFT OR PLAGIARIZE my original recipe, stories, photos or videos. All the images and content on this blog are COPYRIGHT PROTECTED and owned by my media company Besa-Quirino LLC. This means BY LAW you are NOT allowed to copy, scrape, lift, frame, plagiarize or use my photos, essays, stories and recipe content on your websites, books, films, television shows, videos, without my permission. If you wish to republish this recipe or content on media outlets mentioned above, please ASK MY PERMISSION, or re-write it in your own words and link back to my blog AsianInAmericaMag.com to give proper attribution. It is the legal thing to do. Thank you. Email me at [email protected].