Mango Jam-filled Shortbread and "Savor the Word" 10 Years of the Doreen G. Fernandez Food Writing Awards
As an Amazon Associate and member of other affiliate programs, I earn from qualifying purchases.
I clipped Doreen Gamboa Fernandez's food columns "Pot au feu" from the Manila Chronicle for my mom. I helped paste them in a large scrapbook. My mom eagerly read these essays filled with restaurant reviews, food stories and recipe tips. Every food story was a gem mom cherished and used thoughtfully for her own home cooking. I was 12 then and did not know it yet, but it was the start of my love for food writing, home cooking, and reading cookbooks.
The columnist was the late Professor Doreen Gamboa Fernandez, who pioneered in Philippine food writing. She wrote regular food columns which my mom followed religiously. When mom passed away, I felt I had to honor that zealousness by continuing to read Doreen's other food columns : "In Good Taste" from the Philippine Daily Inquirer, and 'Pot Luck' in 'Mr. and Ms. Magazine'. Doreen's columns and books brought me closer to mom's memory. I knew that even with mom gone, her spirit lived on when I continued to clip Doreen's food essays and kept her books "Tikim", "Sarap", and others rich with words, sentences simmering with cultural information and stories packed with history on Filipino regional cuisine.
Early this year, the call for submissions came around for the 'Doreen G. Fernandez Food Writing Contest', with 'desserts' as the theme. I knew I had the right entry to submit to the Manila-based food writing competition. You see, I had written an essay over 2 years ago. It was about 'making mango jam' during the summers of my youth.
"I wrote my essay and put it away in a drawer," I told the DGF Awards' judges after I won second prize.
My original essay 'A Hundred Mangoes in a Bottle' had never been published, was never read by an audience whether in print or online. It was too personal. It was about my family's mangoes. Every summer day, bushels of mangoes from our orchard arrived at our home in Tarlac, where I grew up. Bushels and bushels, piled so high you could not see the ground or the sky. We had to make mango jam as fast as we could, before the mangoes got way too ripe to be of any use.
Every summer, I watched, I peeled, I crushed the pulp, I counted the mangoes. I did everything mom taught me except for one important thing. And that's what my essay was all about. It's about how to make mango jam, but there is one big regret I will forever carry in my heart. What is the big regret I have?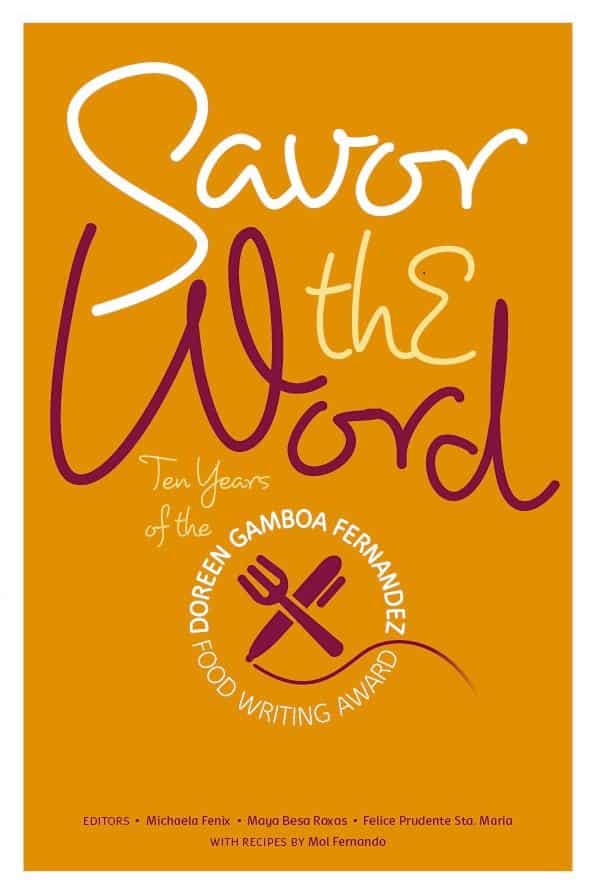 Well, you have to buy the book "Savor the Word", a collection of award-winning food essays written in honor of Doreen G. Fernandez, the food writing pioneer. And that's one purchase you will not regret. It is a beautiful collection of over 55 essays. Each essay was written by an award-winning Filipino food writer. Every story, every recipe was crafted to portray what Filipino food is all about. It makes us all realize why we cook, and why we write about Filipino food. And it is so that the next generation will always remember, and never forget.
Filipino food stands a great chance of being talked about again and again through the next generations. Credit for this goes to the hard work of everyone who made the awards and book launch happen. Congratulations to Ige Ramos, 1st prize winner, who was the first to reach out and congratulate me. A big high-five to the other winners this year and those I was privileged to meet Aritha Zel Zalamea, Lolita Lacuesta. At the launch, it was an honor to stand beside winners from the last ten years, all contributors to this book. What a treat to meet up close Margaux Salcedo, Joy Angelica Subido.
May I say a big thank you to the editors of the book "Savor the Word": Michaela Fenix, Maya Besa Roxas, Felice Prudente Sta. Maria, and Mol Fernando for the recipes. Thank you for continuing what Doreen G. Fernandez started for us all ! Many thanks to Anvil Publishing Inc., The International Wine and Food Society-Manila Ladies branch and all the generous sponsors for the wonderful prizes.
"Savor the Word", the book, ten years of prize winning Filipino food essays can be purchased at the following: in the Philippines, find it at National Book Stores, Powerbooks, Bestsellers or through Anvil Publishing Inc. In the USA, contact Philippine Expressions Bookshop in California via Linda Nietes at her site www.philippineexpressionsbookshop.com.
Enjoy reading my "A Hundred Mangoes in a Bottle" (page 224), an original essay which has never been published online or in any print publication.
Book design credit: Tina Besa (courtesy of Doreen G. Fernandez site). Back cover photo of Doreen G. Fernandez by Stella Kalaw.
Mango Jam-filled Shortbread
For this easy Mango Jam-filled Shortbread, the recipe used two flours – all purpose and rice flour. Homemade Mango jam is a recipe I learned to make as a child. I prefer to make it in the spring and summer here in my American kitchen when mangoes are in abundance and at their sweetest. Use bottled mango jam or a homemade mango jam to fill these simply superb shortbread recipe. The shortbread recipe was adapted from The Cookiepedia by Stacy Adimando. Makes 24 to 30 pieces.
Ingredients
1 1/2

cups

All Purpose Flour

1/2

cup

rice flour

1

cup

unsalted butter

at room temperature

1/2

cup

granulated sugar

1/4

teaspoon

salt

3/4

teaspoon

vanilla extract

3/4

cup

mango jam

for filling shortbread

2

Tablespoons

granulated sugar

for sprinkling on cookie
Instructions
Whisk both flours together in a bowl and set aside.

Cream together the butter, sugar, salt, and vanilla on medium speed for a few minutes until light and fluffy. Remove the bowl from the mixer and stir in the flours by hand with a wooden spoon.

Turn out the dough onto a clean surface. Use your hands to make a large solid ball out of the dough. Flatten the dough and shape it into a ¾ inch thick rectangle.

Double wrap the dough in plastic and refrigerate for at least 2 hours or overnight. I prefer to keep it overnight in the refrigerator to firm up.

The next day, line cookie sheets with parchment paper or pre-grease them with baking spray.

Preheat the oven to 325 F degrees.

On a lightly floured surface of your counter, place the dough and dust the top of it a little flour. With a lightly floured rolling pin, gently roll the dough to ¼ inch thick for thin cookies or ¾ inch thick for  bars.

Using a round cookie cutter, cut the dough into 2-inch diameter circles. (Or cut cookies in squares or rectangles if preferred). Place the cookies on baking sheets at 1 inch apart. Prick the centers with a fork. Make an even number of cookies if you plan to pair them as a jam-filled cookie.

Sprinkle the top with some granulated sugar. Bake at 325 F degrees for 15 to 17 minutes or till the edges are light gold in color. Cool cookies on wire racks for at least 30 minutes.

To fill cookies: Spread half a teaspoon of jam on one side of a cookie. Cover jam-filled side with another cookie. Store in air tight containers. These cookies can be stored in plastic freezer bags, and if frozen will keep for two to three weeks.

Cook's comments : In the original recipe, the author suggested use all-purpose flour if you can't find rice flour. I substituted all purpose for rice flour in this recipe and the results were just as good.
Nutrition
Serving:
1
g
|
Calories:
773
kcal
|
Carbohydrates:
83
g
|
Protein:
7
g
|
Fat:
47
g
|
Saturated Fat:
29
g
|
Cholesterol:
122
mg
|
Sodium:
153
mg
|
Potassium:
79
mg
|
Fiber:
2
g
|
Sugar:
31
g
|
Vitamin A:
1418
IU
|
Calcium:
21
mg
|
Iron:
2
mg
Notes on Nutrition: The nutrition information provided is an estimate and will vary based on cooking methods and specific brands of ingredients used.
Did you like this recipe?I have more Filipino Instant Pot recipes in my newest cookbook Instant Filipino Recipes: My Mother's Traditional Philippine Cooking in A Multicooker Pot by Elizabeth Ann Besa-Quirino. I also have more classic recipes inspired by my mother's cooking in my popular cookbook: My Mother's Philippine Recipes. If you're learning how to cook Filipino food or a fan of Philippine cuisine, buy my cookbooks and books on Amazon.com sold worldwide in paperback and Kindle format.
Copyright Notice: Hello, Friends! Please DO NOT LIFT OR PLAGIARIZE my original recipe, stories, photos or videos. All the images and content on this blog are COPYRIGHT PROTECTED and owned by my media company Besa-Quirino LLC. This means BY LAW you are NOT allowed to copy, scrape, lift, frame, plagiarize or use my photos, essays, stories and recipe content on your websites, books, films, television shows, videos, without my permission. If you wish to republish this recipe or content on media outlets mentioned above, please ASK MY PERMISSION, or re-write it in your own words and link back to my blog AsianInAmericaMag.com to give proper attribution. It is the legal thing to do. Thank you. Email me at [email protected]