Manila Mango Chiffon Cake
As an Amazon Associate and member of other affiliate programs, I earn from qualifying purchases.
In the spring, I become a mango maniac and I like to bake a Manila Mango Chiffon Cake. There is mango madness in my kitchen. I love mangoes. Absolutely and unconditionally. We used to have mango trees in our yard, growing up in an agricultural town in the Philippines. Back then, I took for granted that we could have an unending supply year round. So, when we moved to America, I had mango withdrawal. I missed mangoes like a dear old pal.
Lately, we've seen more and more mangoes available, not just in Chinatown or Asian groceries, but also in neighborhood supermarkets.There are numerous varieties. The Manila mangoes I love are called "carabao mangoes" in the Philippines. Here in America, they are referred to as "champagne mangoes" in Asian groceries. They are from the "ataulfo" variety. Once April comes, there's a mango avalanche in my kitchen…so I get cooking right away.
Here's a quick look at how the recipe goes:
Sift the dry ingredients together.
At the highest speed, beat the egg whites with cream of tartar. Add sugar slowly.
Make a well in the center of dry ingredients, add the oil, yolks, mango nectar, lemon flavoring.
Slowly fold the mango batter into the egg white mixture.
Cool cake thoroughly before adding the Mango Buttercream Icing.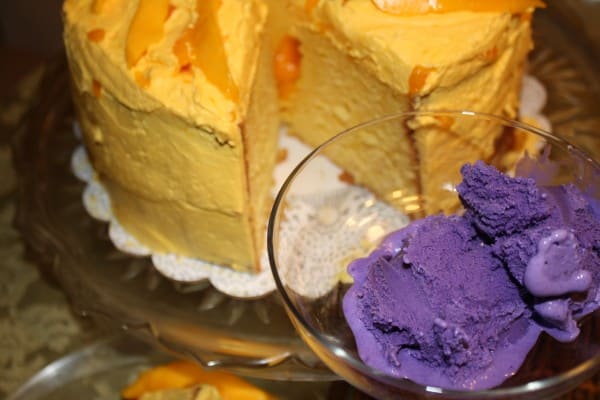 Important to Remember: My Dad used to tell us that the best and sweetest mangoes were always the tree-ripened fruits. If this is not possible, make sure the mango used for this recipe is fully ripened and very sweet. When buying mangoes and they are still not ripe, try to hasten the process by covering them with an old newspaper or brown paper bag.
*A suggested perfect combination : A luscious slice of Mango cake & scoops of yummy Ube or Purple Yam ice cream. This type of ice cream is sold in Asian groceries, and usually has a Philippine brand . It is superb!
*Recipe News: Since this Mango Chiffon Cake is the most popular dessert on the blog, I've updated this post by baking it again, with a revised recipe and new photos. Go see the new Manila Mango Chiffon Cake with Mango Icing blog post.
Manila Mango Chiffon Cake
Manila mangoes are the sweetest in the world. I grew up with them in the Philippines and learned to bake with them. Here's a family favorite with mangoes, the Manila Mango Chiffon Cake. I've baked this so often over the years, but we never get tired of the sweet, tropical flavors. It's easy to bake and put together. This recipe is best done with golden ripe "ataulfo" mangoes, during its peak season which is the spring, here in the USA or in the Philippines, during their summer. This is an Asian In America recipe by Elizabeth Ann Quirino. Serves 4 to 6.
Equipment
Electric cake mixer

Bundt Pan: 9.9 inches diameter x 4.1 inches in height
Ingredients
2

cups

sifted cake flour

3/4

cup

granulated sugar

1

Tablespoon

baking powder

7

egg whites

1/2

teaspoon

cream of tartar

3/4

cup

granulated sugar

7

egg yolks

1/2

cup

vegetable oil

3/4

cup

mango juice

fresh puree or use canned or bottled juice

1

teaspoon

lemon flavoring

1

cup

fresh ripe mango

peeled, pit removed, cut into cubes, 1/2-inch length from a whole ripe mango (Ataulfo variety preferred)

1

cup

softened unsalted butter

1/4

cup

heavy cream

1/4

cup

mango nectar or juice

from fresh ripe mango or use bottled or canned juice

3

cups

confectioners' sugar

(powdered sugar)

1

teaspoon

lemon flavoring

for cake icing

1/4

teaspoon

yellow food color

optional

1

whole

fresh ripe mango

peeled, pitted, sliced in strips, for cake garnish or decoration
Instructions
Preheat oven to 350 F degrees.

Sift together the dry ingredients: Cake flour, 3/4 cup granulated sugar, baking powder. Set aside.

In a separate bowl, at highest speed using a cake mixer,, beat the egg whites and cream of tartar together. When there are high peaks and hardly any bubbles left, slowly add the 3/4 cup granulated sugar, a few tablespoons at a time. When peaks form and whites are shiny, put aside.

In another mixing bowl, make a well of all the dry ingredients. In the center add : oil, yolks, mango juice, lemon flavoring. Beat with the mixer at medium speed till blended. This should only take about 3 to 5 minutes.

Into the yellow mango batter, add the cubes of mango fruit, by folding with a spatula.

Finally, fold the mango mix very gradually into the eggwhites. Try to do the folding in 3 batches, to prevent the eggwhites from dropping.

Pour batter into a greased round tube pan, measuring 8 inches in diameter, 4 inches high. Bake at preheated oven of 350 F degrees for 45 minutes or test if done by piercing the top of the cake with the tip of a small, sharp knife.

When done, cool on counter for a 20 to 30 minutes. Then loosen edges from the round tube pan, invert and take the cake out to cool. It should be completely cooled for 1 hour or more before frosting with the Mango icing.

How to make the MANGO BUTTERCREAM ICING (makes 2 1/2 cups)

In a mixing bowl, at high speed, mix together the softened butter and 1 cup confectioners' sugar. Cream and blend well till smooth.

Gradually add in alternating order, a few tablespoons at a time : confectioners' sugar, heavy cream, and mango juice. Begin and end with the confectioners' sugar.

Add the lemon flavoring and blend well.

Finally, add the golden yellow food coloring. Mix well. Refrigerate the icing till ready to use on cake.

After frosting the cake, garnish mango slices on top in a spiral manner .
Copyright Notice
Hello, Friends! Please DO NOT LIFT OR PLAGIARIZE my original recipe, stories, photos or videos. All the images and content on this blog are COPYRIGHT PROTECTED and owned by my media company Besa-Quirino LLC. This means BY LAW you are NOT allowed to copy, scrape, lift, frame, plagiarize or use my photos, essays, stories and recipe content on your websites, books, films, television shows, videos, without my permission. If you wish to republish this recipe or content on media outlets mentioned above, please ASK MY PERMISSION, or re-write it in your own words and link back to my blog

AsianInAmericaMag.com

to give proper attribution. It is the legal thing to do. Thank you. Email me at

[email protected]
Nutrition
Serving:
1
g
|
Calories:
706
kcal
|
Carbohydrates:
112
g
|
Protein:
7
g
|
Fat:
27
g
|
Saturated Fat:
19
g
|
Cholesterol:
241
mg
|
Sodium:
76
mg
|
Potassium:
331
mg
|
Fiber:
1
g
|
Sugar:
109
g
|
Vitamin A:
450
IU
|
Calcium:
123
mg
|
Iron:
0.8
mg
Notes on Nutrition: The nutrition information provided is an estimate and will vary based on cooking methods and specific brands of ingredients used.
Copyright Notice: Hello, Friends! Please DO NOT LIFT OR PLAGIARIZE my original recipe, stories, photos or videos. All the images and content on this blog are COPYRIGHT PROTECTED and owned by my media company Besa-Quirino LLC. This means BY LAW you are NOT allowed to copy, scrape, lift, frame, plagiarize or use my photos, essays, stories and recipe content on your websites, books, films, television shows, videos, without my permission. If you wish to republish this recipe or content on media outlets mentioned above, please ASK MY PERMISSION, or re-write it in your own words and link back to my blog AsianInAmericaMag.com to give proper attribution. It is the legal thing to do. Thank you. Email me at [email protected]