Peach-Mango Basque Burnt Cheesecake
As an Amazon Associate and member of other affiliate programs, I earn from qualifying purchases.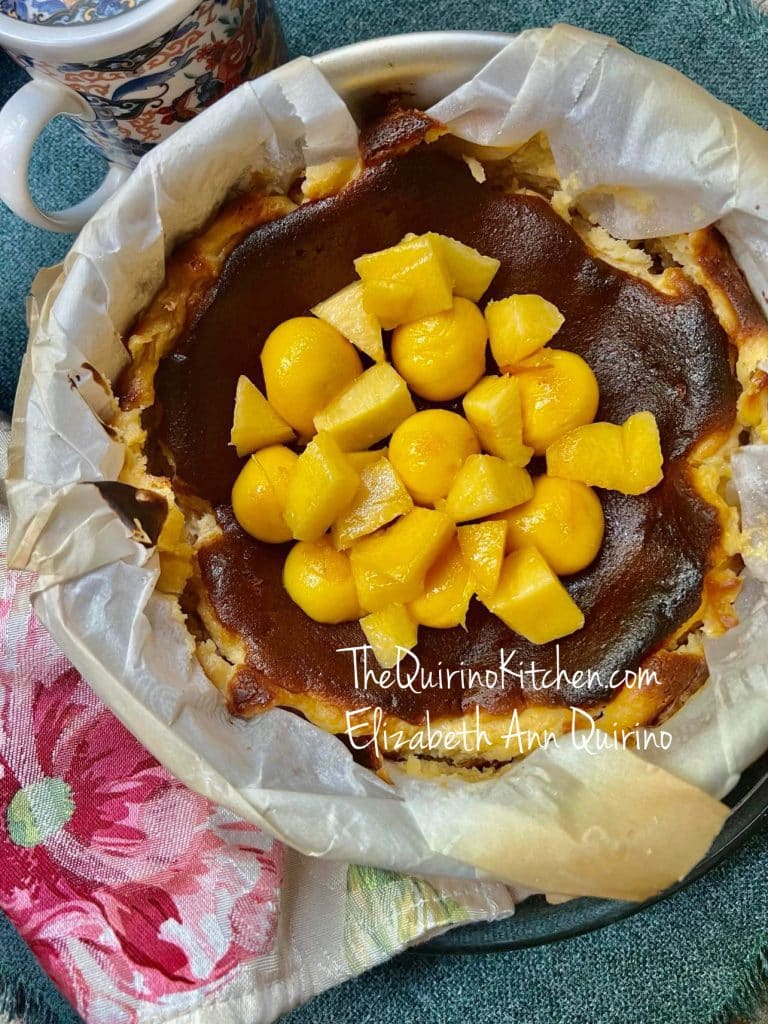 I could not let summer end without baking a Peach-Mango Basque Burnt Cheesecake. I just had to enjoy these fruits in season while they were still in abundance and ripe for the taking.
I like baking a basic Basque Burnt Cheesecake because it is one of the easiest cheesecake desserts to make. You skip the step of crushing the Graham crackers for the crust. You go straight to mixing the cream cheeses and ingredients for the soft, custard-like, creamy filling.
For this recipe, you only need a short list of ingredients. If you're a frequent baker the items and equipment may already be in your kitchen.
What is a Burnt Basque Cheesecake vs. a regular cheesecake?
A Burnt Basque Cheesecake is baked at a high temperature, between 425 to 450 F for a shorter period of time. The top gets caramelized-looking and has a burnt appearance, plus slightly smoky pleasant flavors.
A regular cheesecake, with a crushed Graham cracker bottom crust is typically baked in a water bath at a lower oven temperature. Ideally, this one has no cracks on top.
Both kinds of cheesecake are luscious, velvety smooth in texture, lightweight, and creamy-tasting.
Why I baked a Peach-Mango Basque Burnt Cheesecake
The abundant supply of fresh, juicy, sweet and ripe peaches and mangoes inspired me to bake this cheesecake variety. Peach-Mango flavor combinations are familiar and popular to most Filipinos, who love a fastfood's bestselling hand pie with these fruity fillings.
In a previous post, I revealed how I did not know what fresh peaches tasted like till we came to live in America thirty years ago. In the Philippines, we mostly had canned peaches, which were an imported brand from the USA. It was in heavy syrup and we enjoyed it in Filipino-style fruit salads with heavy cream. A luxurious treat for most Filipinos till today.
But ever since I tasted fresh ripe peaches in the summer months, there was no looking back. We have enjoyed it every season, freshly ripened or in sweet concoctions like in homemade ice creams, cakes, galettes, pies, preserves and lately, this cheesecake.
What you need for baking this recipe:
For this recipe, I used a 7-inch in diameter cheesecake pan, which had a depth of 3 inches. Feel free to use whatever round cheesecake pan you use to bake cheesecakes.
I reserved the cut-up peaches and mangoes for the topping. As you slice the cheesecake, the sweet fruits will come cascading down like little stars rolling down a mountain. It is an adorable slice that is the perfect ending to any good meal.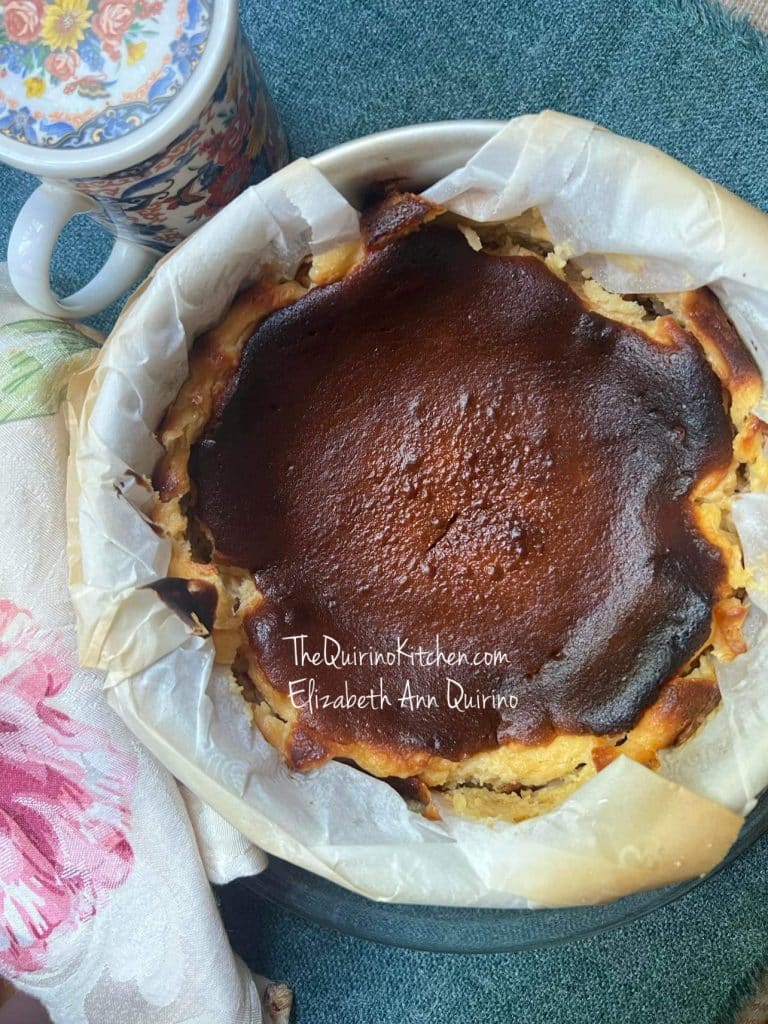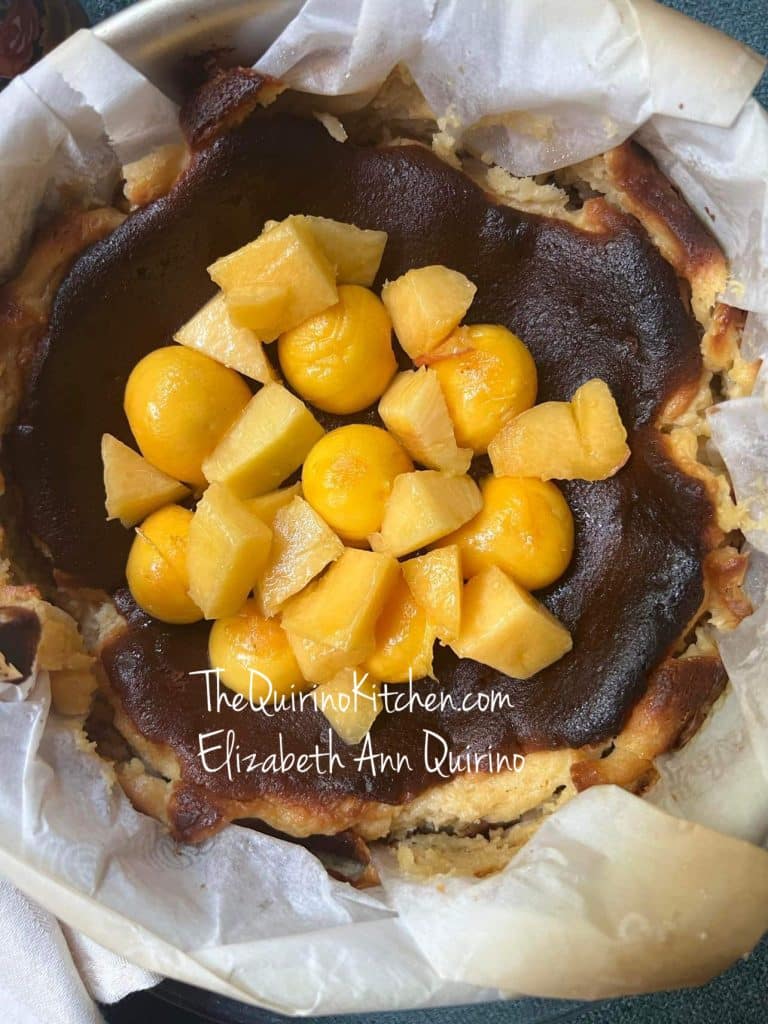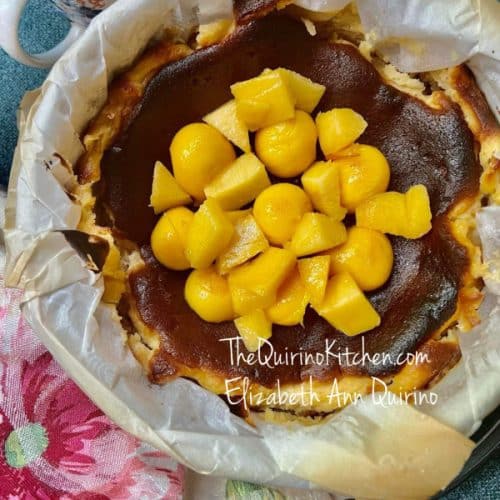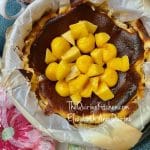 Print Recipe
Peach-Mango Basque Burnt Cheesecake
This is my version of a Peach-Mango Basque Burnt Cheesecake, flavored with sweet mango puree, and topped with ripe fresh slices of peaches and mangoes. This is one of the easiest types of creamy, luscious cheesecake desserts to bake, at a high oven temperature, but with a shorter baking time. This was inspired by the original Basque Burnt Cheesecake created by Chef Santiago Rivera of the La Vina Restaurant in San Sebastian, Spain. This was prepared by Elizabeth Ann Quirino for The Quirino Kitchen.
Equipment
Food processor or blender

Electric mixer

round cheesecake pan – 7 inches diameter; or larger if preferred

parchment paper, large sheet should be bigger than the cheesecake pan for the overhang

small colander
Ingredients
16

ounces

Philadelphia cream cheese, or 2 packs at 8 ounces each;

softened at room temperature

½

cup

granulated sugar

2

whole

eggs

1/2

cup

mango puree; fresh or canned like Gina's

1

teaspoon

vanilla extract

1

Tablespoon

all-purpose flour
For the topping:
1

cup

sliced fresh ripe peaches

1

cup

cubed fresh ripe mangoes
Instructions
Preheat oven at 425 F.

Line the round cake pan with the parchment paper. Press down the paper and pleat the sides if needed. There should be enough paper left out on the sides as an overhang. This will be needed when you take the cheesecake out after baking. Set the pan aside.

Using a cake mixer, in a large mixing bowl, combine the cream cheese and sugar till smooth.

Add eggs, one at a time. Incorporate the ingredients well with the mixer at a high speed.

Pour the mango puree and the vanilla. Continue mixing still smooth.

Using a small colander atop the cream cheese mixture, sift the flour on top, as you add to the mixture. Continue mixing with the mixer till incorporated.

Pour the batter into the paper-lined pan.

Bake at 425 F degrees for 40 minutes till the top is dark brown and looks burnt.

Tip: Don't worry. Once sliced, the insides of the cheesecake are light-colored, and taste creamy.

Use a cake tester and pierce the middle of the cheesecake to test for doneness. When tester comes out fairly clean, cheesecake is done.

Cool the cheesecake on the counter. The middle might be slightly jiggly. No need to worry. This firms up after refrigeration.

Refrigerate the cheesecake, covered in plastic wrap, for at least 6 hours or up to overnight to firm up.

To serve: Use both hands to grab the parchment paper overhang as you gently take out the cheesecake from the pan. Place the cheesecake on a serving platter.

Remove and discard the parchment paper.
To prepare the Peach-Mango topping:
Slice and cut up the fresh, ripe peaches and mangoes.

Tip: I sliced the peaches in a different shape from the mangoes to tell the difference between the two fruits.

Top the cheesecake with the combined fresh fruit.

Slice individually to serve.
Instructions for storing the cheesecake:
Leftovers should be covered and kept refrigerated. It will last up to 1 week.

For storing in the freezer: Bake the cheesecake and let it cool to room temperature. Cover the entire cheesecake with plastic wrap and foil very tightly. Keep frozen for up to 1 month. When ready to serve, let it come down to room temperature naturally (do not microwave or bake). Top with the fresh fruits just before serving.
Cook's comments:
For the mango puree, you can use canned or bottled for this recipe if the fruit is not in season. I prefer the Gina's Mango brand.

For fresh mango puree: Take a whole, ripe fresh, sweet-tasting mango. Peel and slice, discarding the pit. Place the slices in a food processor or blender. Process for about 1 minute till it becomes liquid. Use 1/2 cup to mix into the batter.
Nutrition
Serving:
100
grams
|
Calories:
142
kcal
|
Carbohydrates:
35
g
|
Protein:
0.3
g
|
Fat:
0.2
g
|
Saturated Fat:
0.02
g
|
Polyunsaturated Fat:
0.02
g
|
Monounsaturated Fat:
0.03
g
|
Cholesterol:
2
mg
|
Sodium:
1
mg
|
Potassium:
6
mg
|
Fiber:
0.1
g
|
Sugar:
33
g
|
Vitamin A:
4
IU
|
Calcium:
1
mg
|
Iron:
0.1
mg
Copyright Notice: Hello, Friends! Please DO NOT LIFT OR PLAGIARIZE The Quirino Kitchen recipes on this blog, my original recipes, stories, photos or videos. All the images and content on this blog are COPYRIGHT PROTECTED and owned by my media company Besa-Quirino LLC by Elizabeth Ann Quirino. This means BY LAW you are NOT allowed to copy, scrape, lift, frame, plagiarize or use my photos, essays, stories and recipe content on your websites, books, films, television shows, videos, without my permission. If you wish to republish this recipe or content on media outlets mentioned above, please ASK MY PERMISSION, or re-write it in your own words and link back to my blog TheQuirinoKitchen.com to give proper attribution. It is the legal thing to do. Thank you. Email me at [email protected]