Stir-Fried Bok Choy with Ground Pork
As an Amazon Associate and member of other affiliate programs, I earn from qualifying purchases.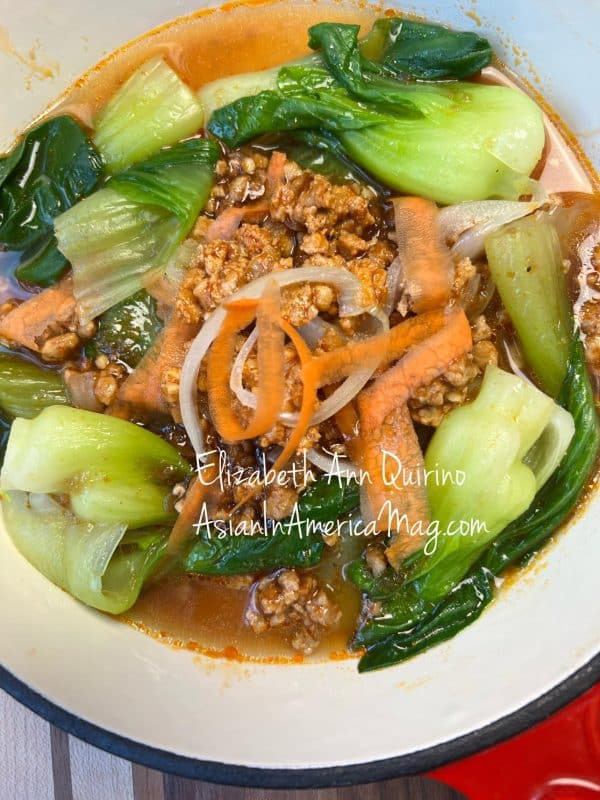 We all have that quick-cooking recipe like this Stir Fried Bok Choy with Pork in our back pockets for busy weeknights. Filipinos love a good stir-fry especially for everyday home cooking.
I always have bok choy on my list when I go to the Asian market. It is one of my favorite vegetables. It is almost always available year round. It cooks quickly. It is packed with the necessary nutrients we need. It is low calorie. And its fresh herbal flavor complements the contrast of meats and sauces I cook with.
In Chinese groceries, bok choy can be labeled also as pak choi, pok choi, or Chinese cabbage. There are about three sizes: the large, the medium-sized, and the baby ones which I used in this recipe. I see the large-sized bok choy more often though, even in American supermarkets. Prep time and cooking time is almost the same for the various sizes. Sometimes, bok choy can be mistaken for the lighter green-colored Napa cabbage, because they have similar long and tall crunchy stems.
For this recipe, I had more leafy greens than meat. So, a quick stir fry around the skillet was in order. I cut off the tough bottoms of the bok choy stems, washed and dried the rest of the leaves. You can use either a large frying pan or a wok. Once the oil is hot enough, stir fry the garlic, and onions. The soft sizzle is a signal it's time to add the pork, sauces and seasonings. It only takes a few stirs and before you know it, the fragrant, savory aromas tell you the pork is ready to be mixed with the bok choy. That's when you know dinner is almost ready. The jade-green bok choy leaves wilt and soften, as the ground pork cling to the stems. Be sure to have enough steamed rice to pair with this glorious, yet simple-to-cook meal.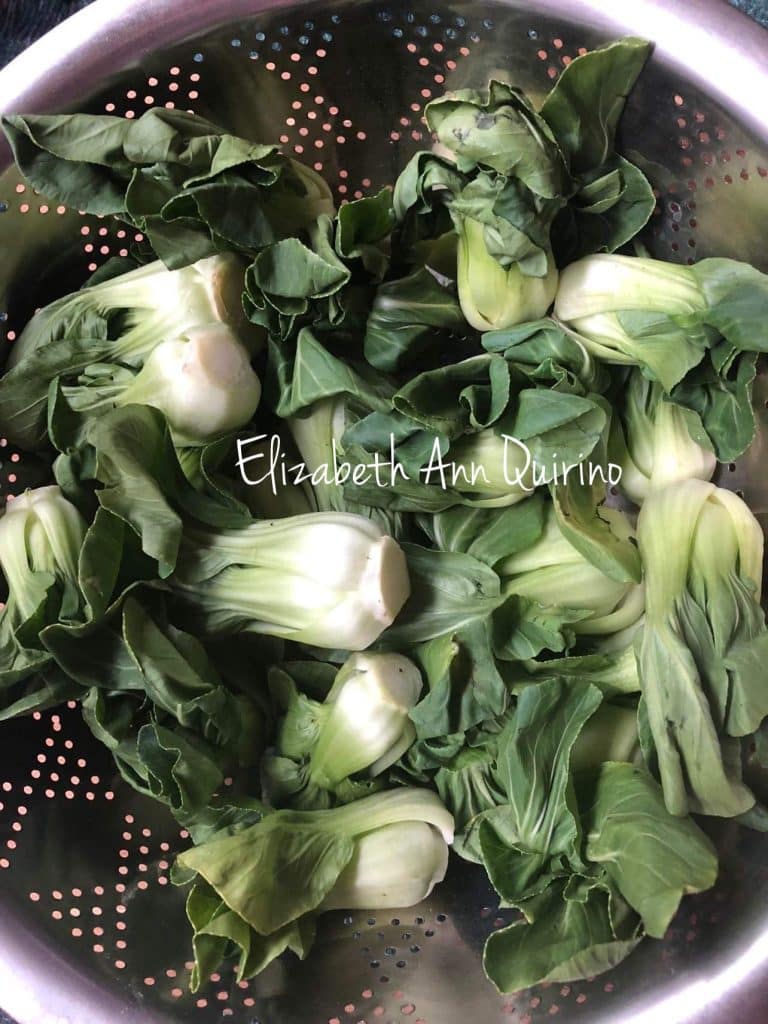 Stir-Fried Bok Choy with Ground Pork
Stir-Fried Bok Choy with Ground Pork is a quick-cooking, easy dish to put together. Start with a good stir-fry of garlic, onions, and the ground pork. Add the savory and sweet sauces and the bok choy or Chinese cabbage. Season and serve. This all-in-one meal cooks in minutes and is good paired with steamed rice. This is a recipe from The Quirino Kitchen by Elizabeth Ann Quirino.
Equipment
large wok or skillet (12 inches diameter)
Ingredients
1

pound

baby bok choy, or use large sized;

edges trimmed

2

Tablespoons

vegetable oil

4

cloves

garlic, minced

1

whole

medium-sized onion, sliced

½

cup

julienned-sliced carrots

½

pound

lean ground pork

2

Tablespoons

toyo (soy sauce)

2

Tablespoons

banana catsup

1

Tablespoon

brown sugar

1

cup

broth; pork or vegetable

½

teaspoon

sesame oil

½

teaspoon

sea salt

¼

teaspoon

ground black pepper
Instructions
Wash baby bok choy pieces. Drain and dry with paper towels.

Using a knife, trim off the tough bottom edges. Separate leaves if using smaller baby bok choy. (If using large bok choy, chop pieces coarsely).

Set aside.

In a large wok, or skillet, over medium-high heat, add oil.

When oil is hot enough, add garlic and onions and stir fry till fragrant, about 2 minutes.

Add carrots and stir fry.

Add the pork to the wok and blend with the ingredients.

Stir fry and in about 2 to 3 minutes the pork transforms from pink to brown while cooking.

In a small bowl, combine the toyo (soy sauce), catsup, brown sugar and cup of broth. Mix well.

Pour this liquid into the wok where the pork is cooking.

When pork is cooked completely, after about 7 to 8 minutes, add the bok choy.

The vegetable leaves will wilt and stems will soften in about 2 minutes. Mix well.

Season with sesame oil, salt and pepper.

Serve warm with steamed rice.
Nutrition
Serving:
100
grams
|
Calories:
16
kcal
|
Carbohydrates:
3
g
|
Protein:
0.02
g
|
Fat:
1
g
|
Saturated Fat:
0.1
g
|
Polyunsaturated Fat:
0.2
g
|
Monounsaturated Fat:
0.2
g
|
Sodium:
292
mg
|
Potassium:
6
mg
|
Fiber:
0.03
g
|
Sugar:
3
g
|
Vitamin A:
1
IU
|
Calcium:
3
mg
|
Iron:
0.04
mg
Notes on Nutrition: The nutrition information provided in the recipe links is an estimate and will vary based on cooking methods and specific brands of ingredients used.
Copyright Notice: Hello, Friends! Please DO NOT LIFT OR PLAGIARIZE Asian in America recipes on this blog, my original recipes, stories, photos or videos. All the images and content on this blog are COPYRIGHT PROTECTED and owned by my media company Besa-Quirino LLC by Elizabeth Ann Quirino. This means BY LAW you are NOT allowed to copy, scrape, lift, frame, plagiarize or use my photos, essays, stories and recipe content on your websites, books, films, television shows, videos, without my permission. If you wish to republish this recipe or content on media outlets mentioned above, please ASK MY PERMISSION, or re-write it in your own words and link back to my blog TheQuirinoKitchen.com to give proper attribution. It is the legal thing to do. Thank you. Email me at [email protected]